Harriet King
Harriet King is a four-time US National Champion and four-time Olympic Team member. She also represented the US at multiple World Championships and Pan American Games. A dynamic lefty, she began her fencing career on the East Coast at Hunter College, where she is in the Athletic Hall of Fame. She has also been inducted into the USA Fencing Hall of Fame. Settling in San Francisco, she was the first champion-caliber fencer that Michael D'Asaro, Sr. had a chance to work with after beginning his coaching career at Halberstadt Fencers Club in 1967.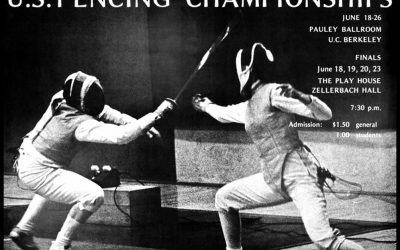 The 1971 US National Championships were held on the campus of the University of California, Berkeley, commonly known as Cal.  The locals did pretty well, too!
read more
SHARE YOUR
STORY
Have something to share or add? Our goal is to capture the stories we know are out there. Plus photos, videos, home movies, posters—you name it. All this material helps preserve the stories of West Coast fencing.
Want to know when we publish a story? Or release a new documentary? Sign up for our email list and we'll keep you posted.
[/db_pb_signup]