The 1971 US National Championships were held on the campus of the University of California, Berkeley, commonly known as Cal.  The locals did pretty well, too!  Carl Borack from LA made the finals in all three weapons and the Women's Foil finals had 6 women from the West Coast.  It's that second one we're focused on today.
Four time US National Champion, four time Olympic team member and four time Pan American team member (two individual silver, two team gold) Harriet King.  In the late 60s, she moved to San Francisco and began training under Michael D'Asaro at Halberstadt Fencers Club.
Harriet King was one of the organizers of the event, in addition to being defending champion.  That seems like a lot to take on, but in such circumstances, I guess you do what you must to have a quality event.  At least the Mayor was supportive: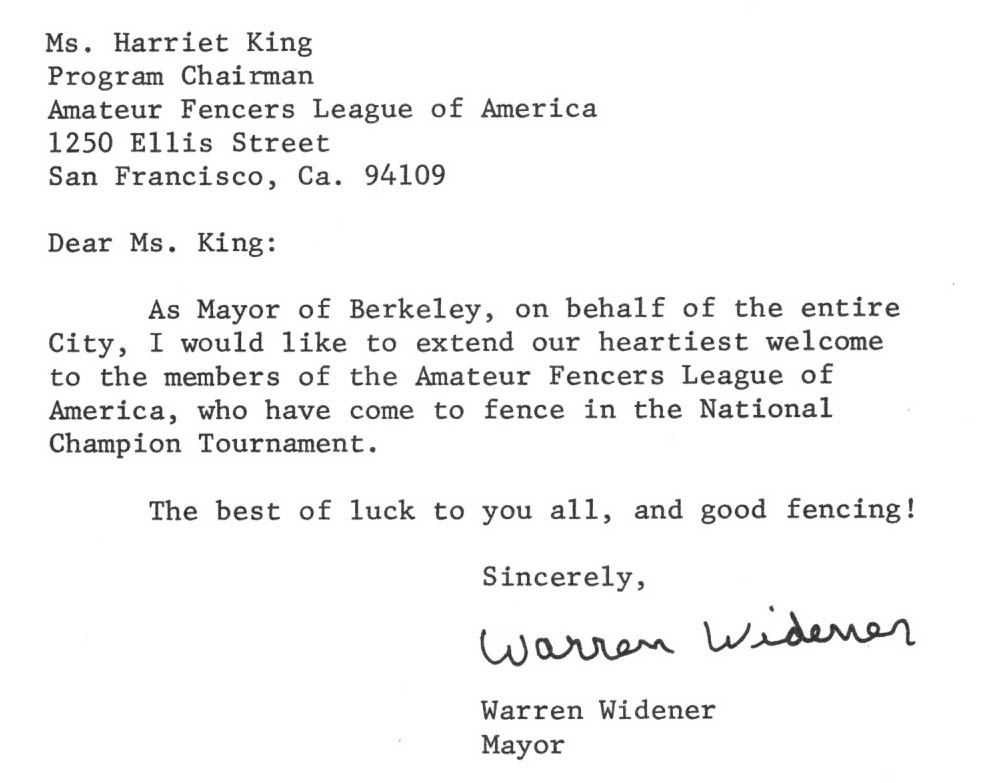 Among the spectators in Berkeley for much of the event were the Nonomuras.  There were a lot of Nonomuras and almost all of them competed in fencing.  Fortunately for us, they also had a film camera.  The youngest of the boys, George, got an assist from Carl Borack to transfer some old family home movies to digital files some time back and George kindly asked Carl to share the files with me.  In looking through my backlog of film clips to find something to practice my Final Cut Pro skills with, I started looking more closely at one of the clips.  It was from the women's foil finals, and there were three local fencers in the running.  Harriet King, who couldn't be stopped regardless of how much organizing she had to do, fellow Halberstadt fencer Tommy Angell, and Margo Reynolds (later Miller, now coaching in LA) who I believe represented the Letterman Club at the time.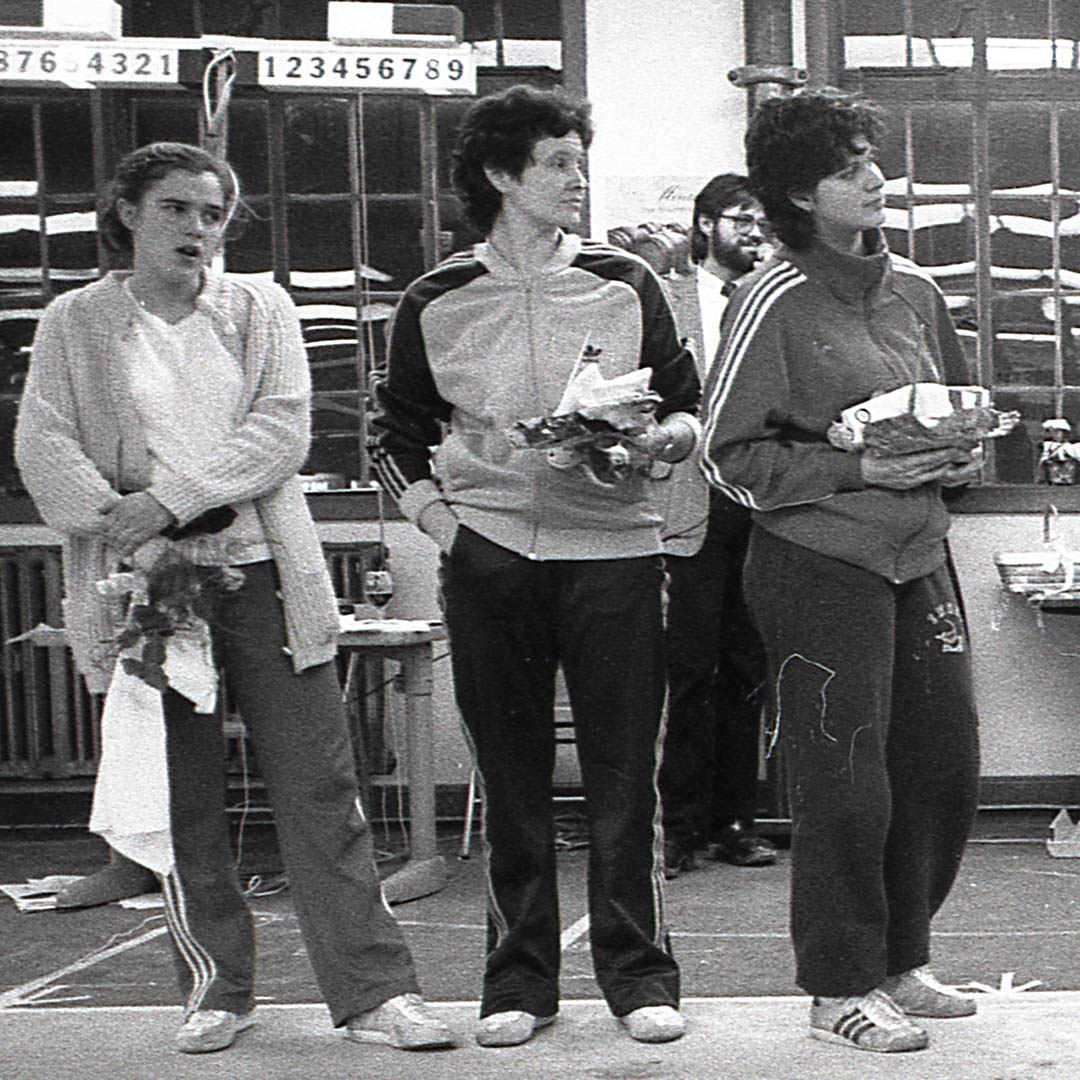 Margo Miller, center, in 1983, surrounded by Canadiennes.  Isabelle Ducharme on the left and Jacinthe Poirier on the right.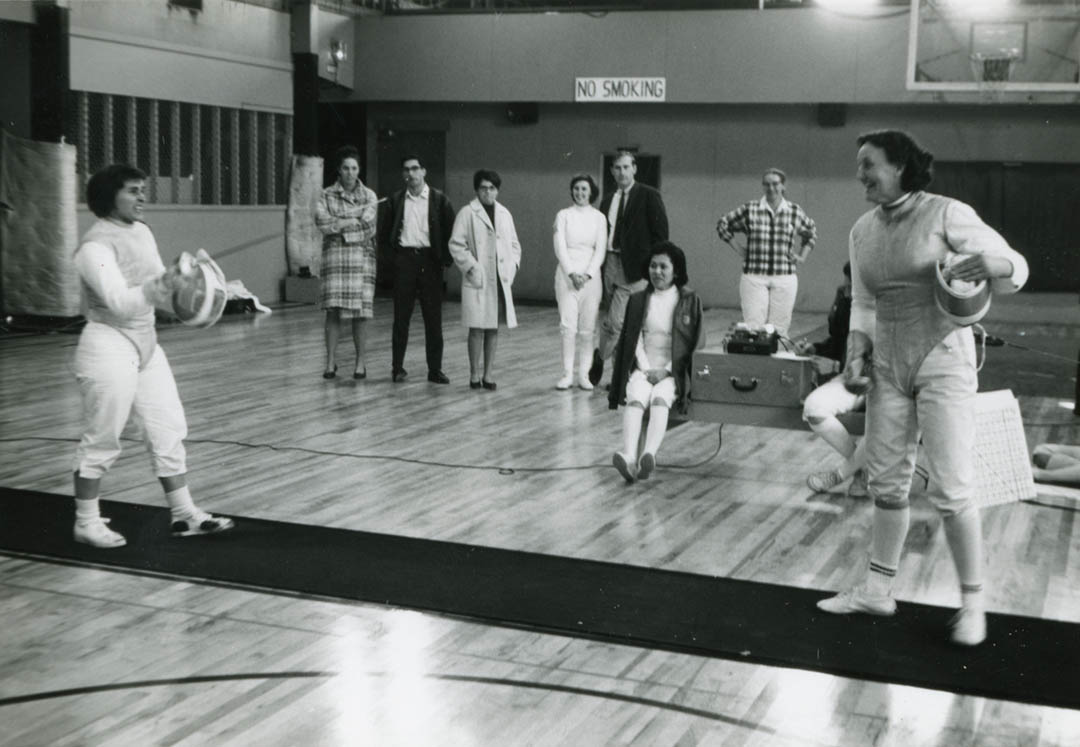 Two more of the 1971 finalists are shown here getting ready to have at it.  Tommy Angell on the left seems to be gritting her teeth in preparation for facing Maxine Mitchell, and who could blame her?  I'm pretty sure that standing in the background watching in all whites is Sherry Rose Posthumus.  Definitely Eleanor Turney in the plaid with her hands on her hips.
In all ways, this final was an interesting mix of experienced competitors versus up and coming talent.  Harriet won her first national title in 1963.  Maxine had last won in 1958, but both her and Tommy were usually in the finals, and Bonnie Linkmeyer had been knocking on the door of a consistent final presence for some time.  Up against them were at least three youngsters, Ruth White, Blythe Devan and Margo. (I'm not sure of the relative age of all the competitors, but these three, at least, were among the up-and-coming ones.)
Ruth White charged onto the fencing scene, winning Nationals in 1969 as a 17 year old.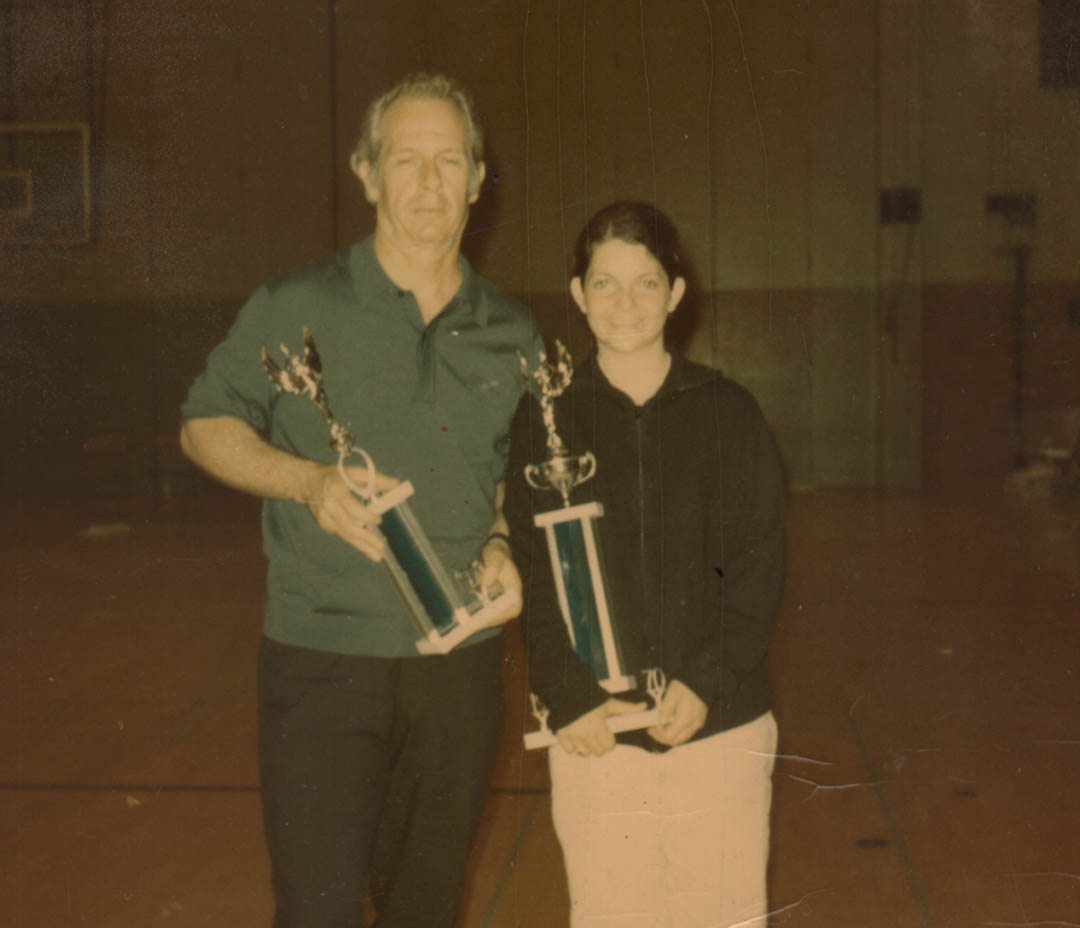 Blythe Devan with her coach, Delmar Calvert.  Blythe competed for the Los Angeles Athletic Club and fenced on at least one Junior World team.  I'm not sure how long she stayed in the sport.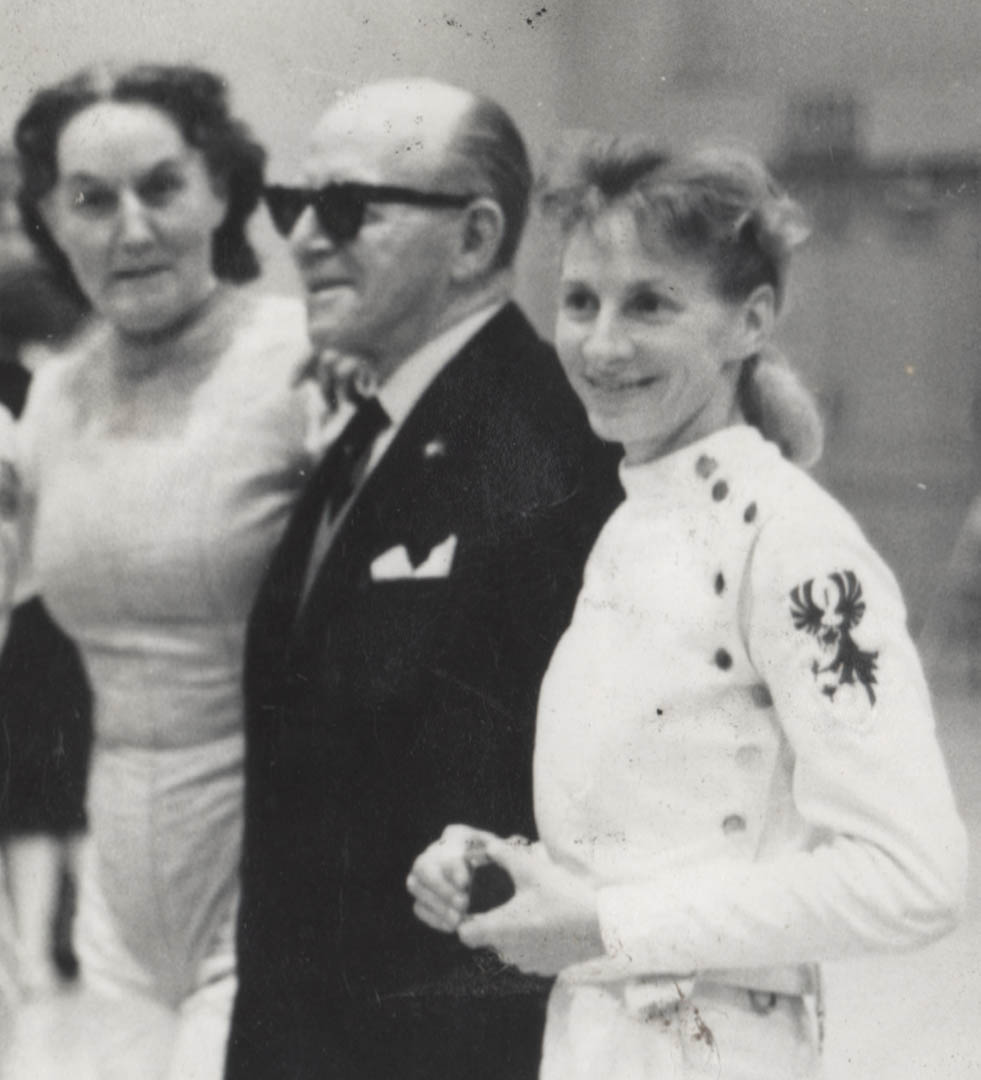 Bonnie Linkmeyer with the big smile stands next to Hans Halberstadt, who stands next to Maxine Mitchell.  Bonnie was married to Fred Linkmeyer, long time SoCal epee fencer and fencing entrepreneur.  Fred started fencing at USC and the LAAC under the tutelage of Henri Uyttenhove.  In this picture, Bonnie wearing the Falcon patch, and I know that at some stage she also fenced at LAAC for Calvert.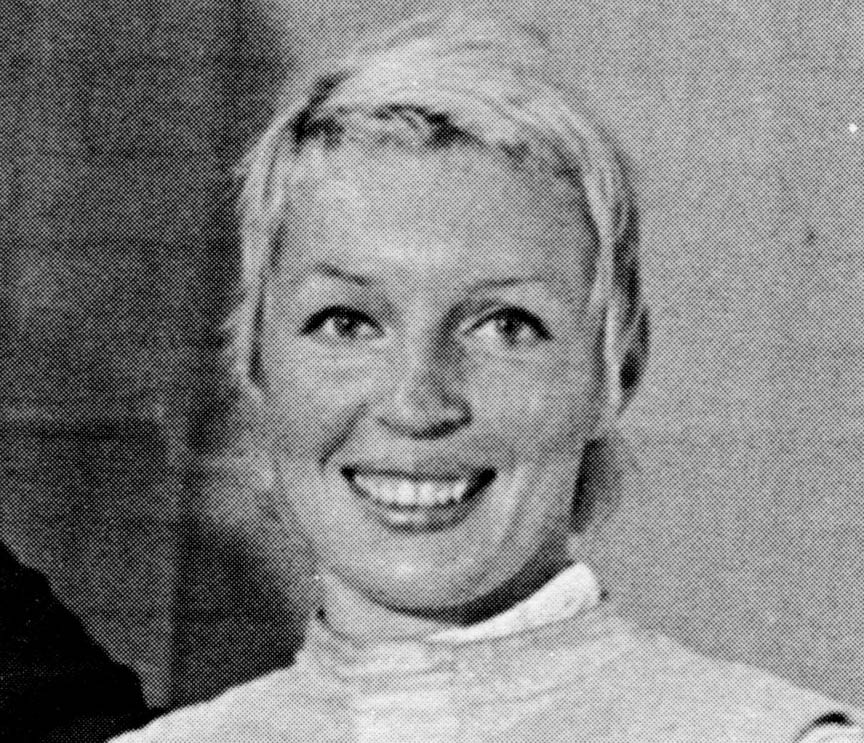 This photo I got from Andy Shaw.  Above is Tatyana Adamovich.  She would have her moment in the spotlight a couple of years later, winning the National title in 1973.
The last of the finalists is Emily Grompone from New Jersey.  She made some international teams and was also coaching in 1971.  She's shown here in this photo from Carl Borack with 1971 Men's Foil National Champ Uriah Jones.
So that's our list of players for this Women's Foil final.  Not surprisingly, the Nonomuras were following a couple of the locals with a lot of the footage they shot.  Harriet figures in a number of these cuts, and there's some great footage of Margo battling Ruth White.  Since they were using 8 or Super 8 film, there's no sound on the clip and they couldn't do anything but stop and start the camera, so the footage isn't fancy.  It cuts from one bout to the next and the only thing I trimmed out was one shot of just a few seconds.  It's also challenging to recognize all the fencers.  There are only two left handers, Harriet and Ruth, so they're easy.  Maxine can't be missed and I've seen Margo fence enough times for her posture and stance to be instantly recognizable.  But there are two clips with Harriet fencing against unidentified opponents.  After consulting with Harriet, I've tentatively ID'd one of them as Tatyana, but it's a guess.  The film is old, and was shot without the benefit of great lighting, so it can get pretty dark in the shadows.  Everyone's hair pretty much goes black in the shadow of their masks.  That makes Tatyana's blonde hair, if it is her in the clip where I've named her, not show up blonde at all.  The others where I have identified both competitors have titles giving you their names.  I also put the final standings on a card up front.  Without further ado, here is the 1971 Nonomura footage from the Women's Foil finals!