Janice Lee York Romary was the US National Foil Champion ten times in a span of 18 years from the first win to the last.  She represented the United States at the Olympic Games a then-record six times.  She finished just off the medal stand twice, taking fourth in consecutive ('52, '56) games.  Very few fencers in the history of US fencing have come close to achieving a similar record of success.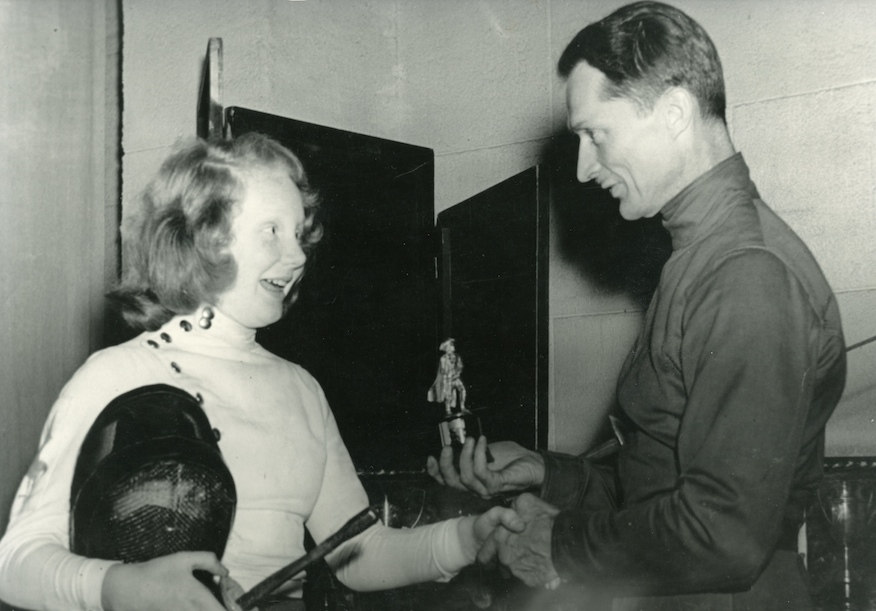 The young Jan York, fourteen in 1941, receiving the trophy for Junior Pacific Coast Champion from her coach, Ralph Faulkner.
An undated photo, but probably from around 1945.
When you're so successful at something from a young age, I guess you get your picture taken frequently.  Certainly the case with Jan.  Most of the images – actually, all of the images – shown here are from Andy Shaw's collection from his Museum of American Fencing.
Jan's career as a fencer can easily be described as spectacular.  She made her first Olympic team in 1948 as a 21 year old, and her final Olympics in 1968 at the age of 41.  At that final Olympics, where her participation set the record for women athletes by making a sixth team, she was honored with the task of carrying the American flag during the opening ceremony.
Jan York Romary carrying the flag at the 1968 Mexico City Olympic Games.
In 1948, in addition to making her first Olympic team, the women's squad from Ralph Faulkner's Falcon Studio also took home the National team trophy.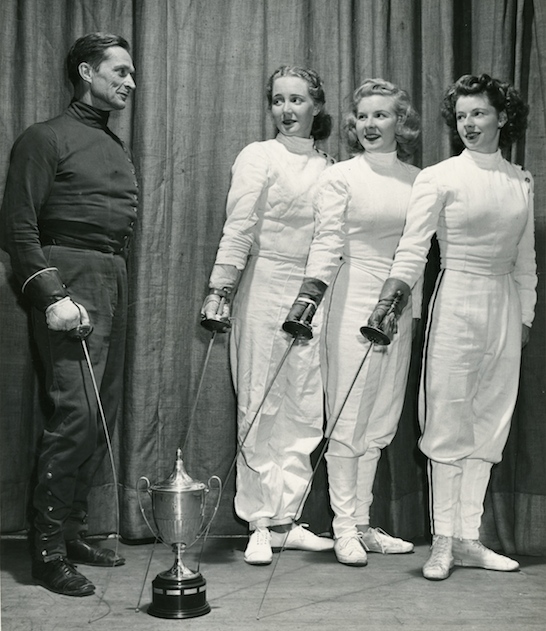 Ralph Faulkner of the Falcon Studio with his successful Falconettes.  From left, Jan York, Dierdre Gale and Polly Craus.
(Andy's notations and captions on the original photos shown above reveals conflicting information.  The above photo is dated 1948, but another note claims this team won 3 consecutive Nationals from 1949 to 1951.  So this photo is either 1948 or 1949.  I'm going to guess this is 1948, simply because there is only one trophy here.  See the next photo to see what I mean.)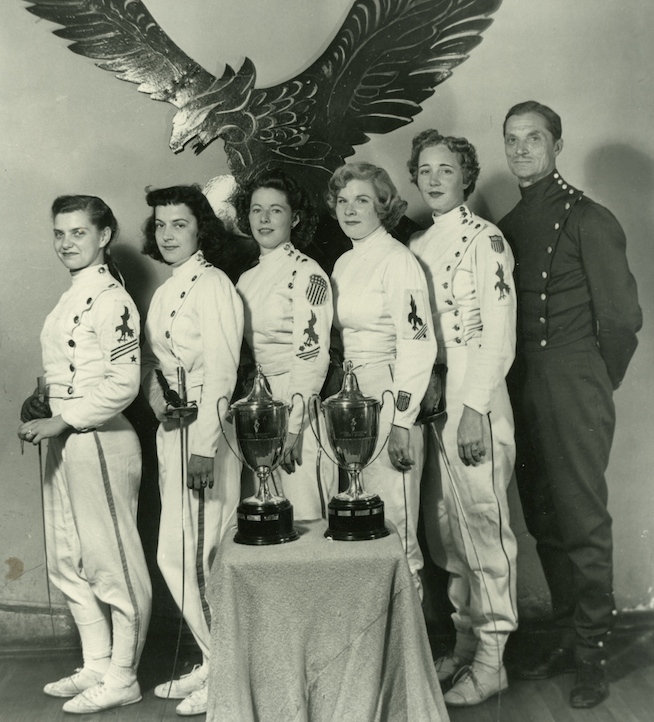 Another crew of champions from the Falcon Studios.  From left: Bernardine Meislahn, Marion Washko, Polly Craus, Dierdre Gale, Jan York (she's got a ring on her finger now) and Ralph Faulkner. 
Note the two trophies above.  This photo also has no date, but if the run of three National team tiles is correct, then this could be '49, '50 or '51.  In '49, Polly Craus won the US National individual title and in '50 and '51, Jan won the individual title.  So the above is from somewhere in that timeframe when Faulkner's Falconettes took home both the individual and team titles.
In 1952, the West Coast shut out the East Coast for placement on the Olympic team with two members coming from Faulkner and the third coming from across town.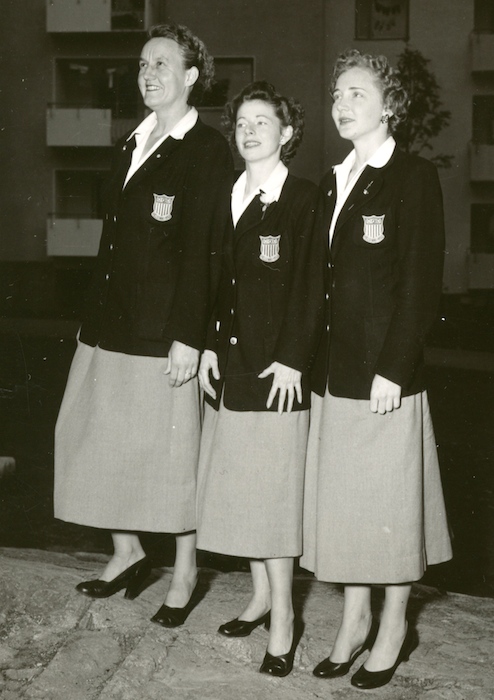 The 1952 US Olympic women's fencers: Maxine Mitchell, Polly Craus and Jan Romary.
Jan and Maxine both made the finals at the 1952 Olympics.  The top two finishers had 5 victories in the 8 woman final, and had to fence off for the gold.  The next four finishers all had 4 victories.  When the dust settled, Jan finished 4th and Maxine 5th.  Polly wound up 13th in the field of 37 fencers.  No other country had 3 fencers in the top 15.  Had there been a team event held for women's foil, they may well have had a chance to bring home a medal.  Alas, no women's team foil events in the Olympics until Rome, 1960.
When you live in Hollywood, you have to have head-shots handy in case a casting director approaches you in a grocery store. This was Jan's, I'd guess. (My friend Dave Schwartz once got in line at the bank right behind Moe Howard of the Three Stooges. "Excuse me," said Dave. "Are you Moe Howard?"  "Why, yes I am!" answered Moe Howard, turning and shaking Dave's hand. Moe gave Dave an autographed head-shot like this photo, that he just happened to be carrying around.  And once other people in the bank realized who he was, he was able to give away a bunch more.  Anyway, that's Hollywood!)
Jan didn't stay with Faulkner's Falcon Studio for her entire career.  She changed clubs several times, although she would sometimes return to Falcon for a period of time.  Today, that wouldn't seem too odd; people do move around, or fence at one club one night of the week and another on a different day.  Not so, back in the day.  If you were a Falcon, that's where you fenced.  So Jan was a bit of an outlier in that way.
One of the other coaches she worked with was Aldo Nadi.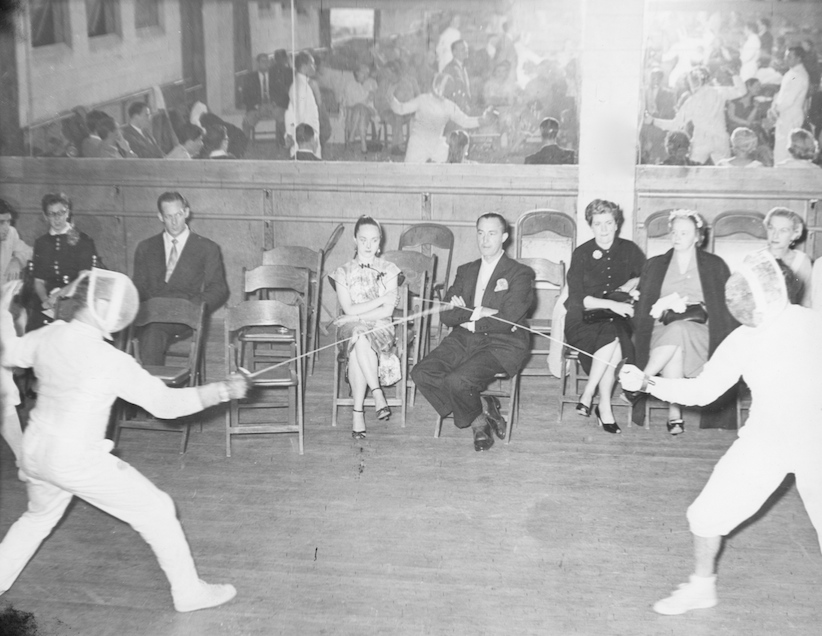 Aldo Nadi, center, in the suit, watches Jan fence.  She's on the right.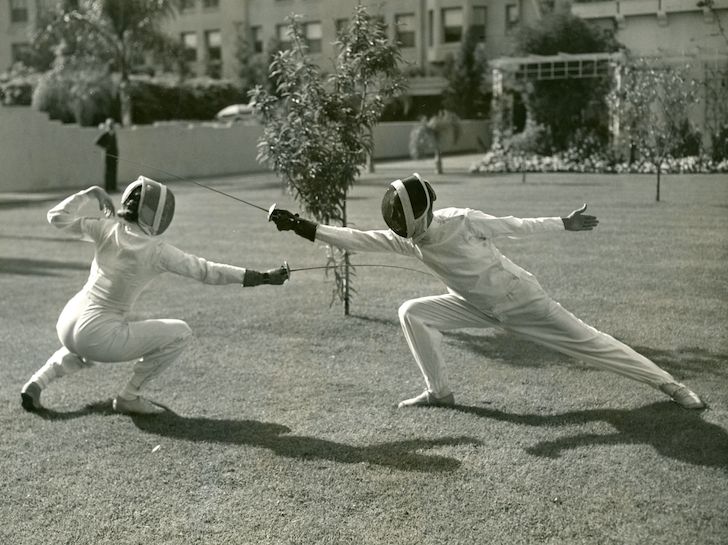 Another photo of Jan with Aldo Nadi, from 1951
Later in her career, she would frequent the Joseph Vince Studio.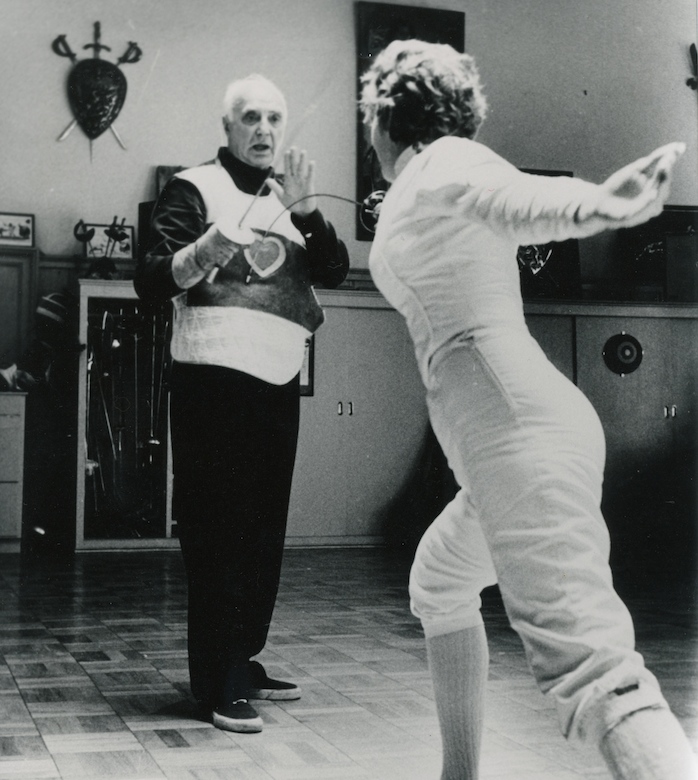 The great Hungarian-born maestro, Joseph Vince, gives Jan Romary some pointers.
The 1967 Pan American team. From left: Veronica Smith, Harriet King, Jan Romary, Maxine Mitchell.  And is that not a great mid-60s outfit?  
After retiring from competition, she remained involved in the sport and the Olympic movement, taking administrative positions for both the '76 and '84 Olympics.  She's also (not surprisingly) in the US Fencing Hall of Fame.  Because let's face it, 10 National championships (a US record for men or women until Peter Westbrook won his 11th of 13 in 1988) and 6 Olympics?  That's a Hall of Fame career.