Tommy Angell was the type of person who overcame obstacles.  It doesn't seem to matter how challenging things may have been; she simply took them on and beat them.   Not just took them on; she seems to have sought them out and demolished them.  Here's a quick list:
UC Berkeley grad, Law degree U of Michigan, admitted to the bar in 1952, spoke six languages, played on the Field Hockey National Team in 1956, was an ambulance attendant for the Squaw Valley 1960 Winter Olympics, took post-graduate classes for no-credit at Cal in Geography, Nocturnal Zoology and Conchology (the study of mollusks – I had to look it up), and played the accordion.
Tommy Angell on accordion accompanied by her faithful boxer, Duke.
Did I mention she was a fencer?  I guess she had some spare time.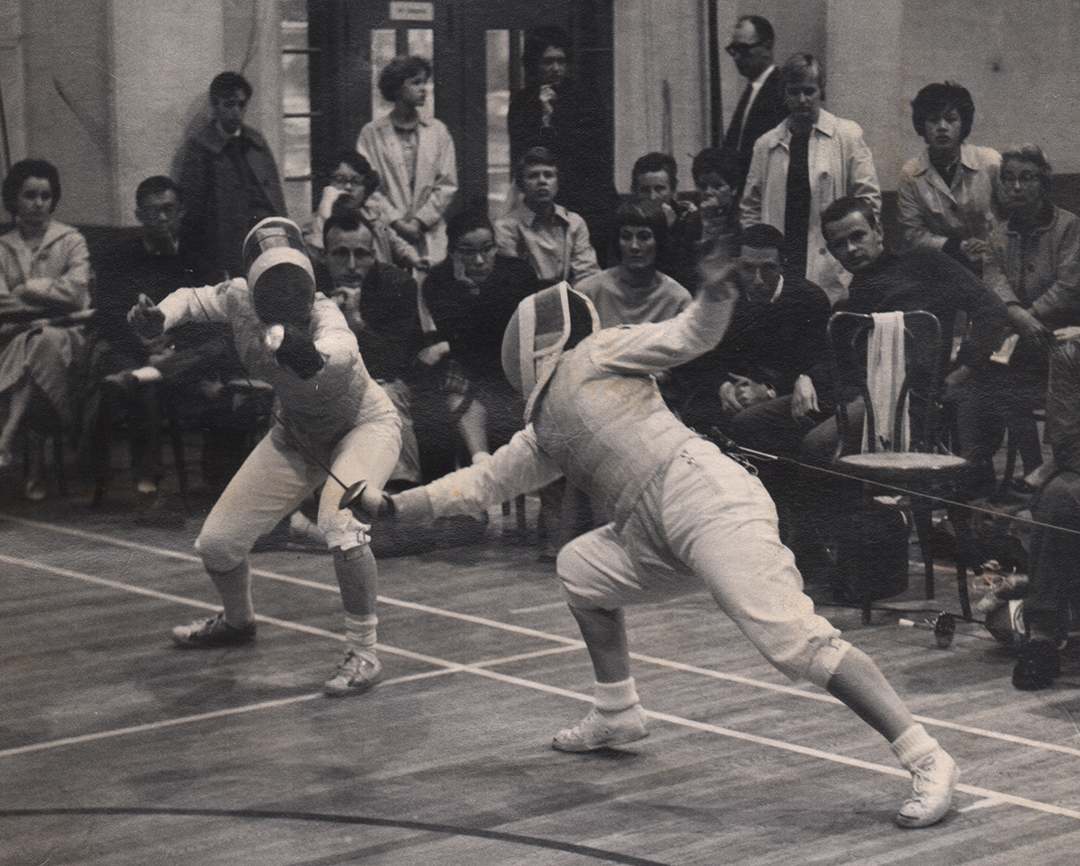 Harriet King, left, battling with Tommy Angell in 1961.
Tommy began fencing while at UC Berkeley.  The teacher for Women's Fencing at Cal then was Miss Frederica Bernhard, and while I can't find a reference where Tommy mentions her as her first coach, it seems most likely.  Frederica Bernhard is someone I have yet to profile here on the Archive site but I'm starting to find more information about her, some by searching and some by chance.  If you read last week's entry about John McKee and the packet of documents given to the Archive by Kevin Murakoshi, one of the things in that packet is a book written by Miss Bernhard (and Vernon Edwards) titled "How to Fence: A Handbook for Teachers and Students", published in 1956.  Anyway, Tommy.
Tommy, far right, during a 1953 television appearance to promote a fencing tournament.  Unfortunately, I can't name the other two in the photo.
She dropped fencing while attending law school in Michigan but took it up again after returning to the Bay Area.  Once back home, she fenced for Hans Halberstadt and almost immediately began to get results.  She won the Intermediate Foil at the Pacific Coast Championships in 1953, which graduated her into the "Open" ranks.  In those days, the Junior and Intermediate classifications didn't relate to age but level of experience.  By 1954, she was a contender for, arguably, the toughest tournament on the West Coast for women at that time, the Helene Mayer Memorial.  1954 was the inaugural Helene Mayer and Tommy finished in 3rd place.  In all, she has her name on the trophy 17 times, winning twice and taking second 10 times.  8 of those 10 times Tommy finished second to Maxine Mitchell, who won the tournament 11 times between 1954 and 1976, the last year Maxine got her name on the trophy.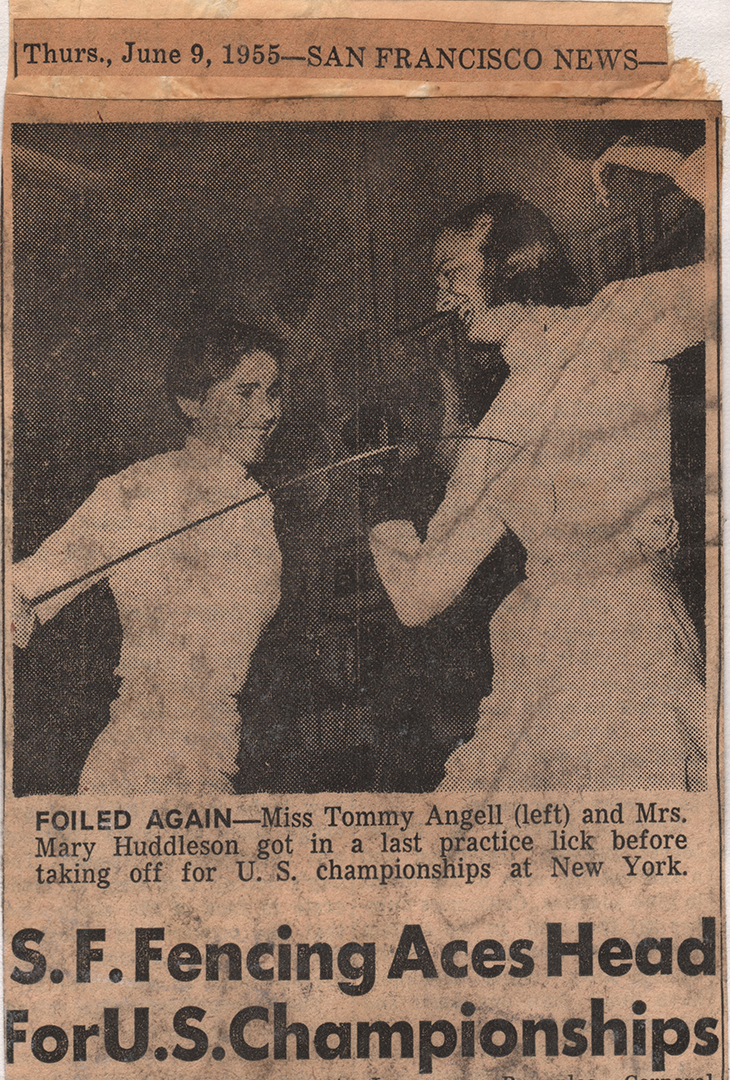 Tommy and Mary "Demi" Huddleson make the news prior to heading to New York City.
Funny story, courtesy of John McDougall.  One year at the Pacific Coast Championships in the Individual Women's Foil competition, Tommy had Maxine down 3-0.  At that time, the women fenced only to 4 touches.  (5 touches being considered beyond the capability of their frail constitutions. You know – the stone age. This rule changed not long after I started fencing, circa 1977. )  Maxine left the strip, went to her fencing bag and proceeded to eat a candy bar.  All the while, Tommy, the Director and all the side judges (it must have been pre-1960 when electric events were held only intermittently) just…. waited.  Maxine took about 5 minutes.  Finished the candy bar and calmly returned to the strip.  And won the bout, 4-3.  As John said, "Nobody else could have gotten away with it, but Maxine did."
Tommy sits while Hans Halberstadt seems to be showing off the inner workings of a fencing glove.  Perhaps it was one of the custom made gloves by former fencing master Edward Visconti, who's glove making shop was about a block away from Halberstadt's club.
It was Tommy's fate as a competitor to have come up during the time that both Maxine Mitchell and Janice Lee York-Romary were in their hey-day.  In local, regional and national competitions, Tommy had to contend with these two time and again.  As strong an athlete as she was, it was the rare day that she was able to get through to the top spot.  And, just as the careers of Jan and Max were winding down – well, not Maxine; she fenced and was a contender into her 60's, whereas Jan retired in her early 40's – along came Harriet King, who has her name on the Helene Mayer trophy 11 times, won four National titles and made four Olympic teams.  Tommy was right there but didn't break through quite often or consistently enough to match up to those three.  Still, she was on the US team for the 1958 World Championships, the 1963 Pan American Games and the 1964 Olympic team.  Her National final appearances were regular occurrences but he most often finished out of the medals.  She had a pair of silver and a pair of bronze finishes in the individual event to go along with two team titles.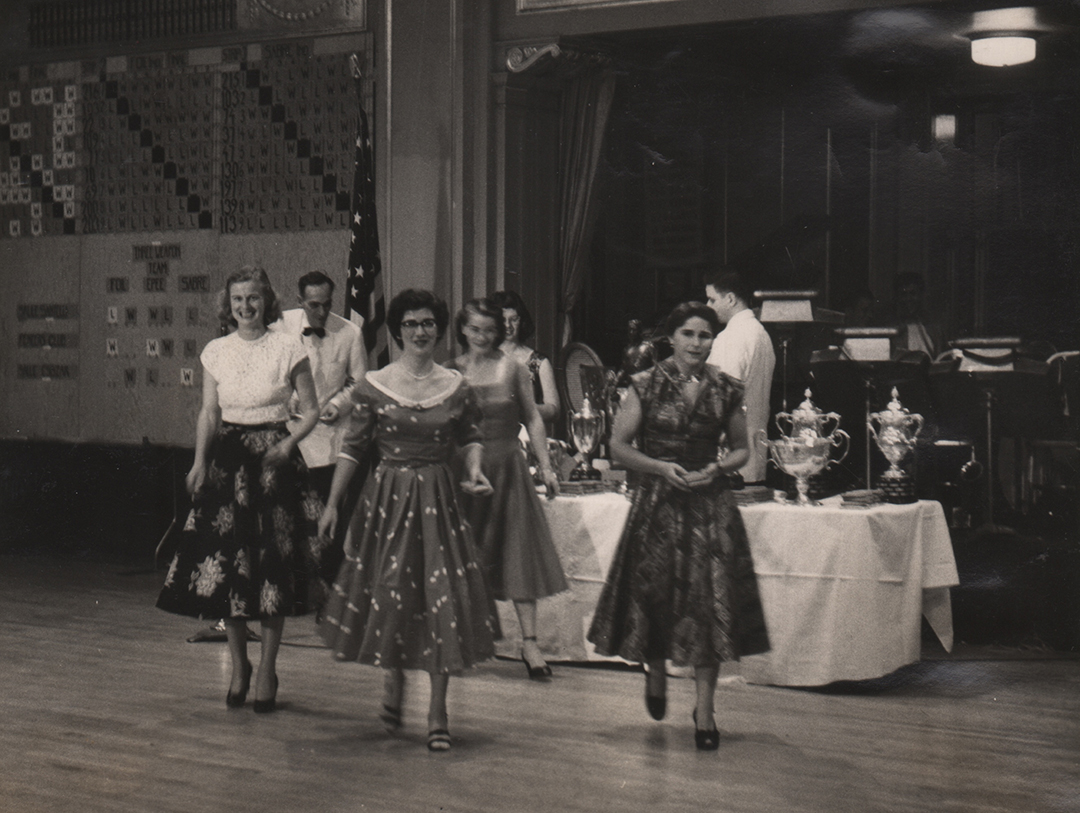 The Halberstadt women foilists pick up a medal at the 1955 US Nationals.  Check out the hardware on the table behind them!
Somewhere along the line, I think in the early 60's, she transferred her club affiliation to the Pannonia Athletic Club, and that is the team with which she won her two team titles, 1964 and 1966.
Apparently, nothing was outside her capabilities.
Her high level sporting experience wasn't limited to fencing.  In 1956 she was the only West Coast woman selected for the US National Field Hockey squad that traveled to Australia, New Zealand and Fiji for international matches.  This was prior to Women's Field Hockey being an Olympic event.  That didn't happen until 1980.  One benefit of this trip was that the team's visit to Australia coincided with the Melbourne Olympic Games, so Tommy was able to catch some of the fencing action there.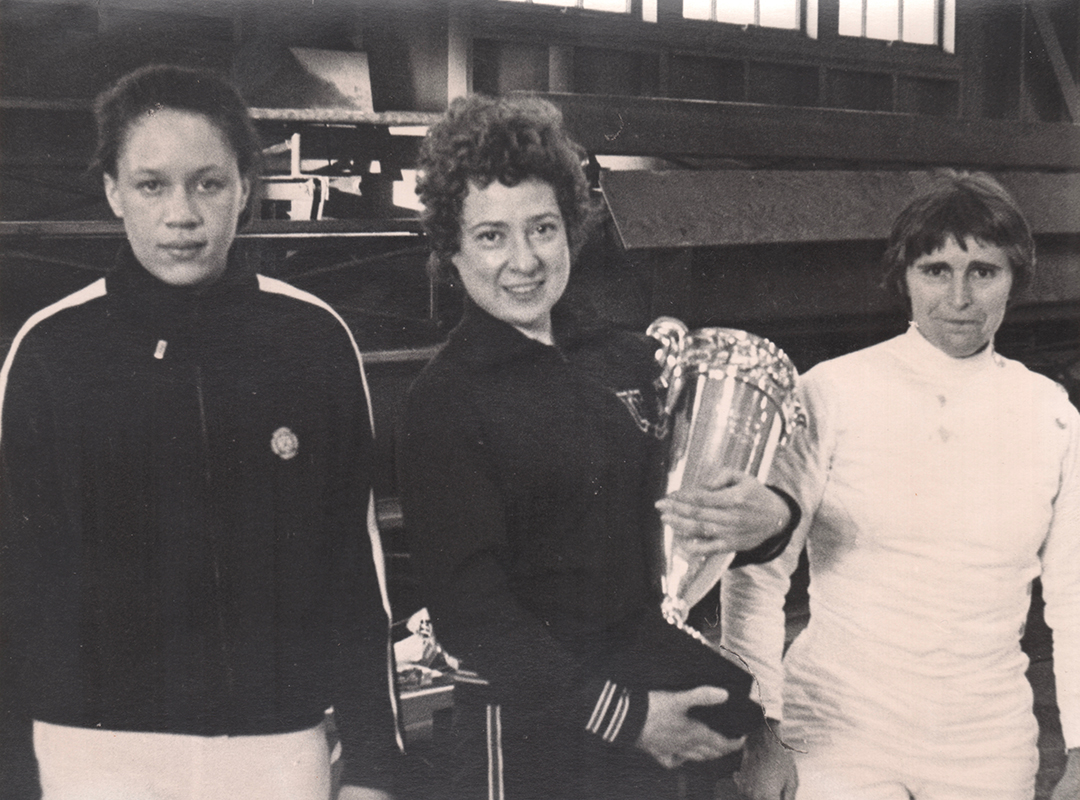 The top three from the 1971 Helene Mayer.  Harriet King, the winner, with the big trophy in the middle is flanked by second place Ruth White on the left and Tommy, third, on the right.
Tommy was not tall at just 5'2″ but she clearly had a passion for battling against the odds, regardless of the size of her opponents.  At a time when women lawyers were less common, she held her own.  Field hockey cost her two broken noses.  And battling against opponents like Maxine and Jan Romary who each had over 5″ of height on her clearly never dampened her enthusiasm.
Tommy Angell in the front surrounded by the legal world she navigated.  Disparity much?  Still, I'm guessing she was able to hold her own in this world, just as she did in all the other aspects of her life.
John McDougall gave me some insight into her character, telling me that Tommy was one of those rare individuals you could trust completely from your first meeting.  You can't have enough people like that in your life.