Ever wondered who has the "fencing.com" URL?  Yup, it's the Silicon Valley original, The Fencing Center.  Proximity and foresight; a powerful combination. The past two weeks of "Shelterinplace Con – 2020″ have been all about San Jose's The Fencing Center for me.  A few years back I picked up a large collection of boxed historical ephemera from TFC to begin the process of transferring all the hard-copy media into the digital realm.  Poster, hundreds of photos, scrapbooks, photo albums, one lonely 35mm slide, many framed photos, negatives, one 1" video master reel and yet more.  It was quite a haul.  I've worked on the digitizing and organizing off and on since then, but I'd been in a lull for awhile and had forgotten how much more there was to do.
Enter, Covid 19.  Early last week I took a trip over to West Berkeley to drop off some boxes of material that I'd finished scanning.  I wasn't actively looking for more work – I've got several boxes of stuff in my garage that needs to be dealt with, if only to win the battle against the silverfish who have been attacking in waves.  They've been beaten back for now.  But while doing a little re-arranging to make a hole for the boxes I was adding to the collection, I started going through some of the Fencing Center boxes that had been stacked up for awhile.  You know how after something's been sitting in one place for a long time, you get so used to seeing it there you forget what importance it has?  Sadly, such was the case with my Fencing Center boxes.  As I started digging through them, it began to dawn on me that: a) there were some really cool photos I needed to scan, b) I was in some of those photos, and c) I had a ton of work ahead of me.  When last I worked on the project, I'd scanned more than 2,000 photos while sorting them into over 80 sub-folders.  Well, that was just scratching the surface.  After bringing everything home and sorting into groups that can be dealt with one at at time, I now have three binders full of photos and ephemera, one binder of negatives, a box of framed photos, a stack of loose negatives, 9 scrapbooks, a stack of polaroids, another stack of miscellaneous prints, and the 35mm slide and 1″ video master tape – all on my To-Do list.  And I'm carving it up.  Finished so far: one whole binder, all the framed photos, the polaroids, the 35mm slide, and the loose negatives.  The main storage folder is currently running at 80gig.  I suspect it'll be close to half a terabyte before I'm done.
Greg Massialas parries Dean Hinton's attack.  On the far end is one of two people tasked with catching any fencer who retreated too far off the end of the raised platform.  Not a lot of run-off back there.
Enough with the preamble, or just ramble, about what I'm up to.  Today I want to focus on one of the events that was a precursor to the creation of The Fencing Center back in 1982.  The main people responsible for the preparation of that creation remain a well-known group.  Peter Burchard, Peter Schifrin and Greg Massialas were the top competitors/coaches fronting the group and they were backed up by fencer and organizational master Scott Knies, along with Connie Yu and a handful of other parents of kids that had begun taking classes through Asgard Fencers, The Fencing Center's precursor organization.  To promote the program, and fencing in general, an event was organized that would appeal to fencers and non-fencers, alike.  It was billed as the "Wine Tasting and Fencing Extravaganza", and it lived up to its name.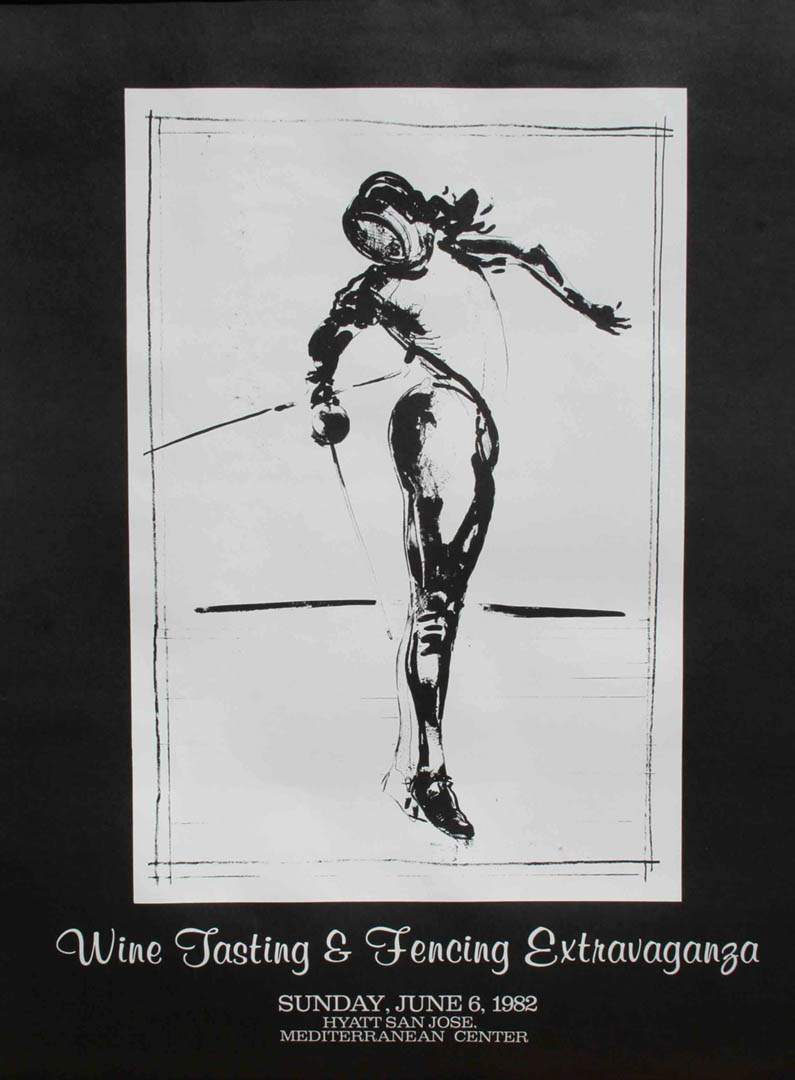 The poster for the event.  If I remember correctly, the image of the fencer was painted from a photograph of Christina Massiala.  I'm not certain who did the work.  Ian Sandiland, an SJSU fencer and artist, did the majority of the t-shirt and poster printing and design for San Jose fencing at the time.  Could well be one of his.
In sorting through the Fencing Center material, I ran across some photos from this event in three different places, some prints, some negatives, probably shot by three different people.  With a personal agenda to see what could be seen in this group of pics, I prioritized my scanning to get all this material together so I could share it here.  Personal, because I was one of the fencers who partook in the Extravaganza.  Almost 40 years ago now, but I still remember that the whole even was a great success on the fun scale.  I hope it succeeded on other fronts as well, but I wasn't involved in that end of the arrangements.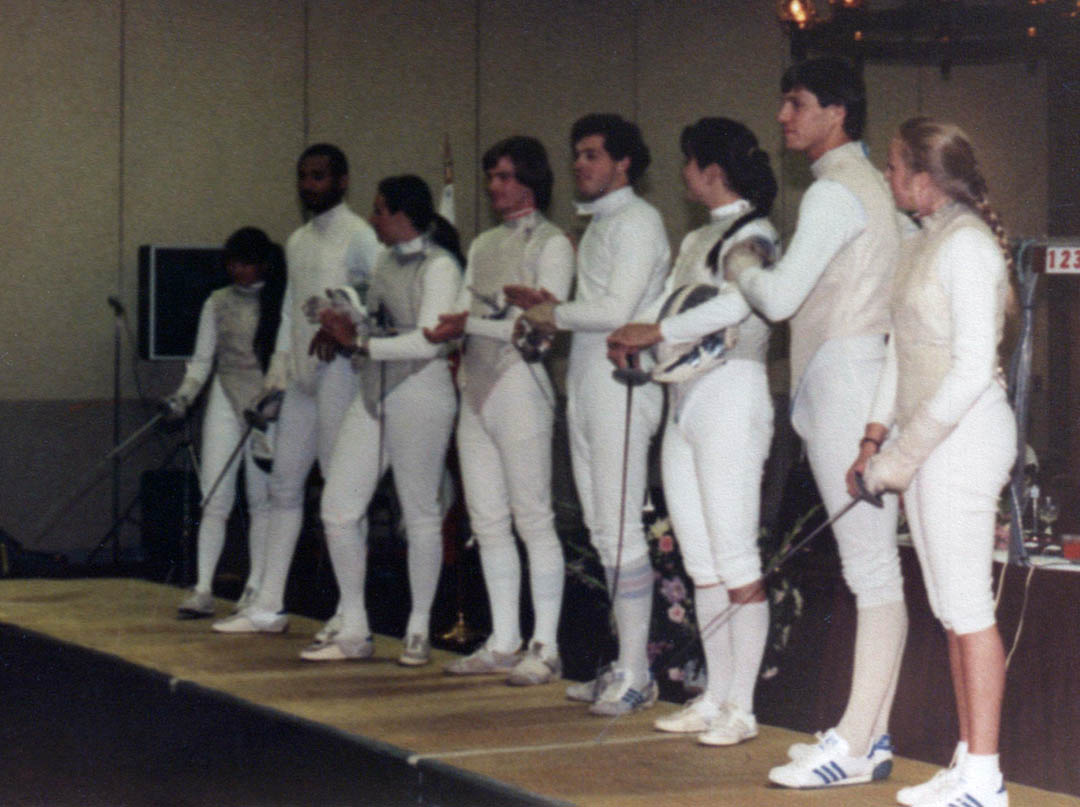 This photograph is blurry, but by the end of the event most of us were, too.  The finalists, L-R, paired in teams: Jessica Yu and Dean Hinton, Diane Knoblach and Me, Greg Massialas and Laurel Clark, Peter Schifrin and Joy Ellingson.
The day before this event, we held a preliminary round at San Jose State to whittle down the entrants to four mixed foil teams.  Each match consisted of a 10-touch bout with a change-over at the 5th touch.  I don't recall if the men fenced first or the women, or if there was a coin toss involved, but the Saturday event wound down with the above four teams still standing.  The main organizers were some subset of the people who eventually created The Fencing Center and they had pulled out the stops to get a large number of vendors on board to display their wares in a nice ballroom at the downtown San Jose Hyatt Hotel.  There were many wineries pouring and a number of catering businesses that had food out, so it had everything needed for a rousing good time.  But before the food and drink, there was fencing.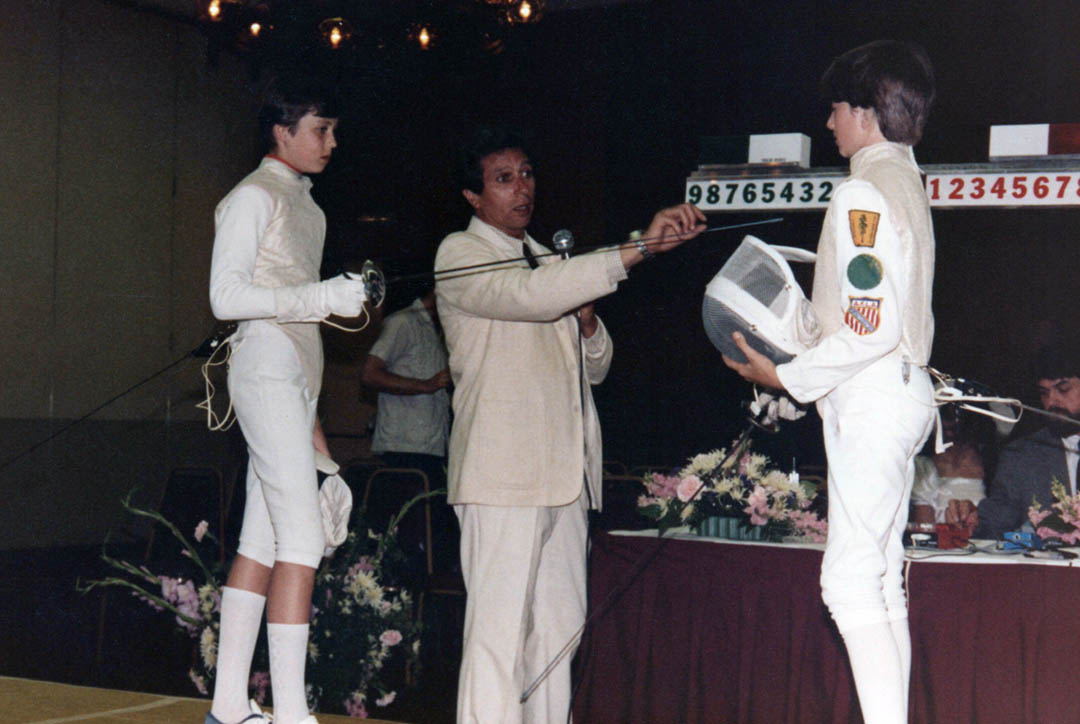 Michael D'Asaro explains the intricacies of electric foil fencing to the crowd of spectators.  Two of Asgard Fencers Juniors, Cyril de Marval and Jamie Jackson, assist and prepare to fence.
To demonstrate how fencing worked, and foil fencing in particular, a group of four of the Junior fencers put on a show to warm up the crowd.  The spectators were probably a mix of about 50/50 fencers/non-fencers, some of whom were parents that had just begun to get involved with this new program and the athletes who were teaching their kids.
The Junior fencing demonstrators: Cyril and Jamie on the left, then Lisa Posthumus and Phil Smith, all of whom started out at the Fencing Center precursor, Asgard Fencers, learning from Peter Burchard, Greg Massialas and Peter Schifrin.
After the Junior crew got the audience warmed up, the tournament aspect took over.  I don't remember what all the prizes were that had been arranged for the victors, but prizes there were.  Gift certificates for some something or other, maybe some wine.  I don't recall, since my partner and I, Diane Knoblach, wound up fourth of four.  No prizes for us, alas.
Like the photo at the top of the story, this is Joy Ellingson on the left and a very young Jessica Yu on the right.  Jessica went on to Yale and an Academy Award in later years.  Joy, along with myself and another finalist, Laurel Clark, shared a house owned by Laurel's mom that was just a few blocks off the San Jose State campus and a 10 minute walk from the fencing salle.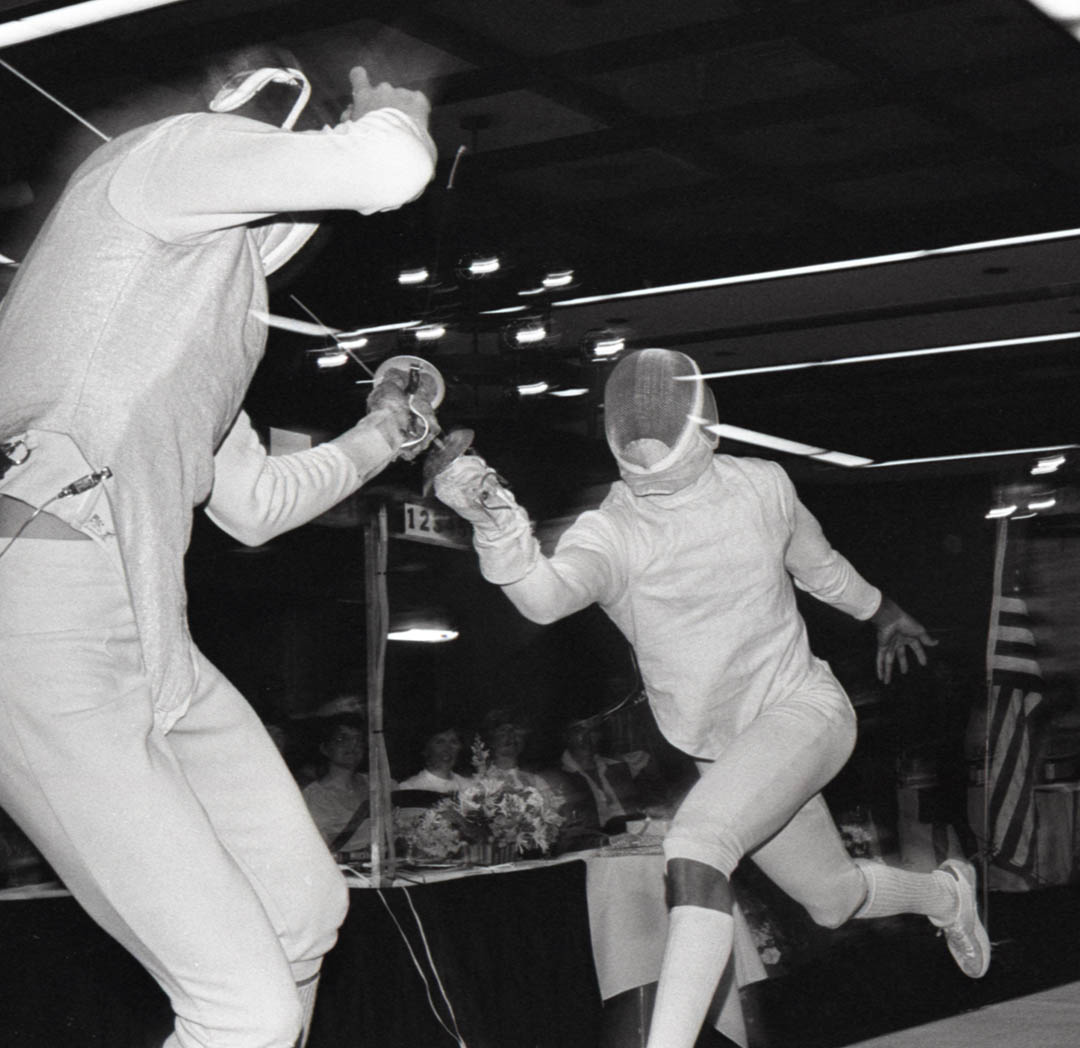 Dean Hinton, on the right, sees his attack crash onto the guard of lefty epee fencer (usually) and future 1984 Olympic team member in epee, Peter Schifrin.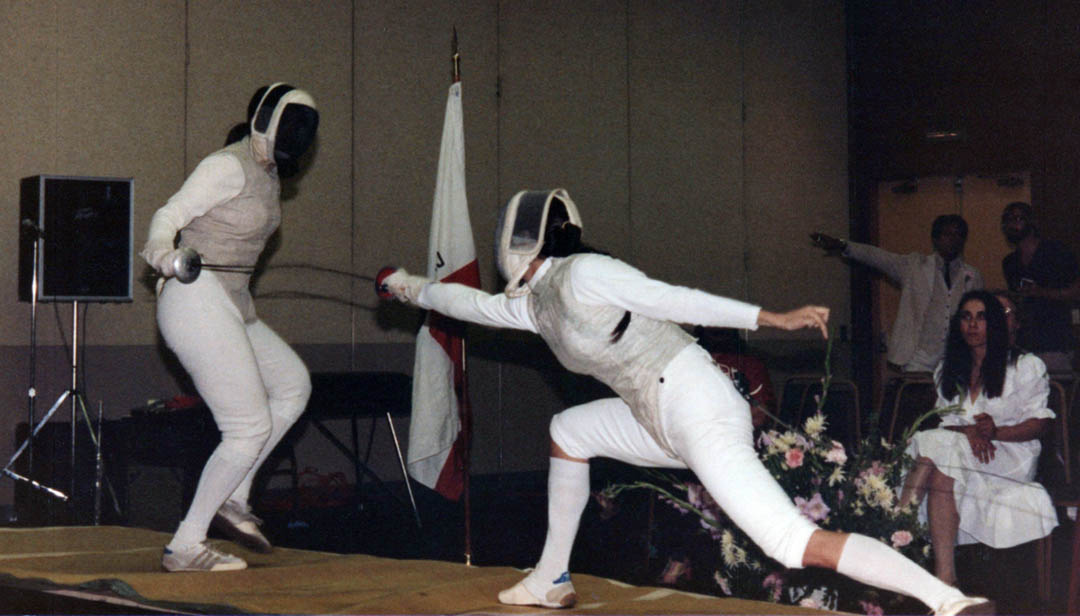 My teammate Diane Knoblach on the left, up against my housemate, Laurel Clark.  I'm not sure what happened with the taping job that was done for "securing" the copper strip on top of the fencing platform, but it did not stay in place.  You can see the wrinkles and the edge popping up near the bottom left of this image.  Footing was challenging and we all were pretty cautious.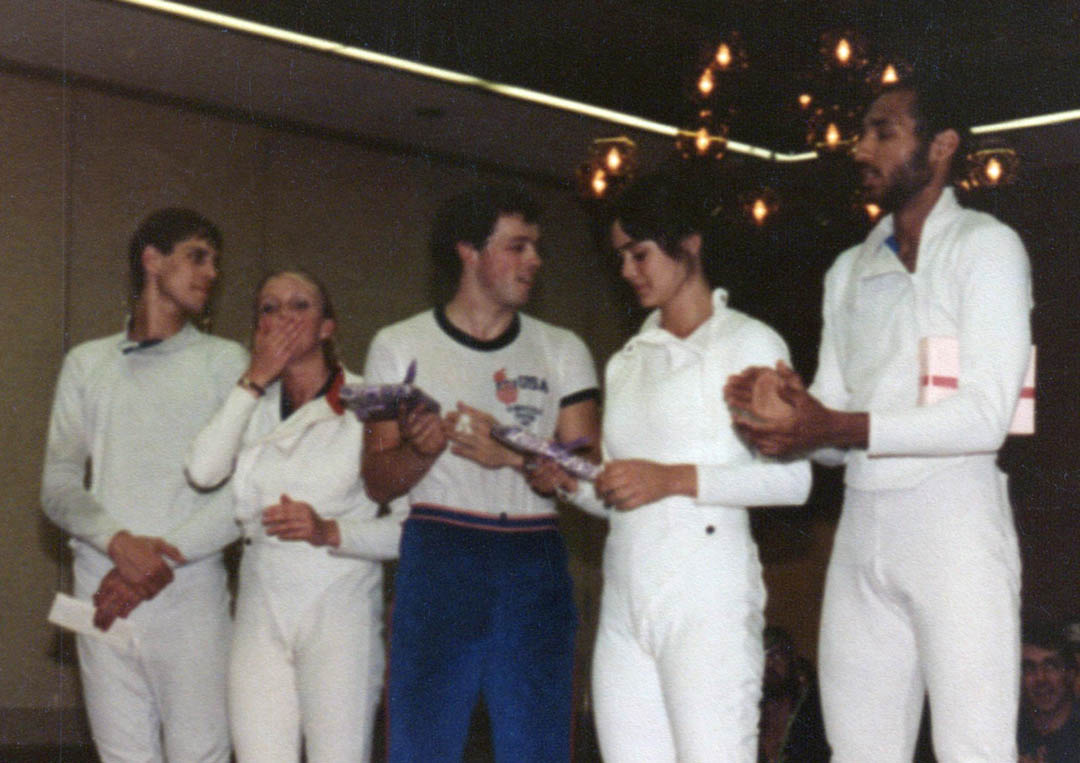 Joy blows a kiss to the crowd as she and Peter Schifrin took the top prize.  Greg and Laurel got something nice and Dean has a box of chocolates or something under his arm.  I assume Jessica got one, too.  Me & Diane?  We got a hearty handshake and directions to the bar.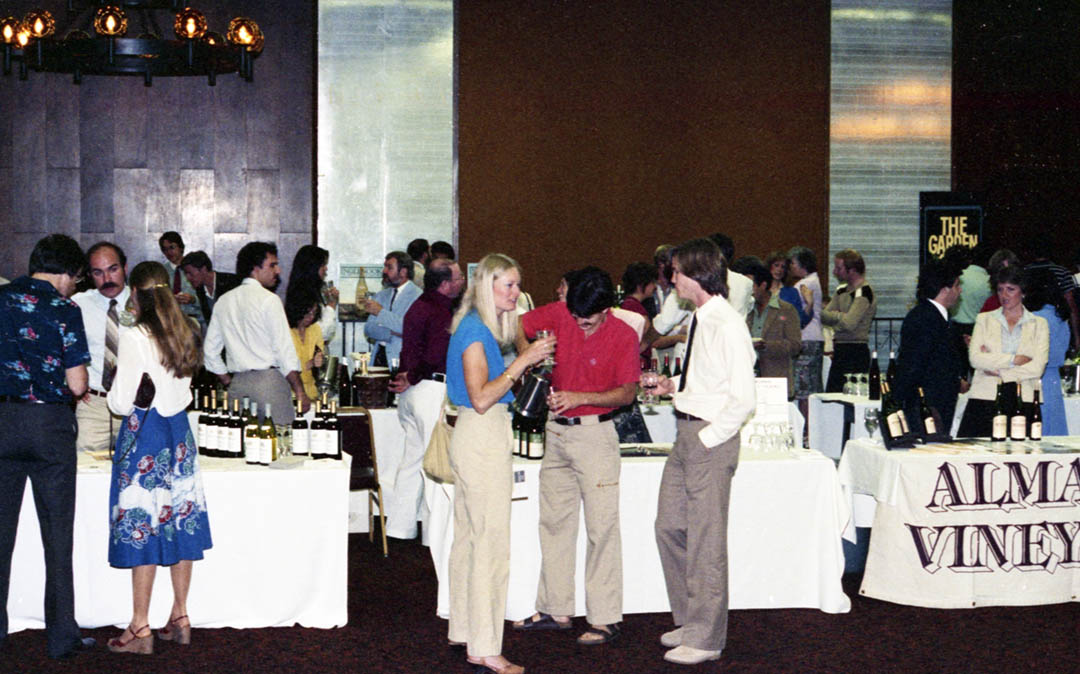 The after-fencing party.  This shot doesn't fully capture how big the event was and looking at this while trying to recall, I'd say this shows about a third of the group.  There was a lot of wine.  In the middle here, Gay (then) D'Asaro in the blue shirt, Scott Knies in the red and me with the skinny tie.  After the fencing, we all got cleaned up a bit.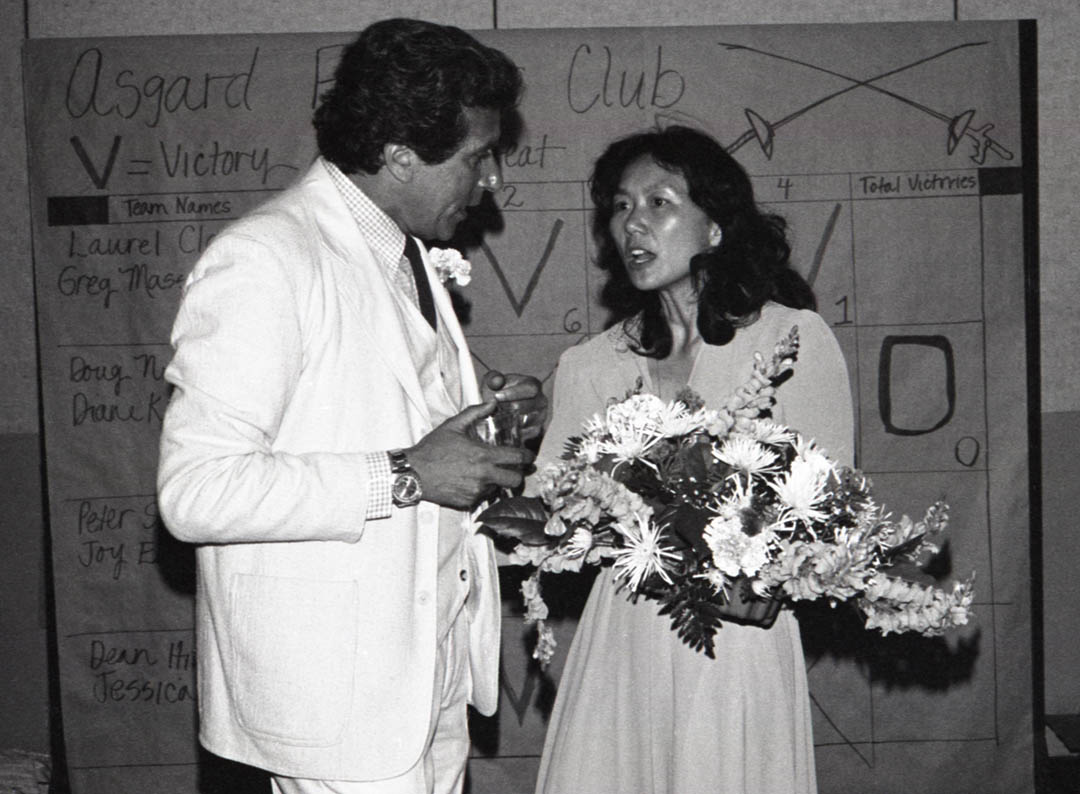 Michael D'Asaro and Connie Yu stand in front of the scoreboard, where you can see that Diane and I, the second team listed, have a big, fat "0" in the Total Victories column.  However the directions to the bar we were given along with the hearty handshake were fantastic, so we did well out of the event, regardless.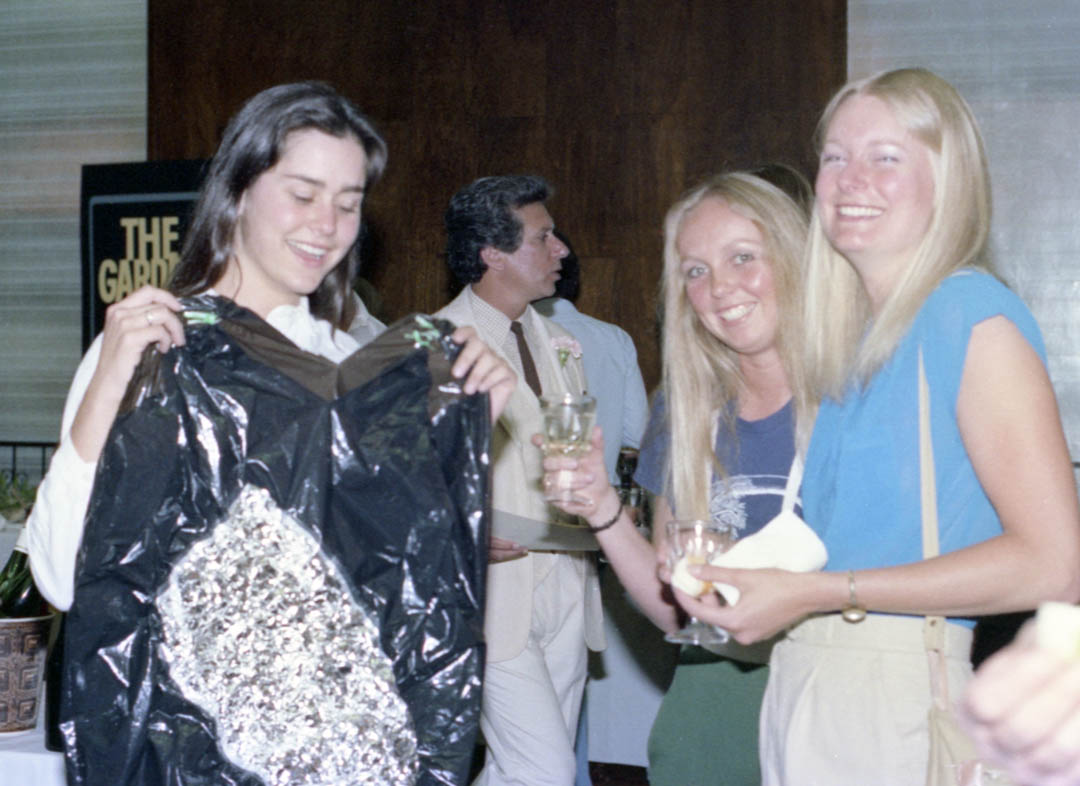 I'm not sure what the deelio was with the bag.  Laurel, on the left, was wearing it later on.  Might have been a bet between her and housemate Joy, on the right, with Gay D'Asaro laughing and Michael middle background.  Laurel Clark, a few years later, would become the first US American woman fencer to win a World Cup tournament, taking the gold medal in an epee WC in Cuba.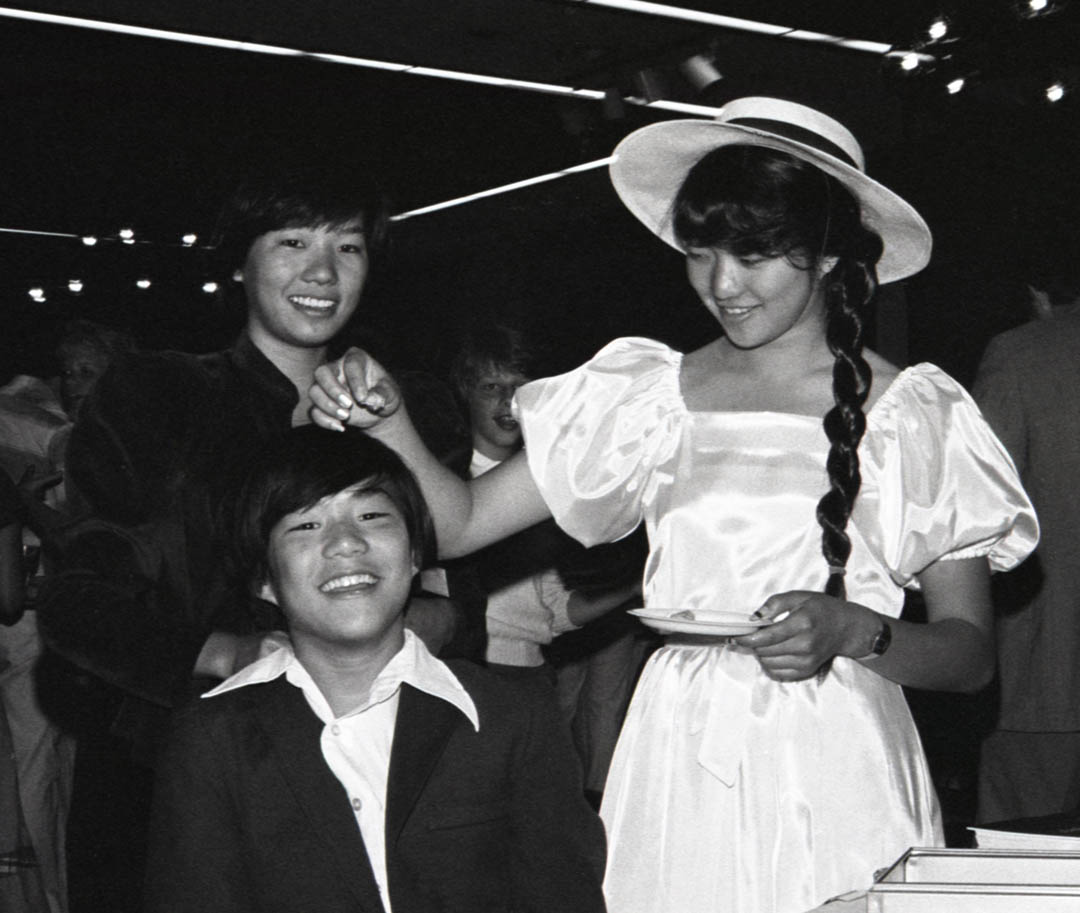 The Yu youngsters.  Jennifer and Jessica standing behind younger sibling Marty.  By this time, Jennifer and Jessica were both regulars at the practices we had at San Jose State, taking lessons from Michael D'Asaro and sparring with the college team.  When the Fencing Center opened, Marty began taking lessons from Delmar Calvert, just to be different I suspect.  All three were very successful competitors, making Junior and Senior teams, and Jennifer won the US National Foil title in 1990.
Dr. William Gaugler listens to Sheri Posthumus in amongst the wine tables.  Dr. Gaugler, a San Jose State Art History professor and Fencing Master, had just begun his Fencing Master's program at San Jose State, which saw a number of people from the San Jose competitive ranks train for two years to prepare for their USFCA-accredited Prevost exam.
So that was the event at the Hyatt.  Wine Tasting and Fencing and Extravaganza, all rolled together in one package.  It truly was an entertaining event and was one of the formative events that established the founders of The Fencing Center as capable organizers.  Not long after this, the search for a facility was underway to get the program out of a high school gymnasium and into a space they could call their own.  That first location, when they finally found it, was a story all its own.  10 Notre Dame, downtown San Jose, was the former home of the editorial offices of the San Jose Mercury News and had half-glass walls throughout the building.  Cool space.  Long gone, of course.  Downtown San Jose is a very different place now compared to 1982.
For me, back to work digitizing more material from The Fencing Center.  Scanner's on and warmed up.  Here goes!