A number of things have come my way recently through various paths.  Taken individually, they add to the collection in nice ways, but don't necessarily give me the grist to crank out a full story around them. I thought it might be fun to drop them instead in a short-form post to give myself a means to show them off without trying to craft a larger tale.  I've got a number of research projects in the hopper that haven't come together yet (we're considering a backyard remodel that will take no small amount of attention) so rather than pulling a brain muscle or doing a slap dash job, here are some bite-size stories to snack on.
At the top of the page, mostly hidden behind her mask, is two-time Olympic foilist Mary Jane O'Neill.  A three-time first team All American while attending Penn, she competed at the 1988 and 1992 Olympic Games and won the 1991 US National Women's Foil individual title.  I picked this up after a back and forth via text with Peter Schifrin, a college teammate of mine and 1984 Olympian.  While attending grad school in Boston, he taught fencing.  MJ was in med school at Harvard and Peter was coaching her during her run up to winning Nationals in 1991 and making that second Olympic team.  As an Easterner, MJ wouldn't normally be in my Ebay-purchase roundhouse, but this came up for sale just after the back and forth with Peter, so I thought I'd pick up a representational image of the West Coast connection.  And it's a nice dynamic shot.
I'll be bouncing around quite a bit today, since there isn't any particular theme.  That said, we can at least stick with the Boston area for the below.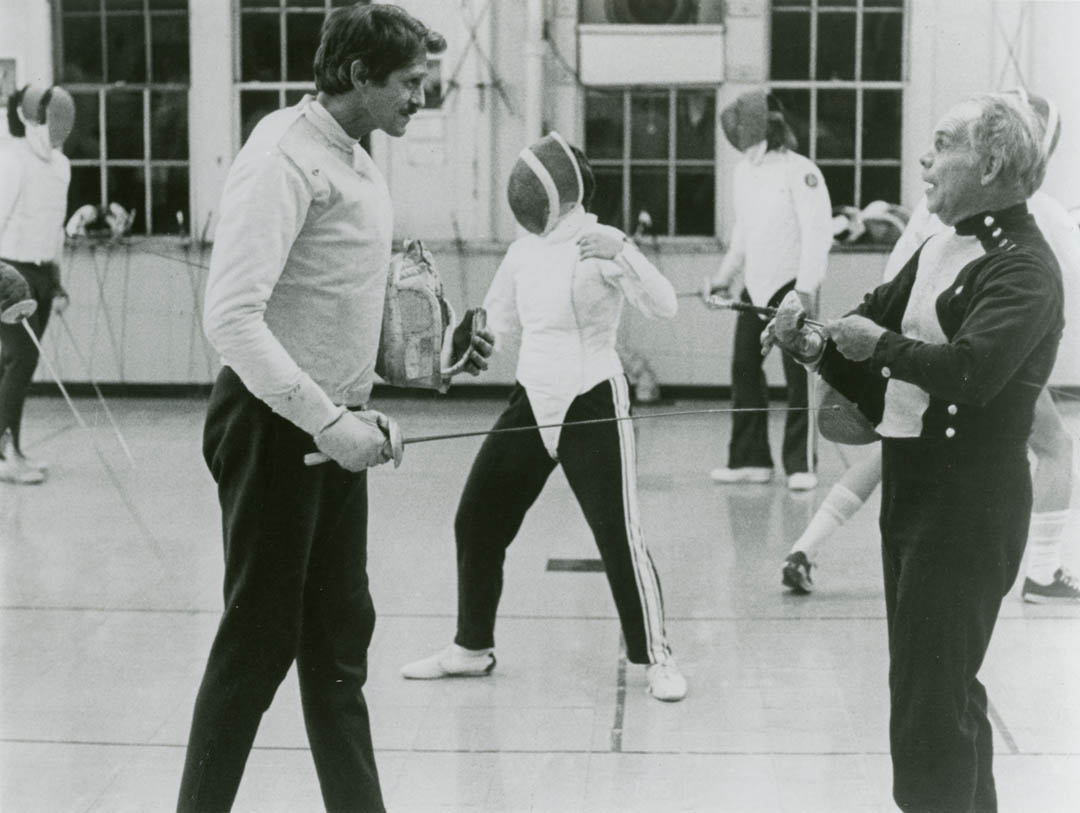 When I moved to Los Angeles in 1991 to work at a visual effects company called Rhythm & Hues, I started making the trek down to the Westside Fencing Center to start up lessons again with my college (and after) coach, Michael D'Asaro the Elder.  He'd moved to LA and, like many other outstanding coaches, worked out of the Andy Shaw-led Westside club.  In addition to Ted Katzoff, Mischa Itkin, Daniel Costin and several others, Ed Richards was teaching at Westside.  The above photo was taken in 1979, while Ed was still running the Boston Fencers Club.  He later sold the club to my current coach, George Platt, who I've known since my beginning fencer days.  Coming from the West Coast, I didn't know Ed well when I was a young competitor, but I learned very quickly that you'd be in good hands if he happened to be directing your pool.  I had him as a director quite a number of times, but I had one experience with Ed I'll always remember fondly.  Sometime around 1997 or 1998, while I was working at Disney Feature Animation, two of my co-workers and I hit upon the idea of competing at a Corporate Challenge fencing tournament in Seattle.  I don't remember who the organizer was, but the format was three-person teams, each fencing one weapon.  So I fenced foil, James Biehold, a layout artist on Tarzan, fenced epee, and Peter Bielicki, layout on Atlantis, sabre.  Like current team events with a progressive score to 45, who-fenced-last was critically important. (We fenced the opposing person in our weapon three times.)  It may have been a coin toss to decide bout order.  Or drawing from a hat.  Something silly.  It was a fun tournament.  Jim and I were holding our own in epee and foil, but Peter was having a rough go in some of the sabre matches.  Given a choice, we'd try to have either Jim or I fence the last leg.  In one of our matches and unfortunately for us, Peter's sabre match would be the last leg, and I was second to last.  The other team's sabre fencer was good, and the epee fencer was a tough matchup for Jim.  Jim held his own, but I was going to have to set Peter up with a solid lead, if I could.  Fortunately for me, the other team's foil fencer was the least experienced fencer on their squad.  In each of my matchups, I had to fence very carefully, as I really couldn't afford to give up a single touch.  In one of the more heartless performances of my fencing career, I did exactly that.  Wherever I picked up the score in my three bouts, I scored quickly and cautiously.  Ed Richards was directing, but I didn't want to make him have to think about difficult calls, so everything was single-light touches.  No counter-attacks unless I knew I could close out or displace.  Nothing complex.  Simple touches.  Really, it was some of the smartest fencing I've ever done in a tournament.  We ended up losing the match when Peter came apart at the seams in the last pairing, but it didn't really matter.  We'd had fun.  The best part for me was, after we were done, Ed came up to me with a big grin on his face with his hand out to shake.  I took his hand and he pulled me in close so only I could hear.  "Mr. Nichols," he said. "Very nice fencing.  You were completely ruthless.  I enjoyed that.  Thank you."   He laughed that unique Ed Richards laugh and went on his way.  It's not every day I get called ruthless.  That's a memory I'll cherish forever.
Mid-Century Modern fencing design for 7up!  I love this design style with all my being.  Artists like Mary Blair and JP Miller, who designed some of my favorite books from my childhood before I even knew to look for the name of the artist, worked in this style and it has always captivated my attention.  This piece isn't signed, unfortunately, so I don't know who did it.  There were so many working in this style in the mid-to-late 1950s that it could be any one of dozens of artists.  Madison Avenue's heyday.  And it may "smooth your whiskey", but keep that 7up away from my single malts.  I buy the peaty ones on purpose.
A little more traditional approach for 7up this time, but sticking with the fencing theme for reasons unknown.  Is there a connection I'm not aware of?  Was 7up the Official Drink of the Amateur Fencers League?  Somehow I doubt it.  Money would be involved, which pretty well immediately discounts the involvement of the AFLA.  Making money wasn't a primary driver of our sport, back in the day.
This is another recent Ebay find.  Standing in the center back is Hollywood Athletic Club coach and two-time Olympian for the Netherlands, Duris de Jong.  It's hard to know if the trophys we can see behind his head were up for grabs on this particular day or just on display.  I could imagine arguments for both.  The photograph was taken in Seattle, Washington in 1954 and the caption on the back fortunately identifies everyone.  The fencers are Daniel Drumheller of Spokane on the left and John Loewen of Vancouver, BC, on the right.  Tate Minckler of Portland is side-judging on the left and, hidden behind John's raised back hand, is Alfred Raisters of Seattle.  Those four are all new names to me, but it brings to mind for me just how much work I need to do to start getting to the bottom of the history of fencing in the Pacific Northwest.  In my head, I very much included that region when I defined the West Coast Fencing Archive, but in practice, I've still got a whole lot of ground to cover all over that region.  Heck, I haven't even done decent profiles of the Auriol brothers or the Marx family.  So. Much. To. Do.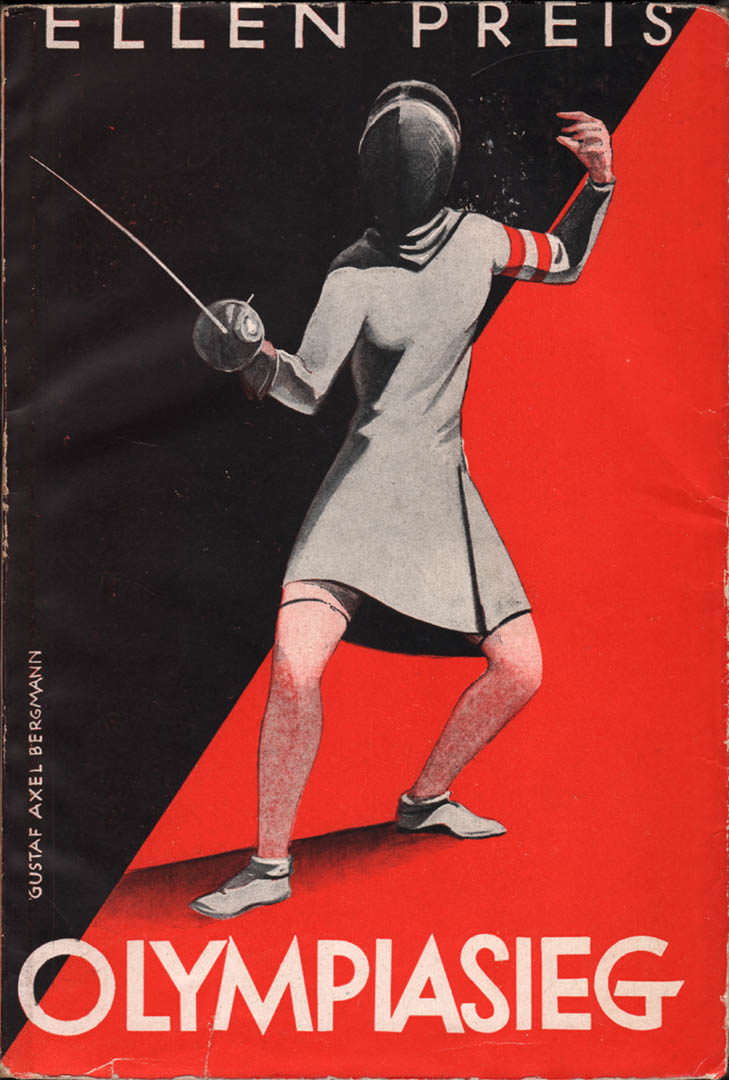 In a recent spate of research into frequent Helene Mayer opponent and 1932 Olympic Champion Ellen Preis of Austria, I decided I needed to get my hands on a copy of this book.  It was published in 1936, right around the time Preis was competing for the 1936 Olympic title.  She took the Bronze that year behind Ilona Elek of Hungary and Helene.  I was particularly interested because there is a photograph in the book of Preis with her coach, Minna Werdnik, an early 1900's female coach who produced an Olympic champion in the person of her niece, Ellen Preis.  Sadly, the book is in German and I don't read German.  Even more sadly, it's not in modern German, but in the German gothic script that's tough to decipher visually, much less find a means to make the type searchable.  Maybe there's a tool out there; I haven't looked into it.  I will say, just learning about that typeface, the Fraktur or Gothic version of written German, is a deep rabbit hole.  You have been warned.  To get this book, I strayed a bit from my usual Ebay haunts to take a stroll through Advanced Book Exchange, my favorite collector's bookselling site.  Sure enough, found it straightaway.  It's rumored to also have been published in an English edition, but I've yet to see an example of that come up for sale.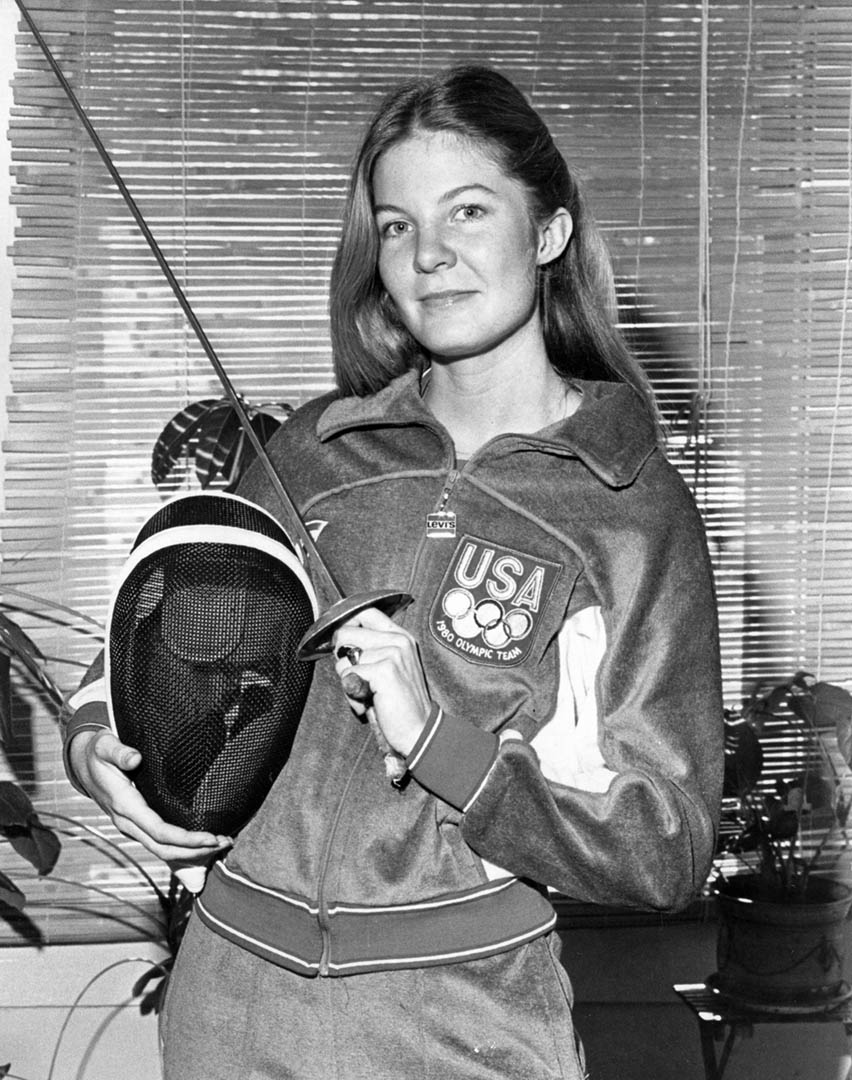 One of two former San Jose State Spartan fencers to share today.  I found this 1980 press photo of Olympian Stacey Johnson on Ebay and snapped it up.  The sweats she's wearing are blue velour or some such soft material and I think they were handed out for more than one Olympic cycle.  Did the 1984 team have these also?  Stacey was twice the NIWFA Individual Foil Champion and three-time National Champion in foil team.  She also was President of the USFA, on the Board of Directors of the USOC and served two terms on the FIE's Women and Fencing council, the second as President.  Originally from Texas, upon graduation from high school, she convinced her fencing peer to join her in a cross country drive to San Jose so they could be teammates with Michael D'Asaro as their coach.  Here's that teammate: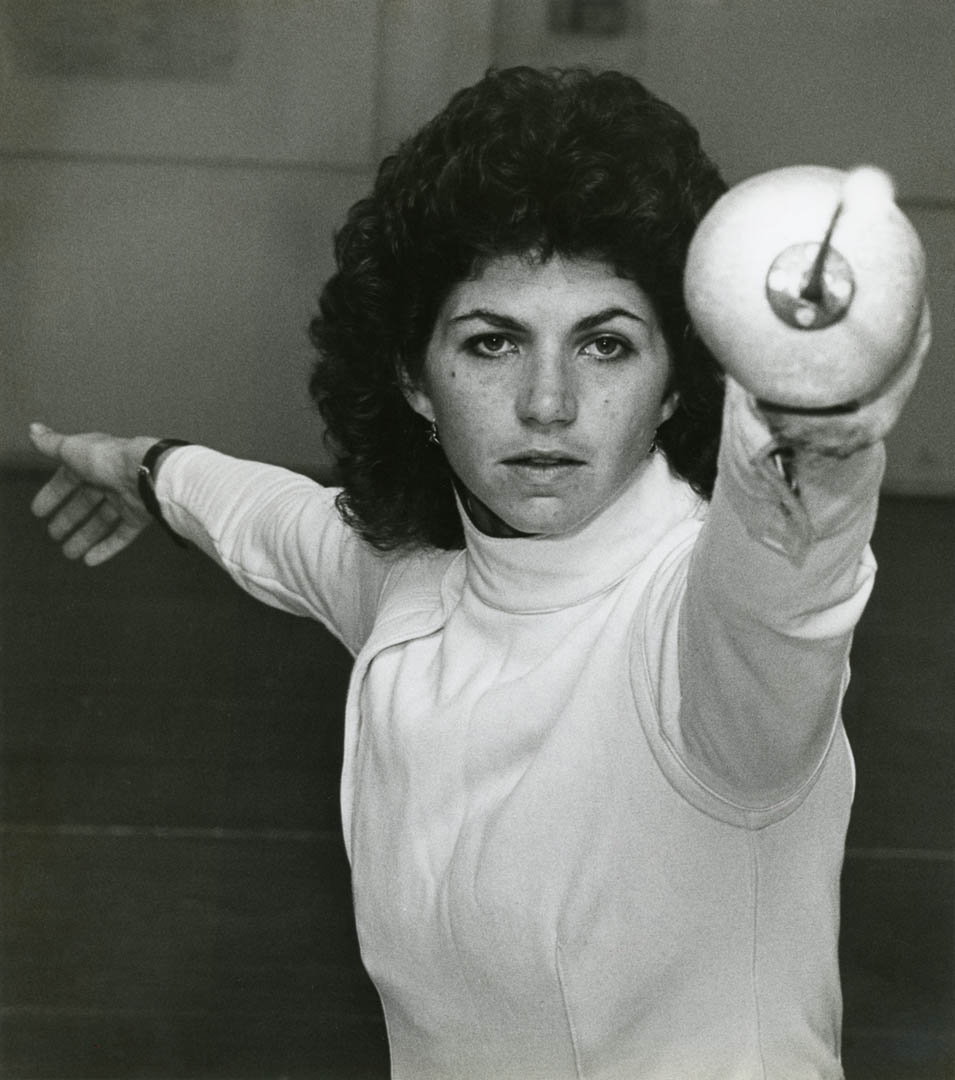 Vincent "Vinnie" Bradford, San Jose State Spartan.  Vinnie and Stacey were both training at San Jose when I arrived in Fall, 1979, in the run-up to the 1980 Olympics.  Stacey made that team, but Vinnie had to wait until 1984, which is when this press photo was taken.  Vinnie is the only woman to win both the epee and foil National titles in the same year.  She had returned to Texas by 1984 and eventually became a very successful coach in San Antonio and was a highly influential voice for women coaches as a member of the USFCA.
If you come here often, you may have had an inkling that I wouldn't get through this potpourri of pictures without a mention of Aldo Nadi.  I hate to disappoint.  This is the somewhat damaged dust jacket from my recently acquired first-edition copy of the Nadi classic, "On Fencing."  It's the first one with dust jacket I've owned, but was almost the second.  Ah, the tragic story of that first one.  When I was younger, but after I'd begun my interest in fencing, my then-gf found a beautiful copy of On Fencing with dust jacket to give me as a birthday present.  I don't know how she found it or how long it took, but she persevered.  To keep it out of my sight prior to my big day, she was keeping it in her desk at work.  Just a few days before my birthday, the office building where she worked burned to the ground.  Completely gutted the place.  Hoping against hope, after the ashes cooled she talked the firemen into helping her get to her desk, just to see if, by some miracle, the book had survived.  No such luck.  She did find it.  The spine was burned nearly beyond recognition but for a couple of letters where you could just make out the title, but the pages were a ragged edge of blackened ash.  I kept it in a plastic bag for awhile.  I'm not sure why.  Maybe I thought it would regrow.  After it began to rot, I finally threw it away.  Anyway, that was the last time I had a copy of the first edition of On Fencing with a dust jacket.  Happy to have one.  At long last.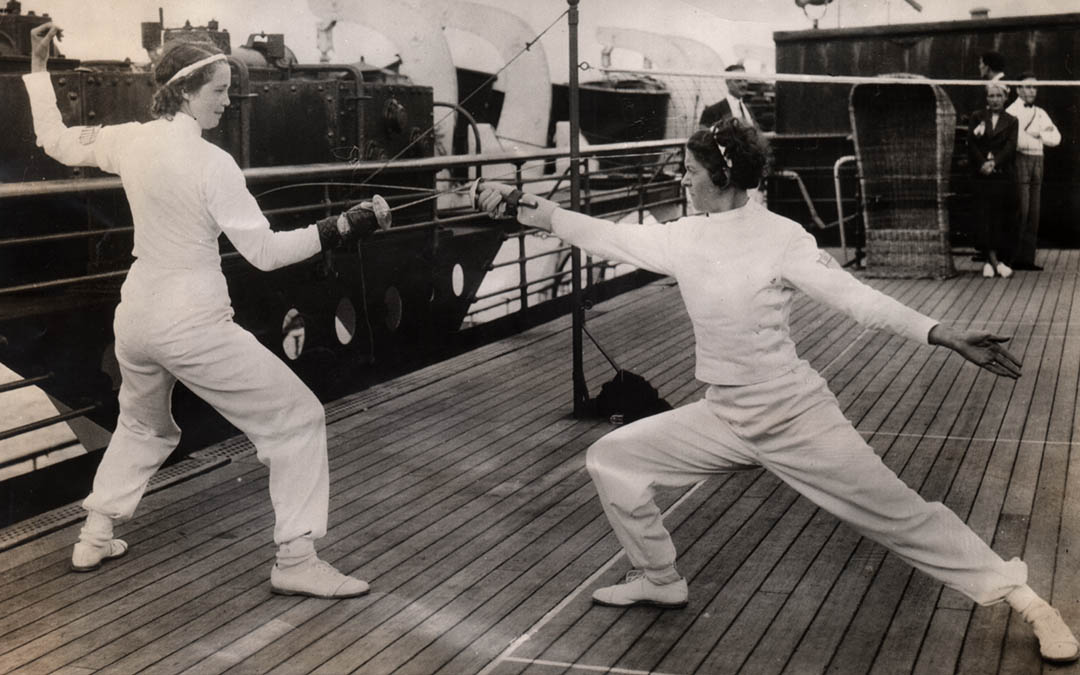 Two members of the US Olympic Team on the way by ship to Berlin for the 1936 Olympic Games.  On the left, Marion Lloyd, and on the right, Dorothy Locke.  The two were teammates, along with Maria Cerra, at Salle Vince in New York, training under the Hungarian, Joseph Vince.  That Salle Vince team won the US National Women's Team Foil Championship a record 10 times in a row.  Both women also won the US Individual title twice.  Now, why would this photo of two New York-based fencers fall into the hands of the West Coast Fencing Archive, you may ask?  Marion Lloyd became Marion Lloyd Vince after marrying her coach, Joseph.  On top of that, the Vince's moved from New York to Los Angeles in 1940.  Salle Vince re-emerged in the Westwood area of the city, not far from the entrance to UCLA.  And if that's not enough, the Archive was donated the business records of the Vince/Mori equipment company.  I've perused the files a bit, but I confess I was mostly looking for the names of famous Hollywood-types who purchased fencing gear from Mr. Vince.  I hit on a few.  James Coburn.  Natalie Wood.  Tony Curtis.  I'm sure there are more.  At any rate, I wanted a nice photo of the young Miss Marion Lloyd prior to her becoming Mrs. Marion Lloyd Vince.  She continued to fence at the Vince Salle in Westwood long after her competitive career was over.  By all accounts, she was a joy to be around, making all welcome and enjoying fencing thoroughly until late in life.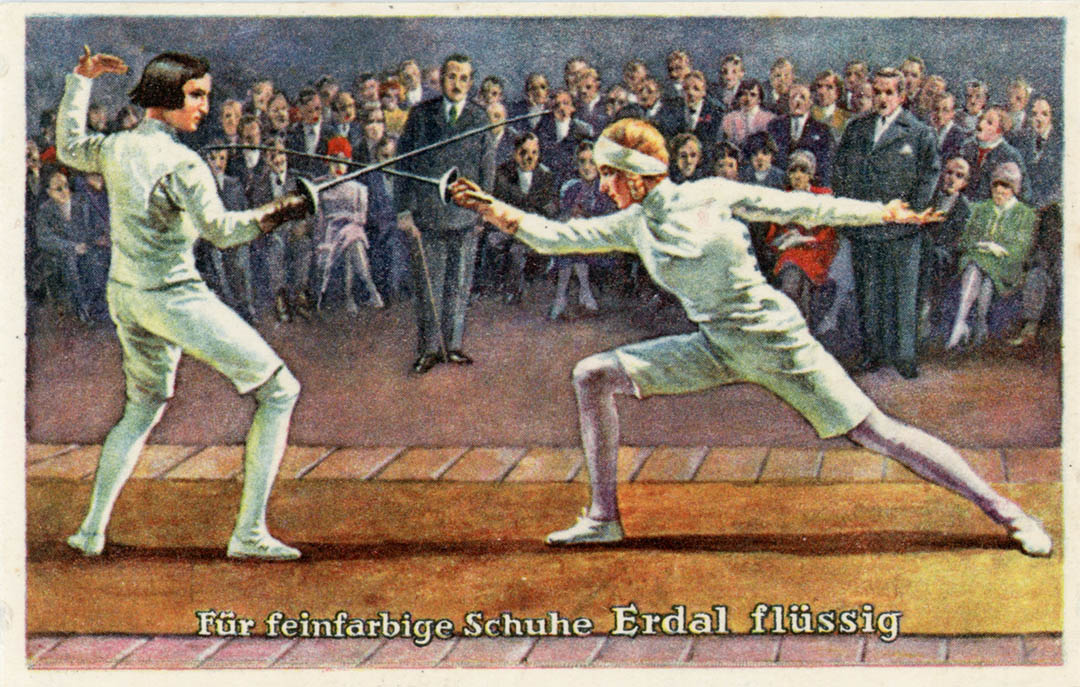 Like baseball cards in bubblegum packs that I collected in an indifferent manner as a kid, cigarette packs in Europe once came with sports cards.  The above example is from a German brand – of shoe polish!  New flash!  Thank you, Google Translate!  I believed the Ebay seller who sold me these as cigarette cards, but doing a little GT work tells that me that the title at the bottom (and yes, I know those of you that can read German without cheating already know) says "For Fine Colored Shoes, Erdal Liquid."  Not only could you pick up this card without supporting your nicotine addiction, but you could have fine looking shoes, too!  This card, one of six that I purchased in a lot, shows Helene Mayer on the right scoring a touch on teammate Olga Oelkers.  I have several other examples of Helene on sports cards, but I think this is the only one to feature Ms. Oelkers.  Oelkers competed in two Olympics, 1928, where she won the Individual Bronze medal, and 1936.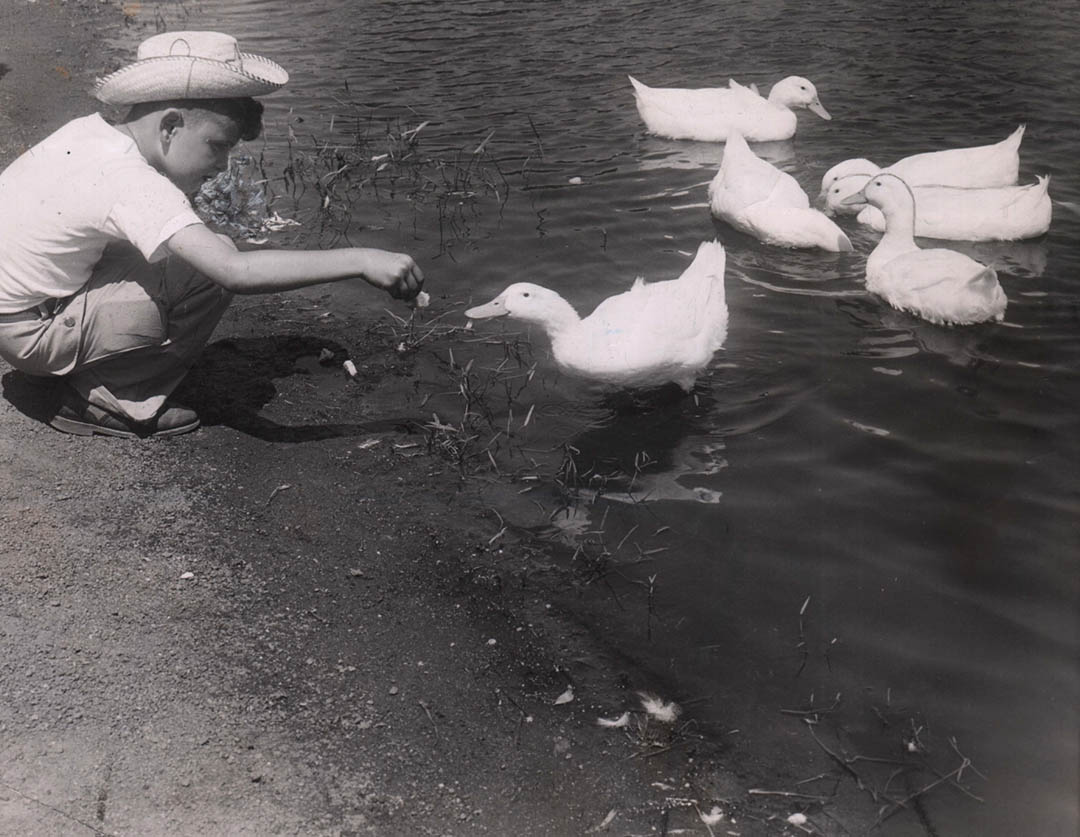 Last, and by no means least, this spectacular Ebay find.  This photograph, taken for the Staten Island Advance on July 12th, 1955, shows an 8 year old Carl Borack feeding ducks at Willowbrook Park.  Yes, that Carl Borack.  National Foil champ, Olympian, film maker, producer, multi-Olympic Team Captain.  That guy.  I gave Carl the chance to buy this photograph of his eight year old self, but the price for this piece of nostalgia was out of range of his better sense.  Not mine, however.  After I scooped this up from Ebay, I made a scan and sent him a fine digital version of it, so I guess Carl won on all fronts here.  His family moved from Staten Island to Los Angeles not too long after this photo was taken.
That's a wrap!  I didn't expect I'd be wallowing around quite so much with my own fond memories when I started writing today.  Sometimes these posts take on a life of their own.