Serendipitous.  Is that a word?  Spellcheck isn't trying to correct it, so I guess I'm on firm ground.  Serendipitosity happens a lot around here.  I find one piece of information, an image, a packet of photos.  Time passes.  I find another piece that fits into that puzzle.  Then, quite unexpectedly, something comes across my desk that makes the nebulous come into sharp focus.  The medium of revelation this time, as with many in the past, is Ebay.  I have a number of Ebay searches set up to automatically inform me of items that I may be interested in.  Some things I can't automate in this manner.  A standing search for "Hans Halberstadt," for example, would get me pages of items for an author that shares the famous fencing master's name.  More unique searches, say, "Aldo Nadi," can be a little more fruitful, but often the results cycle through a very small number of items that I either already have or don't have interest in.  I mean, how many copies of "On Fencing" do I need?  The answer to that question is, apparently, four.  But the most recent first edition purchase has an intact dust jacket, so that's not outrageous, is it?  Some other searches aren't viable as a daily feed simply due to volume.  I frequently look for press photos with fencers, but a stable search that will give me the results I desire is a bit hard to nail down without a raft of extraneous images of picket fences, chain link fences, ballpark fences, etc.  So when searching for what I'm hoping to find in that realm, I'll run a few different versions of the search parameters and then scroll quickly through the long list of results to see if anything of real interest might turn up.  That's how today's story coalesced into clarity.  A press photo on Ebay made me stop, remember some other things I've got in my collection, and go, "Oh!"  That's when the fun begins.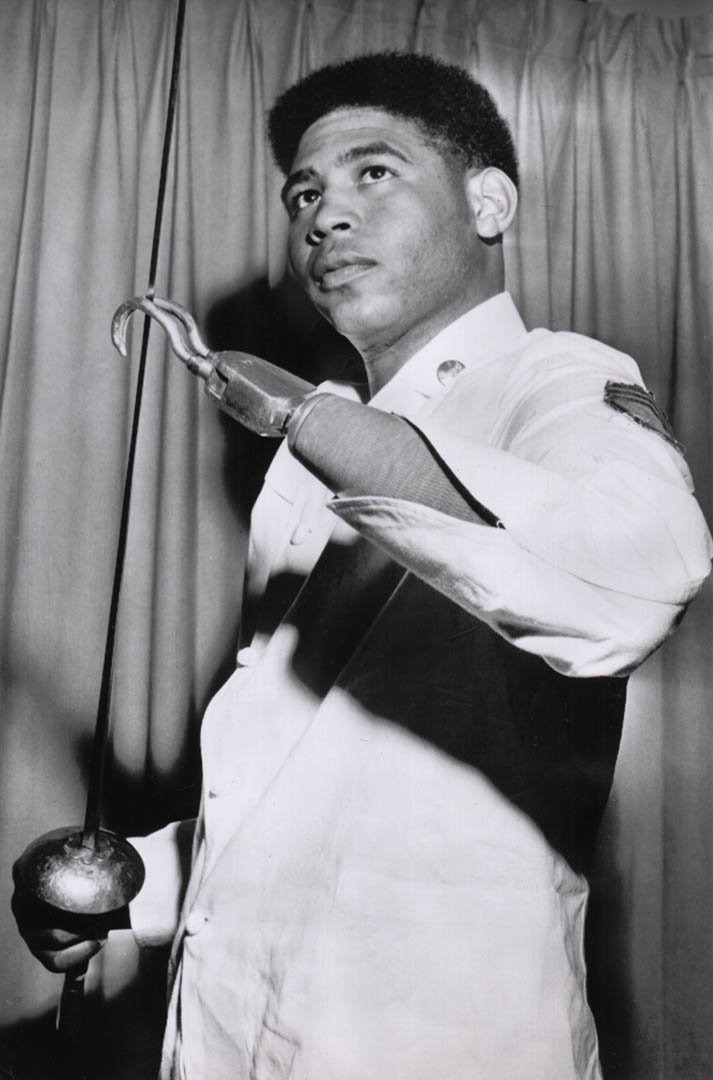 Army Sergeant Herbert Rhodes, June 7, 1955.
Before finding the above press photo on Ebay, I had two main sources of images for Herb Rhodes.  He shows up in several official portraits taken at the Letterman Army Hospital, such as the one at the top of today's story, that are part of the collection of images in my Dr. William O'Brien material.  He also gets frequent mention alongside Col. Laurance Brownlee, whose stash of photos and clippings were donated to the Archive by Brownlee's daughter.  They're all from a very limited time-frame, however.  From what I can glean from the newsier news articles, Rhodes was convinced to try fencing while convalescing at the Letterman Army Hospital in San Francisco's Presidio from injuries sustained during the Korean War that took his left arm.  Prior to his injury, Rhodes was, in his own estimation, a 'second string' athlete.  He was runner-up in the Third Army's light-heavyweight boxing championship in 1947, played football and baseball, but didn't find fencing until his posting to Letterman in 1952.  He initially fenced some sabre after getting interested in the sport while using the gym where the fencers practiced.  He dropped it, but then was approached by Bill O'Brien, the volunteer coach at Letterman, who convinced him to try again.  His competitive career was short-lived, seeming to run from the 1955 through the 1957 seasons, but he made an impression.
Earliest fencing result for Rhodes in my collection.  I can relate to how Rhodes may have felt after winning the tournament, but not receiving the 'outstanding fencer' award.  Same thing happened to me at the Westerns when I was in college.  That's right, Frank Fox.  I haven't forgotten.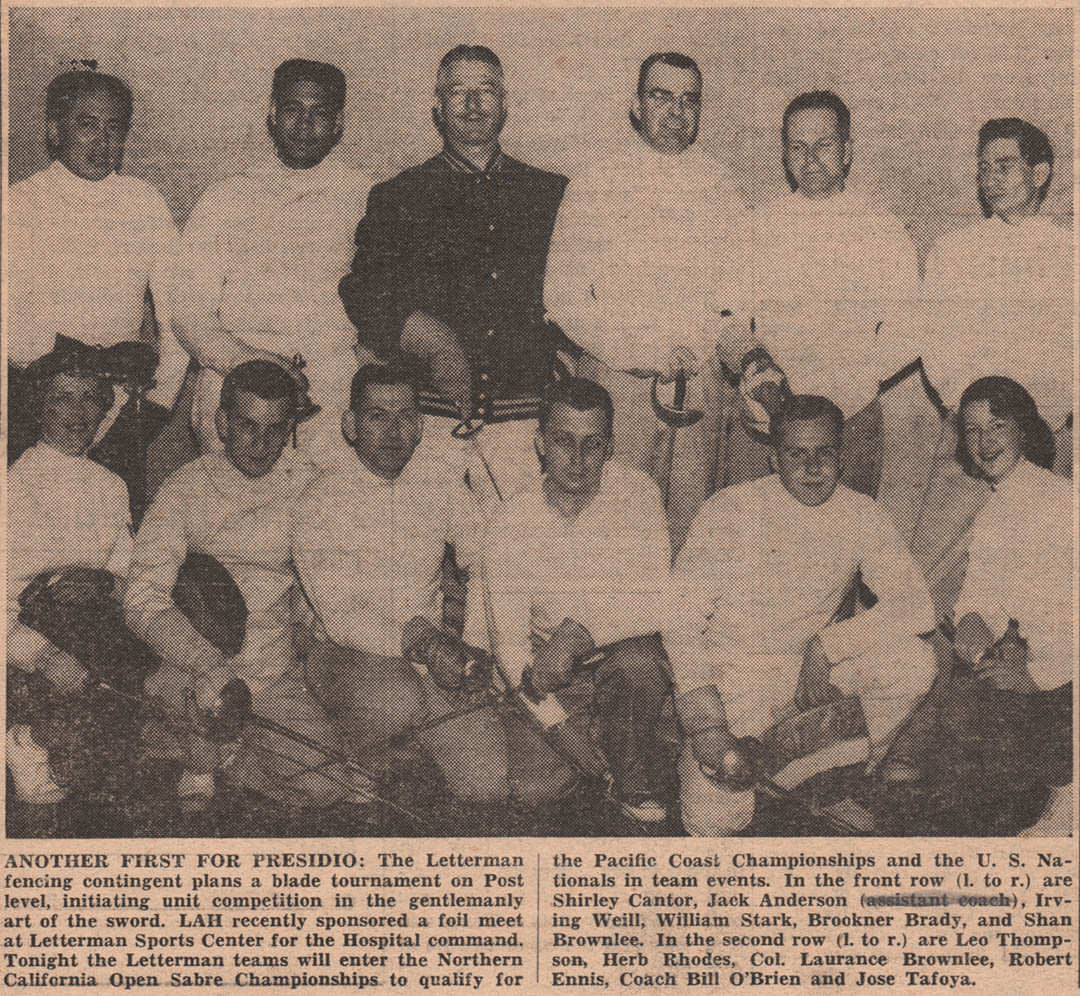 Both of the above articles were from the same event, with the photo showing the Letterman contingent that competed for club honors.  This photo comes from Dr. O'Brien's material.  I like that he added the touch of crossing out "assistant coach" for Jack Anderson.  Might be a story there.
Rhodes started out with competitions at his club, but quickly graduated to the local AFLA scene.  In one article, from a bit later in Rhode's career, I got one very useful bit of information when the printed results of a local sabre tournament mentioned that one of the medals in the final went to John McDougall.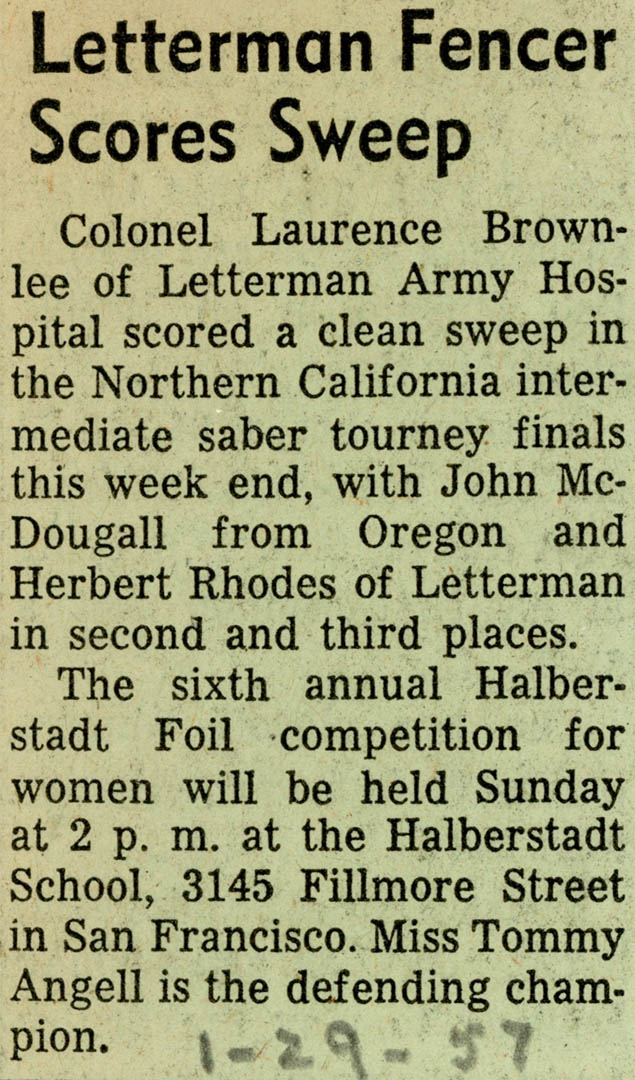 And what do I do when John McDougall's name comes up in relation to a data point of historical interest?  I send a message to John McDougall!  John remembered very well competing against Herb Rhodes.  During the time Rhodes competed, John found him to be a tough bout to face, particularly in foil.  As John recalls:
He had a jacket made from the thickest possible canvas that fitted him skin tight. No dimple at all, no shadow. You could make a good touch and judges wouldn't see it. Totally legal. It seemed to me that was good tactics on Herb's part…I wish we'd had electric foils.
Rhodes was one of several fencers at Letterman who, with very little experience in the sport, were able to rise up through the local ranks very quickly due to their fighting spirit.  Severo Pasol and Jose Tafoya were a couple of the others from Letterman who were wartime veterans who picked up fencing and improved quickly.  The technique they learned was complemented by their competitive spirit.  As they assimilated more skills, they became tougher and tougher bouts.
I've mentioned this before.  At the time this was printed, the 'junior' designation denoted your level of experience and not your age.  Herb was new to fencing competitions and hadn't been rated as 'intermediate' yet.
In the run-up to the 1955 Pacific Coast Championships, the NorCal division held their annual championship.  Letterman fielded fencers and teams in all the events.  Herb qualified in all the individual events and would also be fencing on the teams.  I'm not sure exactly what year O'Brien began teaching fencing at Letterman.  I may have that info somewhere.  If not, I should find it.  Point being, the Letterman Army Hospital was pretty amped about promoting the success of the team, in light of the victories the group was racking up on the local level.  With the PCC qualifications and a trip to Nationals in the making if they performed up to scratch, the group rated a number of articles in the post newspaper, The Fog Horn.
From The Fog Horn, this photo and caption describe the upcoming trip for the Letterman fencers.  I guess one benefit of being part of a military establishment is that you can hop on a military flight for a tournament in Texas.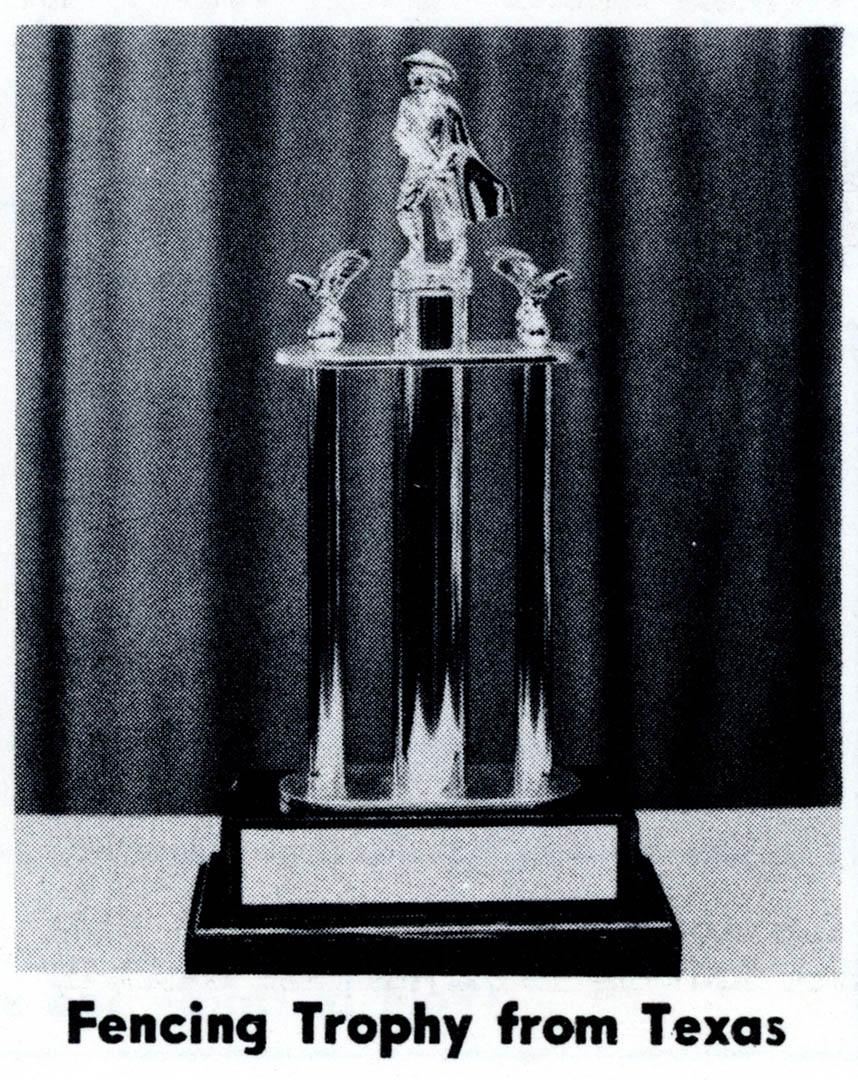 But it all works out, especially when you come back home with a big trophy in hand.  The above two clippings, from December of 1955, are a little late to the party for relaying current events.  By December, the Bliss tournament, Pacific Coast Championships and US Nationals (in June) had all wrapped up.
Between the qualifying events and the PCC's, the team of Rhodes, Brownlee and Tafoya was set up to take a trip to the US Nationals in 1955.  Of the three, Brownlee had far and away the most experience as a fencer, but that wasn't enough to deter anyone at The Fog Horn from setting high expectations.  As an added bonus, the team got flown to New York!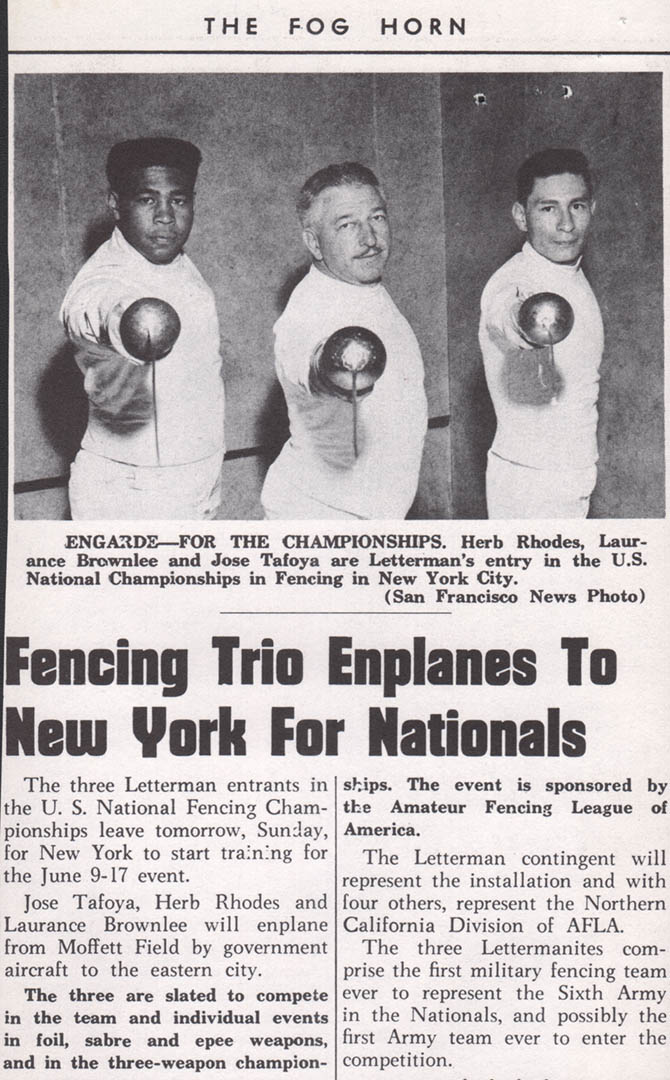 I can't say whether this trio was or was not the first Army team to enter the US Fencing Nationals.  West Point had fencing for a long time, so it seems unlikely, but I don't know for certain.
This mid-event news article is from the San Francisco Chronicle, reporting on the Letterman results in New York.
The results of the team's performance for a first-time group of competitors at Nationals sounds pretty good on the surface.  8th in Team Sabre, 5th in Team Foil and 8th in the Three-Weapon event.  However, looking at the complete results as printed in the August, 1955 issue of American Fencing Magazine, we see a slightly more realistic mosaic of their placement.  Keep in mind, the US Nationals in 1955 were nothing like the events we have now, either in scale or complexity.  Let's take the 5th place finish in Team Foil.  There were 5 teams entered.  By comparison, at the 2019 US Summer Nationals, there were 44 teams entered in the Senior Team Men's Foil event.  Heck, there were 13 teams entered for the Veteran Men's Foil Team.  Things were a tad different in 1955.  For the Three-Weapon event, I've got bad news about the Letterman squad.  Instead of the 8th place listed, they actually finished 9th – out of 9 teams.  The now-defunct three-weapon event had teams of three fencers, one fencer in each weapon, and they fought their opponents foil vs foil, sabre vs sabre, epee vs epee.  So in a team match, you could win 3-0 or 2-1, and lose 1-2 or 0-3.  Letterman drew the NYAC and Philadelphia's Salle Cziszar in the Three-Weapon in Pool #3 of 3, losing 0-3 in both matches.  In the other two pools, the two teams that failed to qualify to the semi-finals each had at least one bout victory.  I'm afraid that moves the Letterman squad down to 9th.  If that seems bleak, I don't know how you'll feel about Letterman's 8th place finish in the Team Sabre.  There were only 6 teams entered.
On the plus side, Herb's National debut wasn't really all that bad.  He fenced in four team events (they fenced the Team Epee, too) and all three individual events, so he gained a ton of experience.  In that alone, it seems like a win to me.  In the individual events, he was eliminated in the first round in each event, but won bouts in every pool he fenced in, so it wasn't a shutout.  In fact, for the preliminary individual sabre round, he was in a pool of seven fencers – but only three would advance.  That's a tough pool for anyone's first nationals.  Herb went 3-3, landing the 4th seed and missing out advancing to the next round by just a few touches.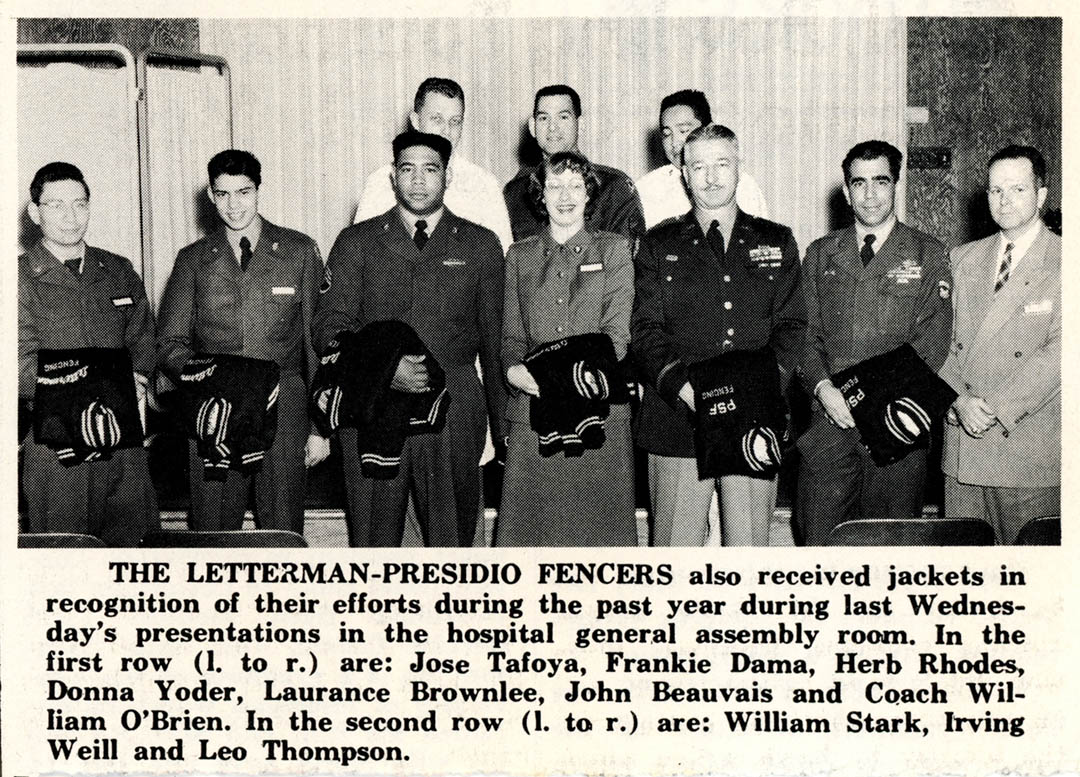 Hey, maybe Nationals didn't go as well as hoped, but how many other fencers got to come home to a presentation of a Letterman jacket.  From Letterman!  They got Letterman Letterman jackets!   Right?  Get it?  Ok, never mind.  I'll stop now.
As mentioned up above somewhere, Herb didn't stay in the sport long and never went to another Nationals.  But the coverage his team received and the awards they won make a very impressive list.  I don't know that the Letterman Army Hospital ever again went as far to promote the sport in the way they did during this period.  Colonel Brownlee continued to get mentions in the paper – both the post's paper and the local San Francisco news outlets – and Dr. O'Brien also gets lots of mentions.  But I don't see a continuum of this level of publicity after 1957.  Perhaps when that first team broke up they didn't keep pace in the results category.  Or maybe, like many another fencing club before and after, local interest waned in their desire to stay current with how the fencers were doing.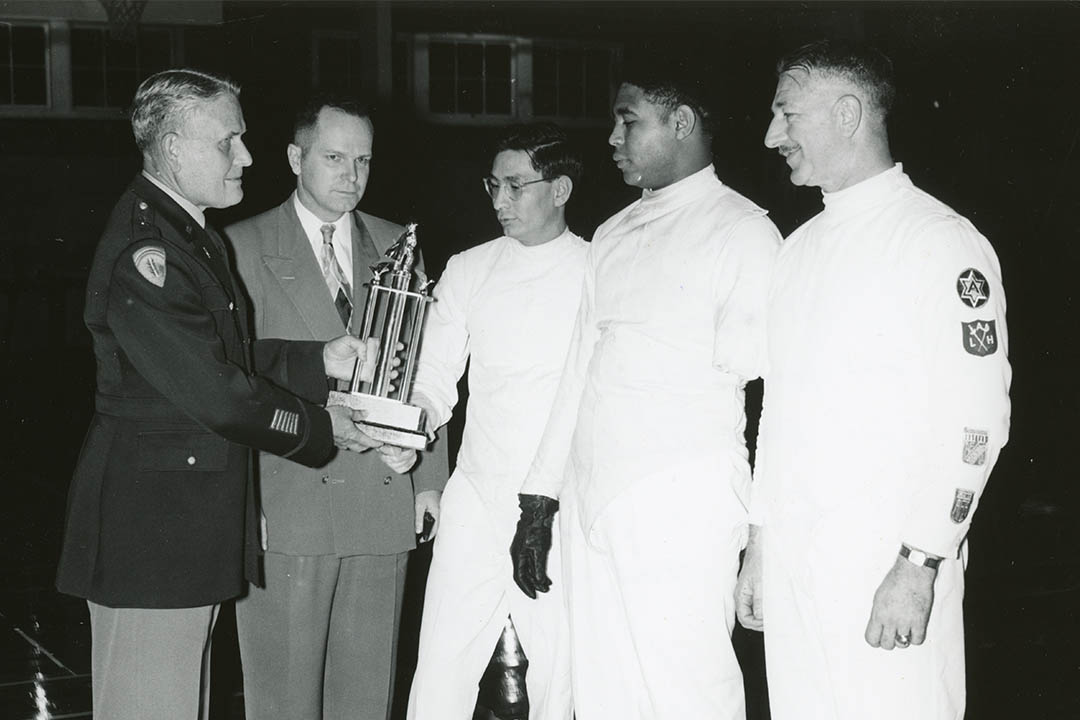 A stern-looking Dr. O'Brien looks on as the Fort Bliss trophy is handed over to the victorious fencers.  The team's Jose Tafoya accepts the trophy, with Herb Rhodes and Col. Brownlee looking on.
After wrapping up his fencing career, Herbert Rhodes attended San Jose State University and earned a degree in Business Administration to go along with this Purple Heart and four Bronze Stars for his service in Korea.  He worked at Stanford University for a number of years and then turned to more politically minded work in East Palo Alto where he had his residence.  He served on the East Palo Alto Municipal Council for six years and was also a member of the regional Coastal Commission.  All this work got him the attention of then-newly elected California Governor Jerry Brown and in 1975, Herb was appointed to be the Director of State Parks in the Brown administration.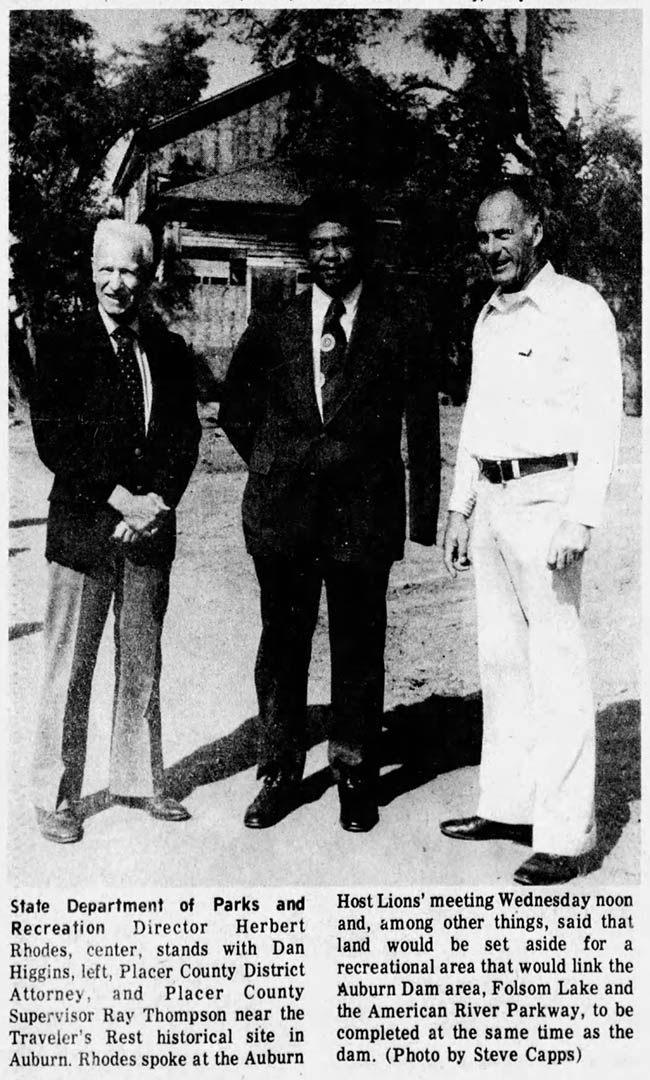 Herbert Rhodes during the early days of his short-lived career in State Parks management.
He held the job in State Parks for two years before being shifted to head the Unemployment Insurance Appeals Board.  He held that position until 1985 and then the trail of news articles both in my collection and from Newspapers.com comes to an end.  It's not entirely clear why he was initially shifted away from the State Parks job.  Some articles inferred that he wasn't part of the administrative 'in-crowd' and struggled to accomplish tasks.  Whatever the reason, he moved on.
I can't help but wonder just what kind of obstacles he faced as a one-armed black man, first in an, essentially, all white sport like fencing, and then in government.  After all, the US didn't have it's first black fencing champion until 1971 when Uriah Jones won the National Foil title.  Black representation in the sport at the National level in the mid-50s was, at best, minimal.  John McDougall remembered Herb as fine man with a good sense of humor and that's about as far as I can go in knowing what the man was like.
Except, one of the articles I found has a number of quotes from Herb talking about his Parks job shortly after accepting the appointment.  Here's a part of it:
Coming from an area like the Peninsula, I'm going to be working very closely with local groups to develop regional, urban parks.  Most of the parks now are remote; it's very good to preserve places for their beauty, historical and scientific significance.  But with the economic and fuel crunches on, we have got to talk about places which are closer, where people can develop activities, places which can satisfy all the people.  I'm not just talking about minority people.  I'm talking about people. Period.
Rhodes held a lot of jobs in his life; brush cutter for a utility company, shingle splitter, longshoreman and occupational therapist.  He was also in both the Navy, which he joined in 1945, and the Army, transferring to that branch of the service in 1947.  He fought in the boxing ring, in wartime and on the fencing strip.  I'm willing to bet fighting for his beliefs in Sacramento were their own special kind of warfare.  He may not have accomplished everything he wanted in the short time he had, but he clearly went into it with ideas and direction.  How many among us can say we accomplished everything we had hoped for?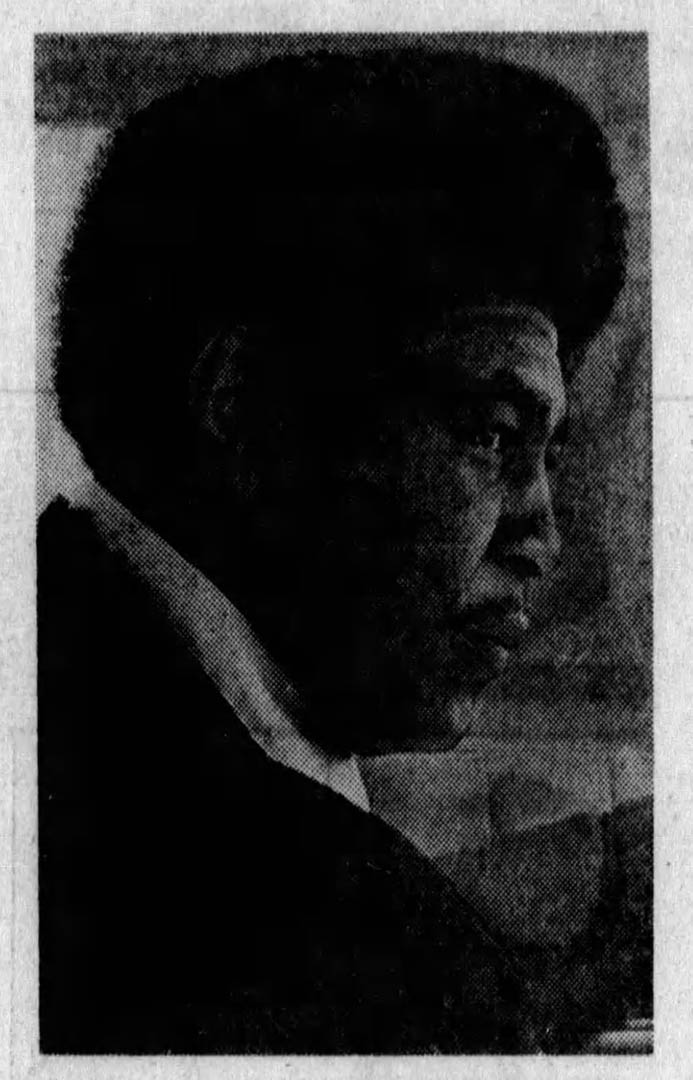 Herbert Rhodes, the administrator, 1975.
One last quote from Herb Rhodes, which rings as true today as it ever was.  Maybe especially today, as what progress we've made as a nation and as a species seems to be eroding at an exponential rate.  A little more of the below sentiment would be a welcome relief right about now.
We are all on this planet together.  Each of us is entitled to clean air, clean water, quiet, and our just share of the good green earth.  Selfish exploitation of these exhaustible and decreasing resources must be stopped.
Here's to you, Herbert Rhodes.  I'll bet you wouldn't have guessed we'd still be fighting the same battles 45 years later.