I love running across old photos of fencers.  It doesn't matter who's in them or what condition they're in for me to be fascinated with the discovery and the challenge of putting names to faces.  Sometimes, although not very often, I get the opportunity to gather even more data when I run across a better copy or version of an image.  Maybe the first one I had was blurry, or aged, scratched, torn, water damaged – you get the idea.  Then there's the case of an image like the one at the top of today's article.  It's from my xerox'd copy of the complete run of The Fencer magazine.  Originally The California Fencer, it was a regional magazine that began publication just after WW2 and continued until just after American Fencing magazine started up in 1948.  Harold Hayes lent me a xerox'd copy of the complete run that had been given to him by Arthur Lane, and I made a couple extra copies and scanned the whole thing down at the local FedX store.  It's not a great copy, as xerox'd pages don't treat photographs with any kindness, but it was data, information, and some really terrible reproductions of photographs.  That photo up top?  That's from the front page of the June, 1948 issue of The Fencer (the 2nd to last issue) and shows Gerard "Jerry" Biagini scoring against Arthur Kaye at the Pacific Coast Championships.  For a long time, it was the only version of that image I had the fortune to see.  And it's a great shot, catching Jerry at the exact moment of landing his touch.  Well, fast forward a couple of years to when I drove east to the Owens Valley to visit Andy Boyd, son of two-time Olympian Andrew Boyd.  Andy quite generously afforded me the opportunity to scan a stack of his father's paper.  Among them was an original copy of the June, 1948 edition of The Fencer magazine.
A much nicer version that offers some good clarity on the faces of the director and the others.  I don't know how the magazine was printed or how they reproduced images they included.  I scan at 600dpi and save as uncompressed tiff files, so this is about as good a reproduction as can be offered by a cheaply printed magazine from 70+ years ago.  And, since it was the only original copy of The Fencer I'd ever seen, I was thrilled to be able to scan it all.  There are number of great photos from that 1948 Pacific Coast shindig gracing the pages of this issue and we'll get to that.  But first, let's round out the story.  If you've been following along for the last few weeks, you can't have missed my frequent mention of the newly acquired Original Halberstadt Scrapbooks that were donated to the Archive.  They continue to provide inspiration and information.  Deep into the second half of the second scrapbook are a series of glued-in original photographic prints.  From the 1948 Pacific Coast Championships.  The same photos that were reproduced in The Fencer – and a number that were not used in the magazine, as well.
Now you've got the full picture.  In the scanned photo, we can actually tell that the two ladies standing in the light above Jerry's head aren't in a doorway, they're in the middle of the gym at the Los Angeles Athletic Club, the venue for the '48 PCCs.  There are some chairs, other spectators, and if I recognized either the director or the side judge they'd be easy to identify.  I can even tell that the side judge on the far left of the image has a Falcon Fencers patch on his right arm, which means he's a lefty, but I don't recognize him either.
So now that I've laid out how this works, let's have some fun and take a look at some of the best images I've been able to upgrade from xerox, to scanned printed page, to scanned photograph.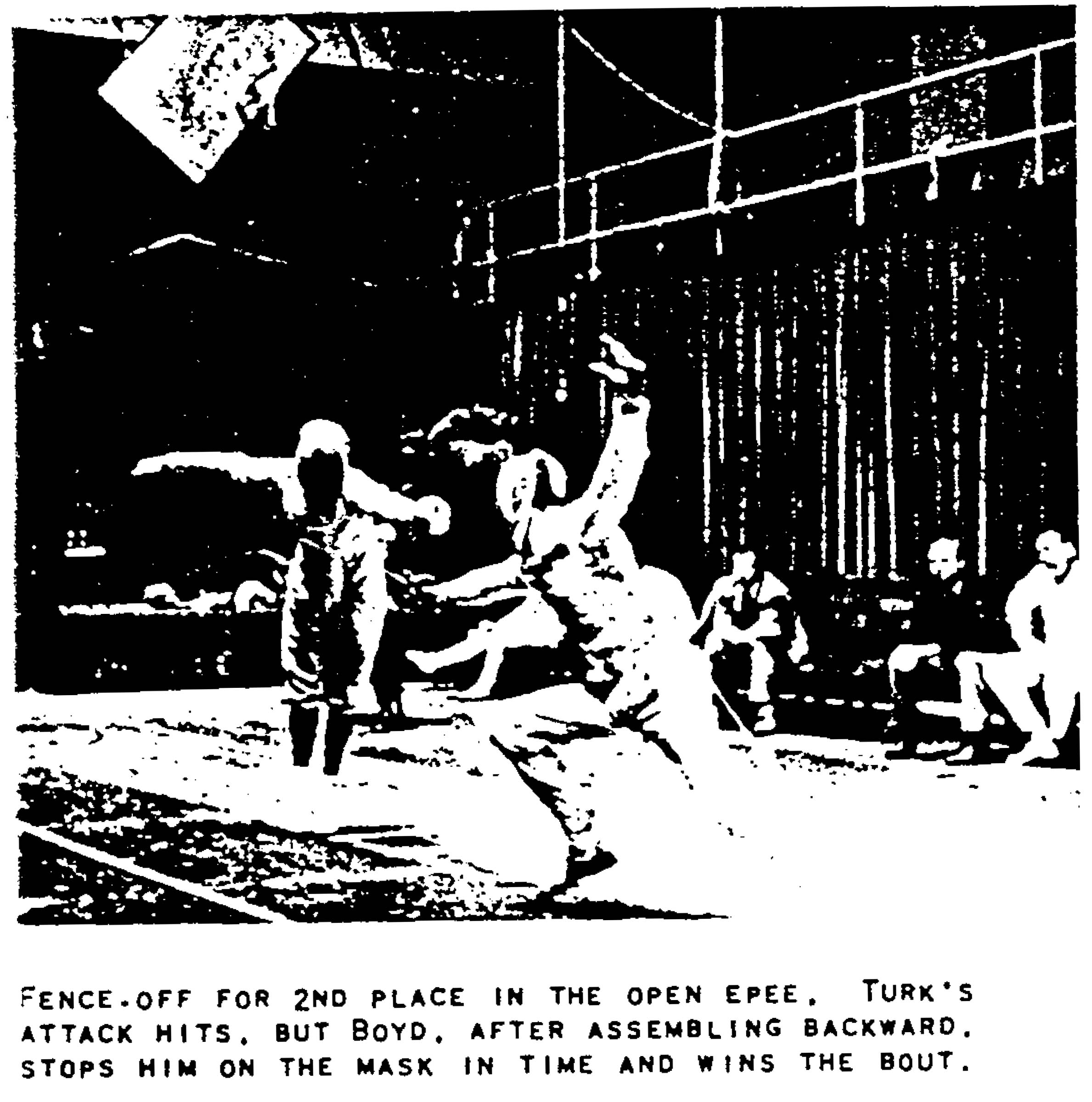 Here's the full image with caption from the magazine, showing Andrew Boyd of the LAAC scoring with a rassemblement to the mask of Leonard Turk, a Halberstadt fencer who in later years fenced in New York and represented Salle Santelli.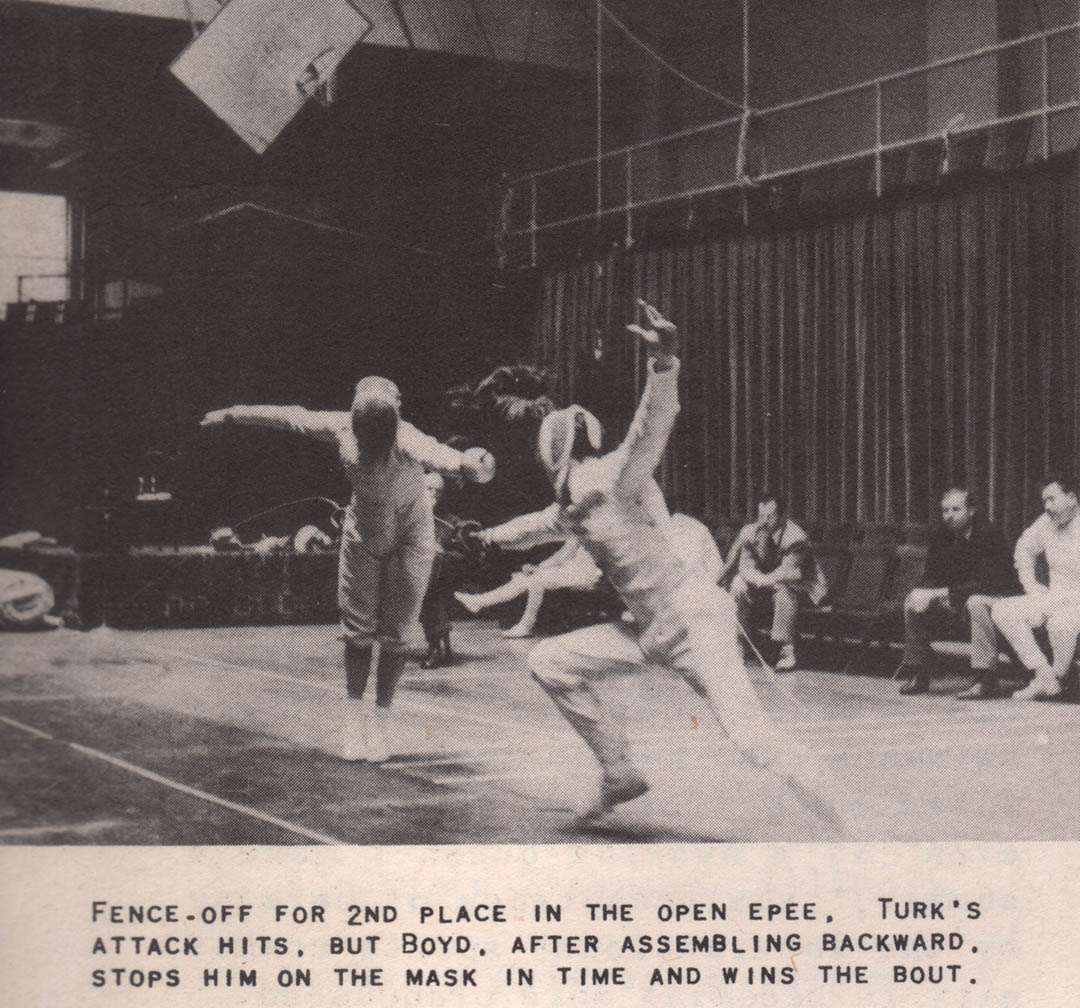 Boyd scores here to take second place to LAAC teammate Del Reynolds.
And the photo version.  In the earlier ones, you can sort of tell they're fencing with electric scoring, but this makes it super clear.  And what a great shot!  You can also see that Boyd's epee is bent to a much greater degree than Turk's, so even though they're both hitting the target, Boyd's clearly arrived first.  Love it.  But hey, speaking of Del Reynolds…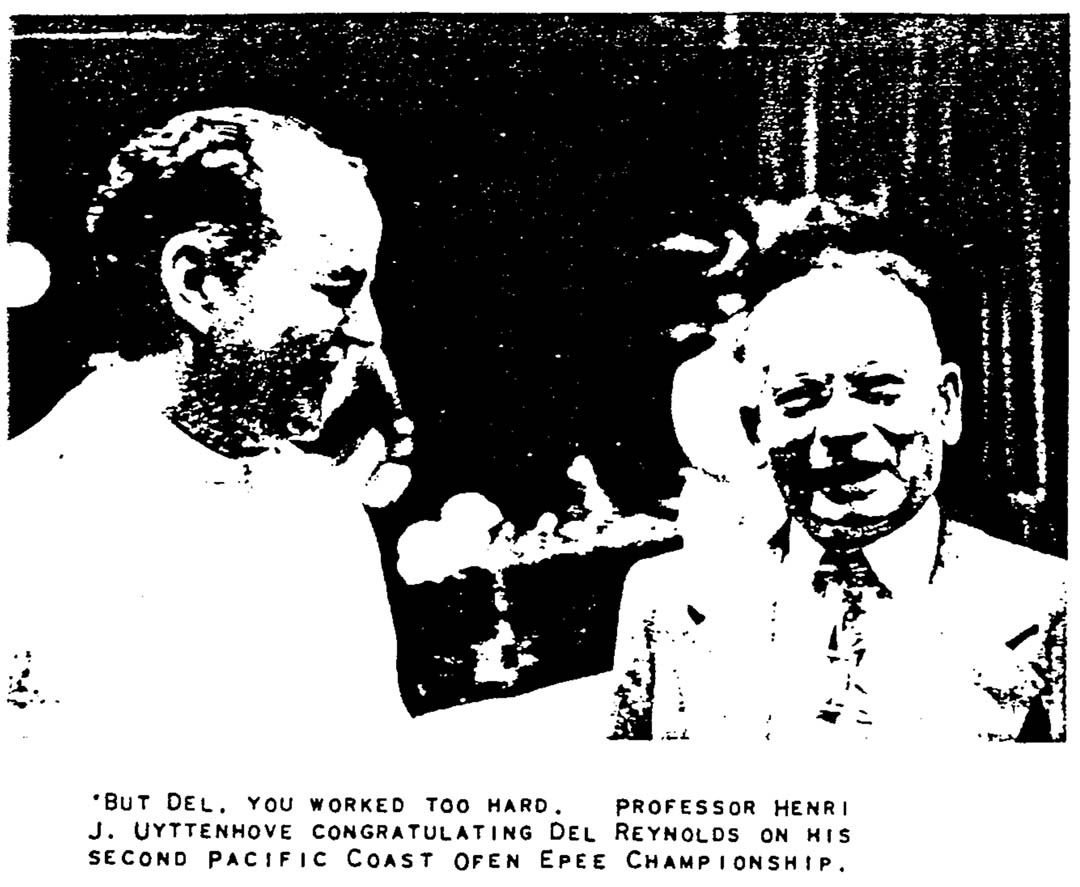 The collection of memorabilia I was able to scan from Andrew Boyd contained the first good images of Henri Uyttenhove I was able to procure for the Archive. He's seen above on the right with 1948 Pacific Coast Champion Del Reynolds.  Uyttenhove was a sensational coach and produced some great fencers, so I was thrilled to have a chance to upgrade the above image to this: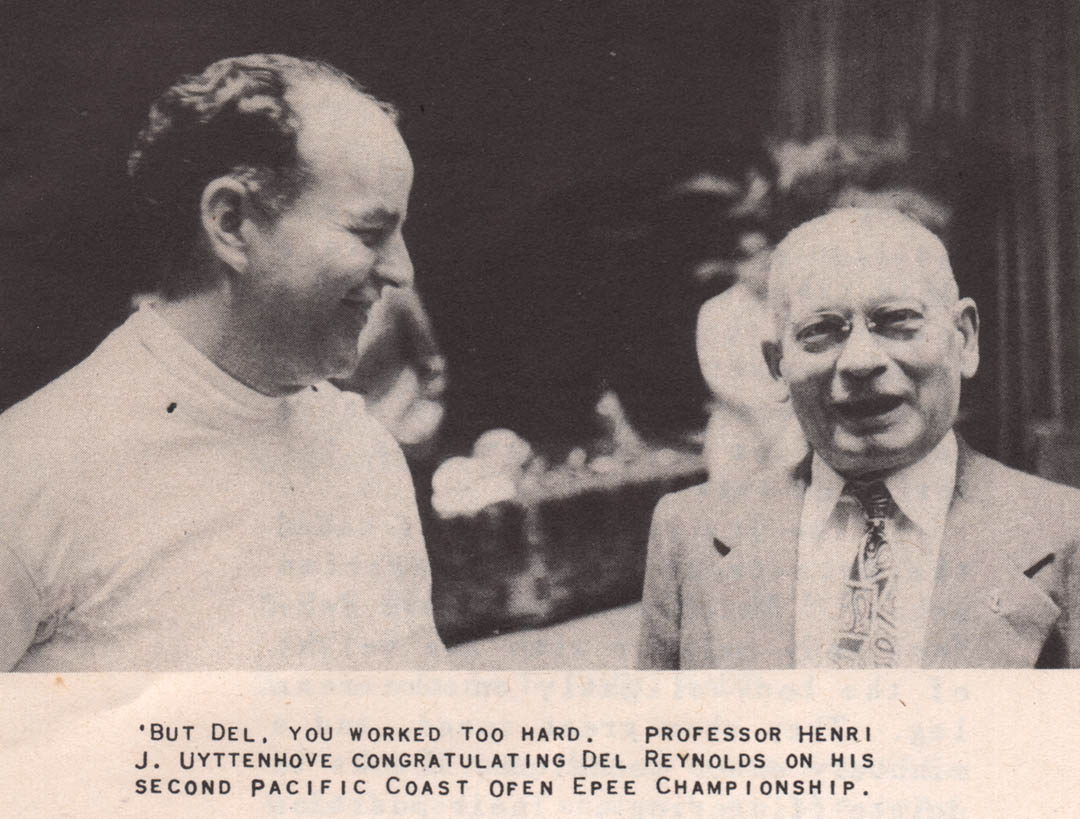 Reynolds began fencing under Uyttenhove at USC, and was team captain in 1933.  As great as that upgrade was to me, this was even better: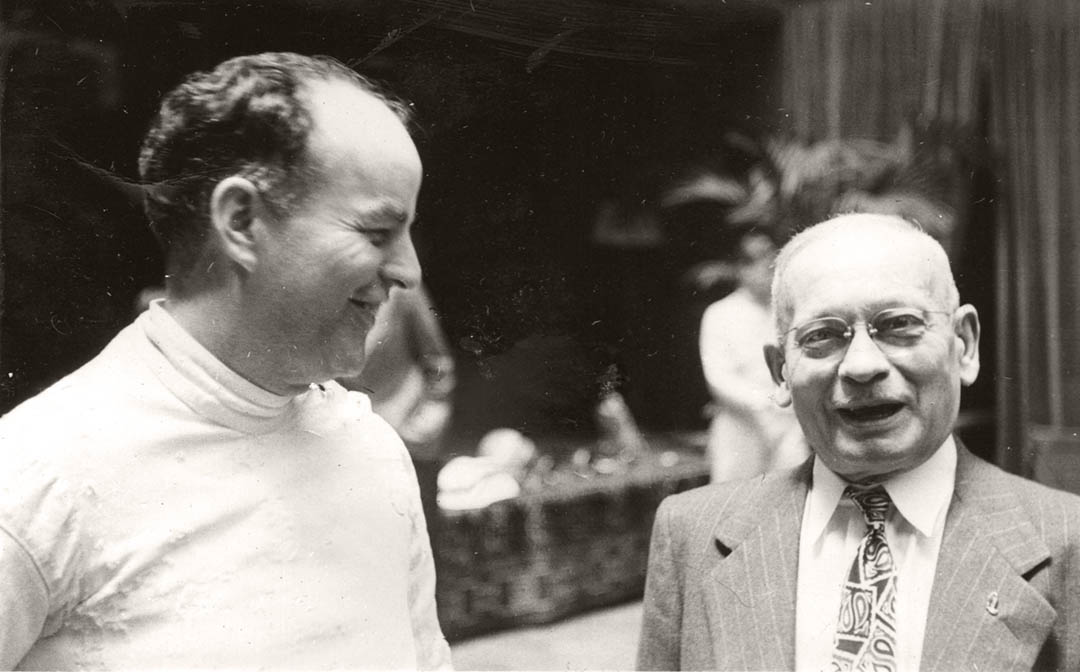 You can almost make out what the pin is on Uyttenhove's lapel.  He had retired from the LAAC in favor of fellow Belgian master Jean Heremans in 1946, so hanging out at the LAAC for the PCCs in 1948 was a pleasure trip, not a working visit.  Hence the nice suit and the snappy tie.
As bad as this reproduction is, it fully captures the grace and power of 6-time Olympian, 10-time US National Champion Janice Lee York Romary, who finished 4th in the Olympic Games in both 1952 and 1956.  She began fencing as a youngster under Ralph Faulkner, but also spent a great deal of time training under Aldo Nadi and, much later, Joseph Vince.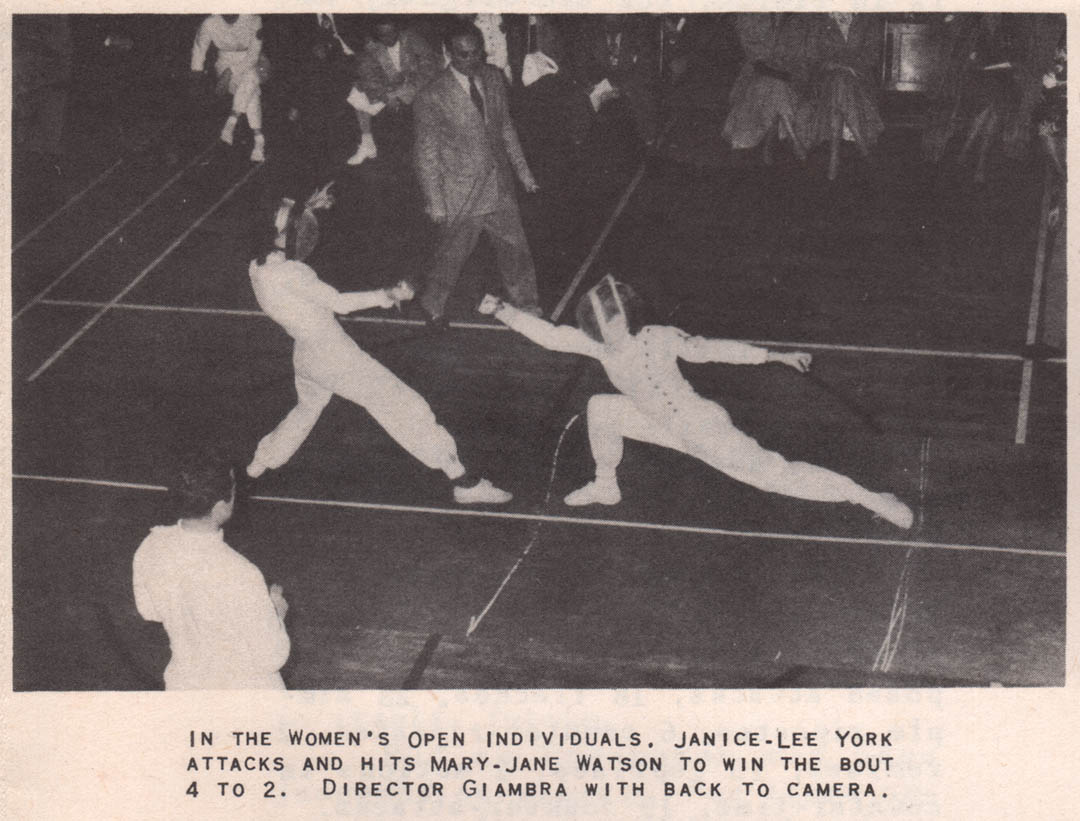 As nice as it was to have this upgrade, for me, even the xerox version shows you everything you could want to know about Jan Romary's authority on the strip.  Still, you can at least, more or less, distinguish the director, Salvatore Giambra.  If you know what he looks like.  From the back.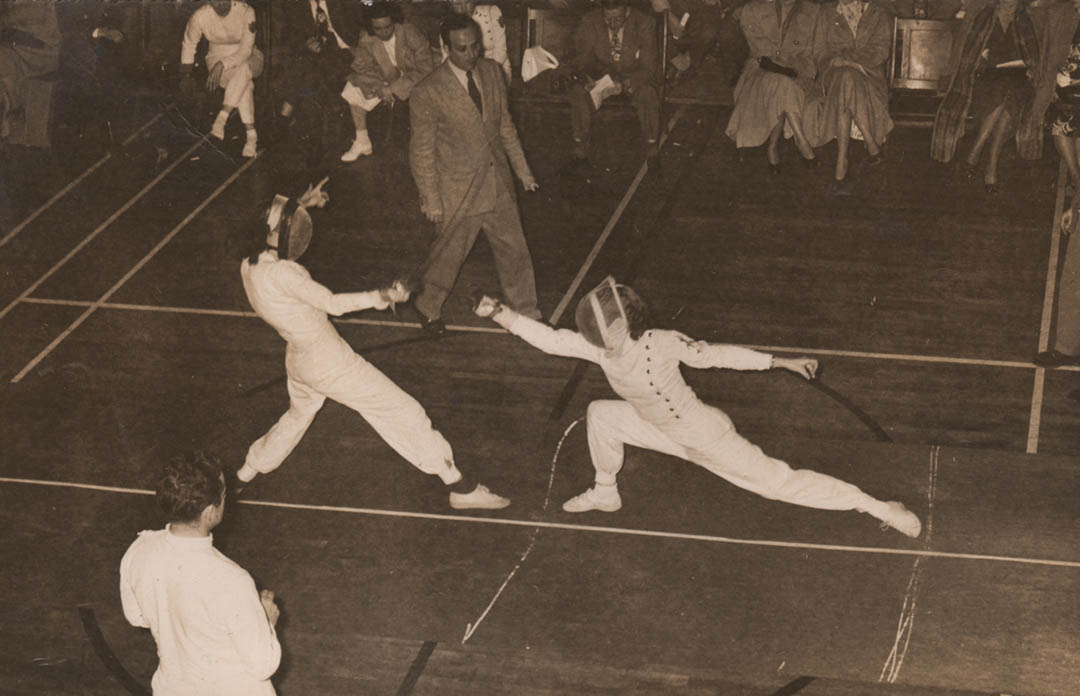 The photographic version shows a lot more detail of the smidgen of crowd up at the top.  On the left side, is a woman all in whites with a Halberstadt patch on her left arm.  I can't ID her, as the only results I have available are the top three finishers: Jan York and Polly Craus from Faulkners placing 1-2 and Maxine Mitchell 3rd from the Cavaliers.  Speaking of Maxine, that's her at the top wearing a robe and leaning forward with both elbows on her knees, trying to get a good look at Jan's attack.  And, although Hans, for some reason, didn't have a photographic version of this next one, I'm including it anyway.  Here's the xerox: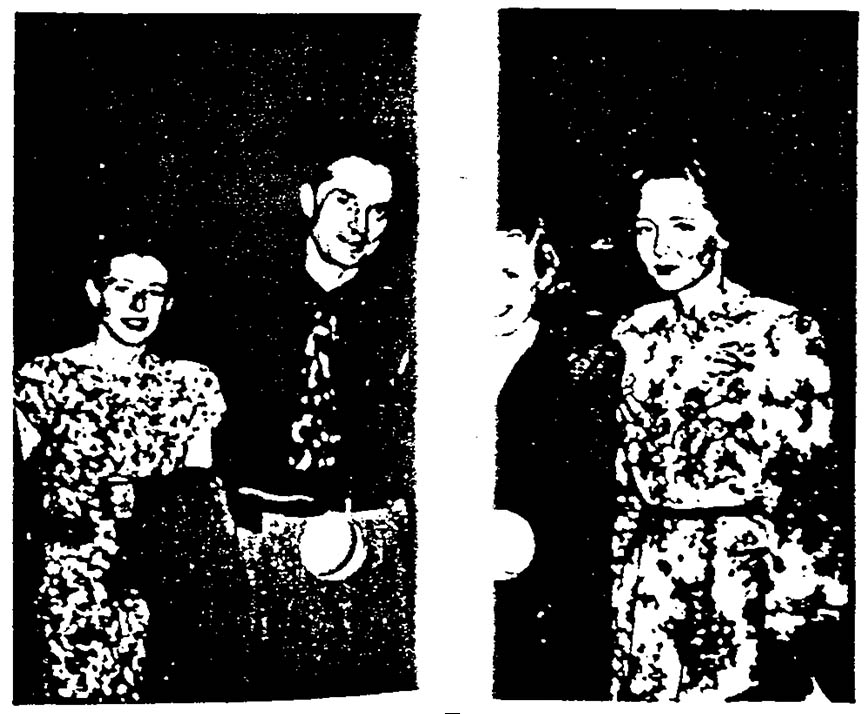 I had to assemble this as well as I could in Photoshop.  In the original, this photo was spread across two pages, so the xerox'd version split it in half.  Makes it rather hard to distinguish the features of Deirdre Gale.  Fortunately, the Boyd copy resolved that for me: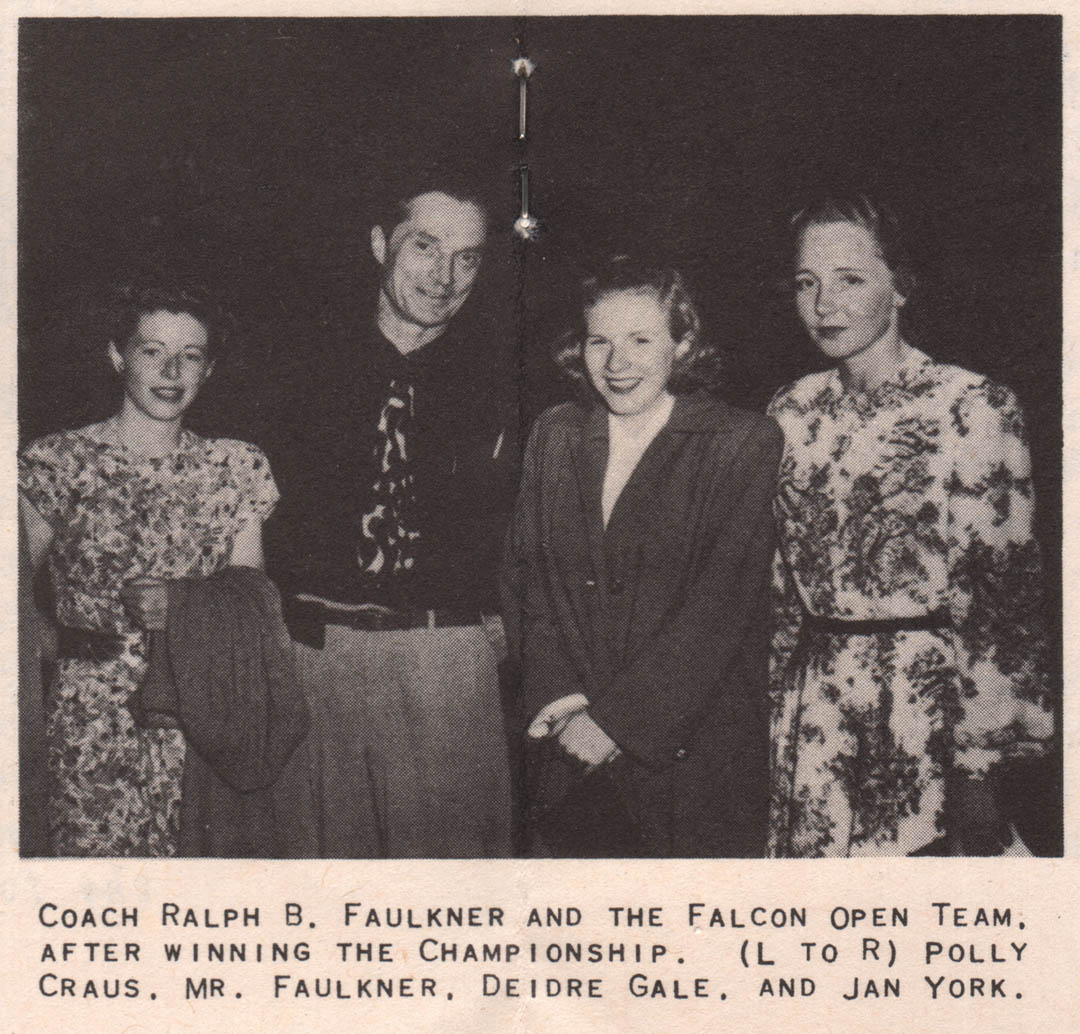 The winning women's foil team with their coach, Ralph Faulkner.  Somewhere along the line, Hans probably had, then lost, his copy of this photo.  He clearly had ordered a complete set of reprints from the photographer, David Rice.  Rice is credited with taking the photos on the first page, hence my knowing his name.  He also took third in the Junior Foil and fenced for Halberstadt, which is likely why Hans was able to get a set of reprints from him.  And finally, speaking of Hans, I've used the below xerox image before on this website because it's such a rarity, but here's the progression for you: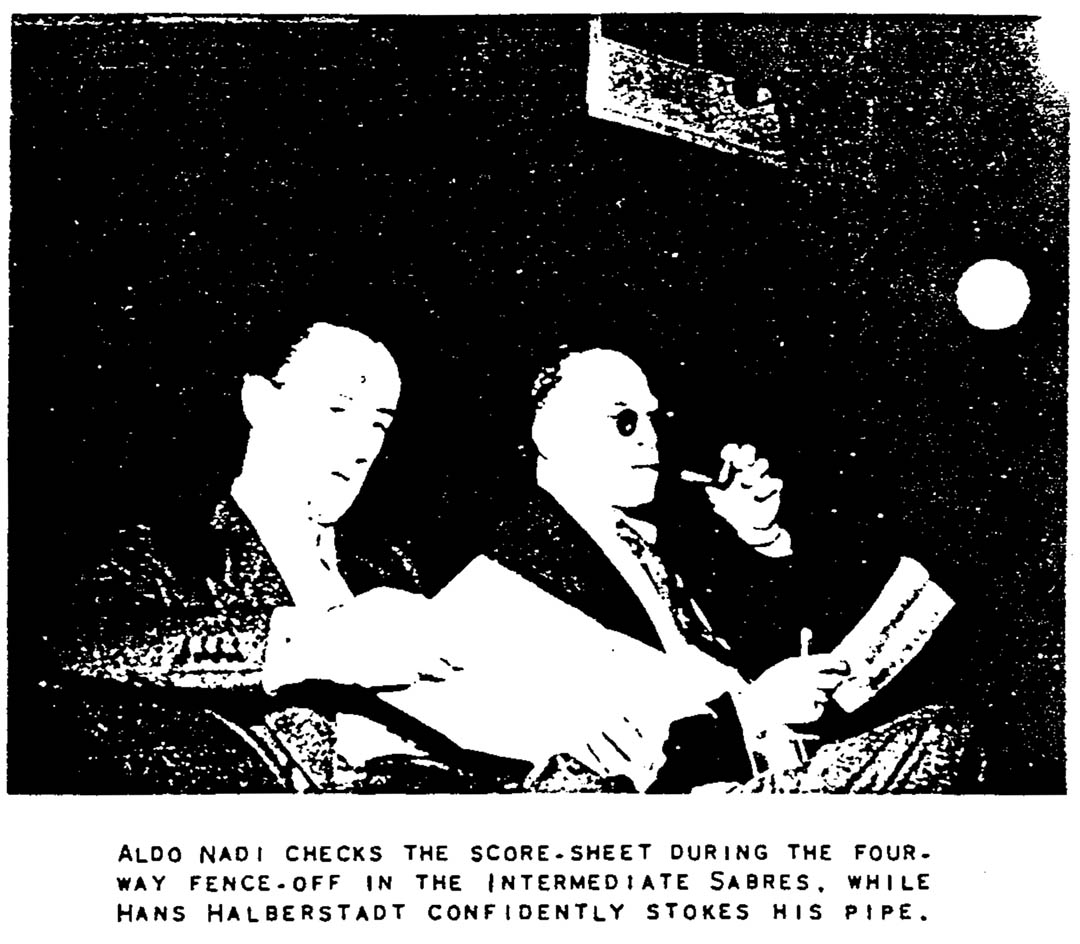 Seeing Aldo Nadi and Hans Halberstadt sitting together is a vision unto itself.  I wonder if this photo is the only one of the two of them ever taken.  Did they speak together?  If so, in what language?  Hans probably had a reasonable amount of Italian and I believe they were both fluent in French.  There's no knowing what could have passed between these two.  Assuming they spoke to one another.  At all.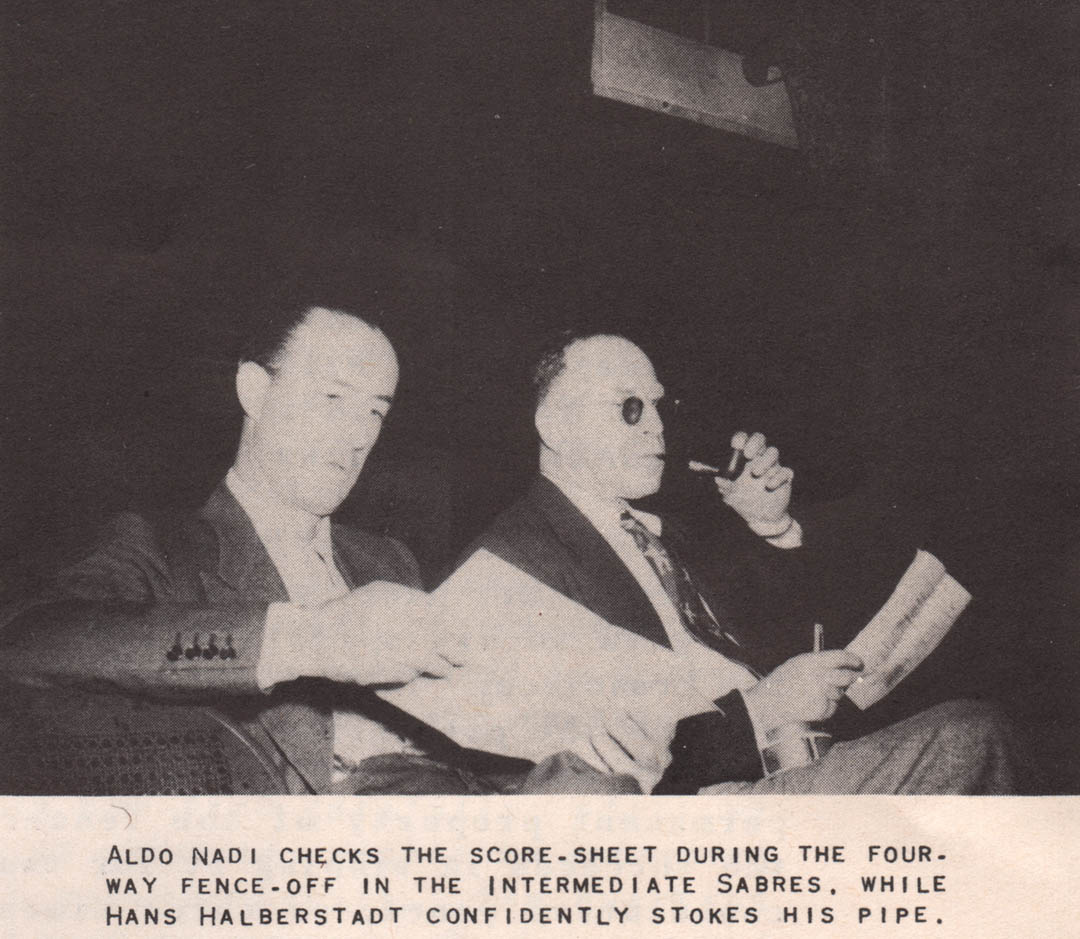 The upgraded version, scanned from the pages of the magazine.  It's a little easier to see that Hans has a pen in his hand for marking down who finished where on his program.  He was very good at taking those kinds of notes and then glueing or taping the program into a scrapbook.  Thanks, Hans!
Oh, it's a basketball net above Hans' head!  It's kind of clear in the middle photo, but this one shows it off well.  That, and Hans' tie.  It's got fencers on it!  And I've been trying to decipher what exactly is in Hans' lap.  It looks like a roll of stickers.  That's my read.  What could they be of, I wonder?  And you get just a hint of Aldo Nadi's suspenders, buttoned at the top of his suit trousers.  It's the little, admittedly fairly meaningless, details that come out in these photos that I really like.  Based on the caption above, Nadi must be looking for help in the program, but it didn't come in any form that aided his fencer in the four-way fence-off, if he had one.  Intermediate Sabre's top three were: Bernstein (Funke Fencing Academy), Biagini (Olympic Club) and Sauke (Faulkner), so both of them were shut out.
I once had a conversation with a high school drama teacher about acceptable quality.  We were talking about watching old films and he described going to see a movie at a revival house, but being so disgusted with the state of the print – scratches, dirt, etc. – that he couldn't bring himself to stay and see it through.  He walked out.  I thought about this for a bit, then said, "If it was a film I really wanted to see, and that was the only way to see it, I think I'd have stuck it out.  At least you'd get to see something."  At first, he looked at me a little shocked that I might hold a different opinion than he.  However, (remember that this is a memory from 45 years ago, so I may well have settled on a remembrance of the interaction that I most like) his demeanor changed a little as he thought about my statement.  I think he got what I was saying.  May even have changed his mind a bit.  Probably not.  But maybe.  All that to say, I've always been happy to have what was available.  Goodness knows I watched a ton of scratchy prints of Kurosawa films during college without complaint before the days of VHS tapes or the Criterion Collection.  The same thing applies here.  Getting the xerox versions of these photos was a huge boon to the collection, by my way of thinking.  Just knowing they existed, regardless of quality, was an upgrade from ignorance.  Then, seeing and scanning the original copy of the magazine and the greatly improved quality of the photos was an upgrade that couldn't be surpassed – or so I thought at the time.  Now, in the past month or so, getting the Hans scrapbooks that included original photographic prints of those same images is a happy coincidence I couldn't possibly have predicted.  Coincidence, happenstance, fortunate occurrence, call it what you will.  I'll take it and appreciate it wholeheartedly.