A recent gift to the Archive has me dumbfounded.  It's existence was something I had speculated about in a vague way, but never dreamed of finding proof for.  Much less, having the proof come directly to me as a donation to the Archive.  Yet here we are.
Tucked away in the basement of a home owned by a second generation Halberstadt fencer, in a fading but still colorful box from the 1970s, resided two old scrapbooks.  They were in their original state, as completed by their originator, if timeworn and very well thumbed.  The first, and larger, of the two, was begun in 1940 and filled up in the vicinity of 1945.  The second seems to pick up in 1947, but it is in a less well kept state and some of the no longer bound pages may have shifted from one place to another over the years.  It seems to cover a two-to-three year period, let's guess 1946 to somewhere in 1948.  These scrapbooks were once the property of Hans Halberstadt, founder and namesake of the Halberstadt Fencers Club of San Francisco.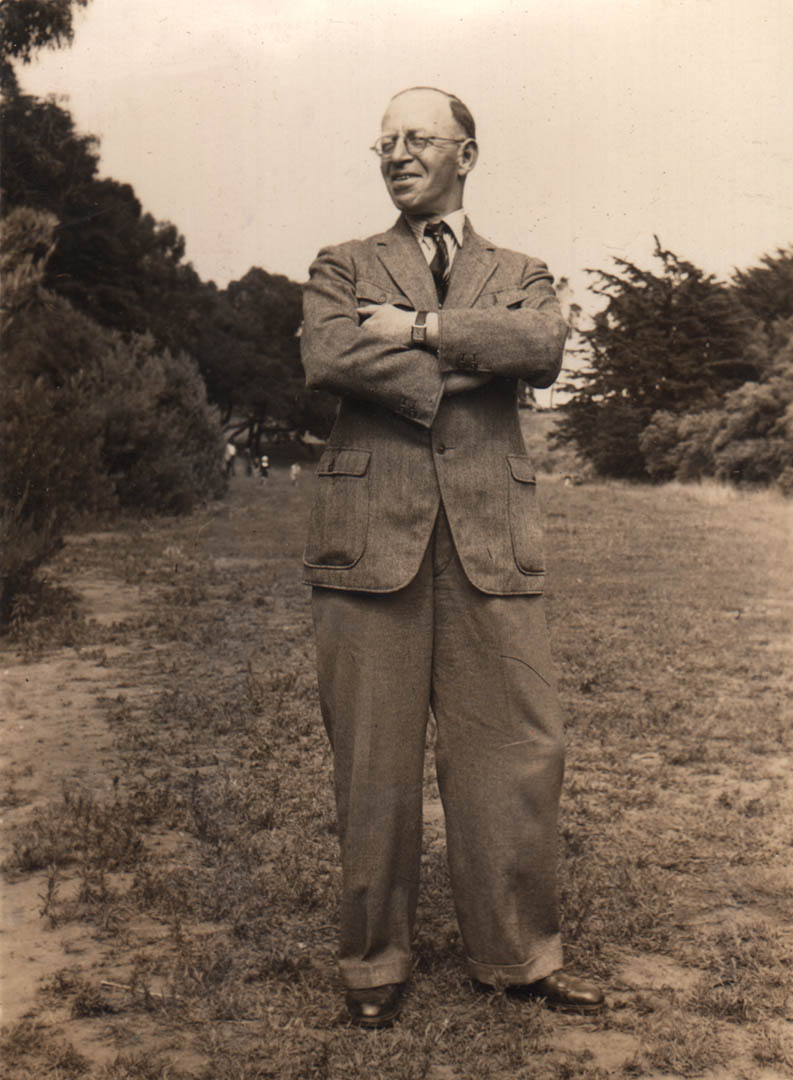 Hans Halberstadt in Golden Gate Park, 1941.
The Halberstadt club has four scrapbooks, remade versions of the originals after a burst pipe flooded the club in the 1980s.  The earliest of the books at the club start in 1948.  One of my first Archive projects was to scan those four scrapbooks in their entirety, delivering back the originals to the club, along with a thumb drive with the digital scans.  I had always wondered, "Why 1948 as a starting point?"   Was there a popular educational film from that year?  "Fun With Scrapbooks! With your host, Fred MacMurray"?  Did that set Hans off on a scrapbooking craze?  No.  Turns out, he started in right away upon his arrival to the United States, and these two scrapbooks are the culmination of his efforts.

When Hans passed away in September of 1966, everything he owned was contained inside the four walls of his fencing club/home where he had resided since some time around 1942.  He predeceased his brother and sister who didn't have any interest in Hans' fencing memorabilia, but did take possession of the finest vintages of his much lauded wine cellar.  A number of fencers, headed by John McDougall, arranged to keep the location active as a fencing club and also made an effort to maintain the salle d'armes in nearly its original state.  Quite a number of items were distributed among longtime members.  John McDougall and Charlie Selberg both had some things, others went elsewhere.  If anyone was keeping track, which I doubt, certainly no formal accounting has survived to this date.  Now, some 54 years later, there is no knowing where some of the material may be.  But in this case, good fortune and this Archive's presence on the Internet of Things has brought these scrapbooks forth out of a basement and into my hands where I shall hope to preserve them in as close to their current state as possible for the foreseeable future.  (Reminder: purchase two acid free boxes…)
The first page of the scrapbook contains a very interesting letter.  It is written in Italian, but Google Translate helped me understand the basics.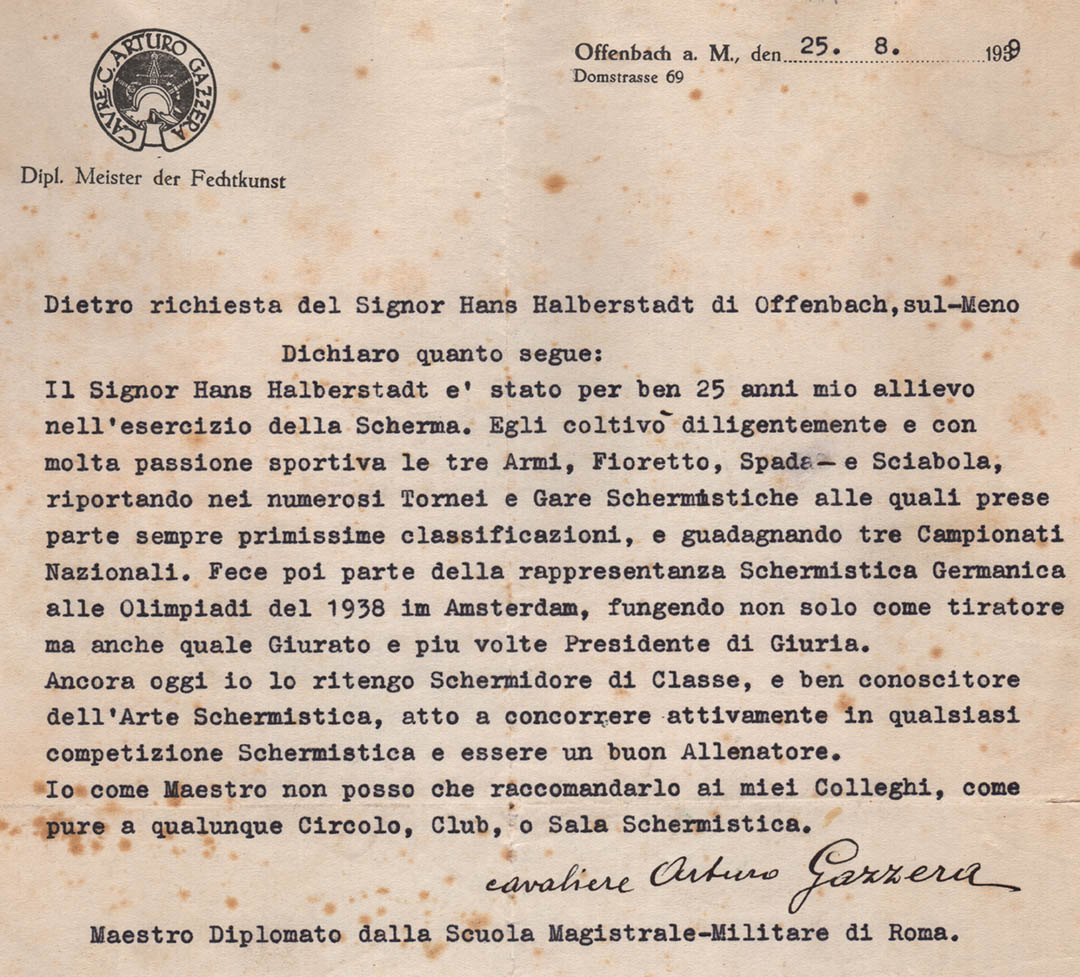 A letter of recommendation from Hans Halberstadt's coach from his youth, Cavaliere Arturo Gazzera, dated August 25, 1939, about 3 months prior to Hans boarding ship in Rotterdam to sail to the New World.  It's a full-throated recommendation of Hans, naming his many accomplishments and mentioning his participation in the Olympic Games as competitor, judge and president of the jury.  It does get the date wrong on the Amsterdam Olympics, using '38' instead of the correct date of 1928.  It closes with stating that Hans can be recommended both as a fencer and coach, as well as being an all around quality human being who should be welcomed at any club or salle with any sense.
I've mentioned this before in articles about Hans and his scrapbooks, but he seems to have subscribed to a large variety of newspapers and magazines.  Either that or his friends and acquaintances brought him clippings of fencing related news and magazine articles on a regular basis.
From an Italian newspaper.  It's possible that Arturo Visconti was the local source for Hans to get his hands on Italian news.  Visconti had taught for 20 years at the Italian American Athletic club in San Francisco (which over the years had a number of names), but due to a tendency toward fascism among some of the members, the Italian clubs were all shuttered for the duration of the war.  It was Visconti's no-longer-useful fencing equipment that Hans used to start his own club.  Then again, this is so specific to San Francisco with its mention of the Funke club, this may well have been from a local Italian-language paper.
Upon his arrival in San Francisco, Hans was immediately recognized as a valuable asset by established fencing master and fellow veteran of the German Army of WW1, Erich Funke d'Egnuff.  Funke had arrived in San Francisco from New York in 1934 and established his Funke Fencing Academy, which was very successful.  Funke immediately brought Hans on board as an assistant and in his first few months in the area, Hans won several tournaments to establish his bona fides.  In his mid-50s at the time, newspapers reported his having carved up the locals at one tournament where he was hit with only ten touches over the course of the entire competition.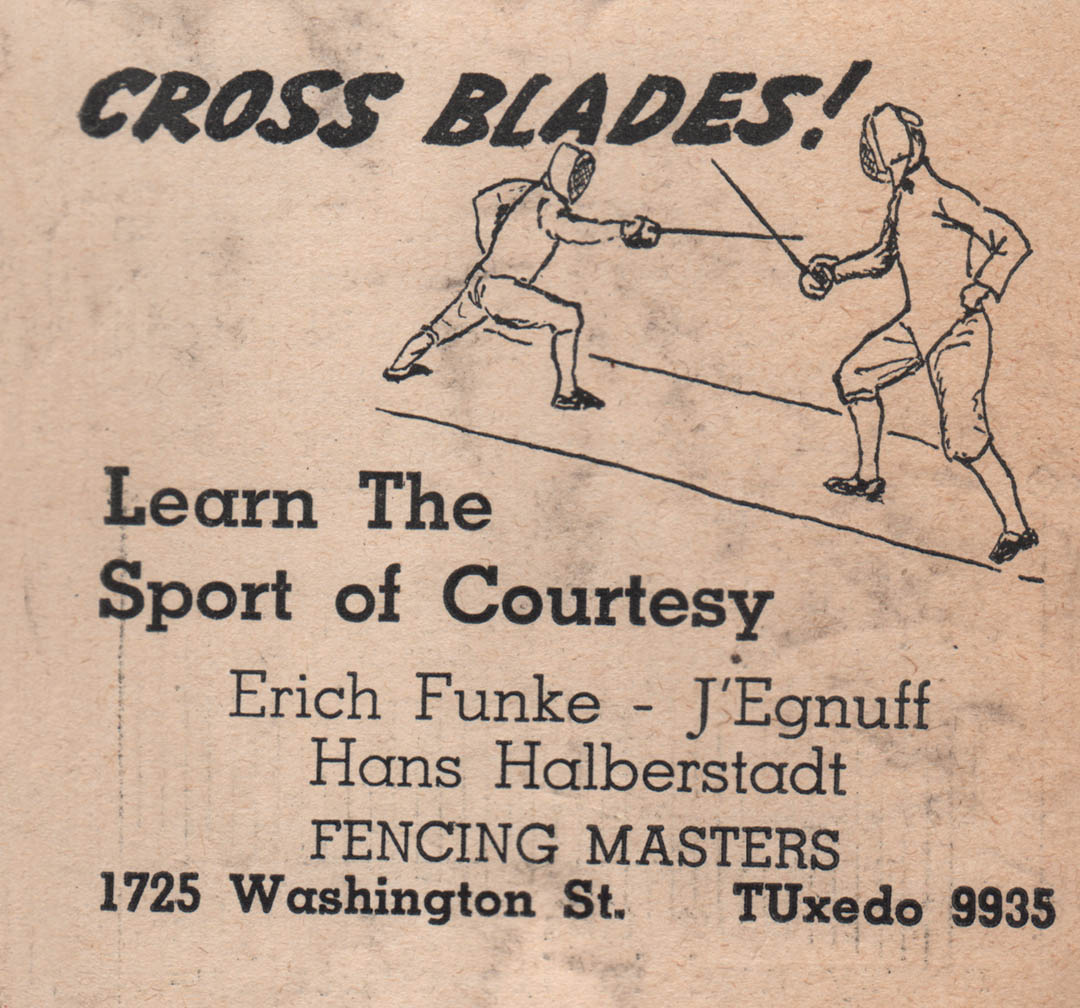 An advertisement from a handbill that gets Funke's name wrong, using a "J" instead of a "d" for d'Egnuff.  This must date from around 1940 or 1941.  Hans fairly soon after started his own business.
Hans looks over and Eric Funke is closest to the camera in this photograph that seems to be both post-fencing and poolside.  I don't know how many venues could accommodate such an arrangement.  Possibly the Olympic Club, where Funke and, later, Hans taught.  The OC fielded strong teams of fencers for many years and had a couple of Olympic team members, including Ted Lorber in 1932 and Salvatore Giambra, who was Team Captain of the 1948 London squad.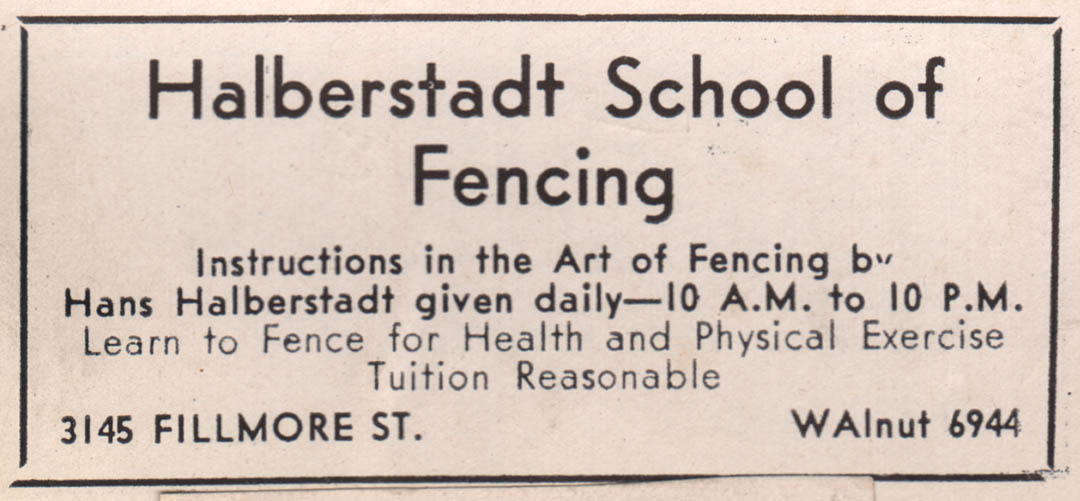 The earliest date I can find for Hans having his own address and club under his own name is 1942, and that seems to be the date for this small item cut from a newspaper.
I've never been quite clear on the relationship between Hans and Erich Funke.  They exchanged Christmas cards every year, but whether at bottom their relationship was cordial or competitive, or competitively cordial, I just don't know.  It seems clear that there was plenty of business to go around.  Funke's club never closed its doors until his passing and Hans didn't struggle to find students to fill his salle.  One possibly contentious issue could have been the club affiliation of Helene Mayer.  She is noted as having represented the LAAC, even after her first few years in the Bay Area, and also a club called the San Francisco Fencers, which I have no information on.  But for a great deal of the 1940s and into her last year or two in the area prior to returning to Germany in 1952, she represented Halberstadt.  This isn't terribly surprising as they were both brought up in the Fechtclub Offenbach and taught by Arturo Gazzera.  Hans is twenty five years senior to Helene, so he would have watched her grow up in the club.  They also shared the experience of the 1928 Olympic Games where Helene won Gold and Hans fenced individual and team epee and team sabre.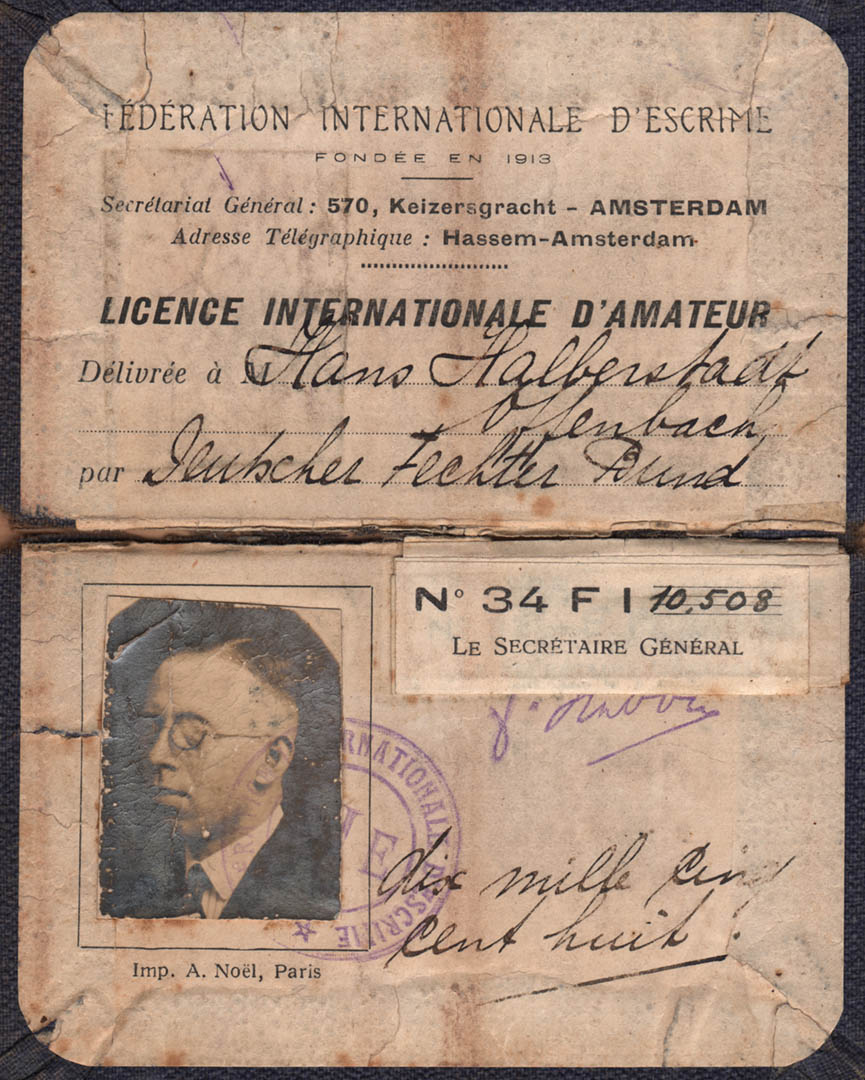 Hans Halberstadt's FIE card.
Hans and Helene Mayer flank an unknown woman.  I can't help but wonder if this is the elusive Elizabeth Ferrari, Hans' long-time girlfriend, who I've never been able to identify in a photograph.  Helene is shown here with her dog, Goodboy.
Among the many personal photographs and news clippings, there are also some interesting pieces of general ephemera, one of which I particularly enjoyed seeing, since it references one of my recent topics of great interest.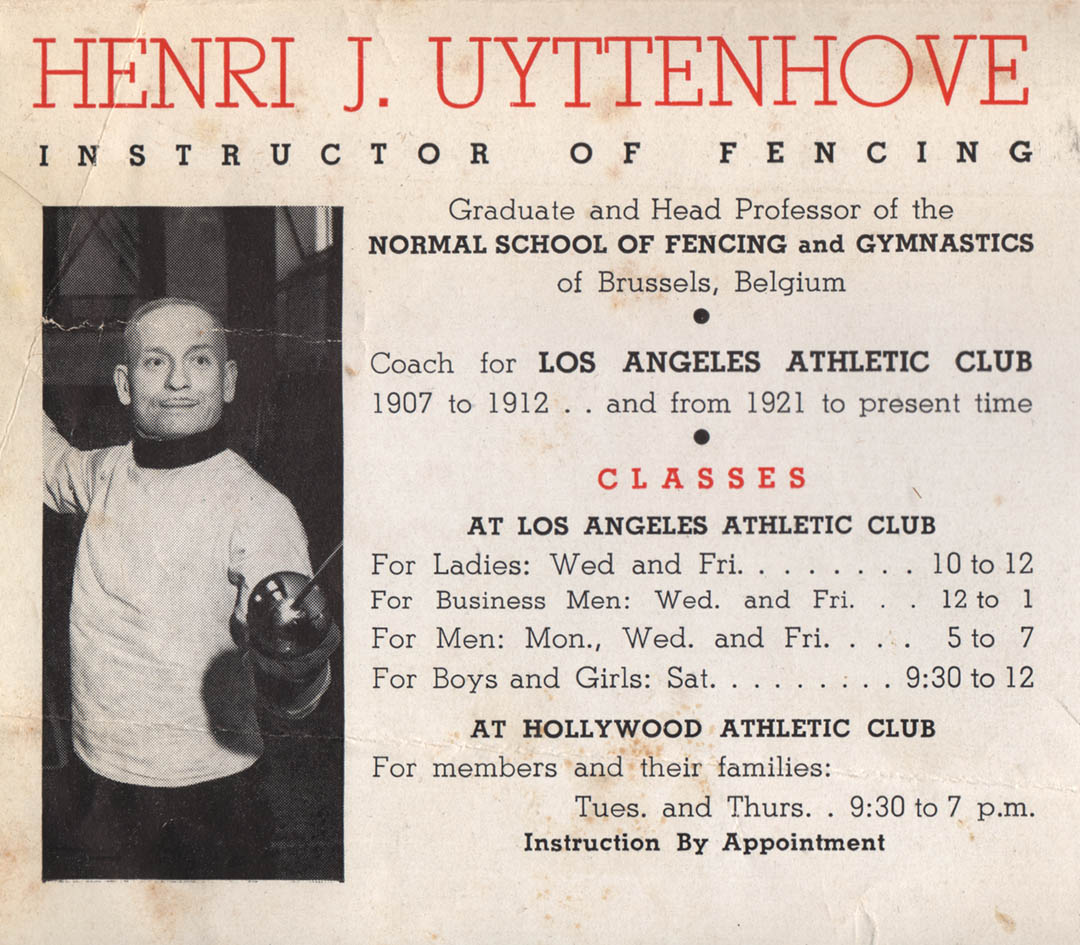 The subject of another recent story on these pages, Henri J. Uyttenhove, from a tri-fold flyer advertising fencing at the Los Angeles Athletic Club.  And, this contains a bit of information I've been wondering about.  I knew Uyttenhove had a break in his employment at the LAAC, but had never been able to clear up the actual time frame.  Well, here it is, all spelled out for me.  1907-1912, then picking back up in 1921.  Effectively the war years, but also possibly interrupted by a personal matter, at the beginning, that was all over the SoCal papers.  I'll write about it eventually.  If you're keeping score, Uyttenhove was the person giving lessons to Helene Mayer while she attended Scripps College.
Another news item that almost slipped by my notice because it was so small and attached to another article that wasn't even about fencing, really shocked me to read: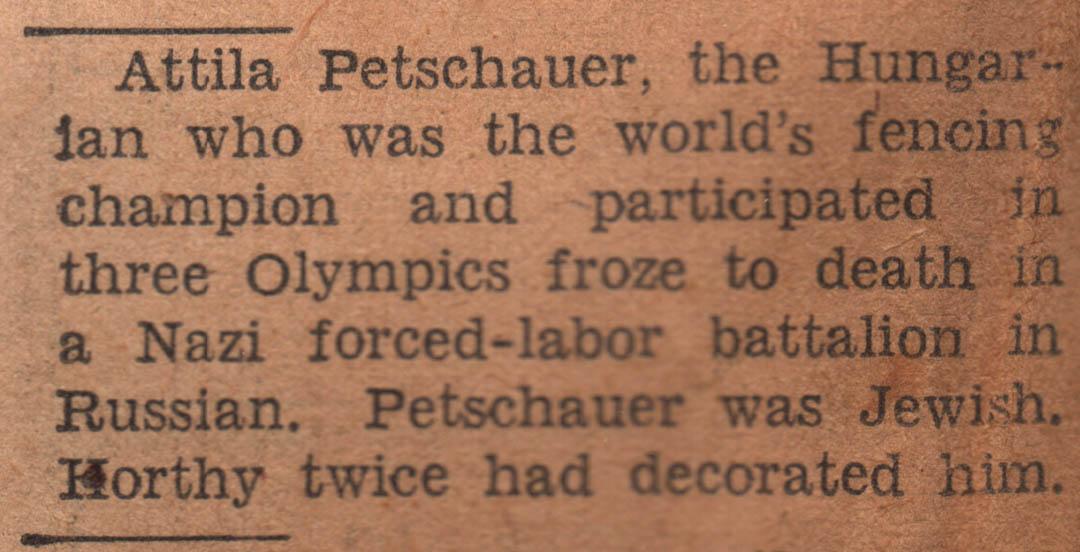 After researching Hungarian sabre fencers for five years prior to making the documentary film The Last Captain, Petschauer's name and history is one I'm pretty familiar with.  His death, it's cause, and the story around it, is filled with controversy and multiple versions.  If you've seen the movie Sunshine, you'll know one version of the story that is purported by many to be near the truth.  The other version, that Petschauer died of a flu or pneumonia brought on by exposure and/or poor working conditions, is controverted by this short, concise – and historically concurrent – account above.  The version that this lends credence to, is that while working in a labor camp, Petschauer was recognized by another Olympian who was a guard.  In an act of petty torture to test Petschauer's toughness, he was ordered stripped and then hosed with water in freezing conditions, and died as a result.  Names and blame have been put forth, and eyewitnesses have sworn to the accuracy of this horrible act.  This article states simply that he froze to death.  Petschauer, a student of Italo Santelli, was twice Olympic champion in sabre team, going undefeated throughout the team event in '28, where he also took the silver medal in the individual.  Aldo Nadi, always quick to laud Italian prowess, called Petschauer, along with George Piller (see: The Last Captain), one of the two best sabre fencers of the first half of the 20th century.  So whoever it was that killed Petschauer, or had him killed, or created the events that led to his death, yeah, fuck that guy.
As long as we're on the topic of Nazi stupidity, the below article, from 1941, confirms, although with little detail, one of the circumstances of Hans' life.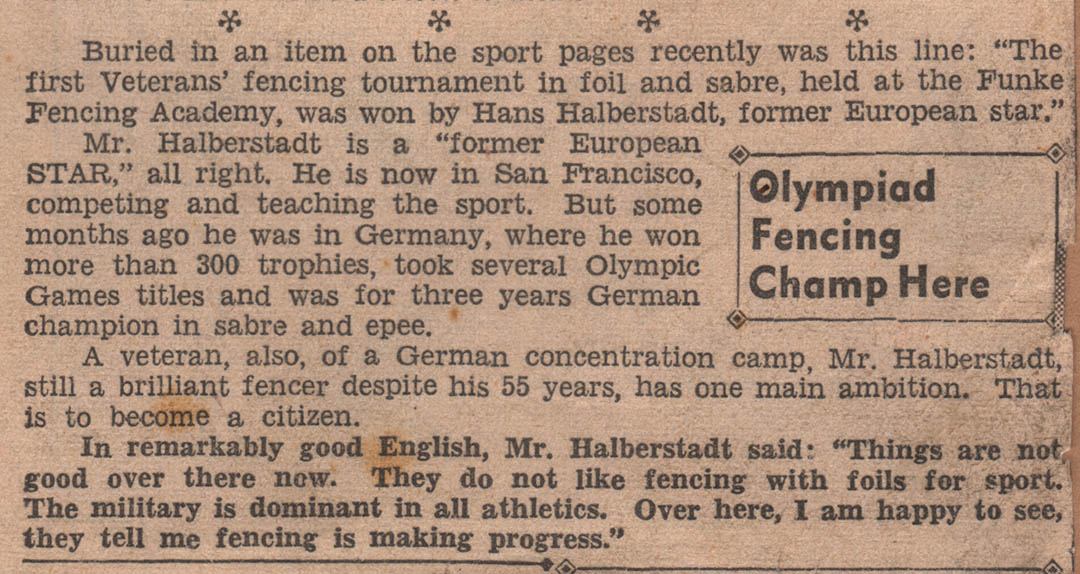 "A veteran, also, of a German concentration camp…"  That one portion of one sentence confirms a piece of Hans' history, but not in a way that makes things clear.  As I understand it, Hans was taken by the Nazis in the middle of the night from his home in Offenbach and put in the Buchenwald concentration camp.  The way he told the story was this: "Jah, I didn't know I was Jewish until the Nazis told me."  Buchenwald was established in mid-1937.  Because of his family's wealth, his status as an Olympian, his record as a war hero of WW1, personal connections, or some combination of all of that, Hans somehow managed to get out.  Nazis took all his gold and silver medals and trophies, but he arrived in the US with a number of bronze medals, trophies and awards, along with a large number of family and other personal photos.  The mystery of how long he was in the concentration camp, how he got out, what he salvaged and what he left behind, remains.
Hans' arrival did not go unnoticed by the US fencing cognoscenti.  While his stopover in New York was brief prior to catching a train? bus? to the West Coast and San Francisco where his brother and sister lived, there was enough news about his presence to warrant an article in The Remise magazine.  The Remise pre-dates American Fencing and had a run from 1935 to 1942.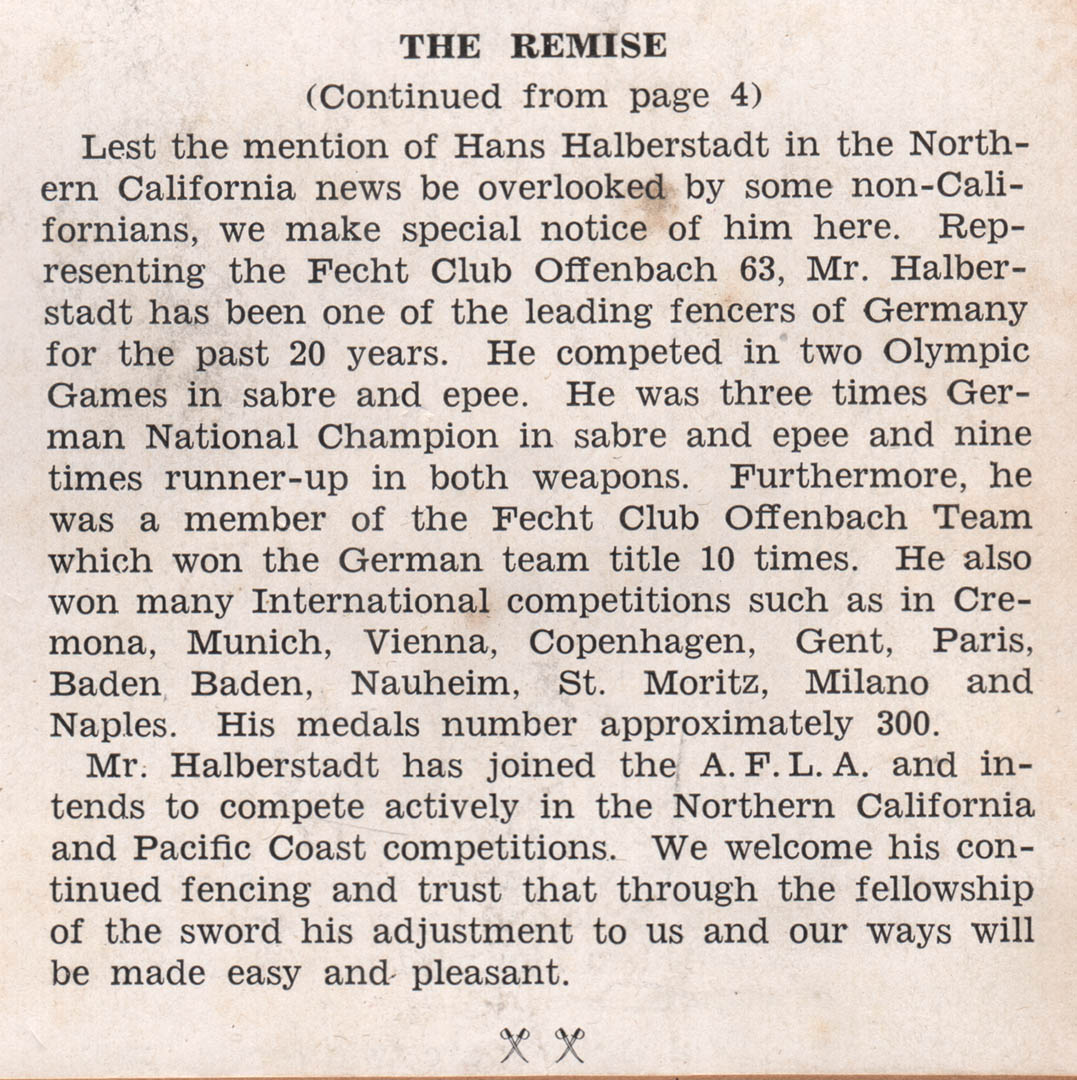 The announcement of Hans Halberstadt's landing in San Francisco was published in the April 1940 edition of The Remise.  Interestingly, it's placement was right below the announcement of the death of Nedo Nadi on Jan. 28, 1940 at the age of 45.
Another who noticed Hans' presence was the great Giorgio Santelli.  With the Fillmore address, I'm guessing that the below was a letter to establish a working relationship for fencing equipment.  Hans ran a fencing supply company out of the basement of his San Francisco home/salle, and Santelli would have been one of the vendors Hans would have ordered from.  Several years later, Hans was able to secure an exclusive arrangement to distribute Uhlmann equipment in the US.  I suspect that was a lucrative part of his business, especially after the mid-50s when foil joined epee as an event scored electronically.
Santelli had a lot of balls in the air – Olympic coach, NYAC coach, Columbia coach, Salle Santelli's namesake maestro and a fencing equipment business.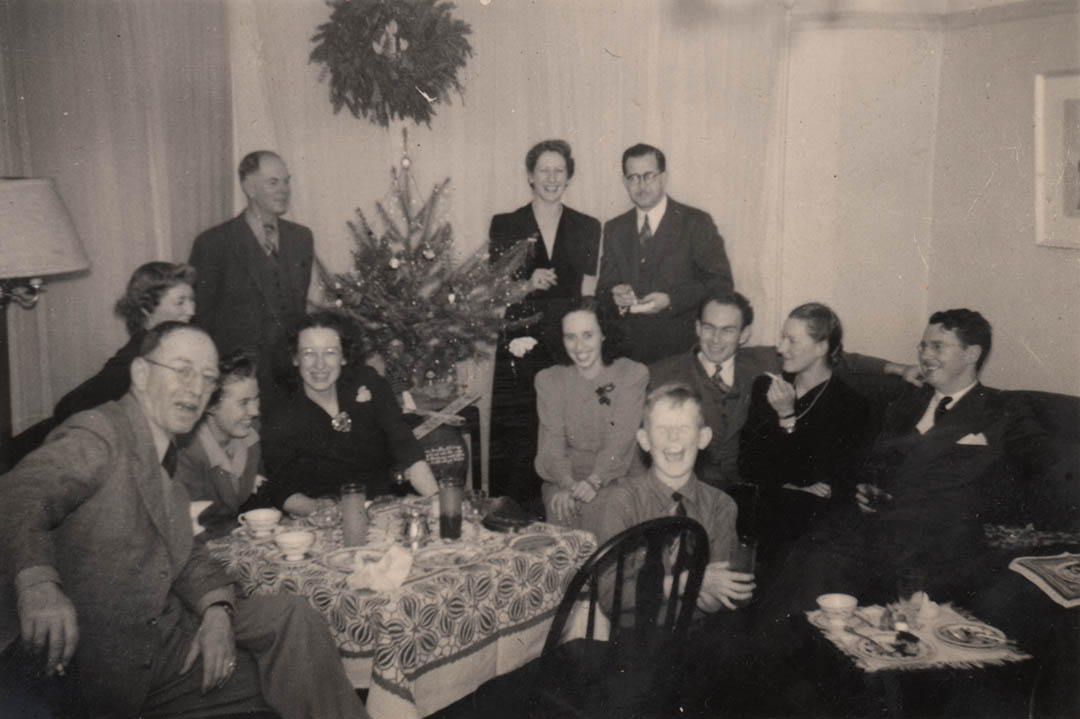 I'll wrap up with the above picture of a holiday party, circa 1942.  Whoever was telling the joke, they got a good reaction.  Hans on the far left, with his ever-present something to smoke – a cigarette, in this instance – and Helene Mayer on the couch surrounded by men.  And, if I may say so, sitting awfully close to the man on her right.  A date, perhaps?  Boyfriend?  Who knows?  In all the mentions of Helene in papers or news from the fencing community, the only mention I've ever seen of Helene dating, prior to her wedding in 1952, was the announcement of her boyfriend's death during the 1932 Olympics.  A naval officer, his ship went down and he was lost.  Helene received a telegram of the news just prior to the start of the women's foil final at the LA Olympics and, while she finished the competition, she ended up out of the medals.  This, after winning gold in 1928 and two of the three intervening World Championships in 1929 and 1931.  She didn't compete in 1930.
This is a small sample of the information packed into this scrapbook.  I'm only half-way through the first of the two.  I can imagine mining this source of information and trivia for a long time to come.  In comic panels with fencing themes alone there is enough material for two or three posts.  But the hints and clues as to the progression of the life Hans lived in San Francisco is priceless and I'll share as much as I can here.
Speaking of sharing, one plan I've committed myself to (I already told Kathy Krusen at Halberstadt I'm doing this, so I damn sure can't back out now) is the creation of facsimile reproductions of the two scrapbooks to give to the Halberstadt club.  The originals are in no state to be left to the handling of future generations on a regular basis, but I'm starting to accumulate material and creative notions on how best to replicate the books so that they may join the other scrapbooks at Hans' namesake club.  There are many instances of multi-layered pages in the two books, either because holiday cards can be opened to see inside, or magazine pages that have been taped in such a way as to be able to turn a page and see another part of an article.  There are also some loose photos that were just tucked in between two pages.  I'll have to come up with some (hopefully) clever ways to maintain the progression of the book in roughly the same way as it's laid out in the original.  It should be an interesting project to put together.  This week I've had to learn how to use Photoshop to adjust photographs that have silvered out, and I start testing double-sided paper for my fancypants 6-color Epson R2000 printer next week.  Fun times!
Oh, and, Archival Boxes (2) status: ordered.