Charles Selberg, or Charlie as he was more commonly known, in 1966 established the fencing program at UC Santa Cruz, home of the Banana Slugs.  More, Charlie Selberg was an artist.  He grew up in Fargo, North Dakota in a tough situation.  His mother died young and his father, a police officer, took to drink after winning a shootout with a notorious bad man.  By the time World War 2 came around, his father was gone and both of his older brothers were fighting in the war, one in Europe, one in the Pacific.  Homeless for a time, Charlie fell into a job as a sign painter and also began designing title cards for industrial film maker Bill Snyder.  In some more or less mysterious way, he wound up in San Francisco at SF State and got a Bachelors and Masters degree in Art.  The fencing instructor at State was Erich Funke d'Egnuff, and he started Charlie on the path to fencer, fencing teacher, fencing master, fencing guru, etc.
All that for background for today's topic: Charlie the Cartoonist.  In the mid-1970s, Charlie was producing cartoon art for the advertising that American Fencer's Supply ran in the back pages of American Fencing Magazine.  AFS was founded and co-owned by Charlie's long-time friend, John McDougall.  Whether it was casual assistance or a paying side hustle, I don't know.  (I trust John will fill me in.)  I pulled some examples of these ads to give an idea of how AFS differentiated themselves in the market.  No staid still-life with mask or crossed swords for the AFS ads.  No, indeed.
Charlie was of Swedish heritage and the viking horned helmet, while not necessarily an historically accurate wartime accoutrement for your average sea-rover, was something Charlie was likely to don for jokey photo ops.  So not really a surprise that he would include a viking in his art.
This one includes the name of the artist, signed near Schultz the Geezer's left foot.  "Schultz" was a recurring character as we'll see in the next one.  I particularly like the scoreboard in this one, with everyone but Schultz winning all their bouts while Schultz, with his poor kit, loses all of his.  Here's a final one:
Schultz the Geezer again, this time the winner.  No doubt his victory can be directly attributed to his having purchased new gear from American Fencer's Supply.
Now all that is prequel to what I actually wanted to share this week.  If you've looked at the "Posters" section of this website, then you'll know that we have a broad selection that includes local, national and international examples of fencing competition posters.  Prior to putting these up on the site, I wanted to clean them up and make them look new.  Since some of the posters, heck, really most of the posters, are too big to fit on my flatbed scanner (11×17 max), I worked with my photographer brother Garrett to shoot raw images that could be dropped into Photoshop and retouched.  His studio had a large vacuum table that proved very handy for holding the posters in place without having to tape down corners or edges.  Really handy tool.  Wish I had one.  Anyway, I took a bunch of posters down to his studio and we spent a couple of hours in the mode of set up, shoot, repeat.  In addition to the posters, I also took down some large paper sheets that had original Charlie Selberg cartoon drawings on them.  They were way too big for the scanner, but I definitely wanted to get some good images of them for some future use.  I guess that's today!  They aren't totally finished and some are further along than others, but they're a fun lot and I thought y'all might enjoy seeing them.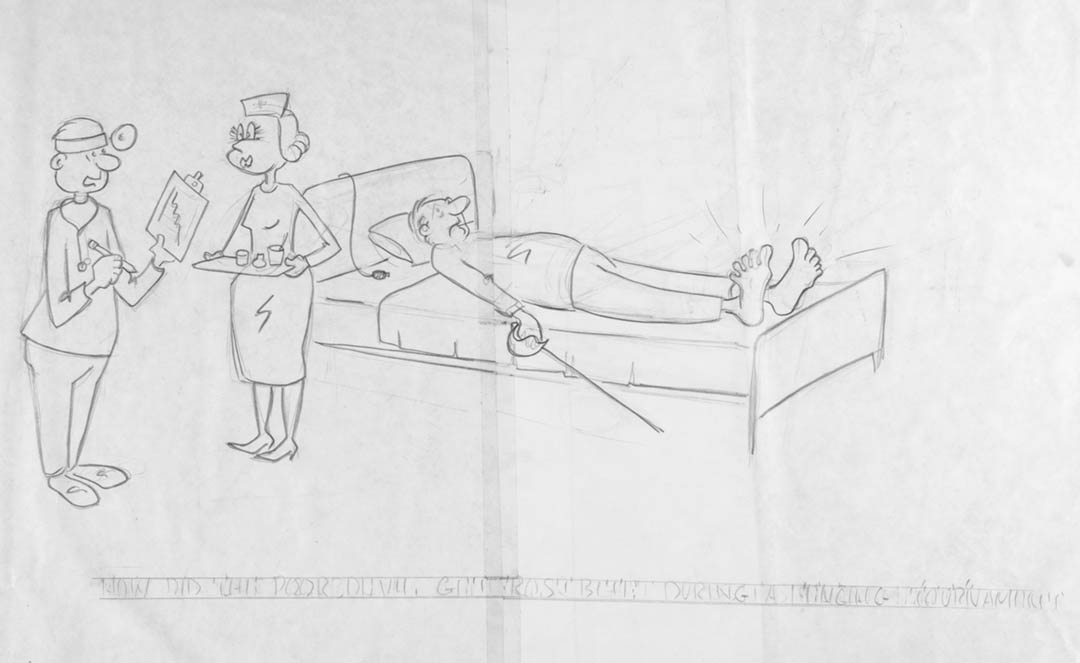 Some of the drawings have captions, some don't.  All of the captions are hard to decipher, as they were never fully lettered.  This one reads, to the best of my ability to interpret it, "How did this poor devil get frostbite during a fencing tournament?"  I suspect, but can't prove, that someone mentioned having cold feet to Charlie, with this as a result.
Of course, there's no way for me to know if Charlie had some specific intent for the ultimate use of these cartoons.  I know from looking through back issues of American Fencing Magazine that they sometimes included cartoons by other fencers and coaches who were artistically (and comically) inclined.  I'm looking at you, Buzz Hurst.  Whether Charlie was intending to participate in the fun or had some other idea for these, I've no clue.
As I mentioned, some of the drawings don't have captions.  However, some of them have caricatures! This seems to me to be an example of that.  This caricature, though, is a bit of a mystery.  It could be a self-caricature of Charlie.  However, it also kinda reminds me of Ed Richards.  Without a caption or some other hint, no way to know for sure.  Anyone feeling a caption for this?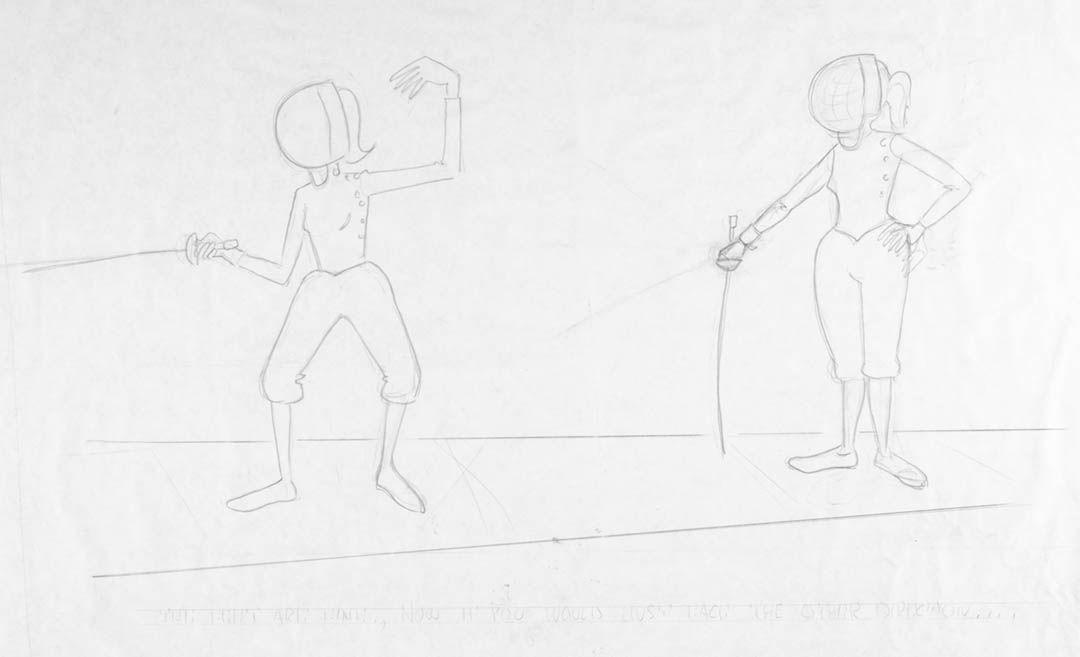 Another with a caption.  This one was particularly tough to make out and I think it reads, "The feet are fine, now if you would just face the other direction."  It may not be exact, but it's close.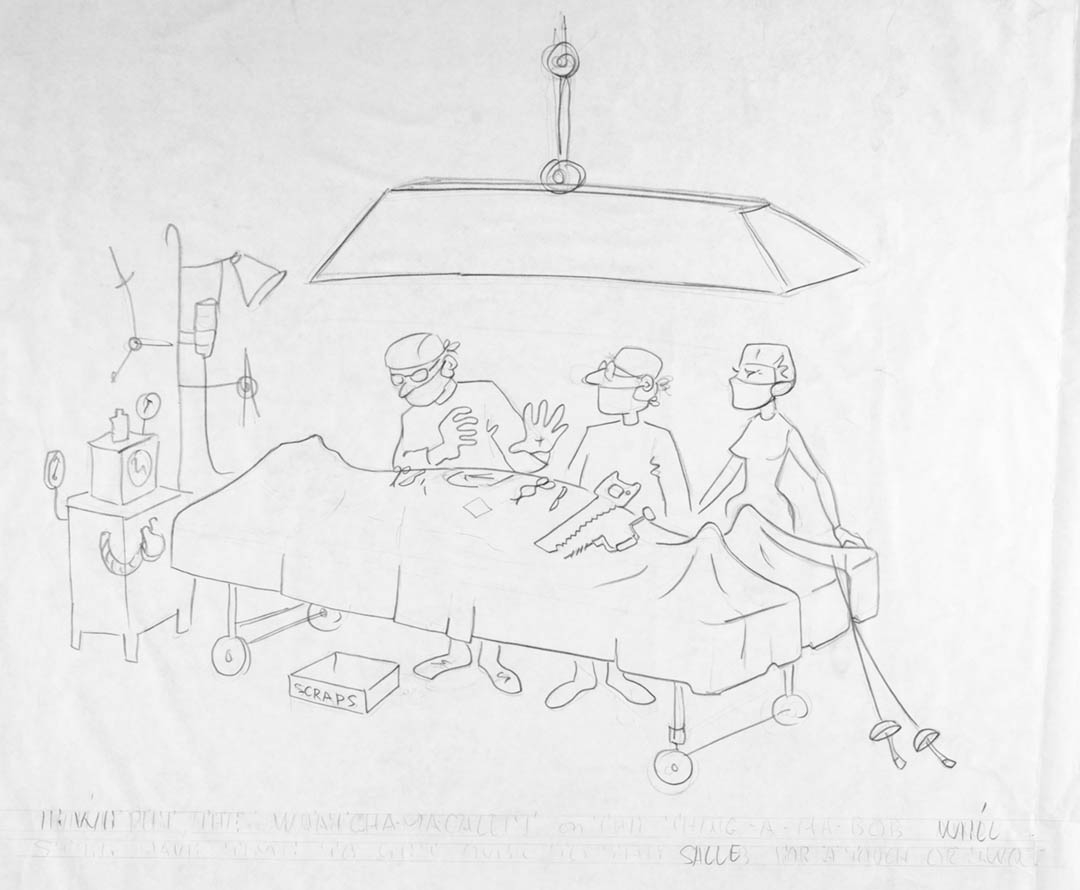 This is the toughest one to read.  Here's my take: "If we put the whatchamacallit on the thingamabob, we'll sew him up and send him back to the salle for another touch or two."  Best guess.  I particularly like the 'scraps' box under the table.
No caption here, but in today's world, this one is even more apt to be an actual event and not just a funny idea.  Anyone yet seen someone take a phone call mid-bout?  It's just a matter of time.
Last one.  Again, no caption.  However, I do think this one is another caricature.  Not for the musketeer, but rather the other guy pointing at the book.  I'm going to say that's a caricature of Erich Funke d'Egnuff.  Whether this idea originated from an event of some sort, with a little embellishment of course, there's no way to know.  If Charlie ever explained these to anyone or even showed them off, perhaps someone out there reading can fill us in.  Then again, he may have simply done the work, rolled them up and put them in a corner.
I don't recall exactly where Mark and I found these drawings when we were taking Charlie's salle down to preserve the contents for posterity instead of leaving everything to the mercy of Southern Oregon's voracious rodent population.  They weren't on display, but rolled up together and stashed.  They aren't in great shape.  (I did a little re-touching to post them, but not a ton.  Mostly upped the contrast and brightness.) There's quite a bit of wear on the ends and the paper has browned a bit, but the middles are in reasonable shape, so they must have been stored in a poster tube.  Probably for a long, long time.