During an otherwise very pleasant Italian meal I shared with two-time, two-weapon National Champion and Olympian Sewall "Skip" Shurtz and Andy Shaw of the Museum of American Fencing, Andy mentioned that he'd come to appreciate, late in life, a difficult-to-like fencer who was once a teammate of Skip's.  Grabbing the nearest-to-hand weapon, a butter knife, Skip aimed it in Andy's direction, saying, "Don't you dare say anything good about that son of a bitch!"  Only a little butter and no blood was spilled but it gave me pause to wonder just how tough Skip Shurtz had been prior to a massive heart attack that had slowed him considerably. I only met Skip after that heart attack, and so never experienced the full blast of his energy and passion.  Knowing he learned how to drink and fight in the Navy and was a fearless competitor, completely willing to go toe-to-toe with anyone – anywhere, anytime – I can only imagine how this scene may have played in earlier years.  I don't pretend I would have fared well as an intermediary.
For some time I've had plans to put together a book about Skip's life and he and I worked together on gathering his stories into some kind of shape prior to his passing away in February of 2018.  Skip's memory stayed sharp through our discussions and I was able to get him to answer some of my questions in writing.  However, his answers tended to lead to more questions.  There's many a mystery that I'll never solve now but I still feel like I was able to stitch together a pretty fair picture of the man.  Time to share some Skip memories.
Skip at age 6, ready to take on the world.
Sewall Shurtz was born in the Texas of 1933 to a woman in an unhappy marriage who, when Skip was still very young, packed up her son and her mother and escaped to the Golden West and the city where dreams are made: Hollywood.  From an early age, young Sewall was put through dance classes, acting classes, fencing classes – anything to prepare him for the grind of pursuing the pinnacle of success: Movie Stardom.  Skip, along with a smallish group of other silver screen hopefuls, was shuttled from casting office to casting office, hoping for THE part, or any part, like soundstage vagabonds.   Both his mother and grandmother worked any possible job to keep them in food.  They lived on the Hollywood fringe, always poor, but somehow surviving, pouring what extra money was available into the classes and situations that would give Sewall that chance at success in the film industry.  Skip suffered from rickets, a common enough condition in children from struggling families, but was never allowed time to imagine that anything could stop him working if there was a part to be played.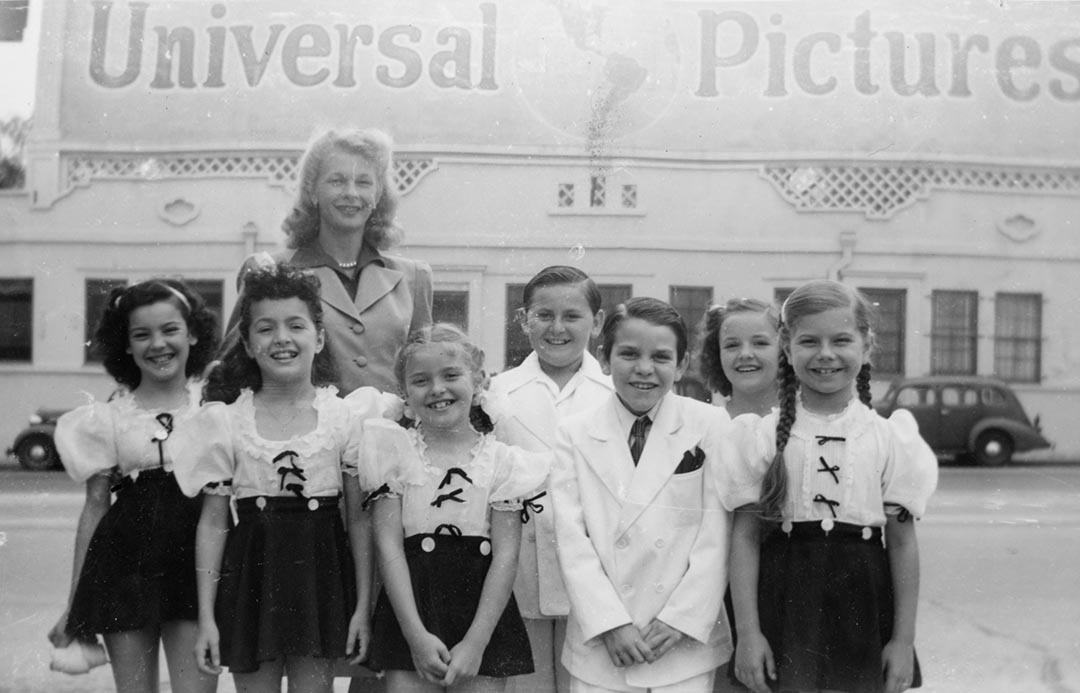 The boy in the front, with his pals at Universal Studios before the theme park.
The life of a young actor in Hollywood in Skip's era was a constant cycle of rehearsals, auditions and performances.   The many local dance and acting schools would put up show after show, anything to create exposure for their students.  In between, the parents of young children would work with agents to find out the casting opportunities and make sure their protégés were polished up and ready to go on cue.  Skip and his peers slipped from one costume to the next, all the while learning lines and prepping for the next round of auditions.
Skip shows the girls how to lunge.
Skip's grandmother worked as a cleaning lady for Falcon Studios, the Dance, Acting and Fencing school run by Ralph Faulkner and his wife, Edith Jane.  She worked at Falcon in exchange for Skip's lessons, and while his family hoped for the acting to "pay off", for Skip, his interest and skill at fencing began to resonate.  But the parts did come through at times, including a role at the age of 12 as one of several children in the Claude Rains film "This Love of Ours", originally titled "As It Was Before".  News clippings and press photos also showed off Skip's various talents.  Sometimes these were put forward by agents, sometimes by schools and teachers, but all were in hopes of that elusive 'notice' for the young performer.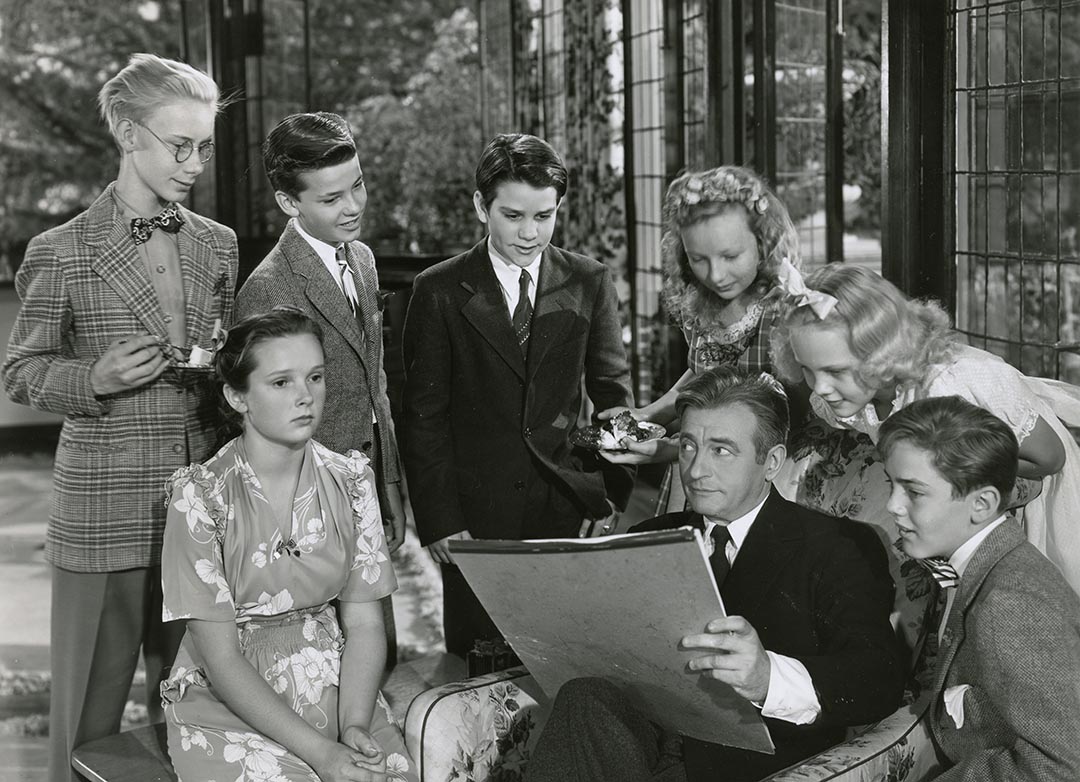 Publicity photo from the Claude Rains starrer, "This Love of Ours" from 1945.  Skip, in the middle back, looks over the sketchpad as Claude draws a caricature, or rather, pretends to.  Skip is playing the uncredited role of "Youngster" and had a day rate of $25.
The dynamic of a Hollywood-integrated fencing school can be different from other fencing schools.  Ralph Faulkner and his wife, the dance instructor Edith Jane, courted the acting community by housing their respective classes in the same location, the Falcon Studio.  Actors of greater or lesser repute would come to take dance from Edith or fencing from The Boss, punctuated by Stars that would come in to work during preparation for a film where Ralph was providing the fight choreography, something he did for over 40 films.  Skip remembered a handful of the many that came through; Debbie Reynolds, Red Skelton, Cornell Wilde.  This was the Hollywood club.
Faulkner had a great many publicity stills taken.  This one shows off the "Falcon Fledglings" as his younger charges were known.  Sewall Shurtz is in the front row, 3rd from the right with the Hollywood smile.
Falcon Studios also became a surrogate home, and Ralph a surrogate father, for young Sewall Shurtz.  The activities of the fencing club were similar to the dance performances that were frequently mounted, in that the fencers would take any opportunity to publicize the sport and the studio to the Hollywood community, guided by Faulkner's keen sense of showmanship.  Skip, along with the others, took these excursions in stride as part of the trappings that accompanied growing up with the Hollywood sensibility of finding any means to showcase your skill – whatever it may be.  In the midst of all this, Skip continued to pursue acting parts, but lessons from The Boss and fencing competitions began to command more and more of this personal interest.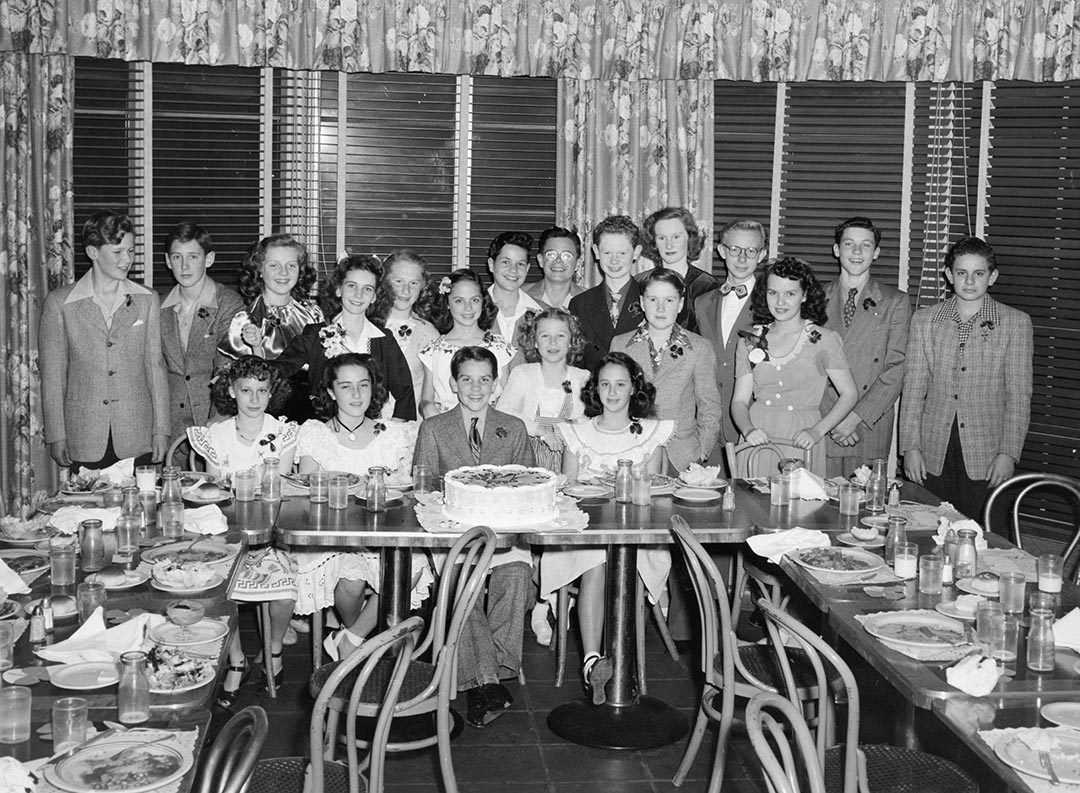 While fencing may have been starting to occupy more and more of his time, I'm betting Skip didn't have any trouble putting down the foils for a party where he was surrounded by the ladies.  That's how you had your birthday in Hollywood.
I was fortunate to have the opportunity to get Skip to tell me some stories.  Sometimes we would talk over Skype and I'd madly scribble notes between laughs.  Skip could spin a yarn, let me tell you.  Other times, I'd send him a couple of questions over email and he'd respond.  He'd also just get a notion to drop me a story once in awhile, typing, I think, as ideas came to him.  This next bit is one of the last category.  It took a fair bit of editing to piece this all together but it's such a great story, I just have to share it with you.
So here's Skip, in his own words with a little spelling and syntax help.
If you are going to Live by the Sword, then you must be prepared to live with the ups and downs, thrills and disappointments that will come your way. Everything is truly relative and we must each apply our own values and emotions to our lives. I was blessed in being raised by Ralph Faulkner, the Boss. I began bouting at the age of 5. And so, the process of evaluating and making judgment calls came early on. In effect, I did begin "living with the sword" early on. In the "olds days" we did not have the luxury of electric on ANY weapon. Recognize that the epee had a point d'arett?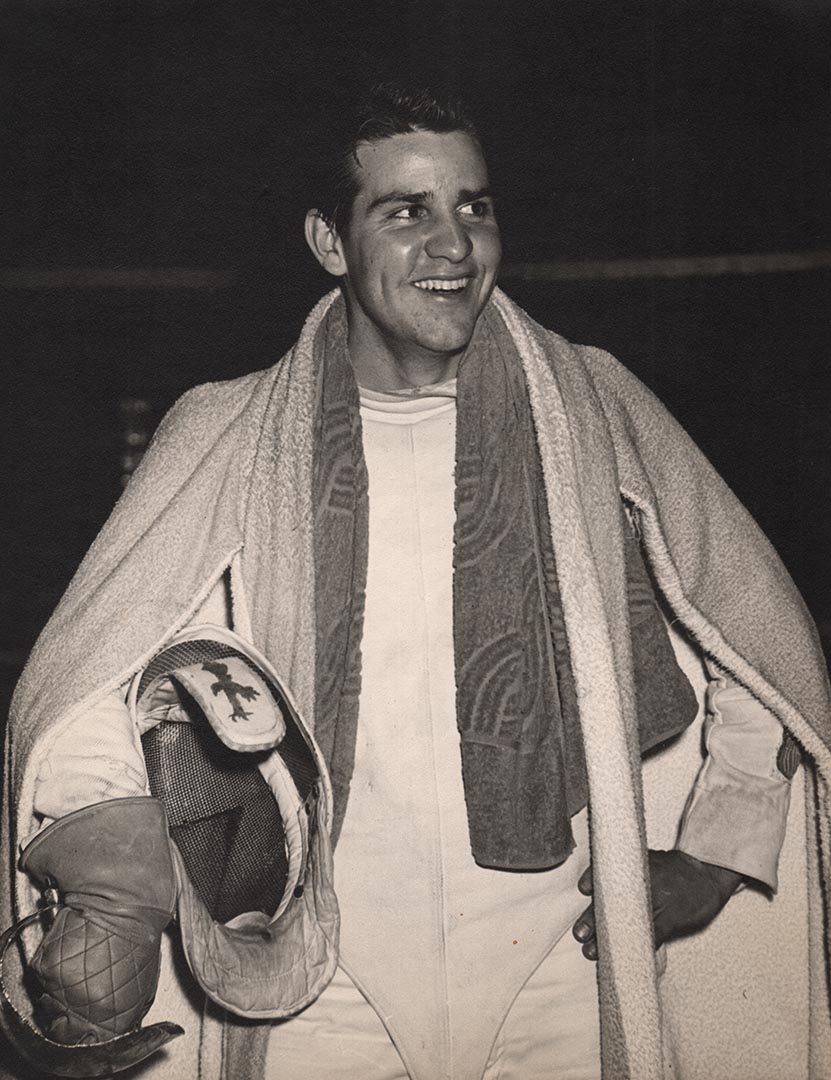 I well remember my first epee tournament. On a Wednesday the Boss came to me and said, "You are going to fence in an epee tournament this Sunday. It is at Griffith Park and is called the Cathcart Open and is held out of doors at the park." I thought, oh good, that should be fun, BUT I HAVE NEVER HAD AN EPEE LESSON. In truth, now that I think back, I am not certain I even knew what one looked like.
The Boss informed me that he would give me some lessons prior to the upcoming Sunday and to just "go out and have fun."  I had been in foil meets at the club but NEVER an epee. I believe I was all of 14. Well, we joined the rest of the club plus the other clubs and began our "outing." Of course, to me, this was a TOURNAMENT. There were medals to be won! Please to remember that in those days:
1) There was NO LIMIT on the amount of point you could have showing AND no way to gauge its sharpness. Obviously, the sharper and longer the better and the greater probability it point would penetrate and be a touch, and
2) there were no divisions as we know them now. Senior, Intermediate, Junior, Novice and Prep. That was it for ALL ages. No quarter was asked and NONE was given. Most assuredly, NONE by me.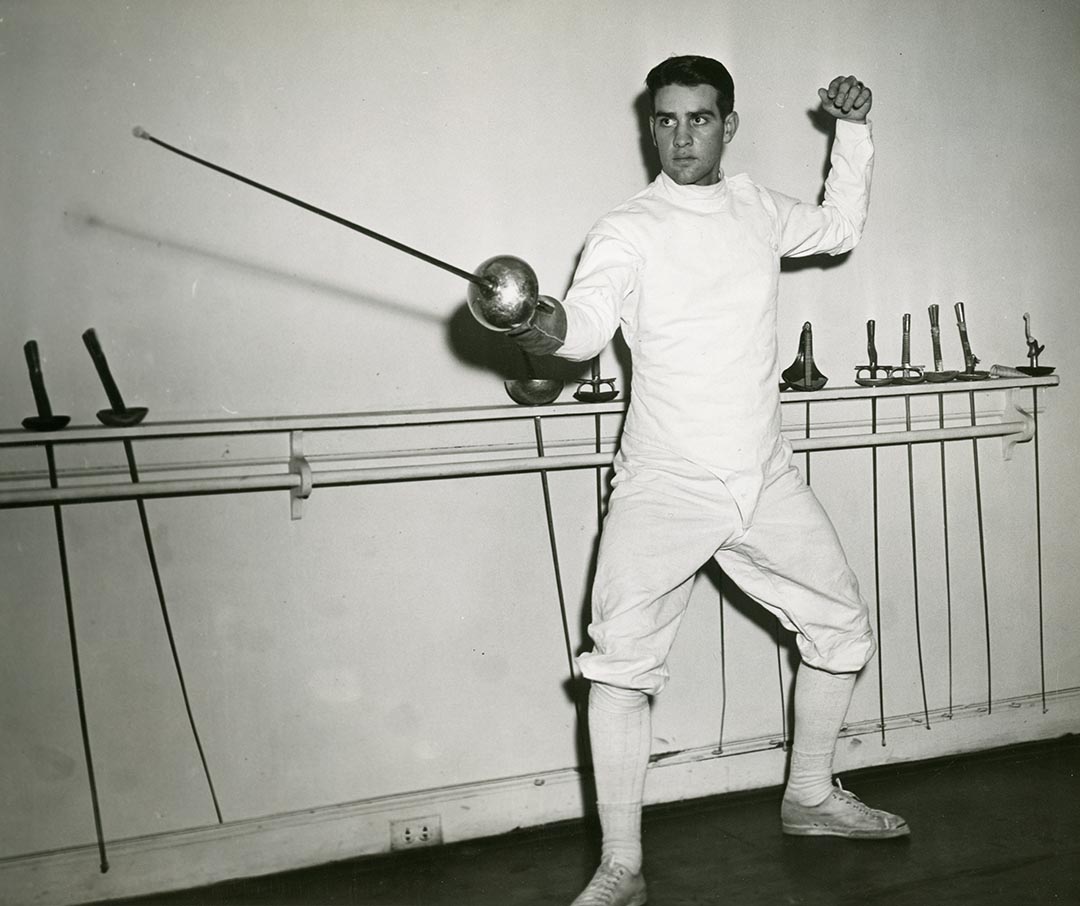 When the pool got to within my having two bouts to go, I had only to win one and, should I lose the last one, I would STILL be third. The Boss had outfitted me in new fencing pants and 12 oz jacket. No matter, shortly after the bout began, my opponent, from the LAAC made long lunge which went through my jacket, across the right side of my stomach, hooked the left side of my stomach and opened me up like a Christmas turkey.
The wound, I came to learn, was 5 inches long and, as luck would have it, stopped just above the intestines. As I lay on the ground with a towel wrapped around my stomach the Boss came to me and said "If you had parried, that would not have happened."  The next day I was to enroll at Hollywood High. We had no money for a Doctor so I went to the school, towel wrapped around me, under my shirt confident in the knowledge that The Boss would pick me up and be there for me. The Boss had taken me there, waited for me, and after registering, took me to a doctor to sew me up. Time having passed, the edges of the wound had begun to curl. All of which was part of getting sewed up. I look back and other of us "Old Timers" compare our warrior epee days prior to electric.
No, they did not let me fence for third place.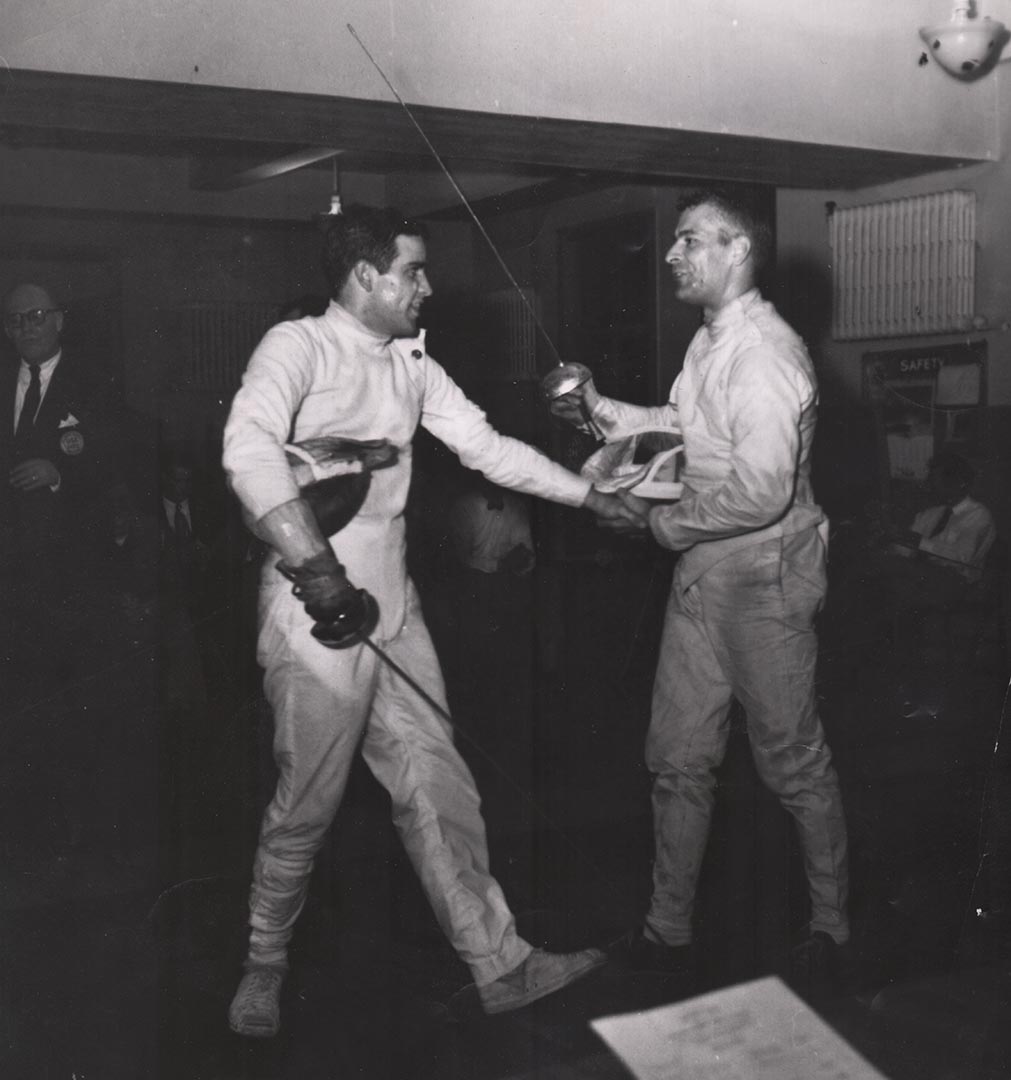 Skip, above left, after winning his last match in the 1954 US National Championship Men's Epee finals, the first of his two championships.  Two years later, he won the Men's Foil.
So there's a sample of Sewall "Skip" Shurtz as a storyteller.  He had some good ones to tell, make no mistake.
As an added bonus, I have one photograph from the Cathcart Open, which was always held at Griffith Park.  I used to work a couple of blocks from this part of the park.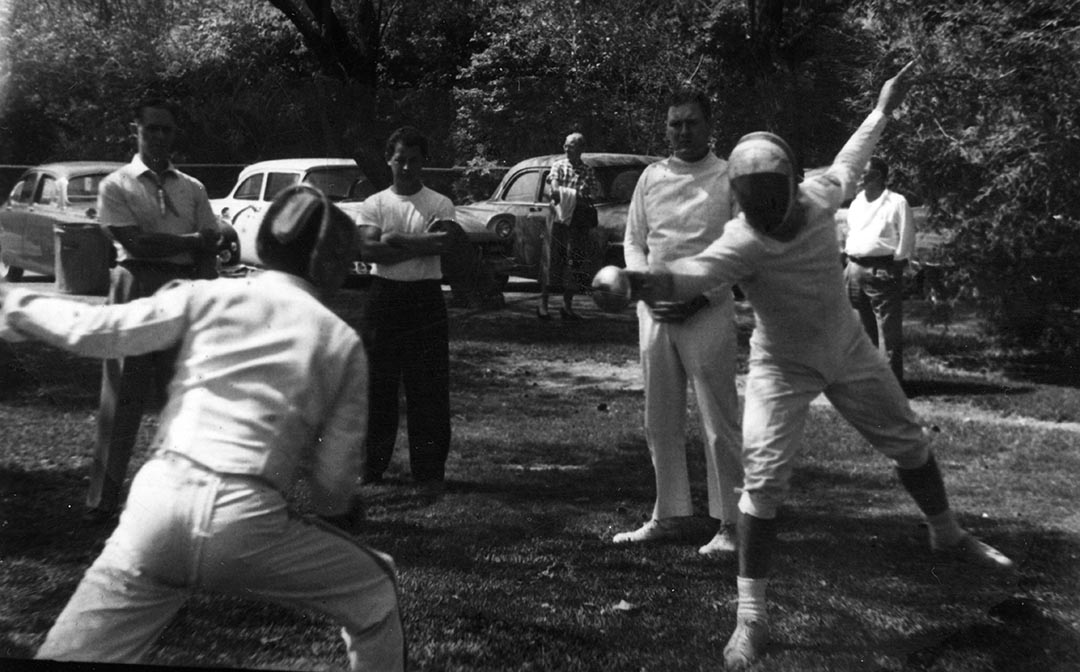 The Cathcart Open epee competition.  This is a different year than the story above but that's Skip on the right going for the stop hit on the exposed shoulder.
And, as an extra special treat, I rousted around in my bin of movie clips and came up with this one – a little piece from the home movies we rescued from the dumpster at Heizaburo Okawa's house.  This film clip was shot by a member of the Mori family and shows – quite possibly – the same tournament as the photo above.  Only in color!  I've added a few titles to put names to the people that I could identify.  Skip can be spotted throughout due to the tape over the top of his mask but it starts right out with him saluting with his mask off.  So here's the Cathcart Open epee competition, non-electric, being held in Griffith Park concurrent with a women's foil event.  This film reel isn't dated but my estimate is 1955 or 1956.  Skip used this same mask with the tape over the top at the 1956 Melbourne Olympics.