There are many ways in which the scrapbook of Erich Funke d'Egnuff is a gold mine, not least of which are the amazing variety of newspaper photos of fencers.  The scrapbook covers the years 1934 to about 1942 and the fencers of that time had a style all their own.  Since this is Part 2 of the series, I'm picking up where I left off.  (If you need to catch up, you can go here first.) As with the first round, I don't know if the photographers were more imaginative and traveled with a stylist, or if Erich was playing Maesto and Art Director both, to pump up the volume on the publicity offered by a sports editor giving him a quarter-page spread.
Whatever the reason behind it, I just love these photos.  They very much speak to the period as far as style and such but since everyone is wearing fencing gear – except for masks; don't want to disturb the universally impressive hair – they are still very familiar.  Or would be, if fencers today had pictures like these in the paper.  Slim chance of that.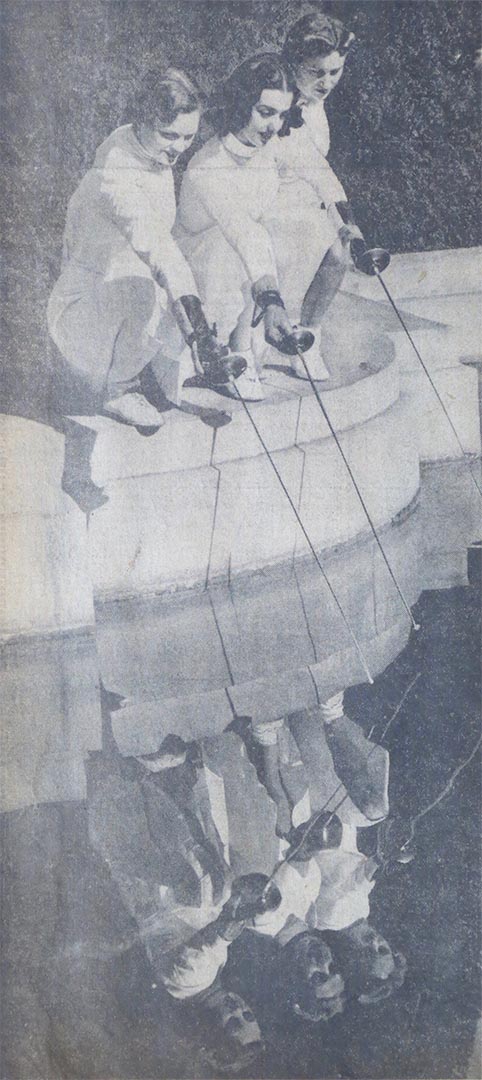 This photo was taken out on Treasure Island in the San Francisco Bay, when that space had been transformed into the Golden Gate International Exposition or, for short, the World's Fair of 1939.  Both the Pacific Coast Championships and the US National Championships were held there that year.  Left to right (top and bottom) are Gerda d'Egnuff, Caroline Leonetti and Betty Jane Nevis.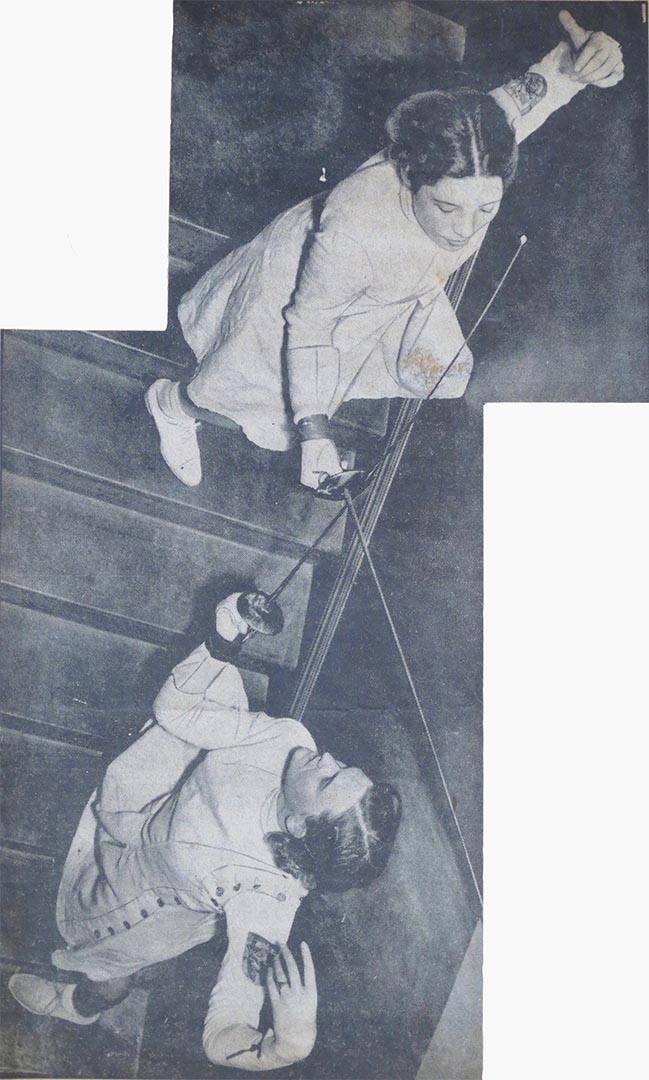 The high angle shot!  "Two Musketeers" is the headline for this photo of Helen Sander, up top, and Mrs. E. A. Funke, on the lower steps.  The photo was to advertise the upcoming "Examiner Fencing Tournament".  Somehow, someway, the local paper, the San Francisco Examiner, was in the business of sponsoring fencing competitions.  Someone was working the system.  Whether it was Funke himself or one of the well-connected members of the high flying Olympic Club that pulled together that sponsorship, I've no idea.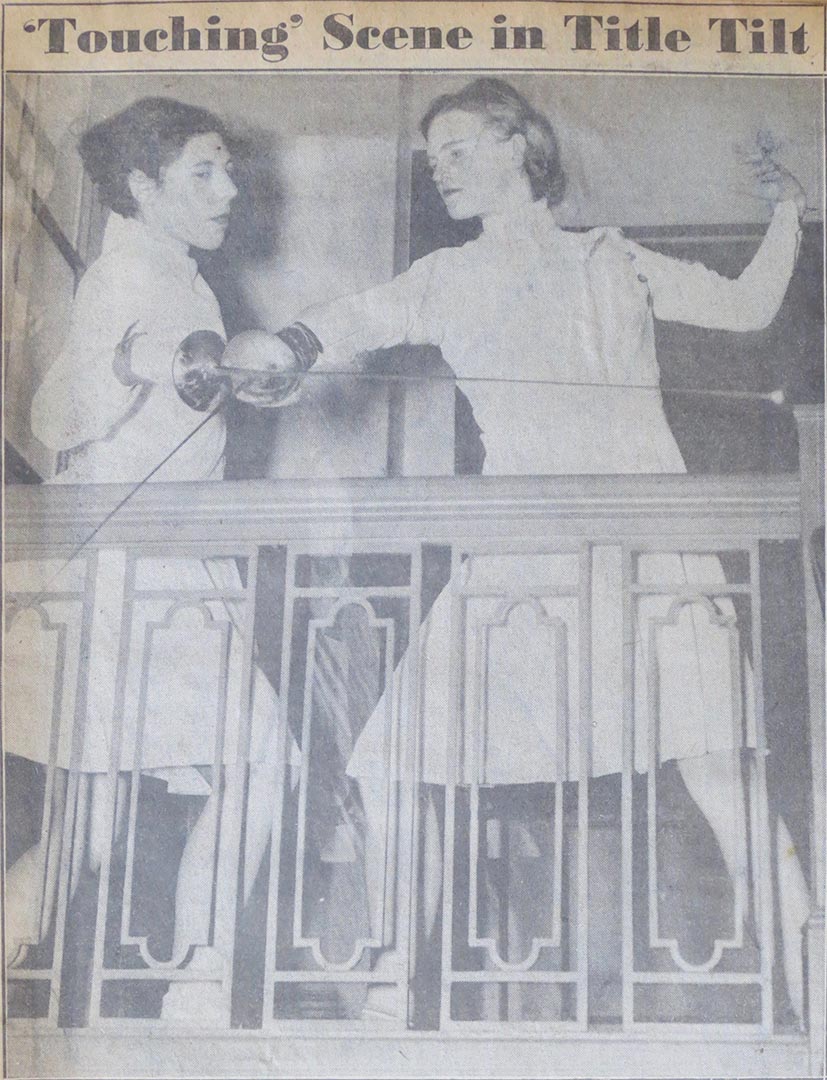 How many "Mrs. Funke's" were there?  The previous photo contained a Mrs. E. A. Funke and this one has Mrs. Gerda Funke on the right, corps á corps with Helen Sander.  Ok, so really I guess the byline could just as easily read, "Mrs. E. A. (Gerda) Funke" or something.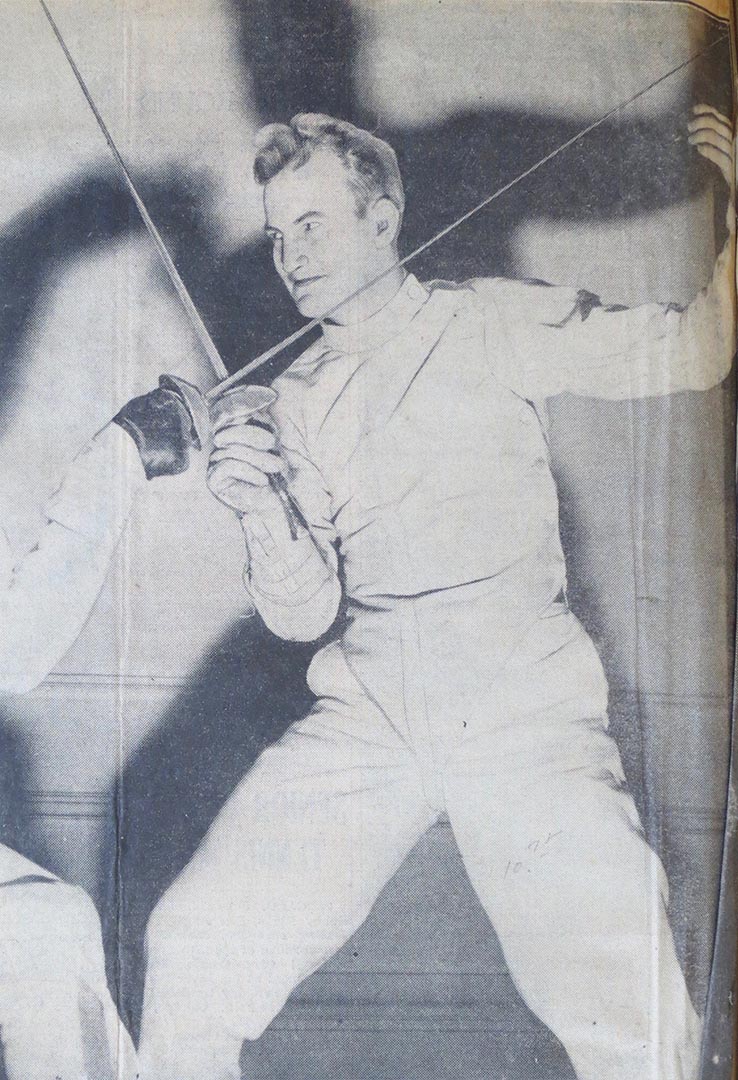 The men were not left out in the cold as far as the awesome photo production went, although they were featured in artsy shots like this one much less frequently than the ladies.  The subject of this photo is one DeForest Rodecape.  He fenced and taught in the Bay Area for several years in the 1930s, including a 4 year stint teaching at the Olympic Club.  Originally from San Jose, he got a Masters Degree from UC Berkeley's School of Librarianship, and worked at Cal as well.  He drops out of the fencing records after 1939 and his obituary was published in February of 1943. Nothing about the why's or any other details.  I'm working on trying to find out more about him.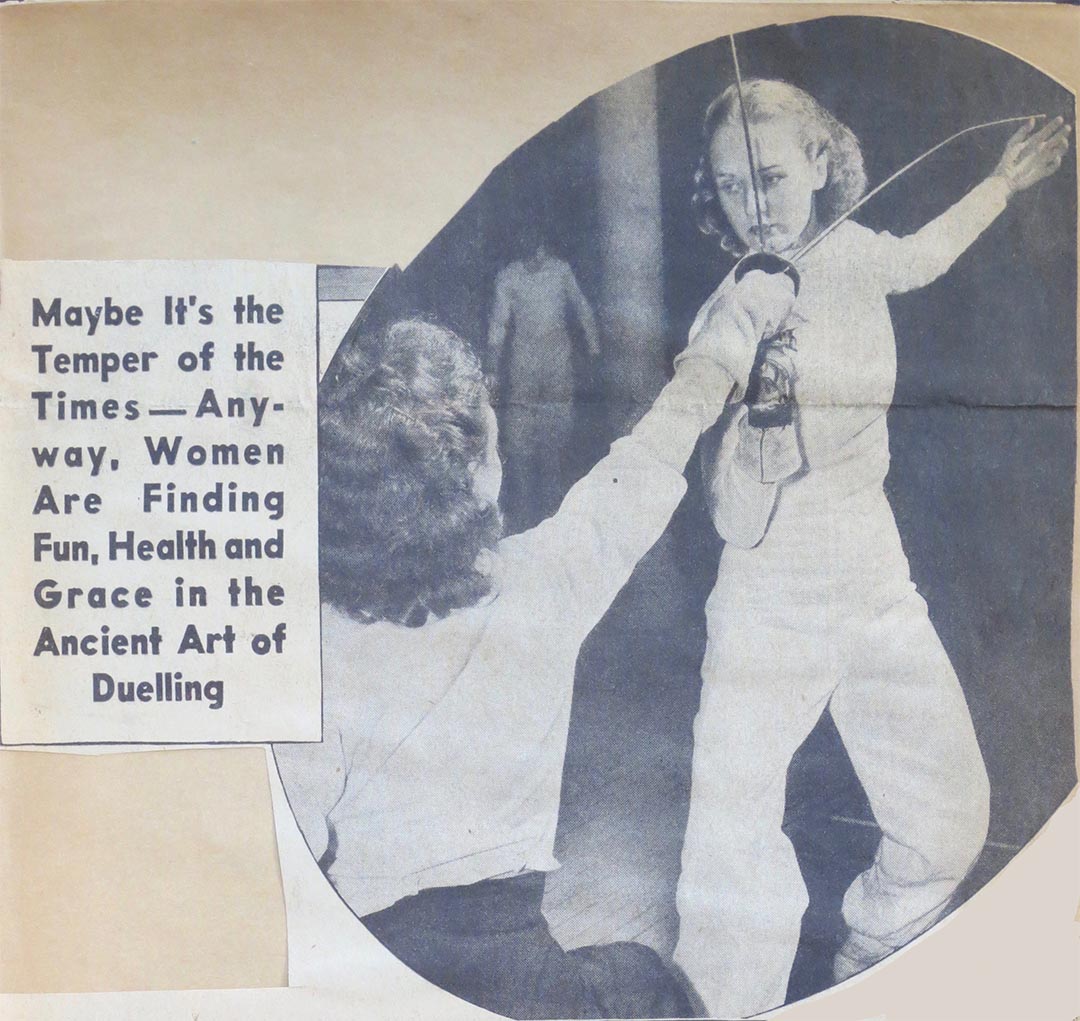 The American Weekly published this photo in 1941 without naming the two participants, so it's impossible to know if they were local to San Francisco.  Could have been from anywhere.  The caption only names the ladies as "two comely fencers" who, as they describe it, are having a friendly bout with "…the kind of action that is helping Miss America keep in fine physical and mental shape."  I'm assuming they're using the term "Miss America" in the broadest sense and not  saying that one of these two ladies is an actual "Miss America".  Did they have those in 1941?  I'll go check.  Hang on….  Yes, apparently, they did.  Probably not with a fencing portion.  I know they dropped the swimsuit competition though.  Maybe they dropped the fencing competition, too.  Or maybe my imagination is getting away from me.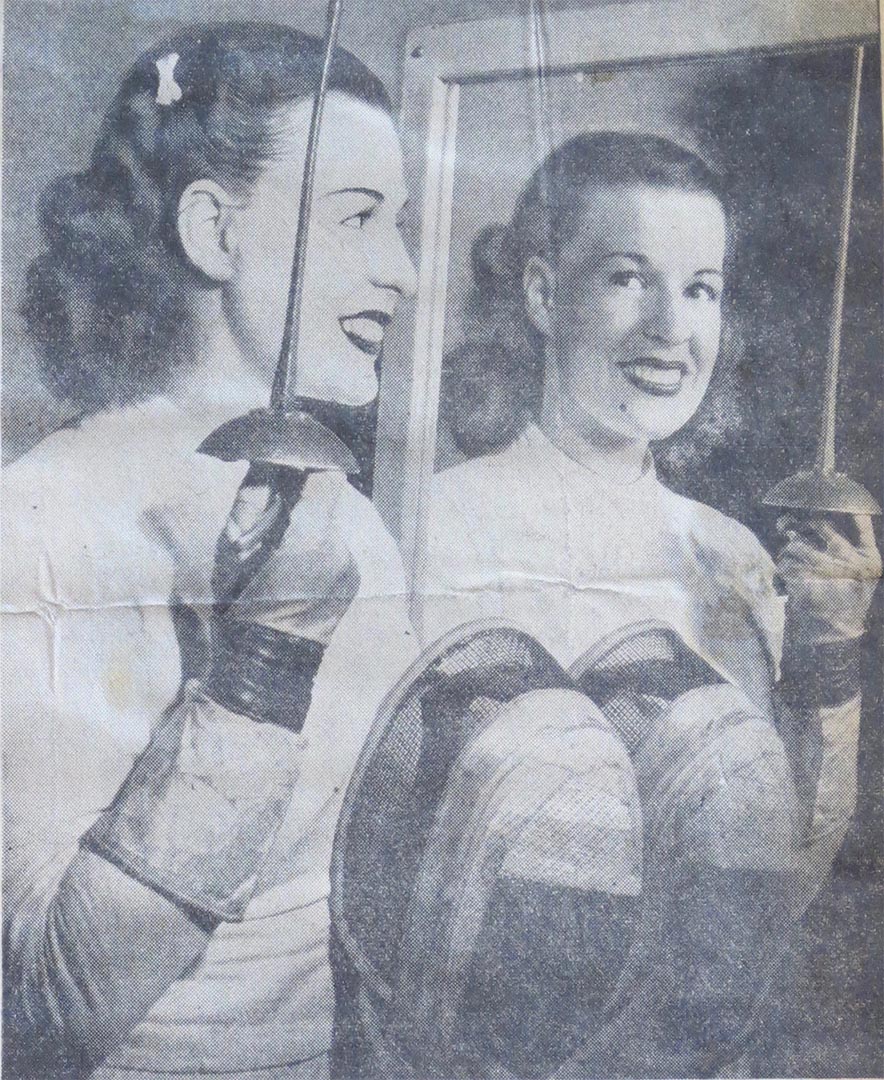 This one shows both sides of Emilie Romaine who, along with her husband, had a photography studio in San Francisco that did lots of commercial and portraiture work.  Emily began fencing with Erich Funke d'Egnuff at his Funke Fencing Academy and was a fixture in the Nor Cal scene for years.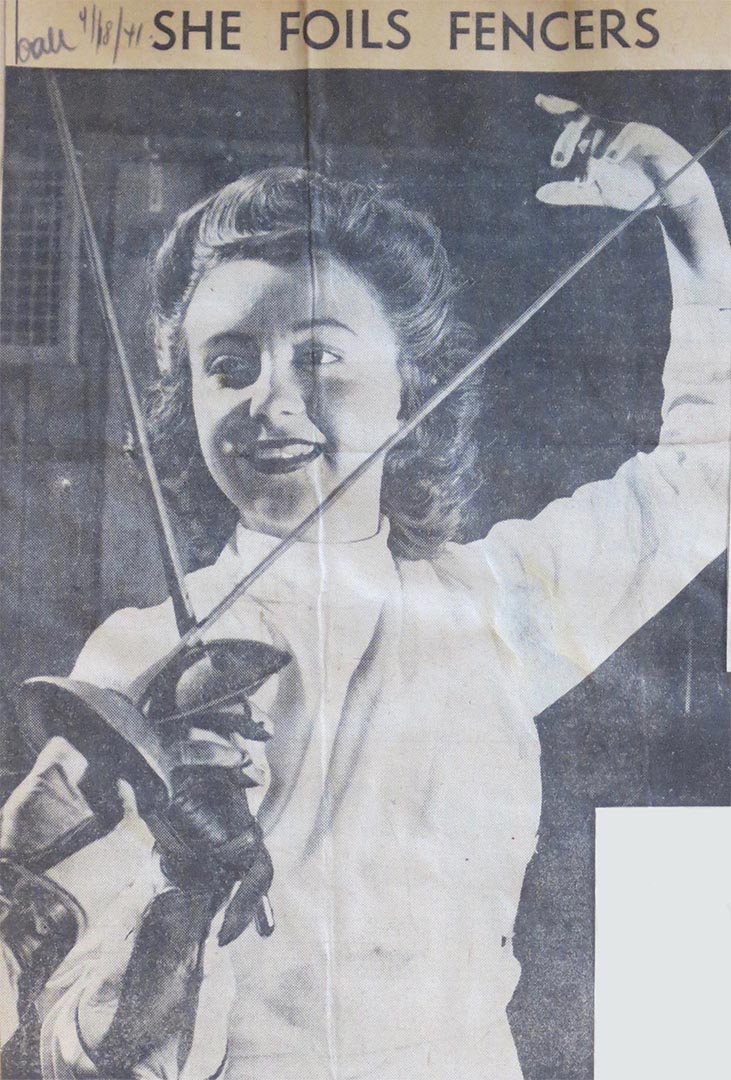 Lydia Riedimer is shown above from an article advertising the 1941 Pacific Coast Championships, held at the Olympic Club in San Francisco.  Lydia is mentioned as being an up-and-coming fencer and third locally, which put her behind someone who was behind Helene Mayer who, as long as she was in the Bay Area and standing on two feet (and quite possibly while hopping on one of them) would have been ranked first.  Good luck, Lydia.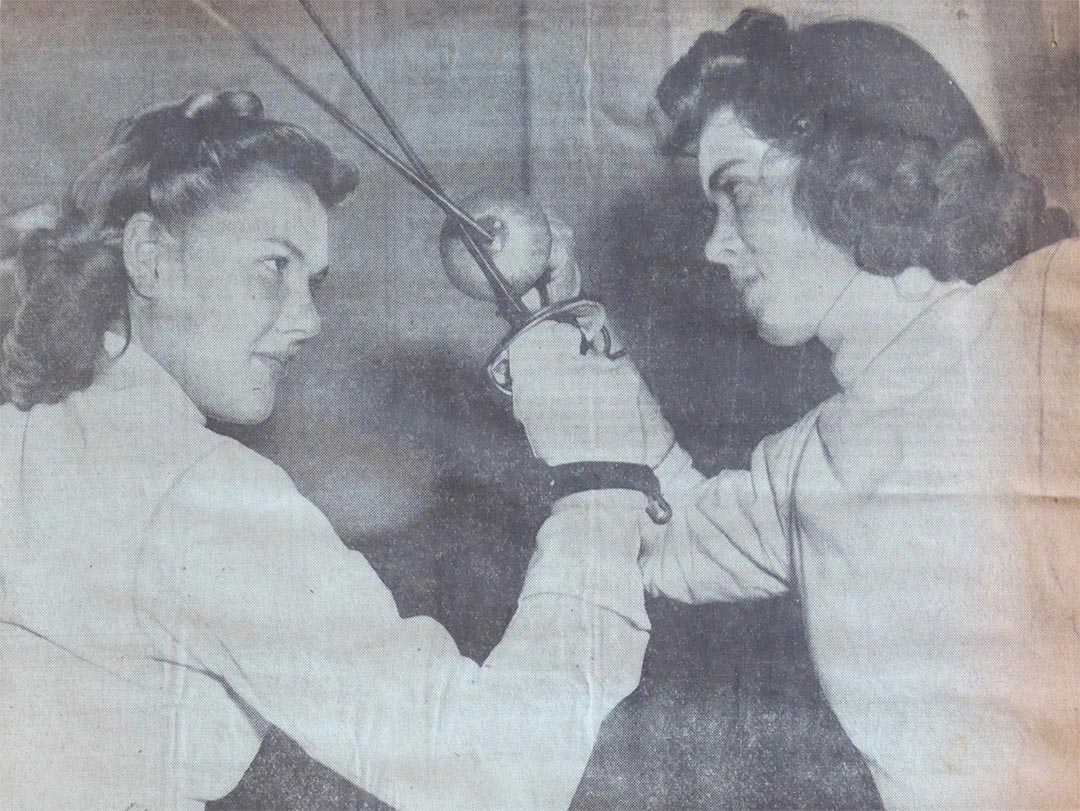 Post-Pacific Coast Championships, Muriel Calkins of the Los Angeles Athletic Club, which means she would have been coached by Henri Uyttenhove, poses with Roberta Fritz of the San Francisco Fencing Club.  Now, you see, this is why I do this!  What the heck is the San Francisco Fencing Club, circa 1941?  And who taught there?  It's a name I haven't run across from this time period at all.  Something new to track down!  Roberta finished fifth in the Women's Open PCC's and Muriel finished second to… guess who?  Helene Mayer.  In some other articles I've read recently, from several years apart, Helene Mayer is noted as having gone through entire tournaments untouched, or touched once.  One of her National Championships victories came while being hit some absurdly low number of times through the entire event.  Like, she got his seven times all day.  That sort of thing.
And finally, Helen, Emilie and Margie pose in a nice angled shot, again advertising the 1941 Pacific Coast Championships.  On the same page as this clipping, in another article, Erich Funke is quoted talking about Helene Mayer.  Apparently she was coming into this event after a two year layoff.  She fenced in one tournament just prior to this PCCs to qualify and was hit three times.  After two years off.  So there that is.