There is a great photo hanging on the wall at the Halberstadt Fencers Club on South Van Ness in San Francisco that I've always admired.  It shows four fencing masters sitting and watching a tournament at the Funke Fencing Academy when it was housed in the Theatre Arts Colony on Washington Street in the City.  The photo was taken in 1940 while Hans was working as an assistant at Funke's.  The masters are, from left to right, Hans Halberstadt smoking a pipe, Julio Castello, no doubt paying a social call on his West Coast brethren, Edward Visconti who would, within a year, donate his closed-by-the-war club gear to Hans that he might establish his own salle d'armes, and Erich Funke d'Egnuff.  However, there is another person in the photo.  On the far left, in a robe and casually having a smoke, is the muralist/painter Victor Arnautoff.
A couple of years ago I had tracked down his name, then subsequently forgot to write it down or tag him in a photo.  It escaped me until this week.  As per usual, while looking for something else, I came across his name, did a little dig through my digital files, and was able to reconnect his name with the man in this photo.  I quickly updated all my copies of this photo to add his name.  That's by the way.  Arnautoff's name has been in the news in the Bay Area of late and I'd seen the articles but until yesterday hadn't connected the fencer to the current controversy about his work.
Victor Arnautoff was a Russian-born artist and teacher.  His early life is fascinating and can be read about in the very interesting book, "Victor Arnautoff and the Politics of Art" by Robert W. Cherny.  I'm just into the first couple of chapters myself.  He was in the Tsarist and then the White Russian army as a cavalry officer, learning to fence as part of his training.  When the White Russian forces were defeated in the counter revolution, he crossed into China and taught cavalry tactics to a Chinese warlord's troops and remained in China for about 5 years. In 1925 he brought his wife and two sons to San Francisco and enrolled in the California School of Fine Arts (now the SF Art Institute) to pursue his life-long dream of becoming an artist.  He spent two years in Mexico as an assistant to Diego Rivera, returning to San Francisco in 1931 where he began to establish himself as a muralist.  The Public Works of Art Project, part of Roosevelt's New Deal WPA initiative, provided funding for one of his first major commissions, the painting "City Life" inside Coit Tower.

Photo courtesy of Dick Evans – San Francisco.  This is one of the paintings Arnautoff did at George Washington High School in San Francisco.  Slave owner and Father-of-the-Country Washington checks in on the work day at Mount Vernon.  Arnautoff, Russian by birth, did not, I think, feel the need to shy away from the historically accurate as he saw it.   Hence the controversy.  I'll explain in a bit.
While establishing himself as an artist, he was also establishing himself as a fencer.  The earliest references I've been able to find for him competing in Northern California tournaments are from 1935.  A member of the Olympic Club, at that time, arguably, the best club around, Arnautoff would likely have been taking lessons from DeForest Rodecape or, a little later, Elwyn Bugge, who also taught at Stanford.  (Rodecape and Bugge both have so far escaped being profiled here but the time is coming.)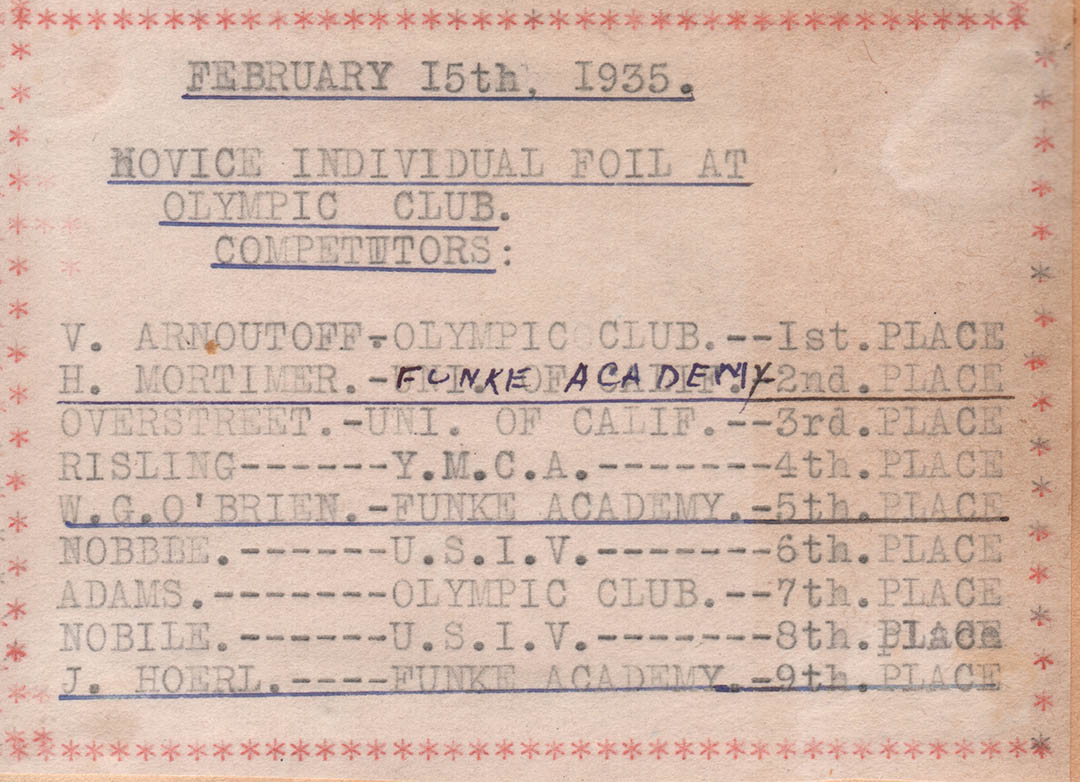 This item, as are most in today's article, is from a scrapbook of Dr. William O'Brien's that I was able to scan in its entirety.  (Thanks Gerard!)  It's chock full of articles and other interesting tid-bits.  In his pre-Letterman Fencers Club days, Dr. O kept a pretty thorough record of his placements in tournaments up & down the coast.  At this time, the categories "Novice", "Junior", "Intermediate" and "Senior" had nothing to do with age or, necessarily, experience.  It was instead based on your record of success.  Arnautoff's victory here at a Novice event probably bumped him to Junior/Foil in 1936.  I don't quite understand all the distinctions about the categories or if it was in any way limiting to what events you could compete in.  Novice fencers competed in Junior events, etc, and anyone could enter an Open event.  Hence the legacy term "Open" that we still use today even though the reason behind it is no longer quite as pertinent – if it was pertinent at all.  With all the age specific events now, anything without an age requirement is almost by default an Open event.  I guess that's still working the same way.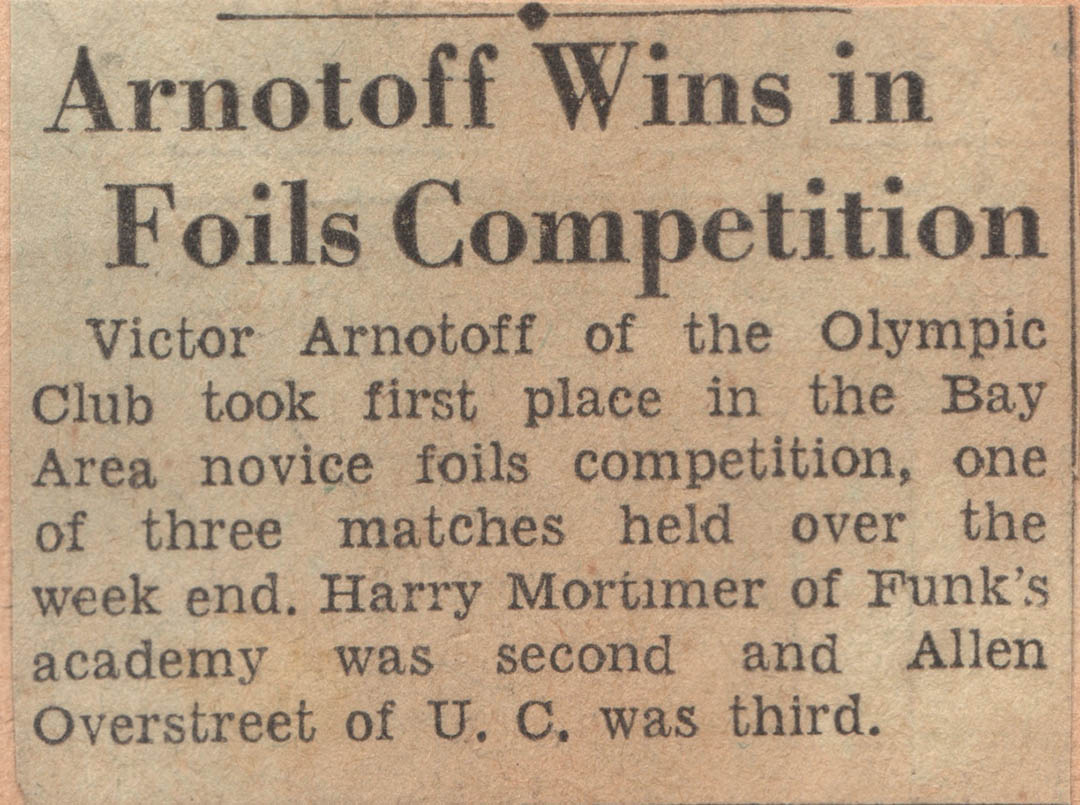 Arnautoff's victory secured him a notice in the local news as well.
In addition to normal fencing tournaments, the Bay Area in the mid-30s was also ground zero for another type of fencing competition known as the Patri events.  This was a fencing party game with shades of Calvinball.  The Patri games were the brainchild of their namesake, Giacomo Patri, another Bay Area artist/fencer.  Patri events were set up as standard foil tournaments (this was prior to electric scoring machines for foil, so there wasn't a choice to be made there) but you could "capture" your opponents, swap in a new fencer in the middle of an action, escape from prison by lunging and hitting your teammate, all kinds of wackiness.  It actually sounds like a lot of fun and I need to publish the rule sheet one of these days.  I bring it up because Arnautoff made the paper in an article all about a Patri tourney held in the city.
Arnautoff on the left parries an incoming attack.  The people standing around in the background are the other members of the two Patri teams facing off.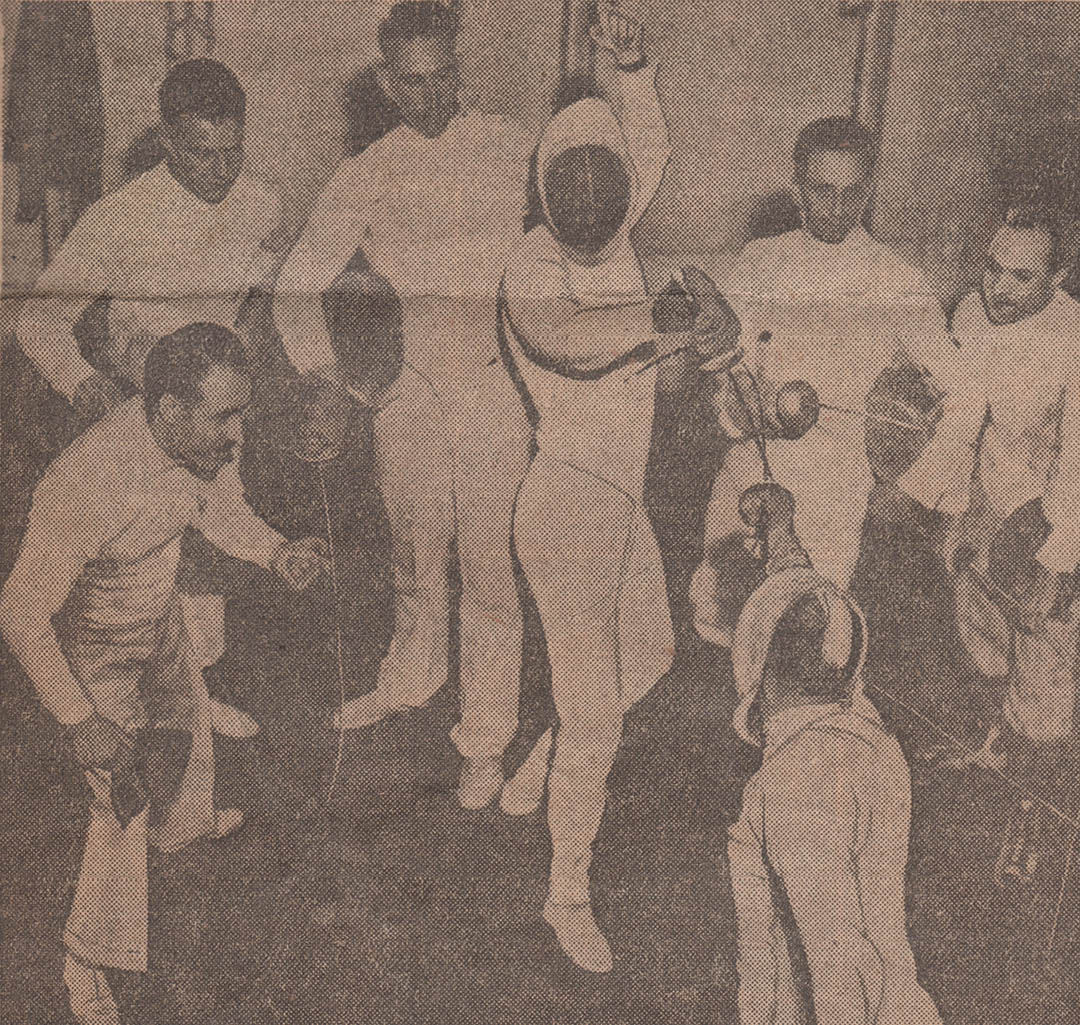 From the same article, Arnautoff is on the far left and seems to be officiating – or admonishing his teammate with a "You're supposed to hit HIM!" A pretty, if failed, attempt at a prime parry by the fencer facing front.  Still, it's for a news photo.  I shouldn't be so critical.
Another type of fencing event that was once more poplar than today was outdoor competitions.  Southern California's division had several annual outdoor events, while even foggy and cold San Francisco – and I'm talking about the summer months – held a few over the years.  One such annual event was the Nor Cal Outdoor Fencing Championships sponsored at least once, in 1937, by the Examiner newspaper.  It was held at the stadium at the High School of Commerce and although the pre-event article advertised the 'free to all spectators' aspect, you can see by the crowds in the below photo that they didn't generate too much interest:
One spectator is better than none, isn't it?  Arnautoff is the fencer on the right.  The way the audience has his hat pulled down, he might be asleep.  I hope the fencing was warm enough to at least keep the competitors from getting a chill.  I mean, it was held on July 4th.  It was probably in the low 50's.  And foggy.
The O'Brien scrapbook even has an example of Arnautoff's art, although there is one thing that confuses me.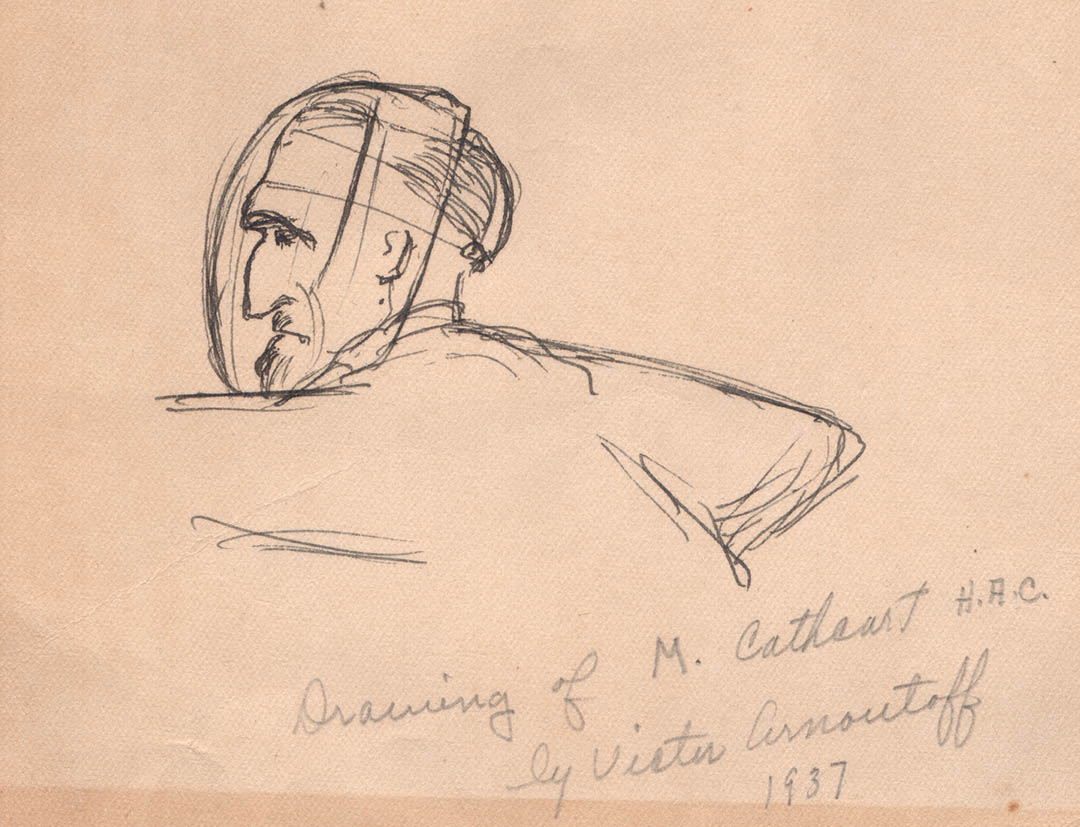 This says "Drawing of M. Cathcart".  I believe that is a mis-print.  There was a Cathcart who fenced for the Hollywood Athletic Club (the H.A.C here) but his first name was Charles.  Charles Cathcart was a very popular member of the fencing community and this quick-sketch drawing was probably made at the 1937 Pacific Coast Championships, held in the auditorium of the William Taylor Hotel, now the McAllister Tower Apartments, in San Francisco.  Cathcart won the Pacific Coast Championship Intermediate Epee in 1937.  Two years later in The Riposte Magazine (published from 1935 to 1942) a notice of his passing was printed.  The Southern California division held a Cathcart Memorial Outdoor Epee competition – using point d'arret & ink – until 1960.
I don't know the end of Arnautoff's fencing history.  There's one source I plan to check with who may know but for now it's a grey area.  He was painting and teaching throughout his time in San Francisco, including a long stint at Stanford that began in 1938.  An avowed Communist, a leaning that coalesced during his time with Diego Rivera, he endured pressure and investigations by the FBI during the heady days of the Red Scare.  Friends and associates were interviewed about his language as government forces attempted to determine if he posed a threat as a potential terrorist.  Did fencing at the Olympic Club fit into the workings of his life as time went on?  Perhaps I'll find out.  In the early 1960s, after the death of his first wife, he returned to Soviet Russia to live out the rest of his days.
In recent days, his name has been figuring prominently as a controversy swirls around the murals he did for George Washington High School in the Outer Richmond district of San Francisco.  You know, the area of San Francisco that some old maps of the city note as "Uninhabitable Due To Fog".  One of Arnautoff's paintings is shown above with George Washington.  Another is below:
Photo courtesy of Dick Evans – San Francisco. Without knowing the compass alignment of the painting, I can only surmise that Washington is pointing West.
Objections to these paintings and the depiction of both slavery and a dead Native American has been around since the 1960s.  And I get how they touch a nerve for a lot of people.  As I mentioned above, I believe Arnautoff's Russian upbringing gave him a distance from the American mindset about the discussions around both slavery and the slaughter of the native peoples in North and South America. It's not an easy subject. And now the topic of reparations to the descendants of slaves brought from Africa is in the news and it's an important discussion to have.  It's not like I have an answer.  But how do you give reparations to the native peoples of this land wherein dozens, if not hundreds, of native tribes have been erased from existence?  Needless to say, the discussions around race and reparations all come into play regarding these paintings.  Here's why they are currently newsworthy.  The San Francisco School Board has voted to spend upwards of half a million dollars to erase Arnautoff's work from the walls of George Washington High School.
I'm not a big fan of the destruction of art in general and the destruction of public art is painful to me, even when it depicts something that I find uncomfortable or downright offensive.  The demigods of the Confederacy whose statues have been coming out of parks throughout the south is one side of this coin, where heroic myths have been built around people who fought to maintain the right to enslave.  I don't like the statues, what they represent, their placement – or their destruction.  I'm conflicted.  Here, Arnautoff depicts the ugly truth of our history.  Enslavement was a reality.  The slaughter of the native people of this land was a reality.  Arnautoff even represents the duplicity that intertwines with American expansion, as on the far right a trapper smokes a peace pipe with a native chief, while others coming along will deliver genocide.  Difficult subjects all.  But erasing this depiction from the halls of a high school hardly puts a finger in the dyke of the racism that leaks into our society at large.  Rather, let's find a way to erase the racism.  I'm for that.
I usually talk about fencing on this website.  It seems I've gone a little astray but Arnautoff's name being bandied about in the local news led me to tracking down a wider topic than usual.  As above, I certainly don't pretend to have an answer.  I'm against destroying the paintings.  I'd rather see them put into historical context by all the players and have that drive unvarnished conversations at the school with the kids who see these paintings every day.  Let's help them understand the various corners in this fight and why no one side is all right and another all wrong.  There's a lot of grey here, fog or no fog.