I confess, I don't know a whole lot about Kendo.  Outside of the countless samurai films I've seen (which I don't pretend are representative of Kendo), I've only been around the sport a couple of times.  On my very first fencing team, the best guy had picked up a foil about a year earlier than me but grew up with Kendo in Japan.  Shige Tateishi was a High School or College champion of some sort and I believe he had achieved the 4th dan ranking.  If he kept it up after he went back to Japan, he's probably a bit higher by now.
I mention all that as a caveat for what I've collected, as I'm excited to show off some great images of Torao Mori.  I've written about him before of course but always in relation to his time spent with our Western version of fencing, where he was the coach at Salle Vince/Salle Mori in Los Angeles as well as the coach of the Japanese Olympic fencing team for a few cycles – I think '60, '64 & '68.  This time out, it's all about Kendo.
Torao Mori, in white, teaching Kendo at one of the many locations where he instructed in Southern Cal.
Torao "Tiger" Mori held a very high rank in Kendo, the 8th dan or Hachidan.  He went to Japan to test for this rank sometime in the late 50s, early 60s.  The Archive has some pictures and film that seem to be from this event that were donated in the large haul from Heizaburo Okawa's water damaged storage unit.  Many of the photos were color slides and they, apparently, don't take well to water damage and heat.  The film faired a bit better and are of the home-movie variety.
I was reminded of how much Kendo material I had around Mori when I picked up a copy of Black Belt magazine from March of 1964.  It features an article about Kendo masters of Japan taking a tour of the US and Mori is listed as Hachidan, so his promotion to that rank was prior to '64.  One of the few clues I have to go on.  Here is the headline from the magazine:
I have no doubt that Mori was one of the prime movers behind this tour.  He's featured in the article and listed as a "technical advisor" to Black Belt magazine.  And he gets a nice picture, too.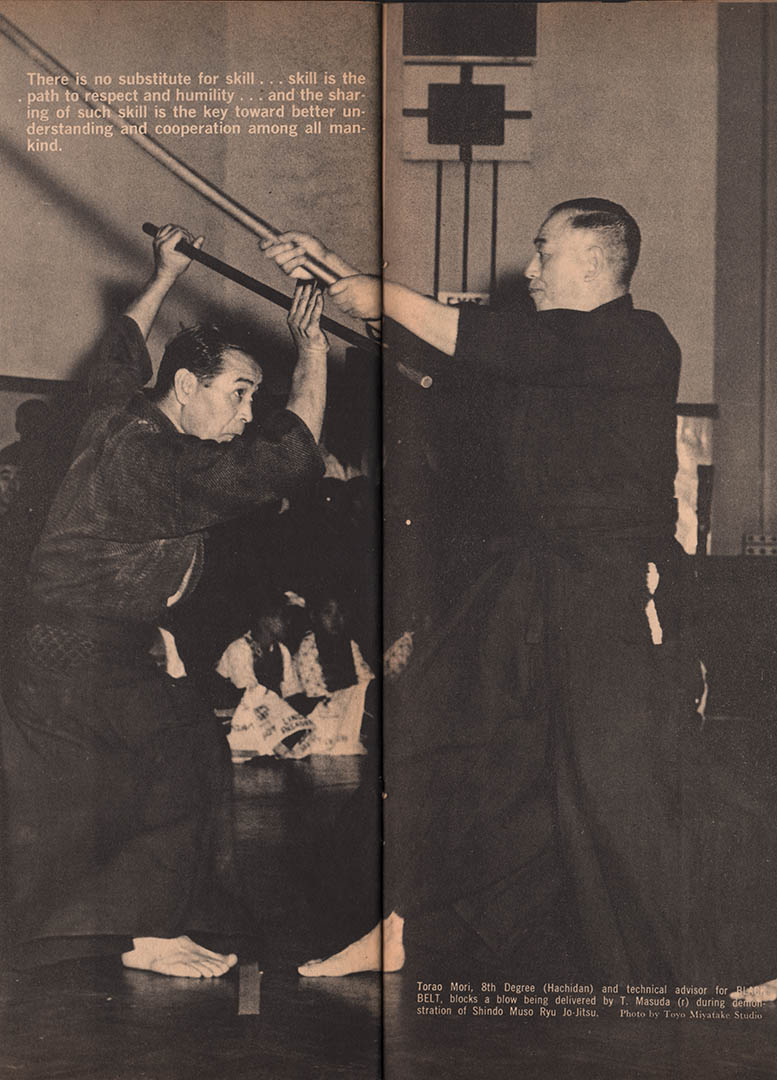 I hate it when pictures I'd really like to get a good scan of are in the center of a two page spread. That's Mori on the left.  This issue of Black Belt features some great Kendo shots, as well as an article on How To Enjoy A Samurai Motion Picture, which includes candid photos of Akira Kurosawa on location while filming "Throne of Blood". So that's a bonus.
Mori was good at publicity and promoted Kendo in local papers, national magazines, on television, basically anywhere that would build interest in the sport.  Youtube has a clip of him doing a TV demonstration in 1958 that you can check out.  And, while going through my photos to choose which images to include here, I came across some pages that were glued into the Halberstadt Scrapbook #2 that I'd forgotten about.  (This happens frequently.  I've got almost 3 terabytes of images and while I have a good filing system with lots of cross-reference, I still can't remember everything I've got.  And I'm bush league compared to what Andy Shaw has and most of his collection isn't scanned.  Yet.)
This photo, one of several in the (thank you Hans!) article, is from Fortnight Magazine, 1955.  Panorama Pacific was a CBS television series produced from 1952 through 1964 and featured human interest stories, mostly set in Southern California, I believe.  It was produced in LA through KNXT, the CBS affiliate in Los Angeles back in the day.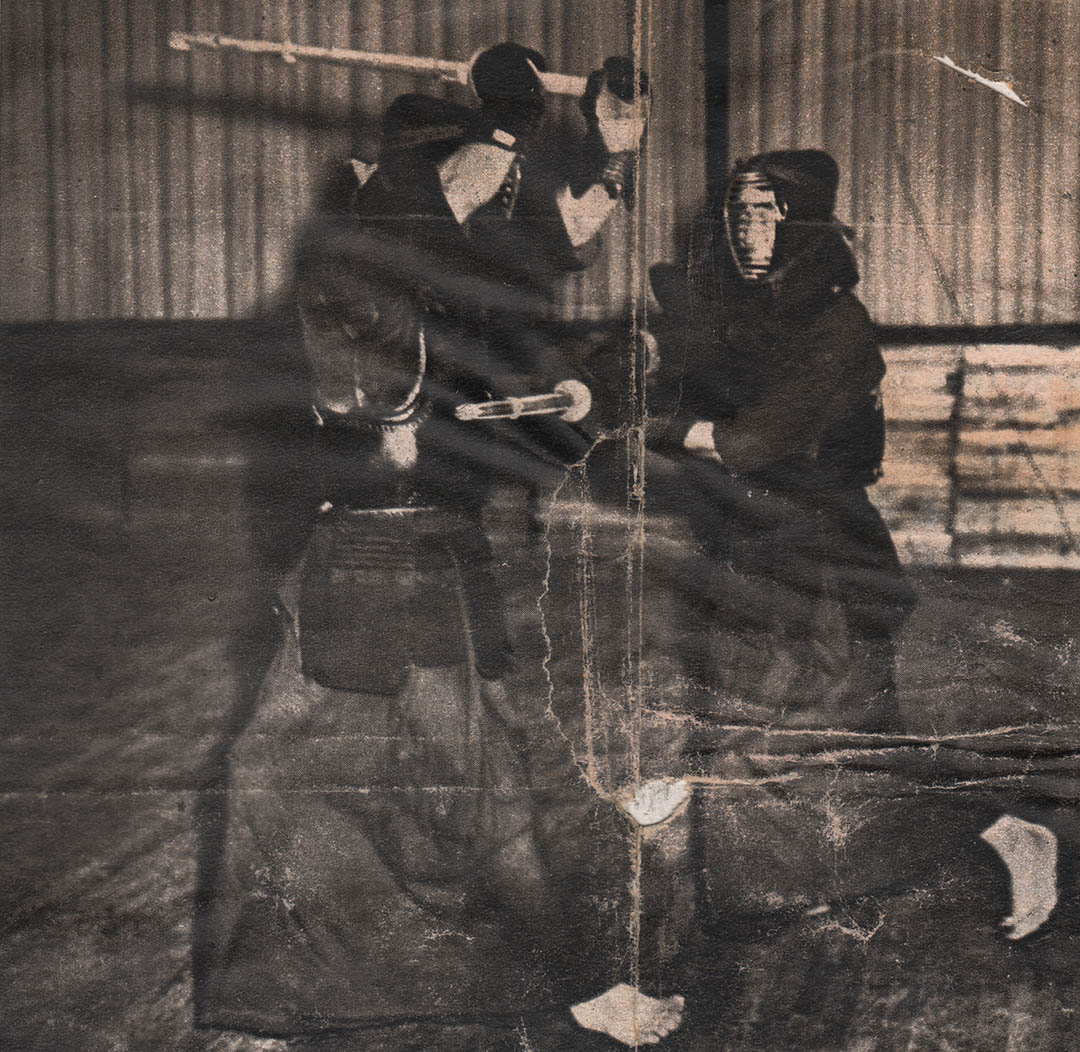 From the same article, Mori on the right, scores.
And I had to put this one in and not because of the mis-print of 'fency' for 'fencing'.  Rather, because of this: "Kendo makes European-style fencing easy". Now, I was just a baby fencer when I knew Shige Tateishi, mentioned above, but let me tell you a story about him.  He and I were on the first fencing team ever fielded by little Cabrillo Community College in Aptos, California, and our first competition was against Stanford's "B" foil team.  Four-man teams.  Three of us were going to our very first fencing tournament on that day but Shige, the Kendo champion, had been going to such events since he was a little tyke and so had no jitters about the excursion.  When putting together the bout order, our coach, Len Carnighan, made sure that Shige was first up for us.  Upon the command 'Fence!', Shige did a little bounce-forward-bounce-back-direct-attack-with-fleché-one-light action.  I happened to be watching Len, who was standing next to Jean Helliwell, the Stanford coach, just as Shige executed that picture-perfect fleché.  Jean's jaw dropped open in total shock on that first touch, as if to say, "What the… who's this guy!?".  Len had that "I'm not sayin' nothin'" look on his face, with just the tiniest hint of a smirk.  Shige won all four of his bouts easily and we won, 8-8, on the strength of his indicators. Shige is my only personal experience of Kendo-to-Fencing transitions but since he's my example, let me tell you, he made it look really easy.
One paragraph in the article jumped out at me and I don't know whether to take it seriously or to write it off as the exaggeration typical of newspaper and magazine writers attempting to increase the validity of their subject matter.  Probably that.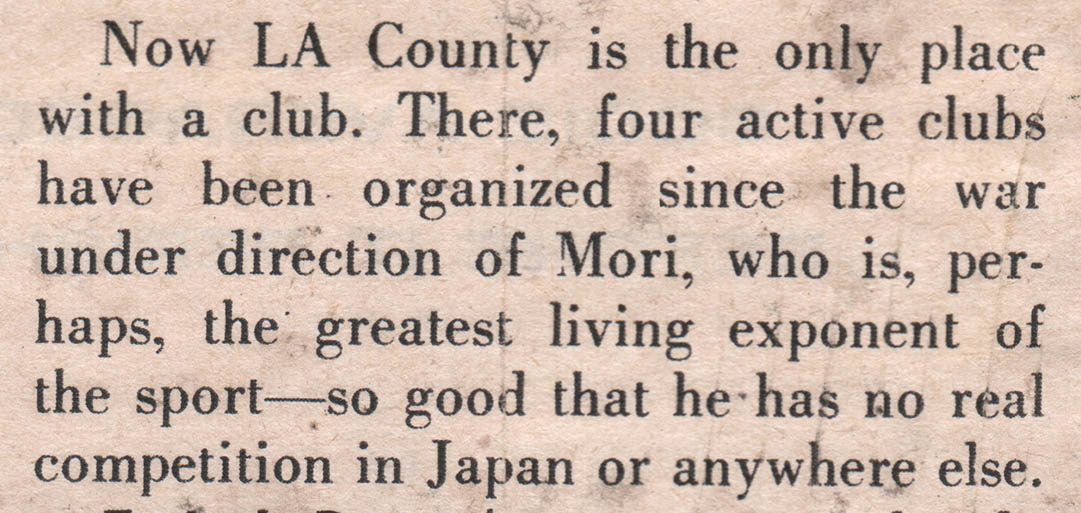 This is handy, knowing that Mori was teaching at four locations in SoCal.  And this was on top of teaching at Salle Vince/Salle Mori.  (I write it that way as I have yet to pin down the exact date that Mori, Vince's assistant, bought out Vince's salle and equipment company upon Vince's retirement.)  Then there's the last bit.  Adding the "perhaps" to this paragraph gives the writer an out, I suppose.  But "no real competition in Japan" seems a very subjective statement to make by a writer who, I have no doubt, didn't make much of an effort to find out just how true that may have been.  Not to take anything away from Mori and his unquestioned ability but there's always somebody else, isn't there?
Here's a great shot of Mori, center back row, either with one of his SoCal classes or at a tournament.  Unfortunately, nothing on the back of this photo to indicate location or date.
Mori seems to have frequently traveled to Japan, either on Kendo business or his fencing equipment business. Actually, probably both.  I believe Joseph Vince had a hand in getting Tokyo Sport fencing equipment up and running and Mori kept that relationship going.  I have photos from a 1966 visit and an event in Japan that Mori attended with some of his SoCal compatriots.  I believe this was a goodwill tour/competition that Mori organized for his Los Angeles-based students to get experience and exposure to Kendo in Japan.
Mori in the center of this group with his head turned. There is a slim possibility that the non-Japanese guy with glasses to the immediate right of Mori is Charles Chess, who taught television and film production at San Jose State during my time there.  I found his name on a list of attendees for this event while doing my initial perusal of the Archives' Okawa collection.  Could be.  The glasses seem right but when I knew Professor Chess he wore his hair in a memorable comb-over.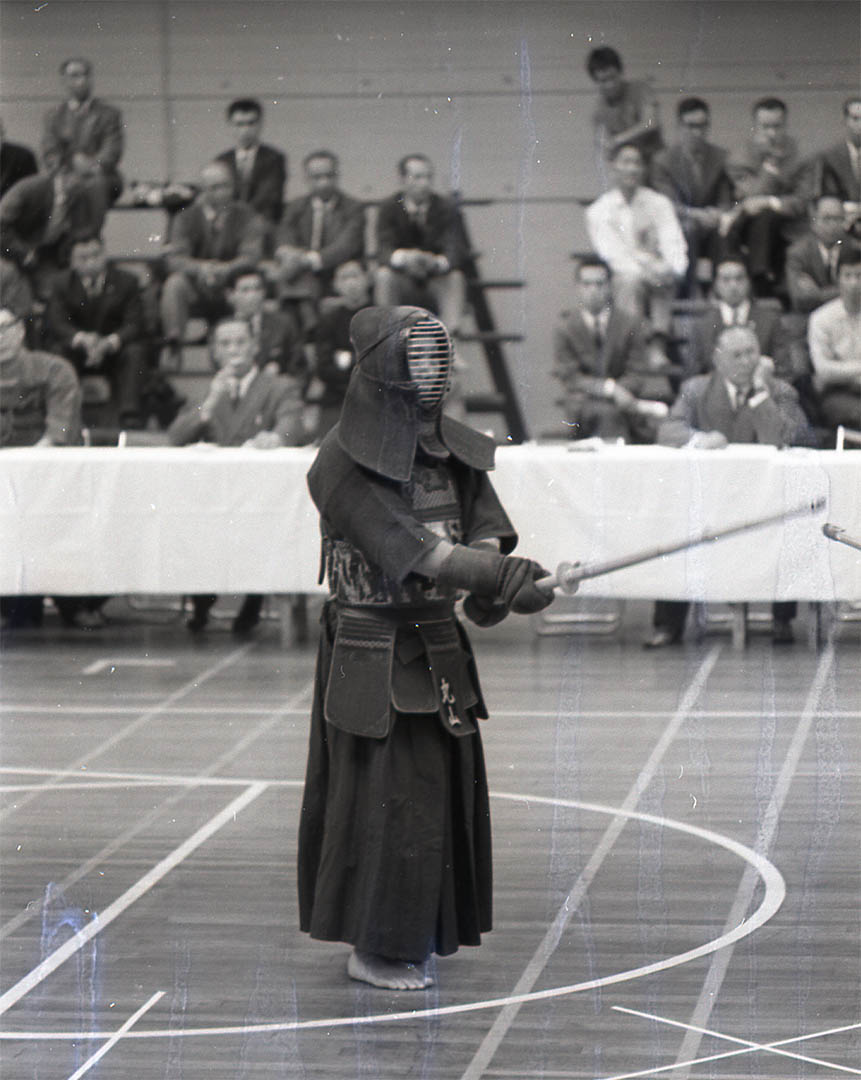 I don't know that this is Mori but I believe it is.
And then, there's this.  One of the real treasures that Greg Lynch and Jamie Douraghy pulled out of the dumpster at Heizaburo Okawa's place a few years back when an old, leaky storage shed finally gave up its contents was a stack of old home movies.  Some were in color, some in black & white, none had any sound and only a couple had titles or dates written on them.  A few were dateable based on the content but many were not.  Both of the below clips were unmarked and undated.  I've strung two clips from two different reels together to feature Mori.  The first, in black & white, was shot in Japan at what I believe to be Mori's test and award of his Hachidan rank.  You'll see him receive a bouquet of flowers first, then there are a couple of clips of Kendo demonstrations – either of which could contain Mori but I can't tell – and last is a demonstration of sword work with a katana.  No equipment here, so Mori is easily recognizable as the swordsman on the right.  The second section, which is in color, starts with Mori giving an iaido demonstration at what seems to be a Kendo competition in Los Angeles.  At the very end, we see Mori awarding a trophy to the winner.  Here 'tis:
I can't date these earlier or later strictly based on the black & white vs color.  I have some film I've dated to the mid-50s in color and some dated to the mid-60's in black & white, so clearly the Mori's did not stick to one or the other for their home movies.  My guess though is that the black & white footage here is from the 1950's and the color is mid-1960s.  Guesswork at this point.  Hopefully I'll someday track down real dates.
That's all for today, except for this amazing portrait of a young Torao Mori.  Catch you next time.