It's a common enough name.  By searching the White Pages for Greco in San Mateo, CA, it returns 388 records.  Widen it to the whole of the US and there's over 36,000.  In the fencing world though, one family has a lock on who you think of when putting the names "Greco" and "Fencing" together.
I'm referring, of course, to the descendants of Salvatore Greco dei Chiaramonte, the Sicilian anti-Bourbonist and fencing master, and father of Aurelio and Agesilao Greco who started a club in Rome that continues to this day.  That club, maintained for decades by the nephew of the two brothers, Enzo Musumeci Greco, and the family tradition behind it, makes it nearly impossible to imagine a fencer with the name "Greco" not being a member of the tribe.
And, truth be told, I can't prove definitively that the subject of today's tale is or is not part of that continuum.  Andy Shaw says he's been told that he's not part of the family.  But with everything I've tracked down, it doesn't seem too farfetched to place him in the family tree somewhere.  I just don't know where, or how many generations removed he may be.
Let's begin at the beginning.  Anthony (Antonio?) Greco was born in Messina, Sicily, in 1893, the son of a fencing master whose name is, for the present, unknown.  He began learning the sport at the age of seven under the tutelage of his father and in 1924, graduated as Maestro from the National Fencing Academy in Naples, Italy.  He continued his studies at the University of Bologna where he received a Doctorate in Physical Education.  He was also the fencing instructor at the University, taught in private and public schools in Bologna, then operated his own club in Milan.
In 1930 he moved to the United States, teaching first at the Italian Fencing Club of New York prior to opening the Greco Fencing Academy.  The earliest reference to that club I can find is 1934.  He was the teacher of then high school aged Silvio Giolito, future National Foil Champion and 1948 Olympian.  While in New York, and later on the West Coast, Greco sponsored a number of tournaments in his name.  There was a women's championship, the Greco Open, which I know was won by Maria Cerra Tishman in 1948 in New York, and that was after Greco had left the city.  In the west, the Greco Three Weapon event was held annually as part of the Pacific Coast Championships for many years.
The Greco advertisement from The Riposte magazine, circa 1937.  Note the logo for the club.  It will change to something different when Greco moves west.
Like many a fencing master before and after him, he also supplied fencing equipment and ran that business throughout his career, it seems.  There are addresses for his equipment business in New York, Sunland, CA and Tucson.  But let's not get ahead of ourselves.  There is a great write up in The Riposte magazine, an early, now long defunct, national fencing publication, that describes the Grand Re-Opening of the Greco Fencing Academy after a change of location.  Here's that write up.  Many of the leading lights of 1930s fencing are mentioned.
From "The Riposte" magazine, February 25, 1937:
GRECO SALLE HAS FORMAL OPENING

The formal opening of the new Greco Salle on February 21st was featured by a series of exhibitions proceeding an informal dance.  Professor Anthony Greco personally displayed his versatile talents, giving a lesson to his well-known pupil, Mrs. Dolly Funke, and later engaging in a short bout with her; fencing epee with Leo Nunes in a beautiful display of the best Italian school in that weapon and as a closing event of the program, fencing a long and brilliant bout with his professional friend and colleague, George Santelli, in the sabre.  However, the event that most interested the audience, which included the best-known figures in American fencing, was Professor Greco's sabre lesson to seven year old Leon Schechter, which brought frequent rounds of applause as the young swordsman unerringly followed the master's instructions even in the most complicated phrases.

Among the other participants in the exhibition were Jose de Capriles and Pierre Netter in epee; John Huffman, in sabre; and Miss Marion Lloyd and Miss Barbara Cochrane in foil.  Robert Marcy announced the events, which were directed by Harold Van Buskirk, president of the Amateur Fencers League of America.
That's a pretty good cross section of the fencing community with some high-level action.  Leo Nunes was a student of Beppe Nadi, Nedo and Aldo's famed father & maestro. Miss Marion Lloyd, a two-time National Champ and three-time Olympian, would not long after this event become Mrs. Marion Lloyd Vince, wife of famed Hungarian master Joseph Vince.  And George Santelli shouldn't need any introduction.  If he does, drop me a note about a glitch in the Matrix.
Headline from a 1937 announcement in the Brooklyn Citizen.
In 1937 Greco also became the coach at Long Island University in Brooklyn, replacing Professor Fritz Semmler.  Greco is also credited with having been a coach at NYU.  If so, he could only have been an assistant to Julio Castello who was head coach there for 20 years and retired in 1947.  The LIU job is easier for me to document, as there are several articles about the results of his collegiate teams.  I can't find any reference to him at NYU.  But then again, one article makes the claim that he was an Olympic coach in 1932 but that doesn't wash, at least not for the US team.  And he's not listed in the 1932 Olympic Record, where every athlete, coach and official is listed in the roster at the end of that 815 page book.  I don't have too much trouble overlooking that claim.  Even coaches with actual Olympic cred could either purposely or through the magic of editorial license be granted an aggrandized version of the truth.  Hans Halberstadt was more than once quoted as having been a three-time Olympian.  That's true – if you count being in three events at a single Games as qualifying you as a three-time Olympian.  Which is just nope.  Anyway, it appears Greco doesn't get the bounce here.
A 1942 news clipping announcing the competition for the Douglas Fairbanks Jr. trophy.  I wonder what that looked like!
Greco moved west in 1946, citing health concerns.  He set up shop first in Los Angeles where he started his own club and taught at UCS and San Diego State.  Of the last three claims, I have no paper trail to verify their accuracy.  I do know that he instituted a Greco event for the Pacific Coast Championships.  The earliest PCC program that I have a scan for is 1949 (thank you, Hans Halberstadt Scrapbook) and it includes a very clear description of how the Greco event works.  I could surmise that such a description, not replicated in succeeding years, is there because it's the inaugural event.  But I just don't know.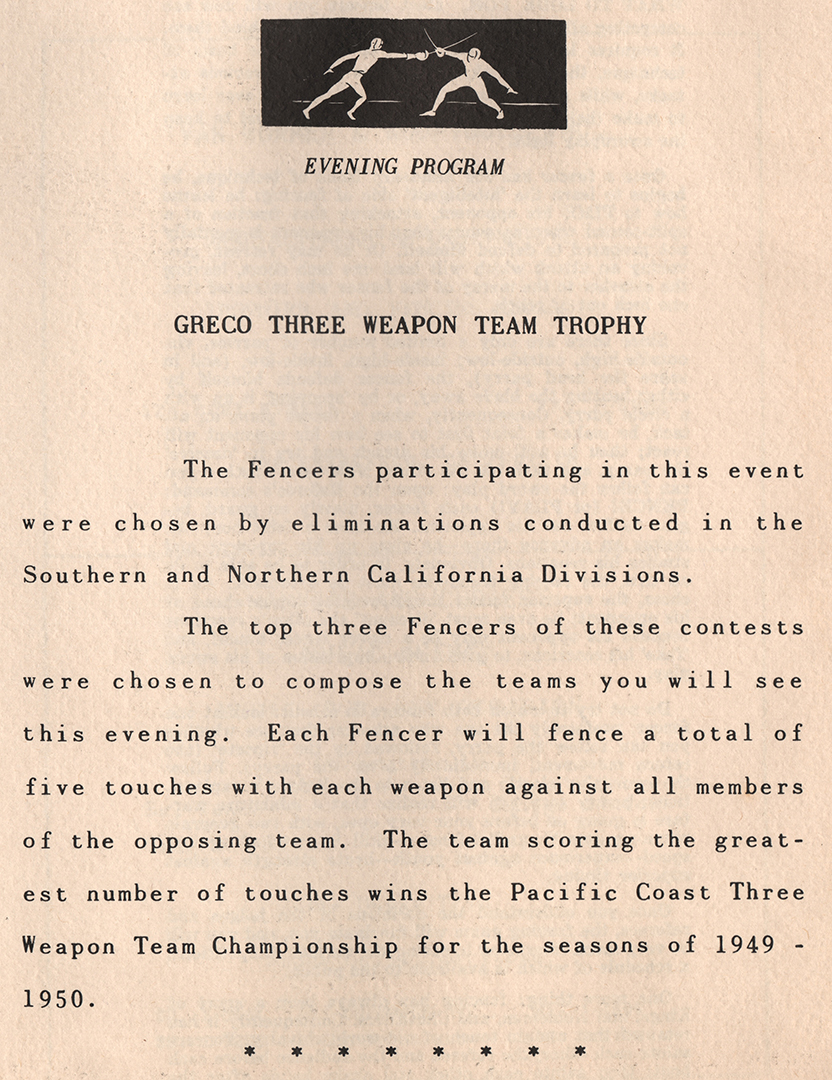 From the program for the Pacific Coast Championships, circa 1950.
He also has brought along his fencing equipment business with a SoCal address in Sunland.  If that's where he was living, it was no easy trek to get to USC.  Heck, he may as well have been on the moon.  Even the Red Car didn't get out that far.  The nearest stop would've been Burbank, but the Verdugo mountains are in between the two cities and even today the freeways all skirt around them.  And San Diego?  Don't even think about it, unless you plan to stay.  However, if he had lung problems Sunland makes a ton of sense.  It was dry, didn't have the smog problem of downtown LA or Pasadena and in the mid-40s probably offered a chance to spread out before the post-war building boom that turned most of the region into suburbia.
Anthony Greco presents the 1952 Greco Three Weapon champions with the trophy.  Where's that bit of hardware, I wonder?  This team was pretty unbeatable.  From left, Ed Carfagno, Sewall "Skip" Shurtz and Joe Lampl.  Want to see the final score?
Ouch!  102-32.  Seems like the SoCal squad borrowed a truck and ran over the NorCal team a few times.  Greco was full-time in Arizona by 1952, so I'm guessing he was at the Pacific Coast Championships just to award the trophy and attend the Gala that always followed at the conclusion of fencing.  The Greco Three Weapon usually was the closing event.  Heck, it didn't even start until 8pm.
There aren't any news articles from this period to make a guess at the level of success he had in SoCal.  However it went, sometime around 1950 he returned to Italy for an extended stay.  Upon his return, he moved swords, masks and shop to Tucson, Arizona and by Fall of 1951 was the coach at the University of Arizona.  His time in Tucson is full of activity.  In addition to the University gig, he taught at the local YMCA and at least one high school and was making grand plans to form a high school league to build up a base of local talent.  He also got his teams out to the annual Border Invite competition that brought teams from the Southwest US and Mexico to El Paso, TX.  Greco's team from AZ seem to have come away with the top prize at the Border Invite from the time he arrived, so he was doing something right.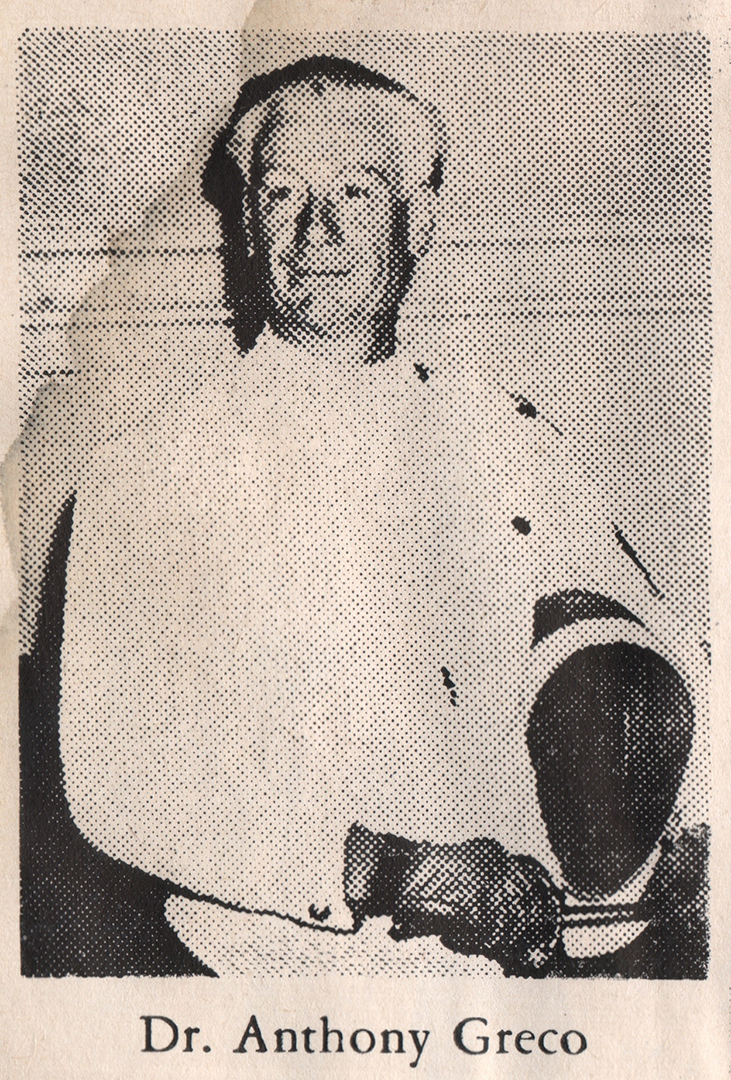 Anthony Greco as seen in the Border Invite program from 1953.
After this point, it all goes a bit murky.  He dropped the Greco sponsorship of the PCCs after 1958, although a three weapon event continued to be held for many years after.  He was still winning the Border Invite in 1962 but after that, the trail goes cold.  No articles to be found, no notice from the University that he'd retired or quit.  At least, nothing that I could find.
Strangely, the final newspaper notice about Greco that I came across was from a Miami, Florida listing of radio programs for January 23, 1968.  That evening, at 9 pm, Larry King – yes, that Larry King – had as one of his guests, "…all-time fencing expert" Anthony Greco.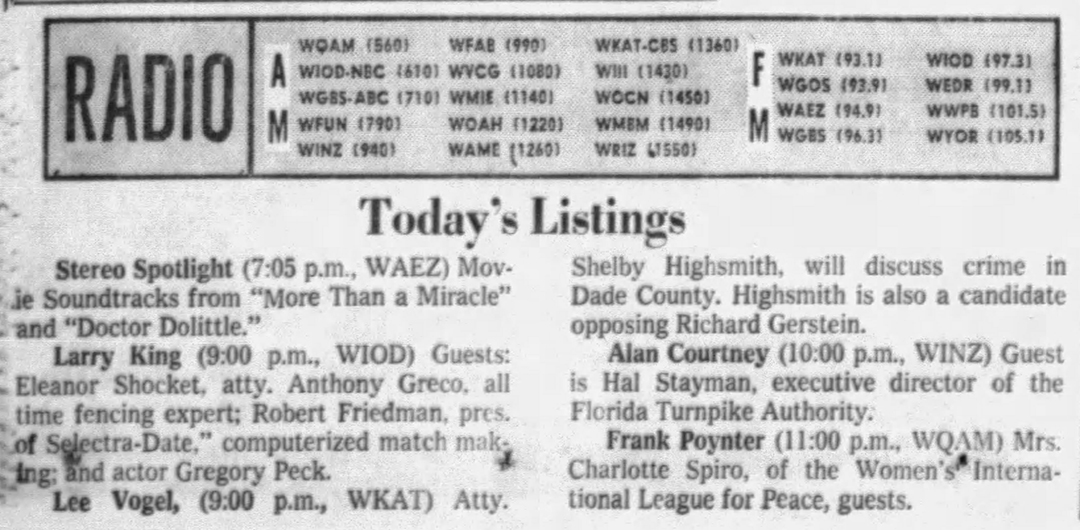 And that's it.  Find A Grave has a listing for an Anthony Greco born in 1893 and passing away in West Palm Beach in 1975.  Same guy?  Can't be certain.
But let's bring it back to the top.  Anthony Greco used a logo, prominently displayed in his advertisement for Salle and equipment sales, that is a clear knock-off of the logo created by the Greco salle in Rome.  If he wasn't part of that family somewhere along the line, he was taking a pretty gutsy swipe to associate his name with theirs.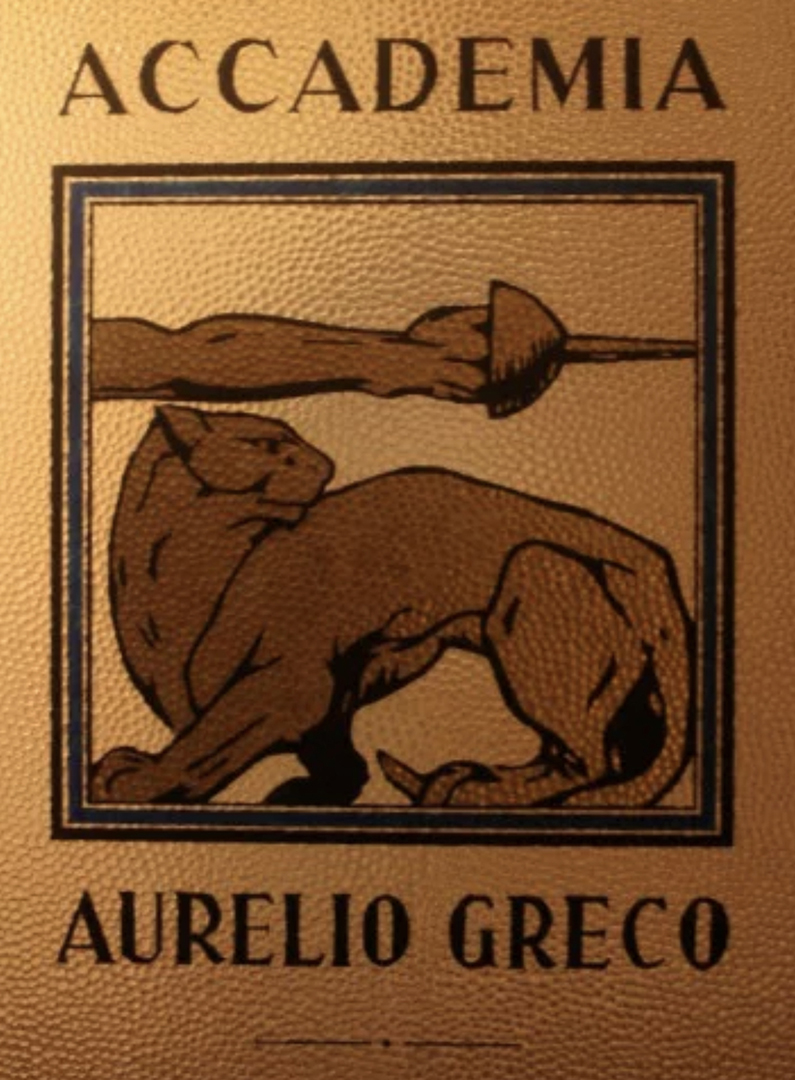 The Greco logo from the club in Rome.  Rather striking similarity to the logo used by Anthony Greco when he moved west.  Was New York too close to Italy?
Now, I do have a first-person narration on the is he/is he not question, thanks to Andy Shaw of the Museum of American fencing and my go-to for questions like this.  He had the pleasure of meeting Renzo Greco, the current generation of Greco at the Academia D'Armi Musumeci Greco 1878 and son of Enzo Musumeci Greco.  Andy had the same question I've had (only a couple of decades earlier) about Anthony Greco and posed the query to Maestro Renzo if Anthony was related.  He gave an emphatic "No".  So, I suppose that's that, in a sense.  As Andy said in an email exchange recently, "I have run across his name hundreds of times and he has donated many awards… but his teams never won nationals in any weapon that I can recall and no medalist ever represented his club."
The Greco logo from a 1949 advertisement.  Coincidence?  I think NOT!  It is interesting that he doesn't seem to have used this logo at all during his time in New York.
It's certain he knew his business.  He wouldn't have been able to cross swords with, and been friends with, people like Leo Nunes or Giorgio Santelli had he been an outright charlatan.  They knew the Italian system as well as anyone alive.  If he was a fraud, they'd never have set foot in his salle.  And his teaching theory is textbook Italian of the time.  Here's a newspaper quote from 1952 about his approach:
Much of Greco's success in coaching and teaching fencing comes from his simplified method of instruction, which is recognized in European and American fencing circles as one of the easiest and most effective in existence.  Greco constantly strives for efficiency, eliminating all unnecessary movements, and teaching only those which contribute directly to the effectiveness of the fencer.
Now, here's a section of a description of the Italian methodology, compare to the French system, gleaned from The Riposte magazine, December 1938:

I think it's pretty clear the threads of the descriptions have the same roots.  So all of that taken together is on the one hand.
On the other, a clear denial of relation from the Greco family.  And maybe it all doesn't matter.  I've certainly experienced my own name synchronicities.  I once rented a house on Sycamore Ave in Hollywood and someone with my same first and last name lived on the same street, six blocks away.  I would get his mail sometimes, and he got phone calls meant for me.  (According to my friends who called him by mistake, I was apparently by far the nicer person to talk to.)  Just because Anthony Greco shared a name with the famed teachers in Rome, his father was also a fencing master and all the Grecos seemed to have originally hailed from Sicily, well, it could still just be a grand coincidence.
File under: yet another unsolved mystery.