Some months ago, I paid a visit to UC Berkeley's Bancroft Library to look at a collection of scrapbooks donated to the library upon the passing of long-time Cal fencing master Julius Palffy-Alpar.  Harold Hayes of the Pacific Fencing Club had told me of their existence and agreed to meet me there to get a look at the books.  He'd actually seen them before, as he had visited Alpar at his home in years past.  I'm sad to report that I can't share any of the photos I took of the scrapbook pages – which was ok'd by library staff.  Sharing those photos on the internets?  Not so much.
However, I can share what I learned. The scrapbooks contained lots of photos from various periods of Alpar's life as you'd expect, but also some rather newsy articles clipped from papers that gave me some hints on both his early life, how he spent his time during and just after World War Two, as well as some particulars about how he came to the West.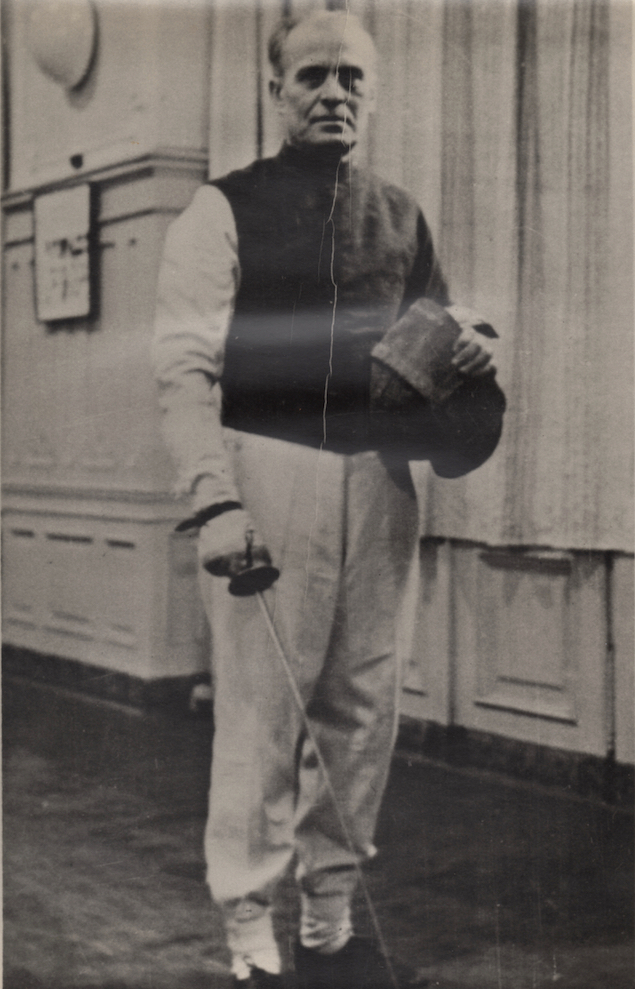 Julius Palffy-Alpar's main coach at the Toldi-Miklos school in Hungary was Alfred Geller, above.
Born in 1908, Alpar was a military man and officer in the Hungarian Army. He was trained at the prestigious Toldi-Miklos military school under Alfred Geller. Alpar married and performed his military service while teaching at a couple of Budapest clubs, HTVK and MAC. He was at the 1936 Olympic Games as a 'trainer' for the team, a possible distinction from 'coach', but I'm not certain. Alpar was known for his fitness and conditioning, so he may have been less fencing coach than what we would think of today as a physical therapist or trainer, but this is speculation on my part as I haven't been able to confirm his specific role with the 1936 team.
Near the end of World War Two, Alpar's unit was captured by the Americans which ensured them a much better fate than being captured by the Soviets. Alpar, as an officer and trained fencing master, was sent post-war to a German mountain lake that served as an R&R hub for American officers and families. There, he was assigned the task of instructor for about 15 different sporting activities including all sorts of water skiing. There are pictures of his skiing groups doing pyramid stacks, jumps and other tricks and everyone is smiling like they're having the time of their lives. They probably were. And here's the thing that struck me in looking at pictures of Alpar by the lake. That dude was in shape. Like, Jack LaLanne shape.  (Jack LaLanne help for the youngsters.)  Like, "I've never, ever been in that kind of shape" shape.  Oh, and tan.
He worked for the US Military for about 30 months and in late 1948 or early 1949 he and his wife got on the Cunard ship Scythia and emigrated to Canada, settling in Toronto.  Once established, he taught fencing at the University of Toronto, won trick riding awards at water skiing competitions and life was good.
Evidence of Alpar's success in Canada.  He's shown here on the left with Canadian fencer Joseph Vidz (or Vida.  One source says "Joe Vida was 7 time National Sabre Champion of Canada."  I can't find any Canadian fencing history site to confirm this.  I did find a "Joseph Vidz" listed as a member of the Bronze medal winning Canadian sabre team at the 1959 Pan American Games.  Anyway, Alpar is on the left above.)
Sometime in 1960, he received a letter from one John McDougall.  John might best be described as a 'serial fencing entrepreneur', due to his habit of starting clubs and businesses.  He founded American Fencers Supply after learning the fencing equipment business from Hans Halberstadt, started something like five clubs and taught at several more.  That's not counting keeping Halberstadt open after Hans' death, nor being the first person to hire both Charlie Selberg and Michael D'Asaro as fencing coaches.  As it happens, John is also the person who lured Alpar away from Canada to the United States.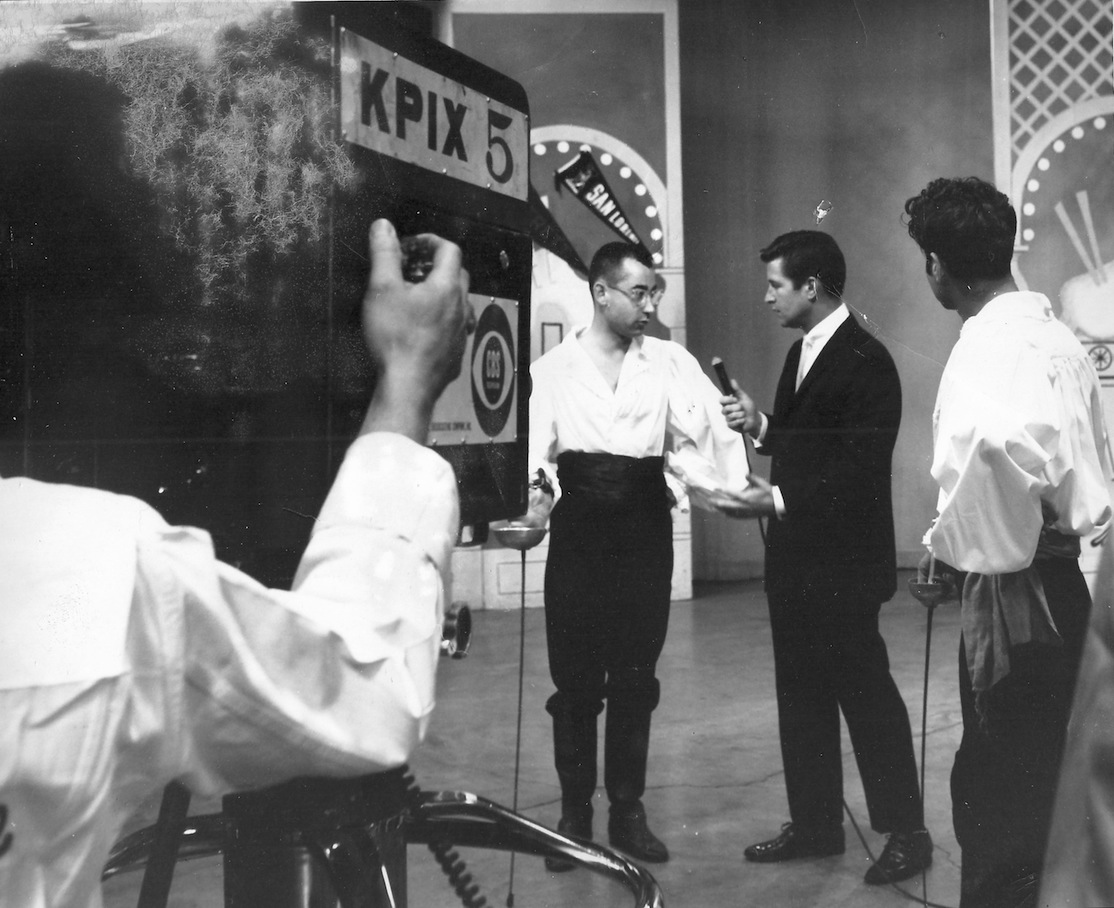 John McDougall getting air time on San Francisco's KPIX-TV.  This dates to 1958 or early 1959, shortly after the founding of the San Francisco School of Fencing and prior to John beginning his lessons on 'how to be a hippie' from Michael D'Asaro.
John opened the San Francisco School of Fencing in 1958.  He had graduated from Stanford and worked as an assistant to Hans Halberstadt before opening SFSF.  He had a grand plan for the place.  Not just fencing instruction but judo, trampoline, swimming and dance.  After teaching fencing for about a year, he hired a couple of assistants; Jack Nottingham and Charlie Selberg.  Nottingham had been teaching up in the Portland area, but had some sort of falling out with – it would appear – just about everyone in the Oregon Division, so he was looking for work.  Charlie had just graduated from SF State.  John was also giving Charlie lessons but upon the arrival of Jack, turned Charlie over to him.  Things went on for awhile like this until John had a falling out with Jack.  Then Charlie got a job teaching art at a High School near Redwood City, leaving John back at square one as the fencing teacher.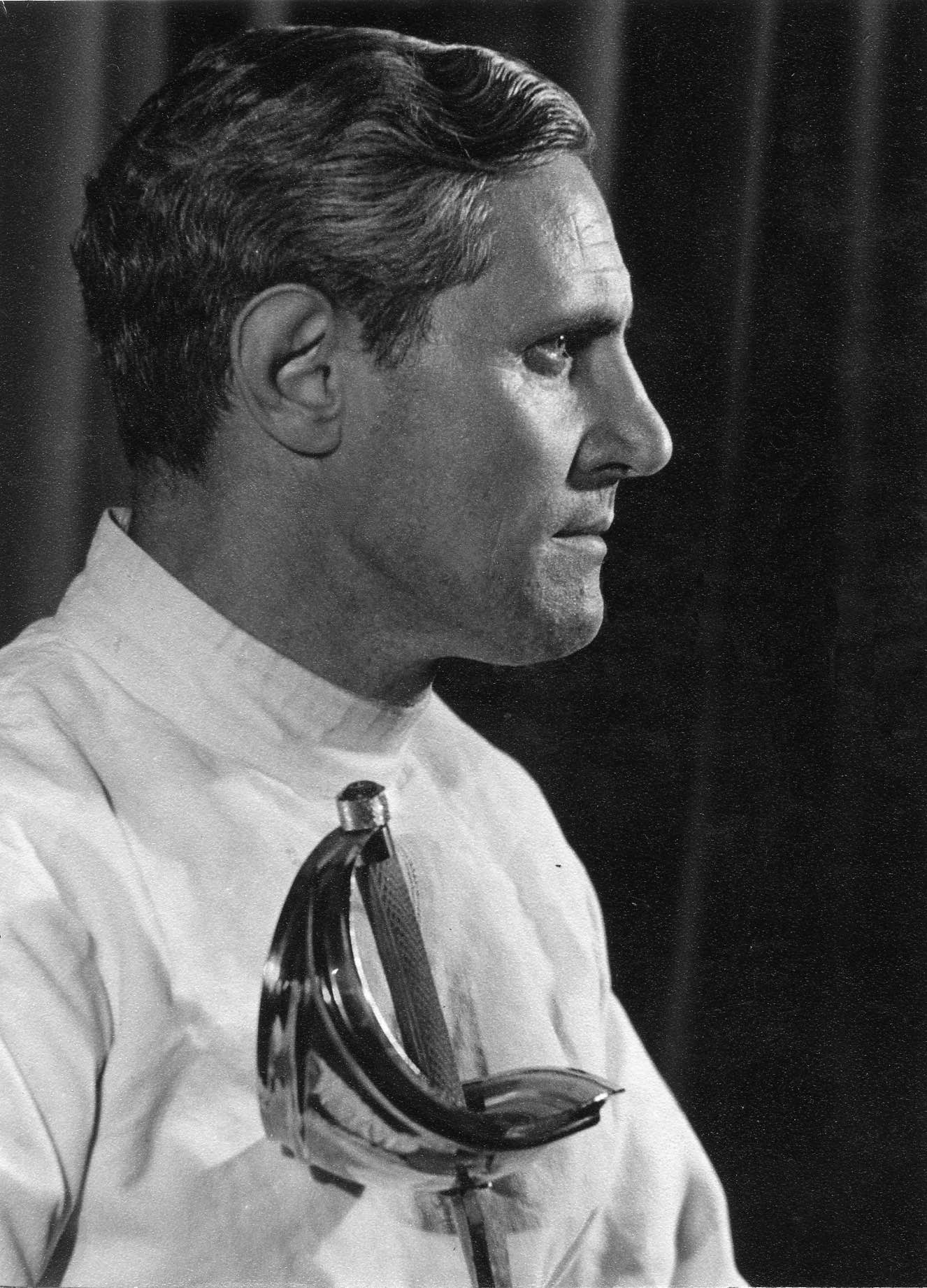 Julius Palffy-Alpar
Somehow or other, John learned about Alpar in Toronto and in 1960, sent off a letter.  In the interim, he'd changed the name of the club from the San Francisco School of Fencing to the San Francisco Sports Academy.  John made Julius an offer, Julius accepted and moved to San Francisco, site unseen.  John told me that he saw Julius drive by the front of the club the day before he was scheduled to start but didn't stop in.  Figured he was either scoping the place out or wondering if he'd made a huge mistake.  Regardless, they went to work and John's publicity department (himself) went to work.  Many of the articles I have that are related to the SFSF/SFSA came from the pages of Hans Halberstadt's personal scrapbooks.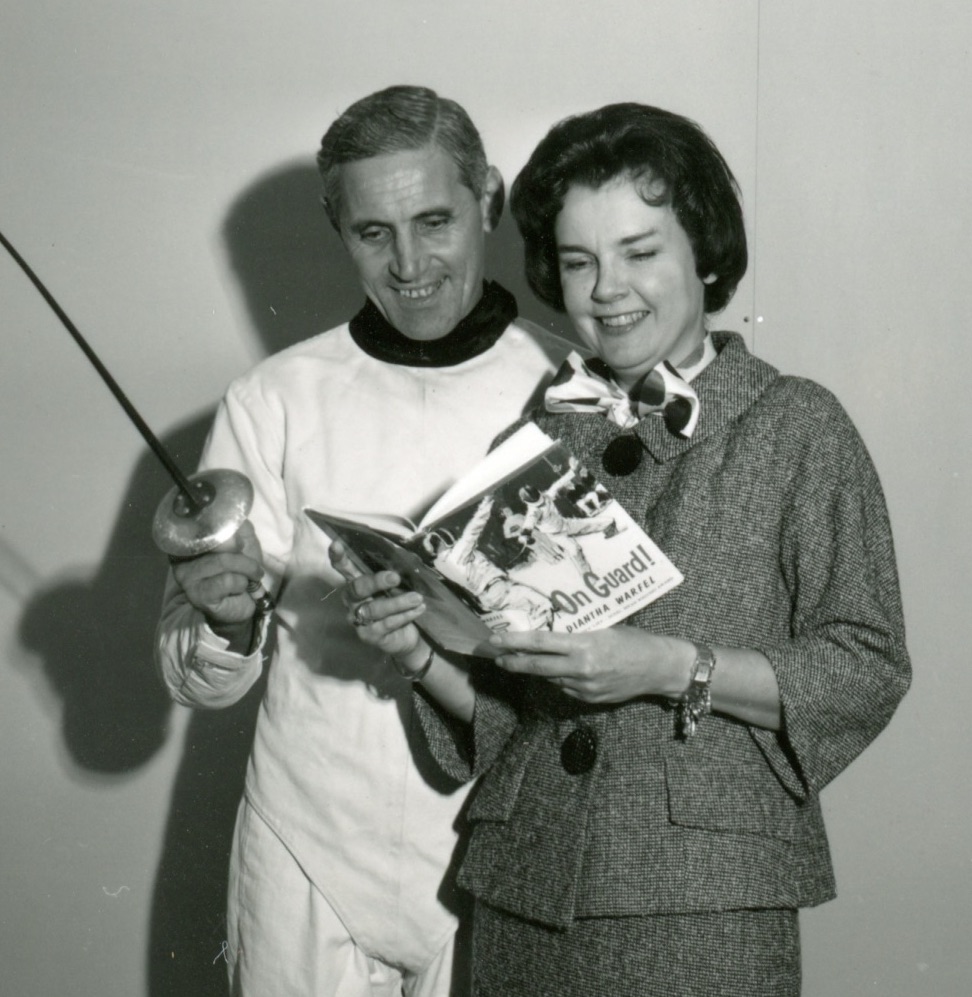 Alpar with author Diantha Warfel.  There is a series of photos with these two and somewhere along the line I was either told or assumed that the woman was the President of UC Berkeley.  Wrong.  Diantha wrote a teen novel about the exciting sport of fencing, published in 1961.  You can find an old copy at a range of pricepoints on abebooks.com.  She was married to the longtime General Director of the San Francisco Opera, Kurt Adler.
Alpar brought a new energy to the SFSA and if the photos tell the truth, seemed to be having a good time.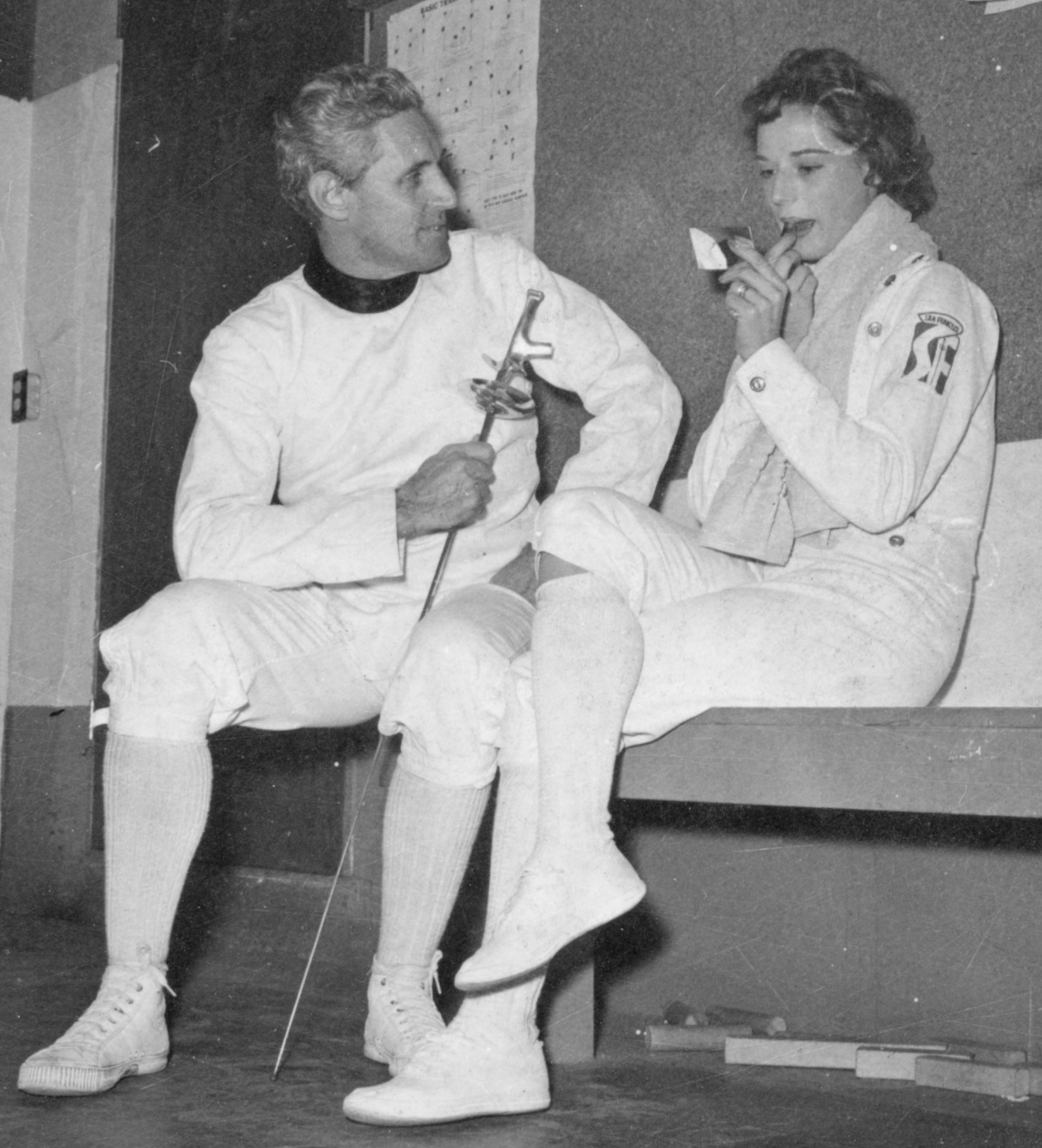 Alpar with Roberta McDougall, John's first wife.  She's sporting an excellent SFSF patch that I currently have zero examples of in my collection.
I have to assume that he also did a little moonlighting at Pannonia AC, as he is pictured with the National Sabre Team Champions of 1961.
L-R: Jack Baker, Alex Orban, Julius Palffy-Alpar, William Thiringer (President of the Pannonia Athletic Club), Daniel Magay and Gerard Biagini
Whatever was going right for Alpar in San Francisco, in 1962 he received an offer too good to refuse that took him out of The City.  UC Berkeley, that school with the on-again, off-again relationship with fencing, had briefly been the employer of George Piller until his passing in 1960.  They extended an offer to Alpar who, in turn, had to break his contract with John McDougall and the San Francisco Sports Academy.  John had sponsored Alpar's visa with the US Government and felt indebted to John.  But Berkeley would certainly improve his status as a coach and, more realistically, pay a good deal more.  John, with his usual kindness and humanity, recognized what a good opportunity this was for Julius and graciously let him out of his contract.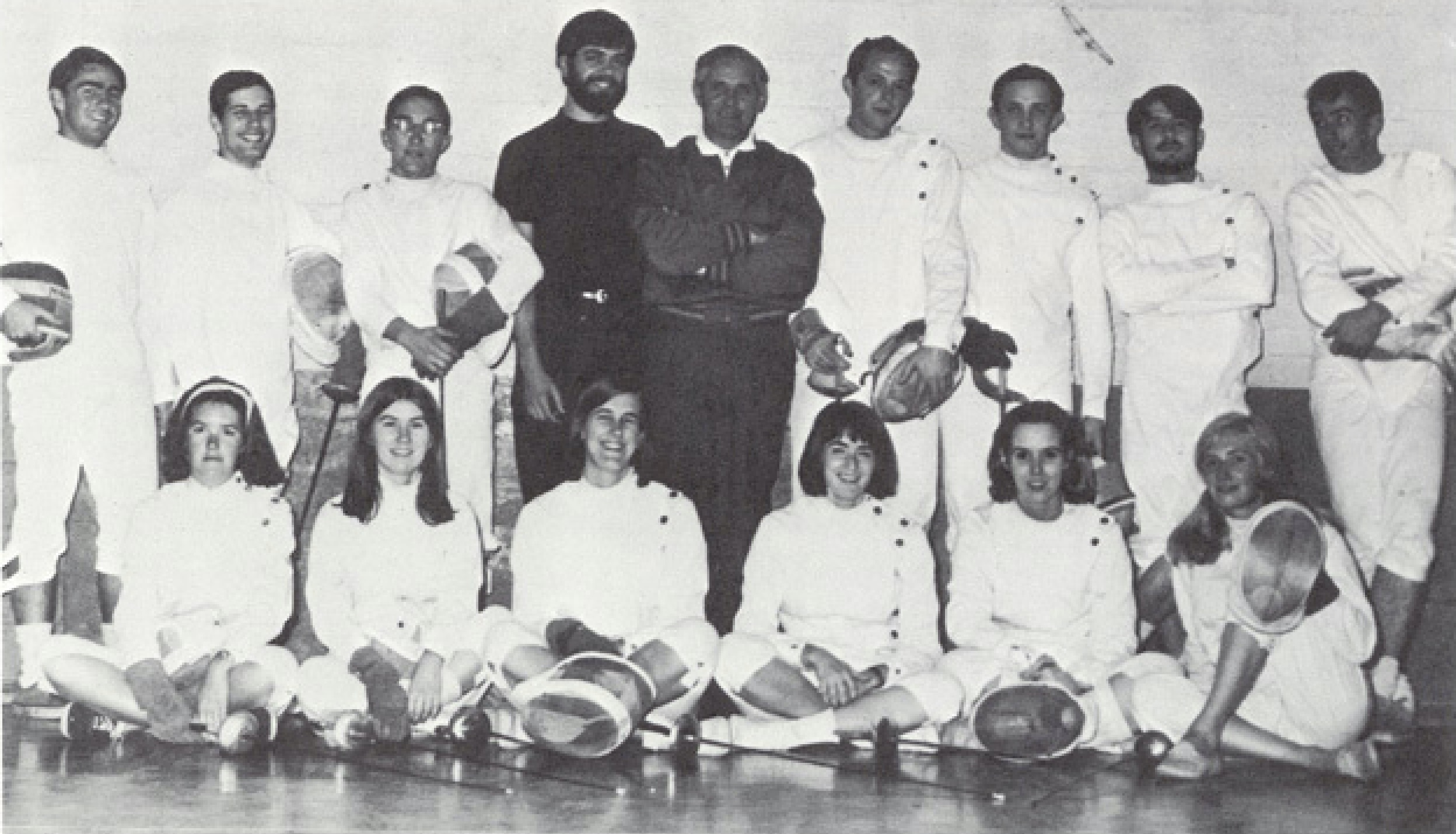 A group of UC Berkeley fencers pose with Alpar in 1967.  Look two heads to the right over from Alpar and you'll see the future US National Sabre Champion of 1978, Stanley Lekach.
From 1962 on, Alpar kept Berkeley infused with fencing instruction without a break until he retired in 1975.  During that time, he not only taught classes but choreographed fight scenes in plays, made a film about his work teaching fencing to the blind, wrote his book "Sword and Masque", and gave lessons to the famous mime Marcel Marceau.  His tenure at Cal may well be the longest stretch any fencing coach ever had in the way of a straight run.  For whatever reason, it seems anytime they need to drop a program or monkey with budgets, the fencing teacher draws the short straw.  It's been like that since the 1920s.  But Alpar seems to have beaten the odds.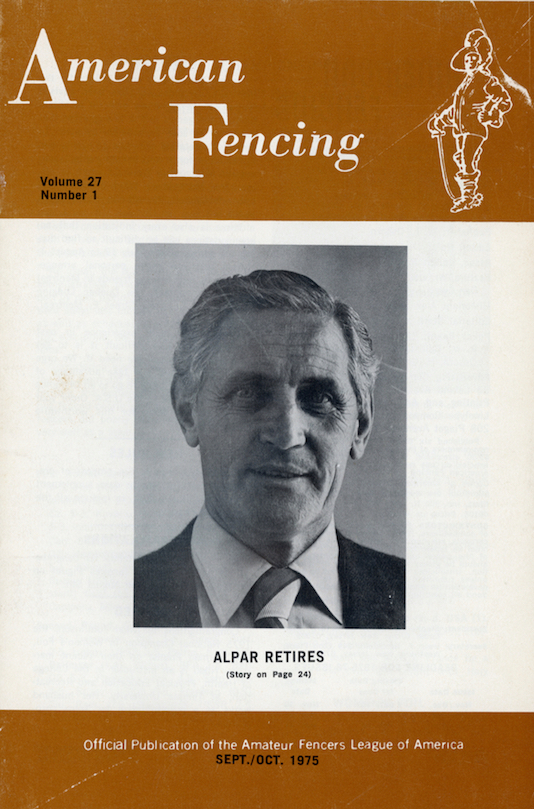 One of these days I'm going to head back over to the UC Berkeley library and see if I can find someone who may be willing to let me write a post using some of the photos out of the Alpar scrapbooks.  There are some truly wonderful pictures of him, his wife and their many friends and compatriots from Hungary, Canada and the US.  I'd love for you all to see the photo of Alpar sitting on a bench near the shores of that German lake, swim trunks, no shirt, smiling and tan and totally cut from all the waterskiing.  Having the time of his life.