Everything has a first time and 1982 was the year of the first Women's Foil championship for the NCAA.  Held at my now-alma mater San Jose State University, thus putting me at the time in close proximity to the goings on, I remain in the dark as to why exactly the NCAA hadn't up to that point recognized the long tradition of women's collegiate championships.  Like so many things related to women's sport, I have to assume that Title IX was the change agent and not some 'I see the light' moment on the part of NCAA officialdom.
The Official Bumper Sticker of the 1982 Women's NCAA Fencing Championship.  How this survived in my possession from back then to today is utterly beyond me.
The National Intercollegiate Women's Fencing Association – like everyone, let's call it the NIWFA to save my fingers – had held a women's event since its founding in 1929.  For many years that was THE women's championship. Sometime after Title IX was put in place to attempt a leveling of the playing field for sports and, according to Wikipedia, in an effort to usurp the place of the AIAW (Association for Intercollegiate Athletics for Women), the NCAA created 12 new women's championship events for the 1981-82 season and fencing was among the new events.  Not surprisingly, the NCAA, in short order, vacuumed up all the AIAW's championships for themselves.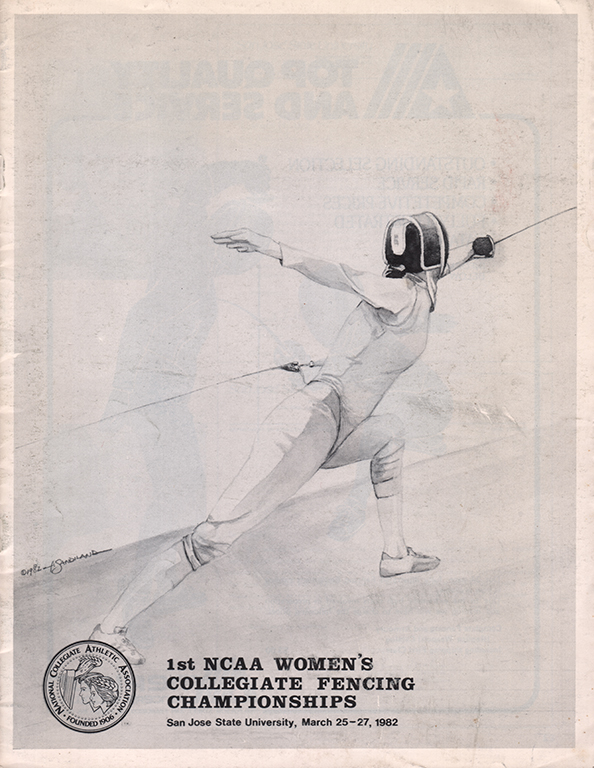 The program cover with a drawing by Ian Sandiland, an SJSU fencer who did graphic art and excellent silkscreened t-shirts for many a local tournament.
Eight universities took part in the first NCAA Women's Fencing Championship.  And when I say 'Fencing', I mean Foil Fencing. Epee and Sabre championship events for women didn't materialize in the NCAAs until 1995 and 2000, respectively.  (Olympics-wise, epee for women began in 1996 and sabre in 2004.) The participating schools were: Wayne State, Ohio State, Notre Dame, SJSU, Stevens Tech, North Carolina, Cal State Northridge and Clemson.  Somehow or other, the program has traveled with me in an odd pile of ephemera from that day to this, so I've got all the details of teams and members.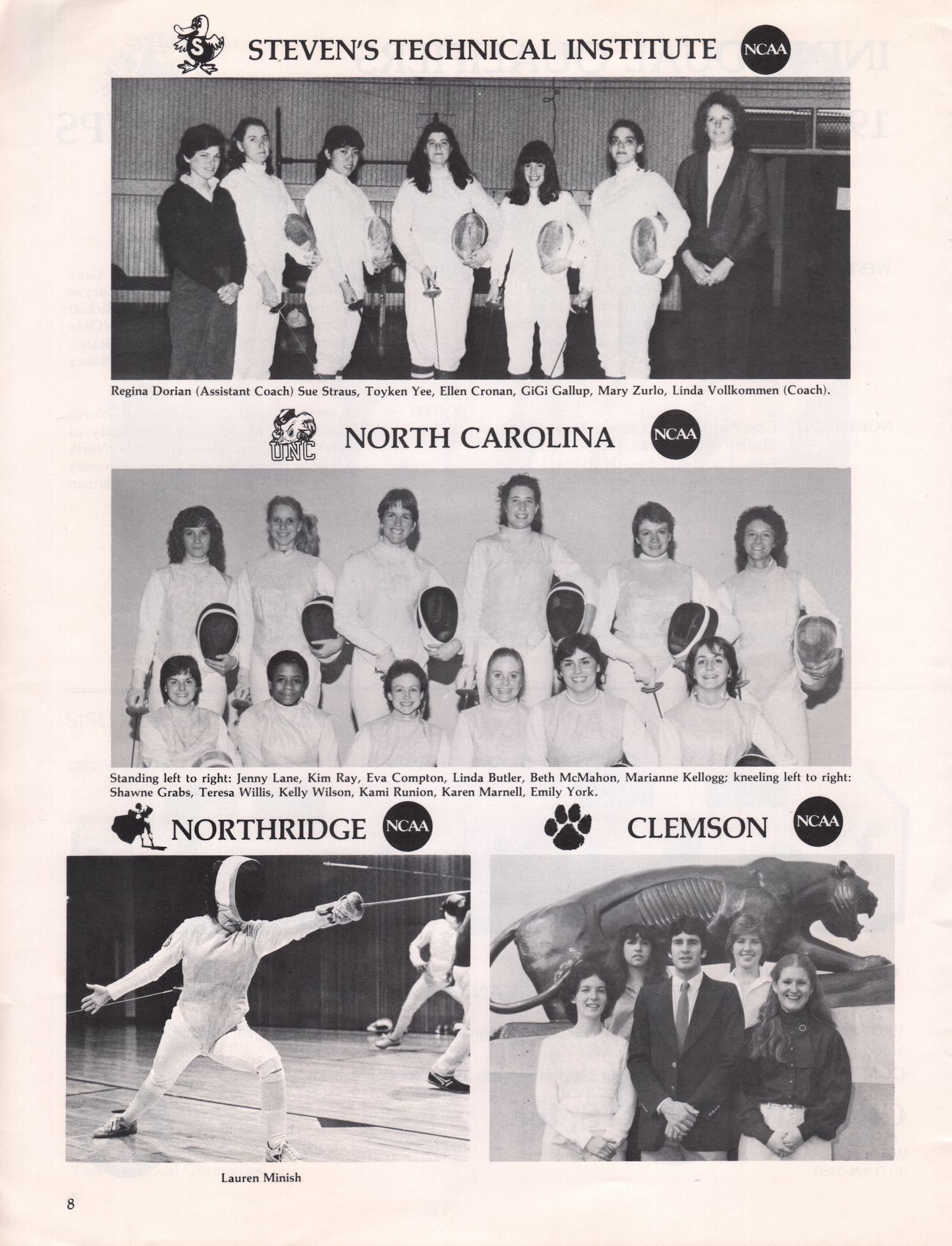 The above three pages are from the official program.  Why Northridge didn't come up with a team photo is beyond my reckoning.  Ruth Botengan was also on the Northridge team – and the only qualifier from that school for the individual event – and there must have been a 3rd member, but I don't have a record of who that was.
Of those eight teams, the most memorable for me was the team from Wayne State as they came out a week prior to the event and trained with us in the San Jose salle.  Gina Farkashazy had won the 1980 NIWFA, the whole team was well trained by Istvan Danosi and Aladar Kogler, and a tough matchup for the local Lady Spartans on our team.  In my memory, everyone seemed to get along well. At San Jose, we weren't unused to fencers from other programs coming in and spending time training with us, so having a group of foilists jump in for the week gave all of us new people to fence and that's always fun.  It was also a chance to get to know Aladar Kogler a bit and hear his stories of defecting to the West which he'd done not more than a year or two prior. I don't know how long he was at Wayne State. I do know he started at Columbia in 1983, so probably not longer than a year or two at most.  Kogler probably doesn't remember me but I enjoyed listening to his stories and he was just so danged tan!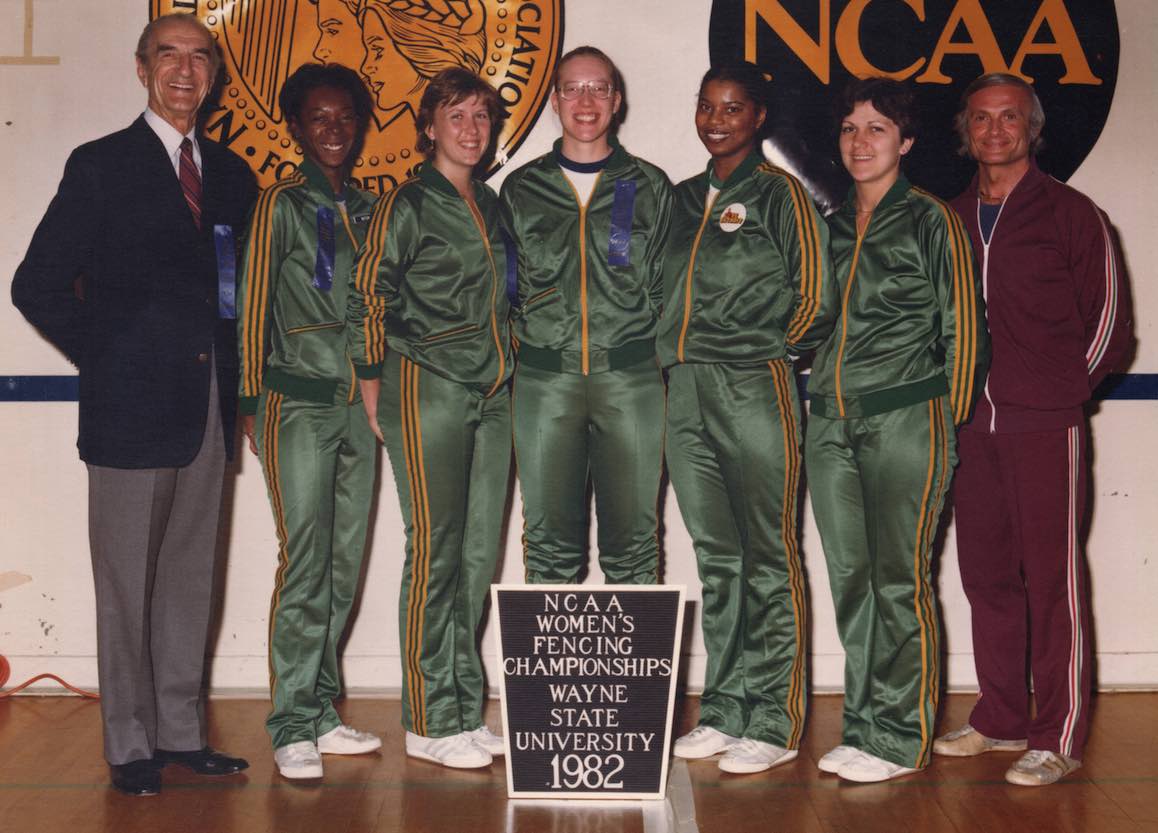 L-R: Istvan Danosi, Kathryn Watson, Jeanette Lange, Beth DeNike, Joyce Lartigue, Gina Farkashazy and Aladar Kogler
At that time and place, I was doing a great deal of officiating for foil tournaments so I got a chance to work this tournament as a member of the squad of 'directors', as we called ourselves back then.  (We couldn't be referees. No whistles.) I don't have much in the way of memories of the individual matchups or other team events but I sure remember the gold medal team match between Wayne State and San Jose State.  How I got picked to direct that whole match is anyone's guess. I prided myself on fairness as an official and while I may have known my own San Jose teammates better, the Wayne State fencers (and coaches) must have decided that I wouldn't cheat them out of touches.  And I didn't, but that was a tough match. Nobody gave an inch, it went back and forth, and I thought either Gina Farkashazy or my teammate Laurel Clark might actually attempt murder in their matchup. (Ok, not really – but that may have been the single toughest bout I ever officiated.)  In the end, Wayne State came out on top. I didn't record the final score and I wish I had.  I'm sure it was close.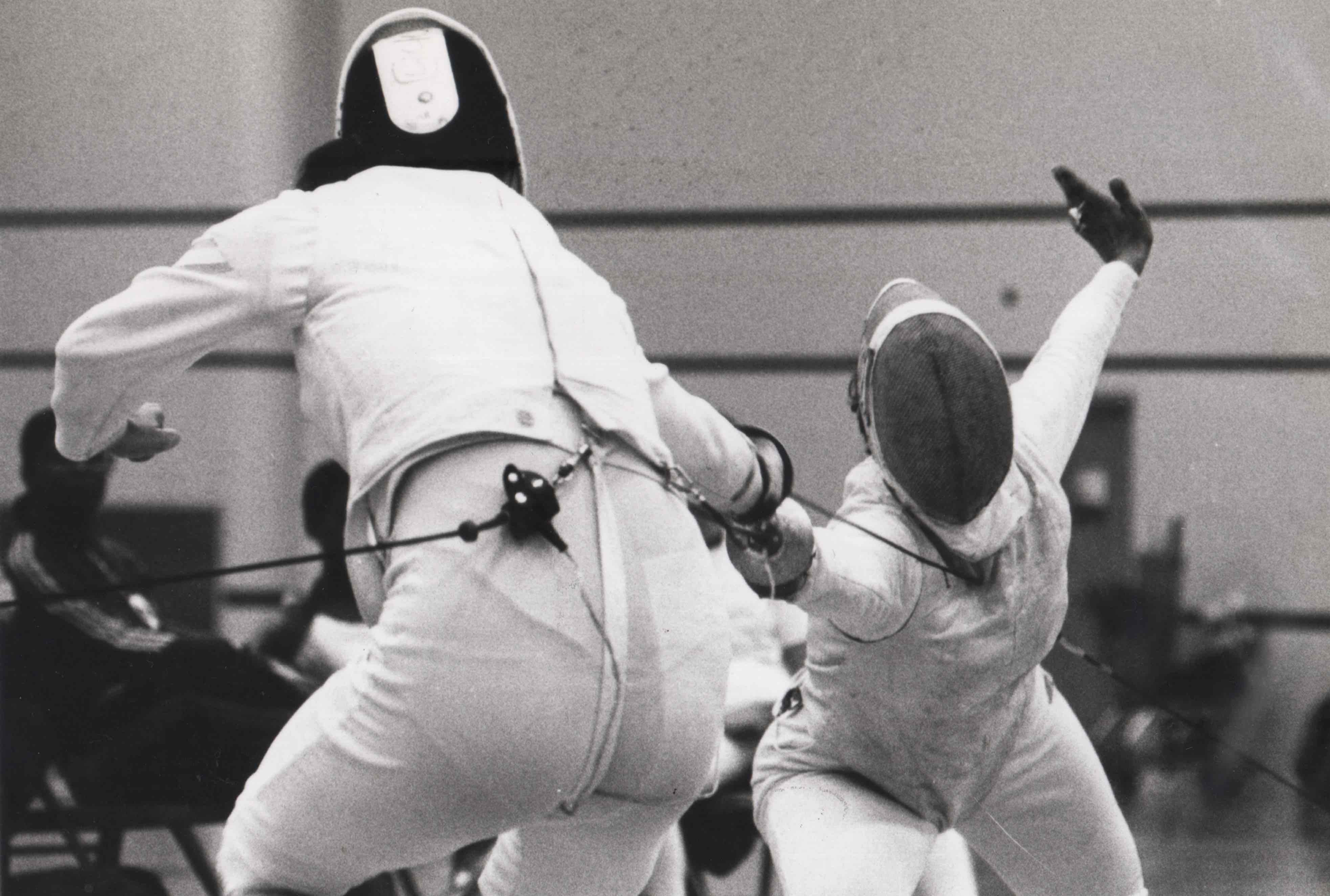 Laurel Clark (SJSU) vs Gina Farkashazy (Wayne State)
Joy Ellingson won the individual trophy, her second collegiate national championship since she had won the NIWFA title in 1979, the last of the 5-year unbroken streak by San Jose State.  San Jose won the both the team and individual NIWFA championships from '75 to '79. Vinnie Bradford and Stacey Johnson traded individual titles from '75 to '78.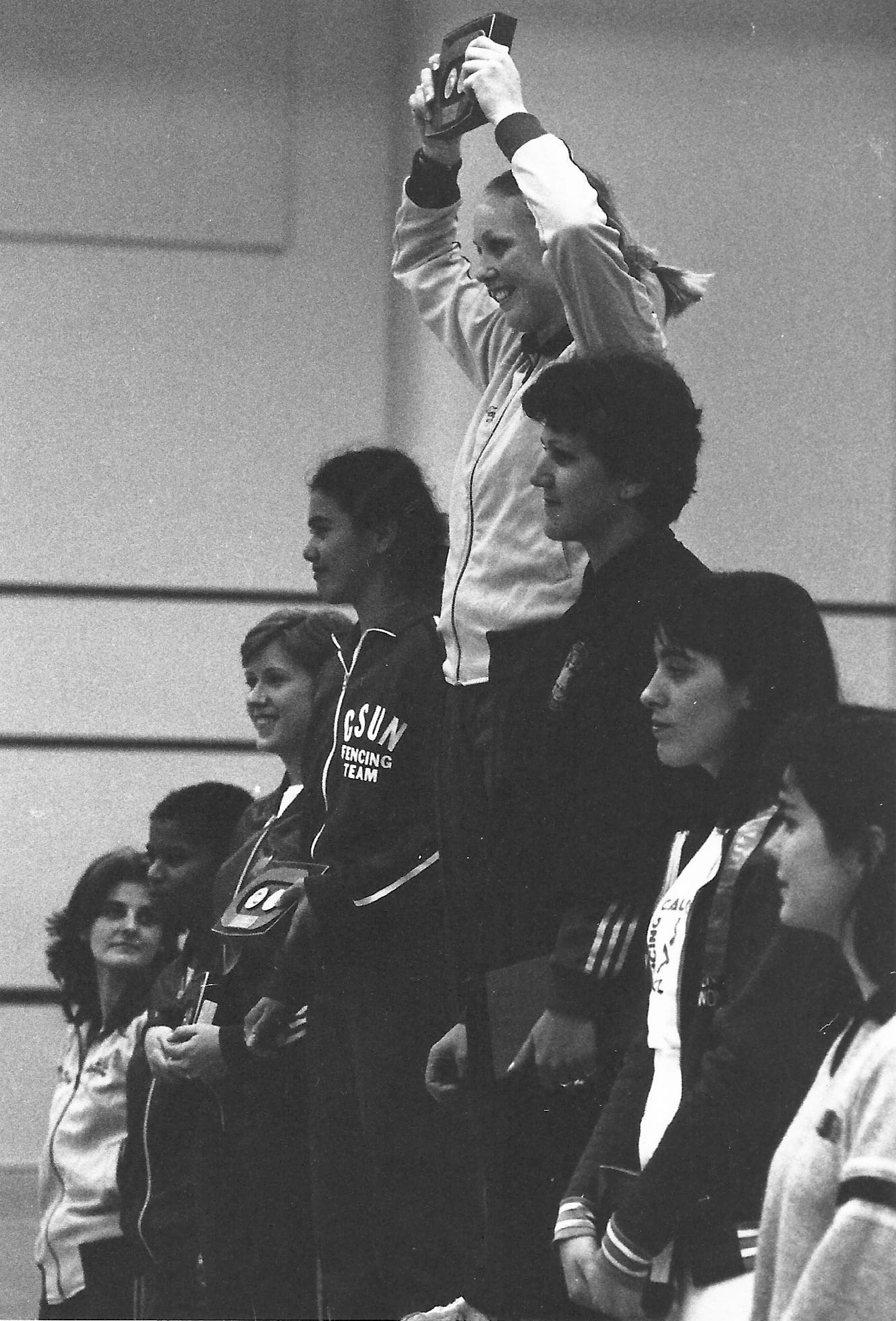 L-R: Cathy Kay (SJSU), Joyce Lartigue (Wayne State), Jeanette Lange (Wayne State), Ruth Botengan (Cal State Northridge), Joy Ellingson (SJSU), Gina Farkashazy (Wayne State), The One Person I Can't Identify, Laurel Clark (SJSU)
This 1982 event marked the end of San Jose States' prominence in the women's championship ranks.  After that year, they didn't win another individual or team national championship. Within three years, Michael D'Asaro had retired and left the Bay Area after 18 years of coaching. Oh, and the university cancelled the fencing program.  That was a fun day, let me tell you.
L-R: Cathy Kay, Joy Ellingson, Laurel Clark, Susan Weggelaar, Susan Huseman, Michael D'Asaro
Still, San Jose State hosted the first of what is now a much more prominent event with world-ranked women competing for the title of NCAA champion.  Times have changed and US fortunes in the fencing world look a lot different now.