Although I haven't posted a story in a couple of weeks, it's not due to lack of material to write about.  There are a ton of stories I need to complete, not least is one about a recent visit I had with the family of a long-time LAAC fencer – and Olympian – who shared some amazing material and family stories with me.  That's the big-ticket item in the hopper currently, but in the process of transferring scans from my portable hard drive to my 5 terabyte storage drive, I came across a series of photos I'd nearly forgotten about.  
These snapshots were taken at the 1963 US National Championships held at the Statler-Hilton Hotel in Los Angeles.  The event ran flawlessly, "…a fact that we have come to expect from Southern California and its Chairman, Fred Linkmeyer.", as Harold Goldsmith wrote in American Fencing magazine.  In attendance at these Nationals was first-time National competitor, Julie Moore, later Julie Selberg, along with her teammates Jan Meyerson and Diane Amidon.  They comprised the North Dakota women's foil team that was defeated in the preliminary round by Santelli, Pannonia and Salle du Nord.  Charlie Selberg's Selberg Fencing Academy from Fargo, ND, sent a large contingent out to LA for Nationals that year.  At least seven fencers went, maybe eight.  Almost all were eliminated in the first round, with a couple of exceptions.  Julie made it out of the first round in the Women's Foil individual.  Steve Werre, the youngest competitor in the field at around 14 years of age, made the 2nd round in the Men's Foil individual, and Selberg's Men's Sabre team squeaked out of the prelims after the Cavaliers team fielded only two of the three fencers they needed.
Regardless of how they finished, their greatest gift to the future was putting eye to viewfinder and preserving a great bunch of photographs that I recently unearthed from a large cache of previously unsorted photo sleeves. It's funny, every time I think I've dug through all the boxes and sorted through all the chaff to find the nuggets of historical gold from the Selberg Collection, I'll happen across something by accident that had previously escaped my attention.  Well, these caught my eye and I share the best of them with you now.  
That's youngster Steve Werre from Fargo, North Dakota on the left, facing down an opponent who's likely much older than he.
The unmistakable smile of Ed Richards, who took the first place medal in Individual Foil at this Nationals.

The Letterman Fencers team.  From left, Severo Pasol, Peter Schwarz (I surmise, based on the seating arrangements) and Colonel Brownlee.  The woman on the far right is unknown to me.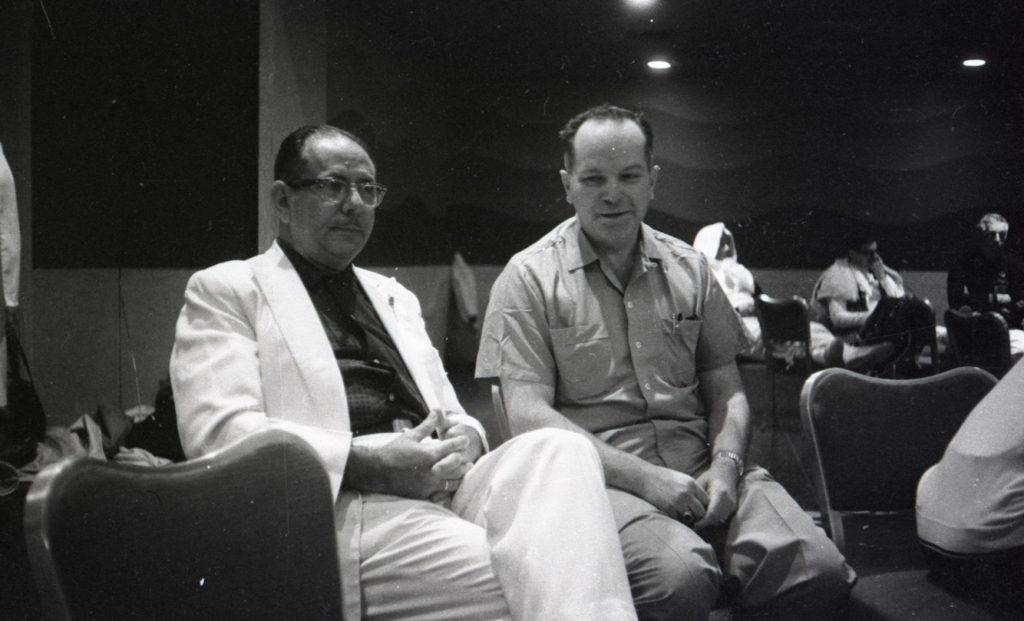 Not sure who Dr. William O'Brien, longtime coach at San Francisco's Presidio based Letterman Fencers Gym, is chatting with here.  That's Bill on the right.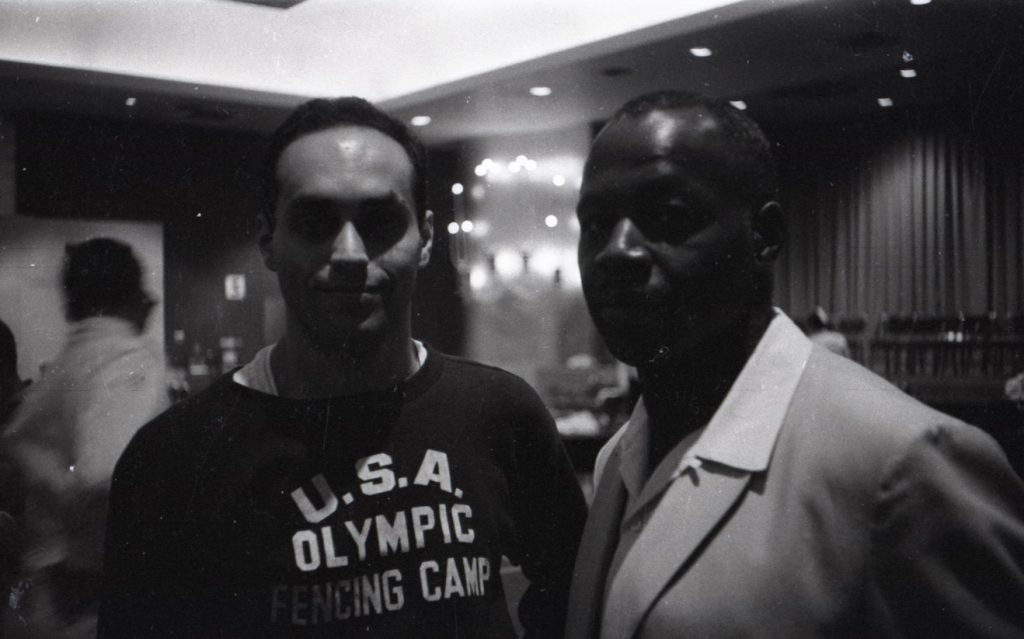 On the left, David Micahnik, 1960 National Epee champion.  On the right, Uriah Jones, perpetual threat to win who eventually captured the National Foil title in 1971.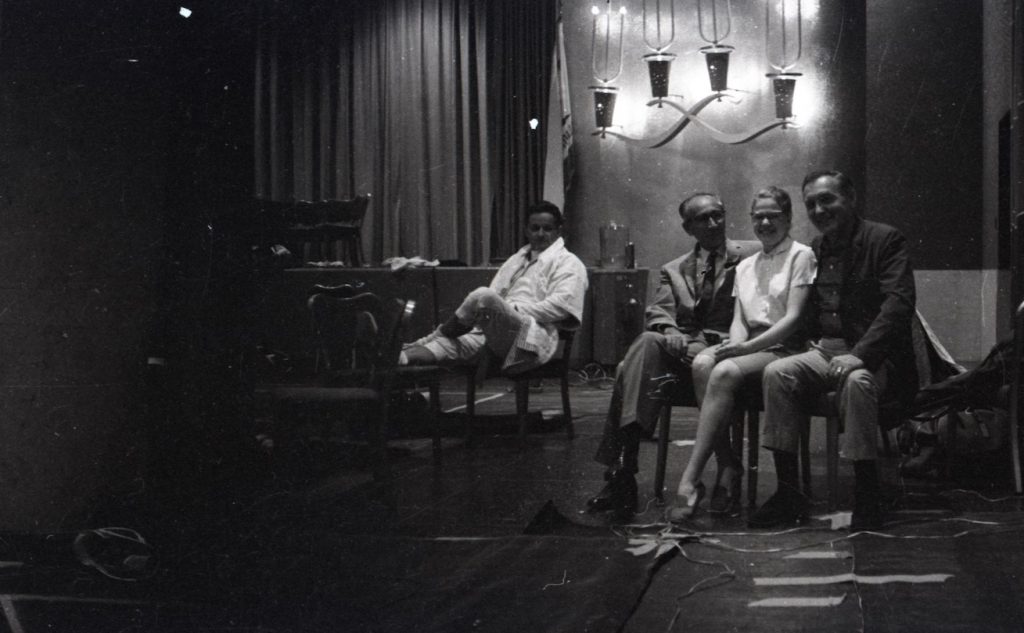 I'm not certain who the fencer on the left is, but in the three chairs on the right we have, first, Ferenc Marki, then coach at the Pannonia Athletic Club in San Francisco, Jan Meyerson from Fargo, ND who eventually moved to San Francisco and worked at American Fencers Supply, and on the right, a smiling (and why not?) Csaba Elthes.
A nice moody portrait of Szeged-born Ferenc Marki, student of Laszlo Borsody, and Maestro to Olympic Gold medalist Daniel Magay, World Champion Joszef Gyuricza and Junior World Champion Tom Orley.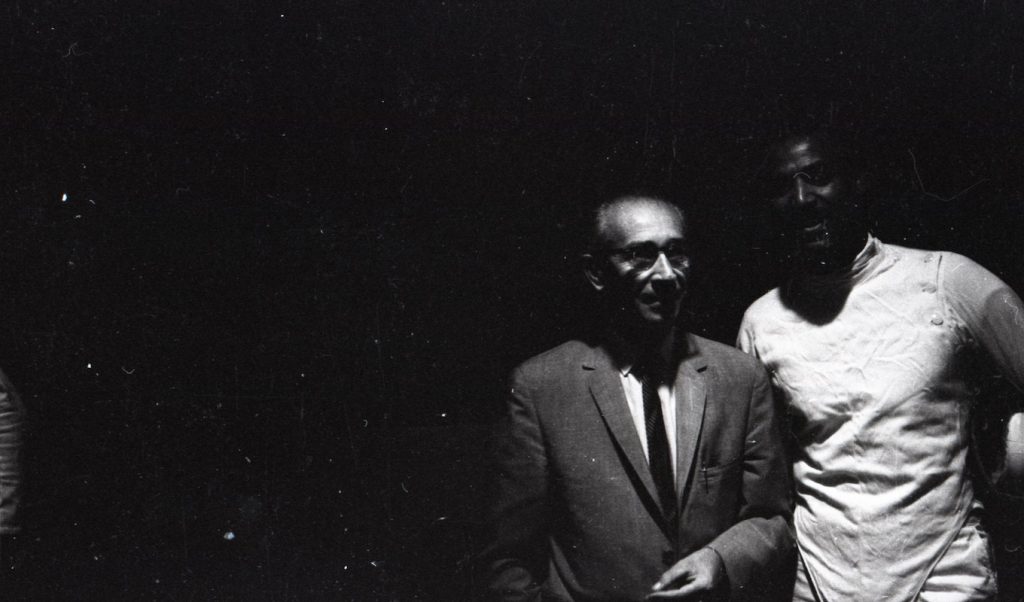 Marki with Pannonia fencer Jim Green.
At the scorer's table, Jim Green with Severo Pasol standing over his shoulder.  On the right I believe is a young Diane Amidon, another of Selberg's Fargo crewe, who would win the first "Under 19" US National women's title in 1966.
The lighting isn't good, and he isn't smiling here – ok, neither of them are – but that's Csaba Elthes with Ferenc Marki.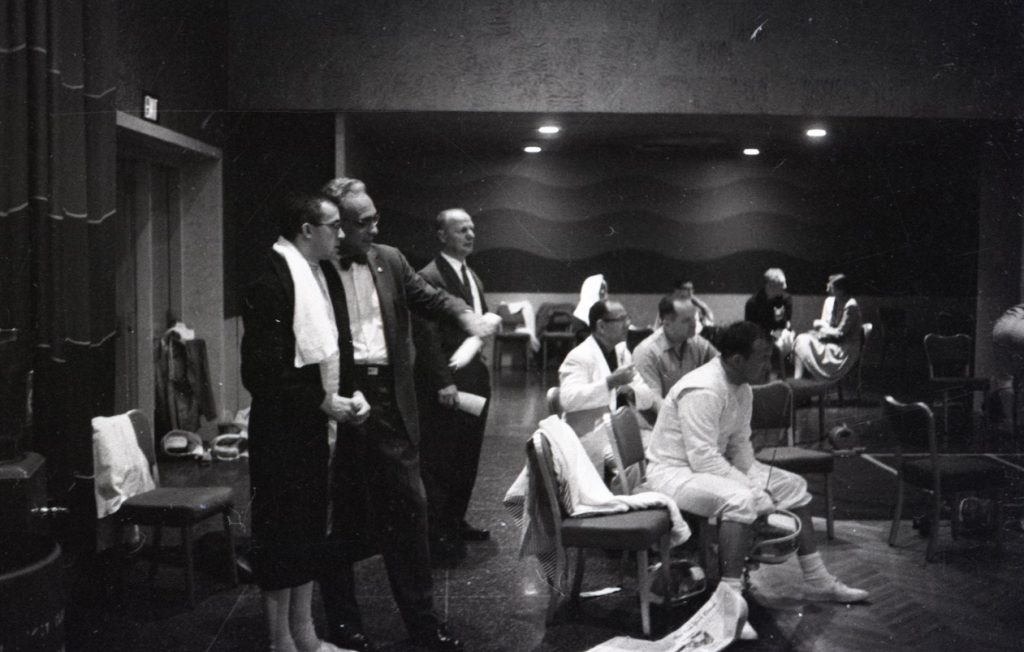 One of the de Capriles brothers checking his watch.  I think that's Joe.  Could be Mike.  Tough to tell at this angle for me.  But behind (above the wristwatch) is definitely Stan Sieja, head fencing coach of the Princeton Tigers for almost 40 years.
And finally, Gerard (Jerry) Biagini gets an assist from Pannonia teammate Jim Green in preparation for a bout in the team foil competition.  Pannonia ran fourth, losing the bronze medal match to Csiszar.
So many more stories in the hopper.  I'm working on them, believe me.  Much to share!  Soon!