Having not one, but two, Helene Mayer trophies land in The Archive recently seems to have been a precursor to a small 'golden age' of incoming H. Mayer material that I can't explain in any way that I can explain, but I'm happy for the good fortune.
But before I make an attempt at explanation, let me bemoan one of the issues that plagues me as an essentially self-taught archivist and preservationist.  An essential task in collecting this material for the last five and a half years is the maintenance of some semblance of order to it all, so that if I get hit by a bus tomorrow, someone else might be able to come in and make sense of what I've done by way of organizing the collection.  The challenge herein is that while I've fairly carefully laid out the digital collection in a comprehensible fashion, I have not done as well with the physical collection.  Most anyone could sit down at my computer and figure out who's where.  The physical collection?  Not so much.  I need to inventory everything and build a spreadsheet or a database so that I can rest more easily.  It's a daunting task though, and I haven't yet figured out exactly how to approach it.  
One day recently, while looking through some material in the collection and trying to get my head around various approaches to documenting the collection, I ran across some papers that I hadn't looked at for some time.  It was a box given to The Archive by Harold Hayes, and whenever it was that I had last looked through it, a particular element had entirely escaped me.  The items in question were three xerox sheets of photographs.  They might even have been faxes.  Here's the first: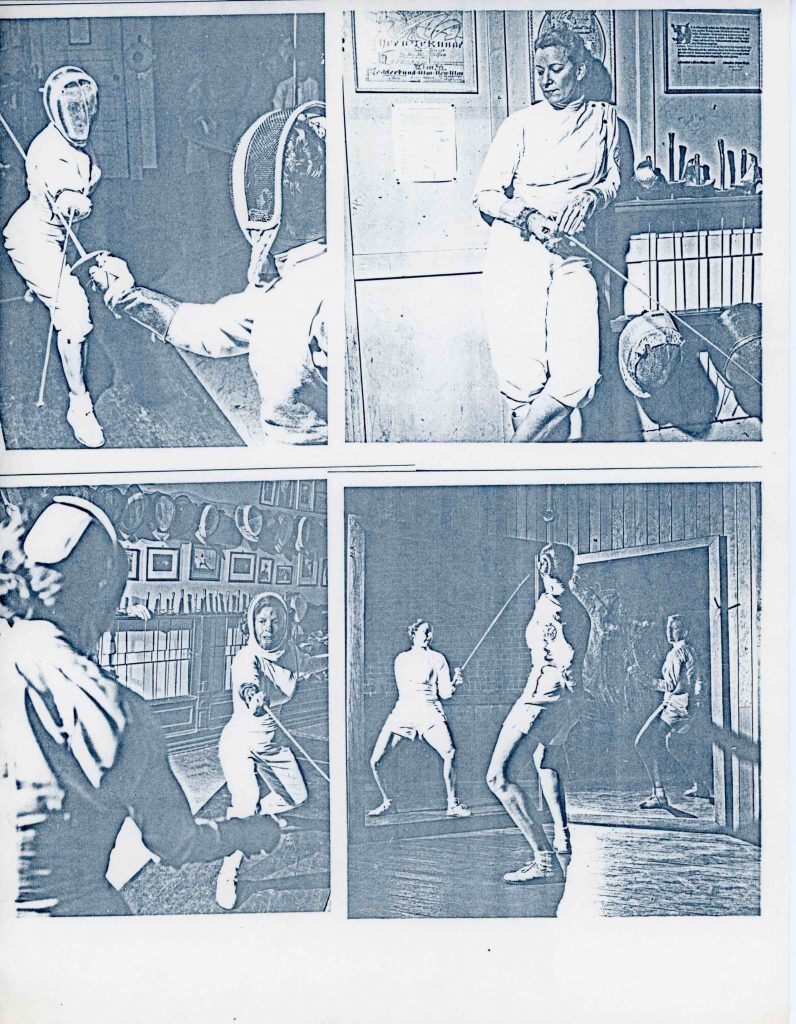 The quality of the images was poor; stark black and white with no tonality.  However poor, it wasn't impossible to make out that I was looking at photos of Helene Mayer.  Now, there are a whole lot of photos of Helene Mayer out there on the internet and I've collected a handful of rarities myself.  The thing is, several photos images on these sheets were pictures I hadn't seen before.  Similar ones, yes.  But not the same.
The caption here reads, "H. Mayer at Mills College – showing off all the sports offered at Mills – and look who is dominating the scene!"
More important of all, there was a hand-written note on the bottom of one of the last page. 
The note wasn't cryptic in any way, but it was like a lightning bolt to my system.
The third sheet.  At top right, an alternate of a photo I had seen before as it graces the walls of the Halberstadt Fencers Club.  The one at the club looks like this:
As you can see, it's from the same session as the photo, top right on the image just above, which includes names identifying the subjects.  From left to right, in both photos, Salvatore Giambra, Emily Romaine, Hans Halberstadt, Helene Mayer and Bunny Fratessa.  Emily Romaine's husband was a San Francisco based photographer and likely took all these photos, with the Halberstadt club serving as the backdrop.  Sal Giambra started fencing at the Italian athletic club in SF, the Unione Sportiva Italiana, and was Captain of the 1948 US Olympic Team.  Bunny Fratessa shows up frequently in photos and news articles in the 1940s, but I know little else about her.
The most important caption on the Xerox sheets comes at the bottom of the third sheet.  "I have scads more negatives of photos like this – they reproduce enlarged very well," it says.  Scads. Scads!  Of negatives.  Of Helene Mayer.  I could hardly credit it, but Harold doesn't comport himself with folks that would make light of such a topic, so I had to believe that somewhere along the line, Harold knew someone that possessed scads of Helene Mayer pictures.  How many is scads?  To me, scads is a whole lot.  
What could I do?  I called Harold.  Didn't get him on the phone, but I left a detailed voicemail with an emphasis on the word "scads" and waited for a return call.  And it came pretty quickly.  Yes, he thought he remembered who had sent him those pages and that note.  He was sure he'd be able to put me in touch.  Yay!  Scads!
Not long after I had a phone number, a conversation, an address and an appointment.  Quick work!  I was going to meet Kristen Harber, a fencer I'd seen a few times at tournaments back in the day at some point, but did not know well.  The story goes that at some point many years back, she became acquainted with Mary Huddleson, fencer, friend of Helene Mayer and onetime editor of American Fencing Magazine.  During a visit, Mary shared with Kristen a photo album of Helene's and other fencing pictures.  Kristen, quick-thinking, heroic, camera-owning Kristen, asked if she might be allowed to take photos of the scrapbook and other pictures.  Mary didn't mind, and Kristen photographed the material.
Kristen is an artist – a painter – and had faithfully kept safe this impressive cache of photographic memorabilia for over twenty years.  And it is a very impressive collection of photos.  Helene at just about every phase of her life, along with Hans Halberstadt, Helene's clubmate from Offenbach and other members of the fencing collective in San Francisco.  Maxine Mitchell is in a few shots.  Pictures from an early Helene Mayer Memorial competition.  And the Helene pictures, good gravy, she's everywhere!  Helene skiing, Helene skating, Helene teaching, Helene fencing – on a boat, on a tennis court, in a pavilion.  Awesome stuff.  Here are some samples: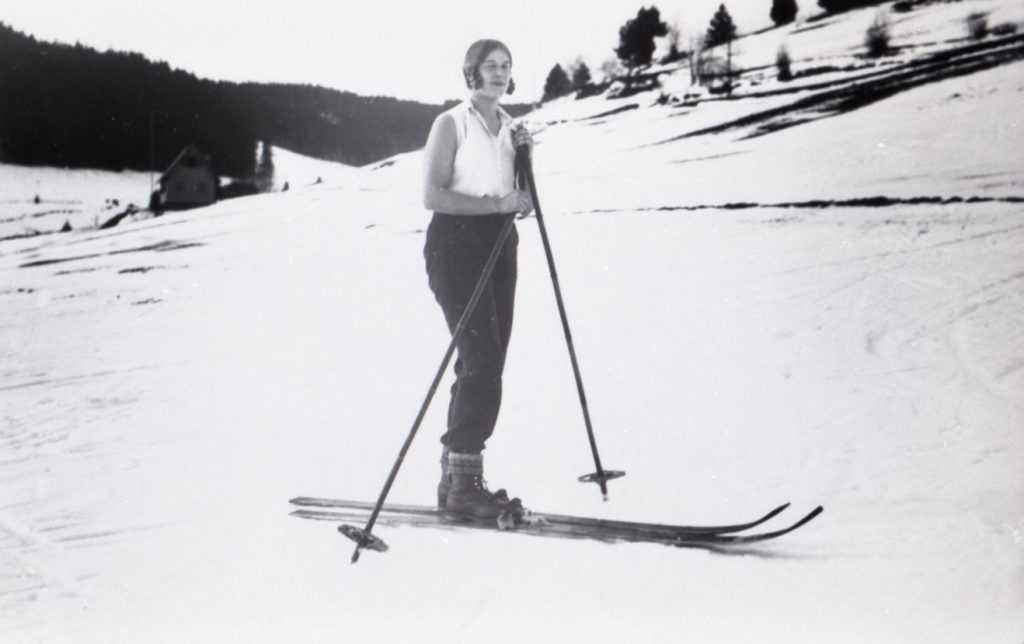 A young Helene on skis
A slightly older Helene on skates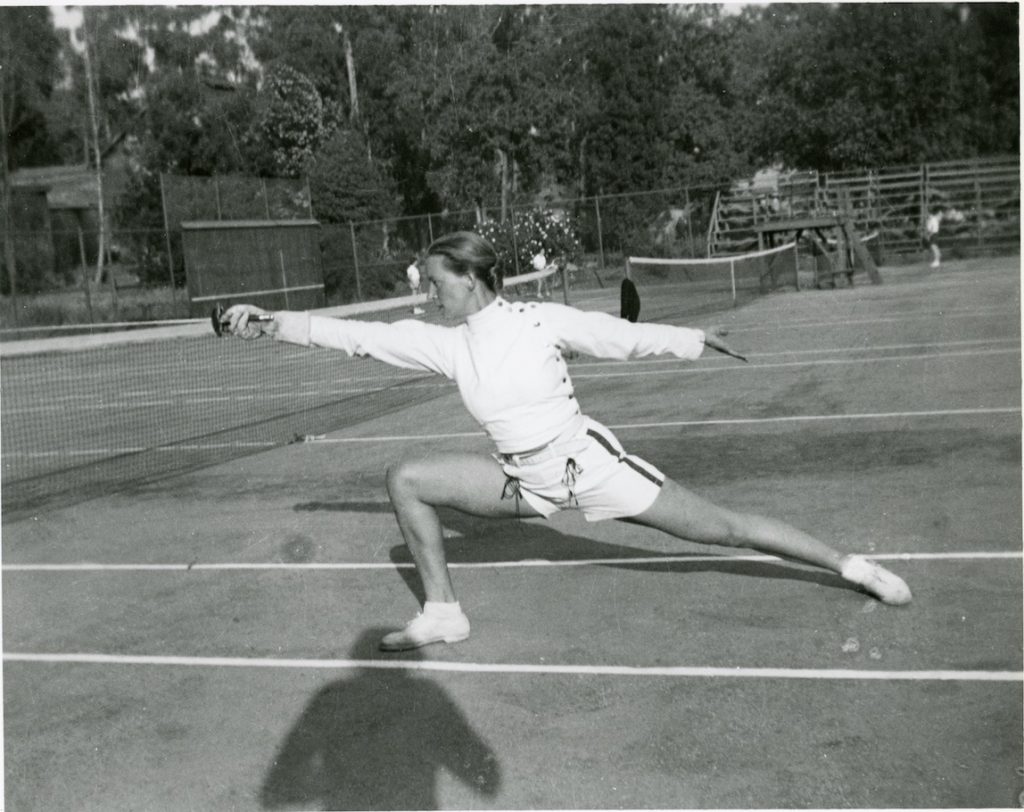 Helene at the height of her powers in 1936, age 26. On a tennis court.
While not all Helene Mayer, and including some duplicates, there are over 400 images in Kristen's collection.  It's a very impressive set of images and I'm thrilled that Kristen was willing to share them with The Archive.  She has shared them before.  Authors and filmmakers have sought her out to make use of some of the photos in the past.  Due to the range of years covered, it isn't surprising.  These are images of Helene outside the common ones you typically see come up in a Google search.  
So now I've been able to both gather in digital version of these pictures and have also made a new friend.  Kristen has carefully maintained these photos and negatives in terrific shape and her generosity makes her an undisputed hero in my book.  Sharing things like this among those who recognize the importance of maintaining a record of the people, the unique characters, that make up the fencing world is the principle this Archive was founded upon.  I'm so thrilled to know that this material is out in the world and safe, and it gives me hope to look for the next piece of the puzzle.  And there's always going to be another piece.  
And that's good.