The 1956 Olympic Games in Melbourne, Australia comes up frequently around here.  It was, after all, the tournament from which many Hungarian athletes made the difficult decision to not return to their country.  The challenging notion of having to make such a fateful determination is one that I really can't imagine.  Knowing you could be leaving friends and family behind, perhaps for good, would be tough on anyone.  However, the US benefitted mightily due to the strength of will that the fencers who came to our shores showed.  The Bay Area alone found itself with fencing great George Piller, Olympic Gold Medalist Dan Magay, Junior World Champion Tom Orley, Hungarian Olympic training squad member George Domolky and youngster and future 5 time US National Champion and Olympian Alex Orban.  They all had a too brief but resounding impact on the fencing scene around San Francisco.
What with the effort going on hereabouts to make a documentary about George Piller, I keep an eye and ear out for relatable tid-bits that may prove of value in helping to tell the tale.  This is one such small item that I recently picked up via my online addiction to Ebay.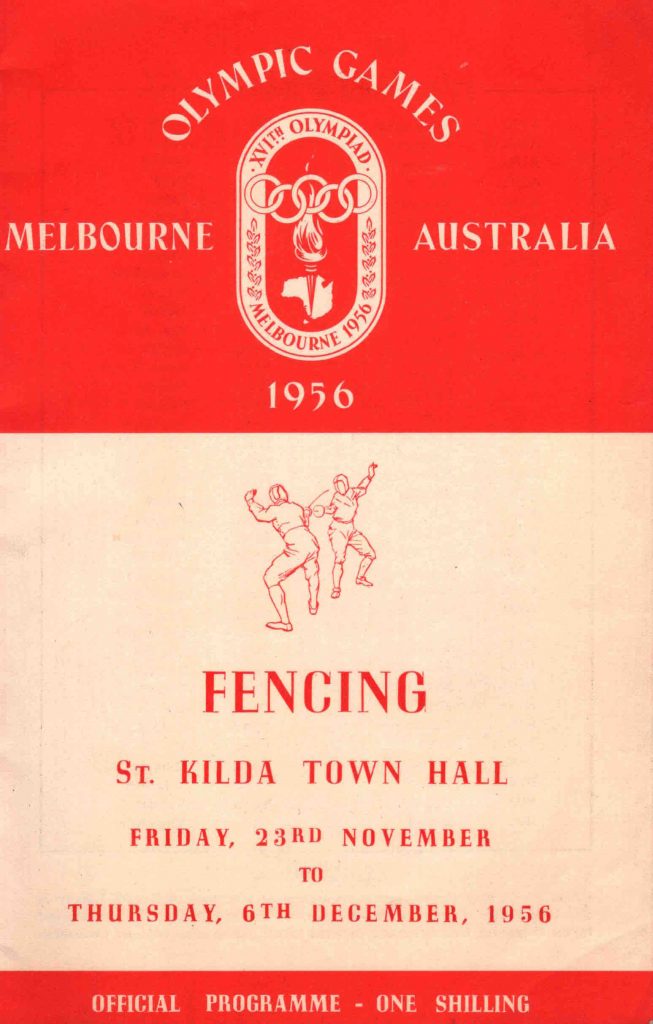 That's the cover of the programme for all the 1956 Olympic fencing events, held at St. Kilda's Town Hall, which, by use of Google Map's clever 3D viewing tools, I now know looks like this:
Thanks, Google!
(Trivial note: if you drop the little street view dude right on top of the building, it'll take you inside!  They seem to be setting up for a concert.  Maybe Crowded House is going to play.)
Where was I?  Oh, the programme!
The one I picked up is in near perfect shape.  No pen or pencil marks.  No tears.  Of course, that means somebody got it, put it away and paid no attention to keeping track of the scores of the bouts they were watching.  How come fencers don't do what baseball fans do and keep a running tab of everything that goes on?  A little personal score sheet.  "Oooh, another off-target.  That's 3 in this bout!  Never gonna win that way.  Mark it down; off target, forearm."  Anyway, we don't do that, do we?  Well, whoever owned this didn't either.  So, no notes or personalized stuff.  Sure, it's pretty much mint condition, but I like the personal touch of someone handling things.
I digress, as per usual.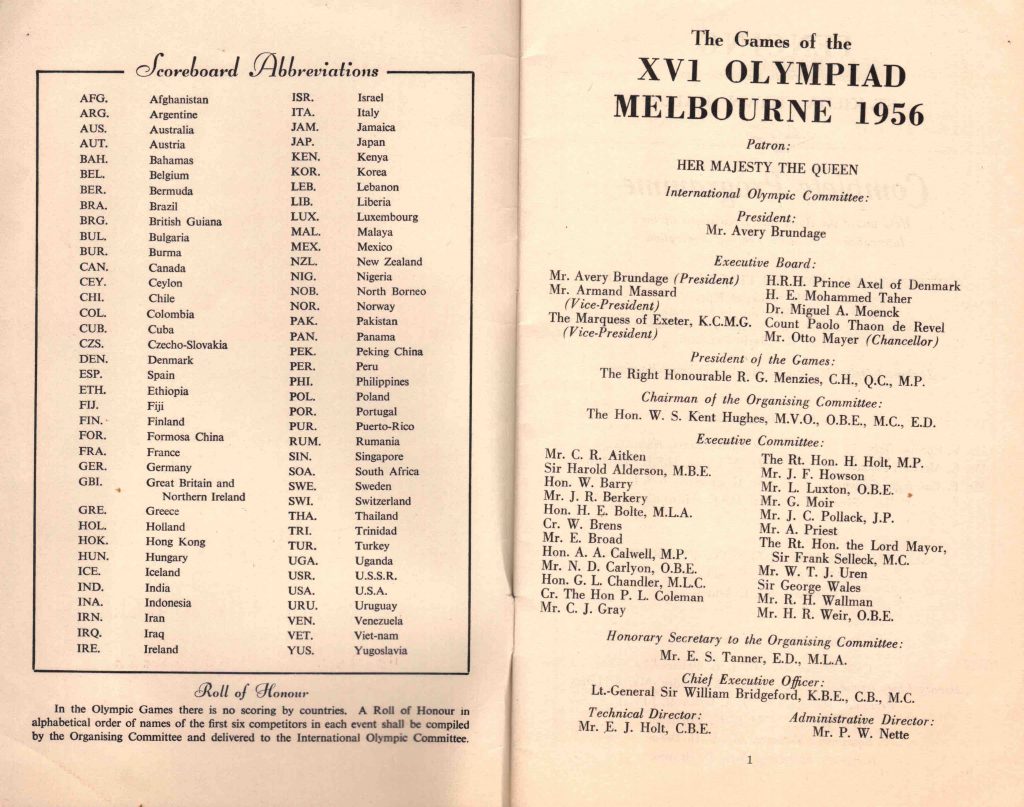 The opening two pages give a nice idea of whose country abbreviation might show up on a scoreboard.  I say might, as not all these countries had a team or individual represented in the fencing event.  It also names all the big wig Olympic – I was going to say 'guys and gals', but now that I look more closely, I have to just say "guys", as not a single woman seems to be represented on the executive board, executive committee or anywhere else.  I want to think the world has changed a bit since '56.  I wonder, has it?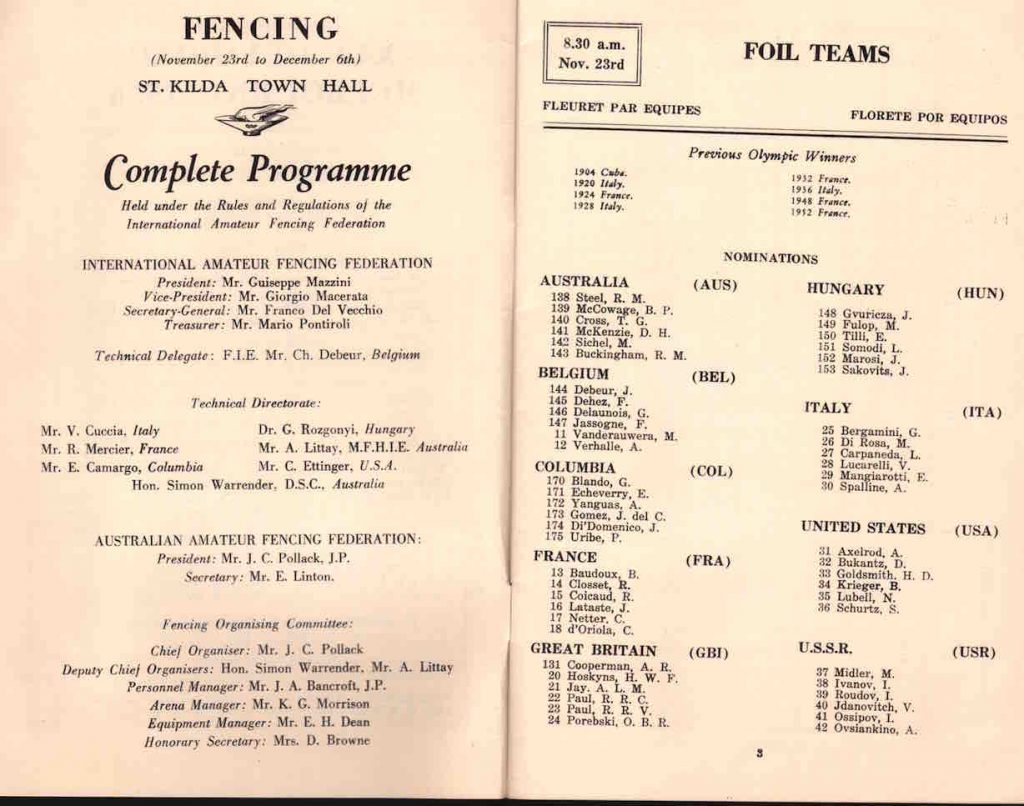 …and then we get to the good stuff – the names of the actual competitors.  Only 8 teams up for the Men's foil.  The US team of Axelrod, Bukantz, Goldsmith, Krieger, Lubell and Shurtz took 4th in the event and nearly landed a bronze medal.  Ah, so close.
And, if you're interested in following the thread further, since the scoresheets here are all blank, check out this link:
http://library.la84.org/6oic/OfficialReports/1956/OR1956part1.pdf
http://library.la84.org/6oic/OfficialReports/1956/OR1956part2.pdf
That's parts one & two of the Official Report from '56, containing the result of every race, match, and bout for the entire games.  Plus a lovely photo of the Queen!  Fun to check out! Peruse at your leisure.  In the mean time, here's a shot pulled from the above: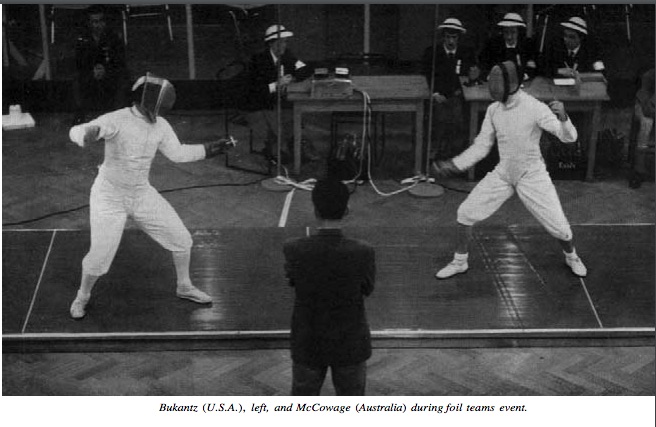 Here's the lineup for the Epee Individuel (I like this spelling; I think I may keep it.):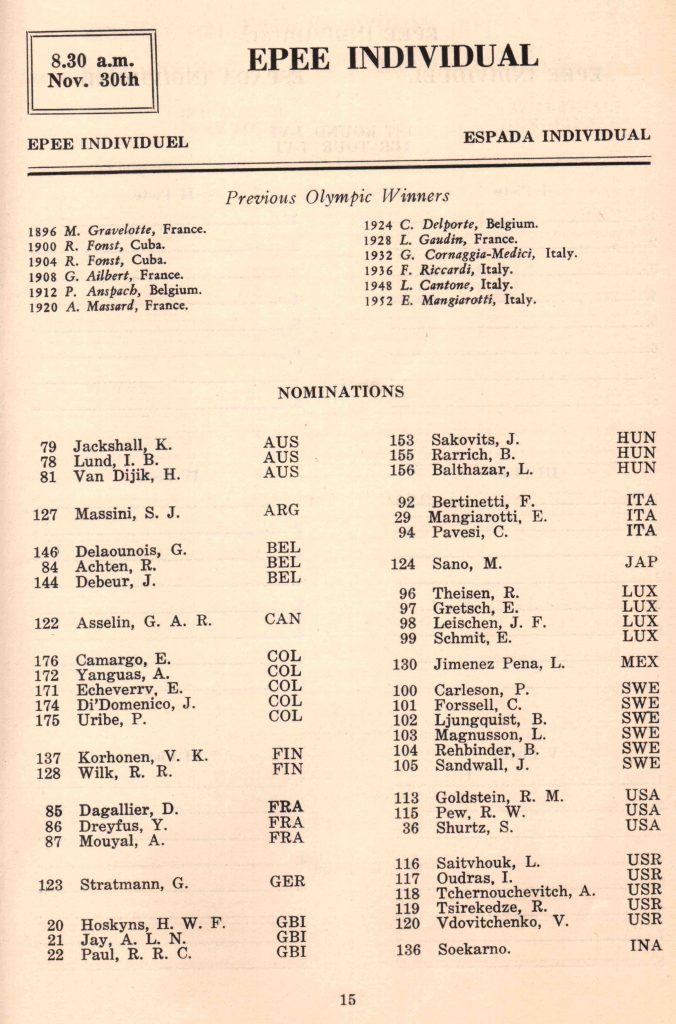 My pal Skip Shurtz went down to defeat in the semi-final after fencing well in the early rounds, leaving him in the top-16 of the event.  His teammate, Dick Pew, was on fire that day, finishing first in his pool through the semi-final with only 2 defeats.  In the final, a pool of 8 fencers, he dropped 3 bouts, leaving him in 4th spot, just below the top 3 who all tied with 5 victories each and had to fight it out in a barrage for medal placement.  Oh, and, all three were Italians.  And!  I just found an error in the above programme!  Of the three Italians listed above in the individuel event, Bertinetti is listed, but the Olympic Silver Medal went to Delfino of Italy, so he was either a late swap or some other shenanigan that bumped Bertinetti for Delfino.  (Gold to Pavesi, Bronze to Mangiarotti.)
Last, I'll put up the sabre team: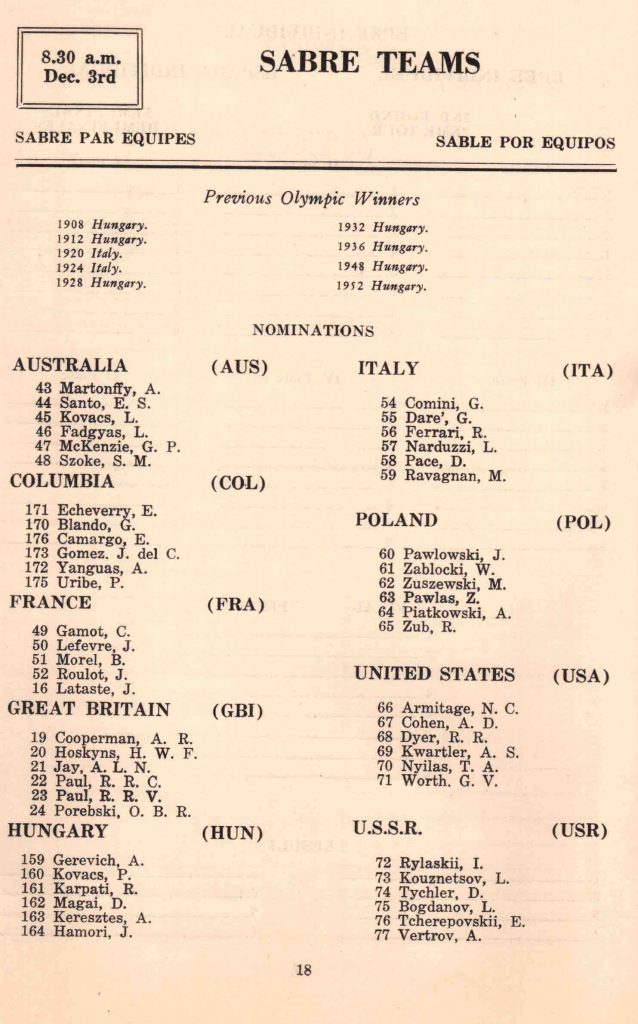 Let me bring your attention to the Previous Olympic Winners near the top of the page.  All Hungarians, but for two Italian victories, only one of which was contested.  The Hungarians, after taking home just about every sabre medal in '08 and '12, didn't participate in 1920, leaving the competition clear for Nedo and Aldo Nadi to command the field.  (In 1912, the Italian team couldn't get out of the first round in the team event, and Nedo found himself as the only non-Hungarian finalist in the individual.  He placed 5th.)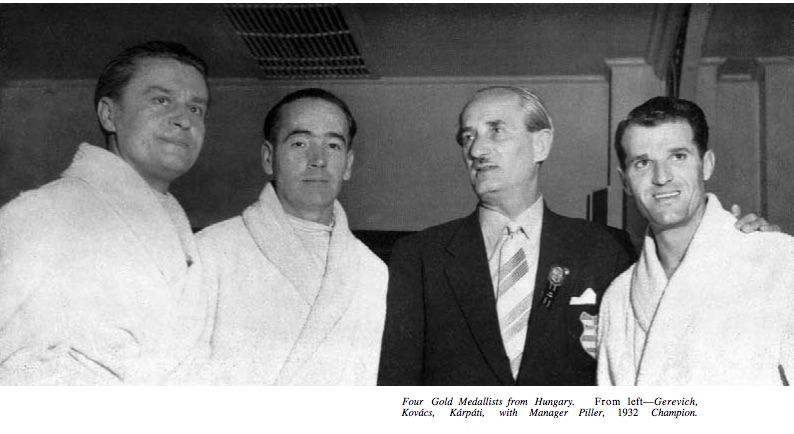 Above here is another clip art piece from the Olympic Record, with four Olympic Gold medalists: Gerevich in '48, Kovacs in '52, Piller in '32 and Karpati in '56 (and again in '60).  None of them ever took less than gold in an Olympic team event, either.  Gerevich had 6 on his own – 1932 through 1960.  He was, you know… pretty good.
One interesting last point I'll make that comes from the research and conversations we've been having about Piller for our film.  You might have noticed that he is titled above as "Manager" and not Coach.  This was a revelation to me, as I'd always heard about him as a coach.  That's what he did at the Pannonia club in San Francisco and I just assumed that was the sort of role he played with the Hungarian team.  Not so!  I got this confirmed by Dan Magay, one of the members of the '56 Gold Medal winning sabre team.  Piller did give lessons, but he was more useful as a strategist.  He could watch another fencer and give direction and advice on how to beat that person, right now.  He watched everyone and everything.  He analyzed tendencies, favorite attacks, preferred parries, and kept it all in his head.  When you needed to know how best to approach a bout, he would have a 'here's what to do' all ready.  That, it seems, is what truly set Piller apart.  Not style, or technique, or his size.  He was, above all, a strategist.  That is what carried him as a competitor (he was World Champion in '30, '31, Olympic Champion in '32, then retired.  He was 33 years old).  It also what set him apart as a coach and mentor.  If such a thing had been done at the time, it seems he would have been the penultimate strip coach.  Back then, of course, coaches could only offer advice before the match.  No talking during, no time outs, no bits of guidance or intelligence allowed.
And last, just so you know how serious we are about the documentary about Piller….
…this is me at the Hungarian Military History Museum in Budapest (on the Buda side of the Danube) holding George Piller's 1932 Olympic Gold Medals, team and individual.
That was a pretty good day.