I confess that it has been hard to sit down and find the wherewithal to come up with a story in the past weeks.  Since the death of my first coach, Len Carnighan, it's been frankly a challenge.  For those of you who don't know, we here at the West Coast Fencing Archive are in production on our first documentary feature (I say "first" in hopes of their being a second someday) on famed Hungarian sabre champion and coach, George Piller, and I had very much hoped to share all we've learned about Piller both stateside and in Hungary with Len.  I won't have that chance now.  Without Len, I'm certainly not doing the work I'm doing now, nor would I be the person I am today, although my failings are my own.  I find that his death has sapped some motivational force from my creative space.  But like any challenge I ever faced with Len as my coach, I'll take his advice from memory and search for a way through to some sort of success.
Searching around for something to focus my attention, I've been digging through boxes, pulling out old photos and postcards, looking at pictures – you know, making a mess.  Finding nothing to hold my attention, I tucked things back away and sat down to go through digital files and came across a folder of scanned photos titled simply, "McDougall Negatives".  Now, lucky me, I have a number of negative sets from John McDougall – student of both Piller and Nadi, fencing master, and founder of American Fencers Supply, if you need a reminder – but I hadn't paid much attention to this batch of images since scanning them.   Since the files were big (I scan at the museum standard 600dpi, tiff) my poor 2006 Mac was having a hard go of showing me images, so I imported them all into iPhoto to get a look at what I had.  Lo and behold, some interesting images!  Some casual pics taken up at the Charles Selberg Southern Oregon homestead, some goofy shots of John & Charlie in Charlie's salle – and then a series of images from a 1984 men's foil national event that took place at The Fencing Center at their 40 North First Street location.
There aren't a whole lot of photos and not all the bouts are represented, but there is a finals lineup, so we can at least ID the players.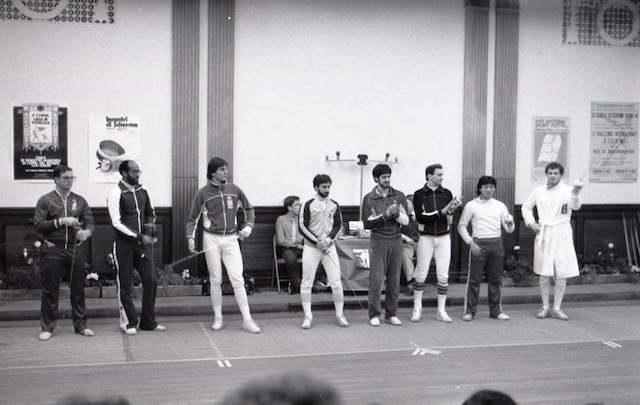 From left to right: Ed McNamara, Mark Smith, Don Blayney, Pat Gerard, Michael Marx, Mike McCahey, George Nonomura, Greg Massialas.  So, final of 8, direct elimination table.
The bracket (seen in a couple of blurry images) breaks down like this:
Massialas v Gerard
Nonomura v McNamara
Smith v Blayney
McCahey v Marx
No pictures from the first match, but a nice one from the second.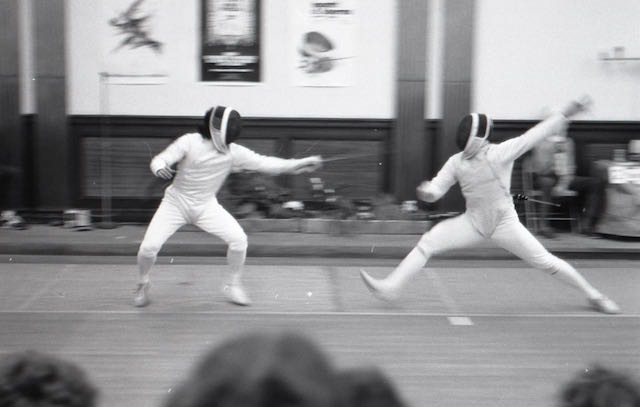 George Nonomura on the left puts out a stop hit against the attacking Ed McNamara.
We do have a photo from the third match, with local product Don Blayney having a go against 2 time National Champ and Olympian Mark Smith.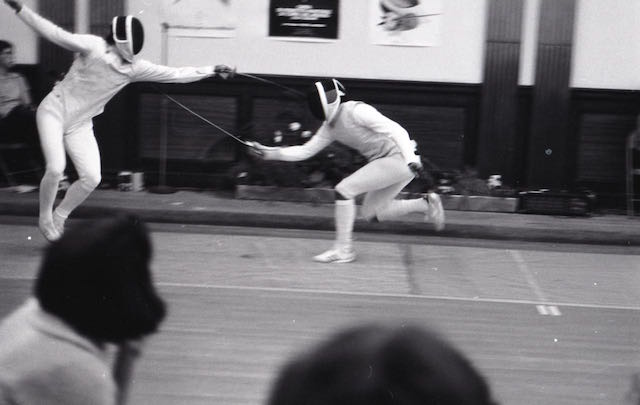 Blayney, the big lefty, throws a late stop against Smith that's probably out of time, if Mark reached.  But reaching Don was always the issue, him & his long arms.  I still have nightmares.  (Ok, not really nightmares so much…)
The final matchup in the quarters has the two Mikes; McCahey and Marx, New York versus Oregon.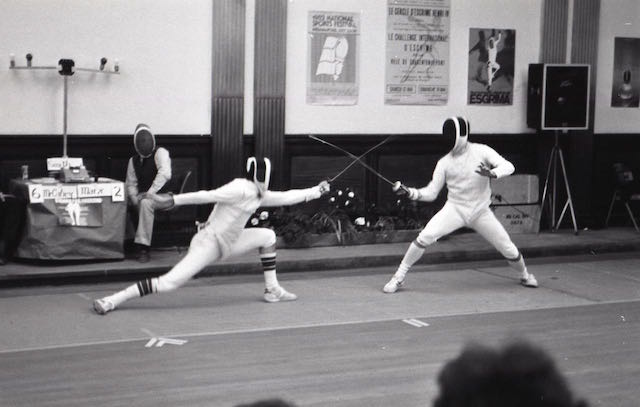 McCahey attacks, but Marx keeps good distance.
After the quarters wrap up, we're left with Massialas versus Nonomura in the first bout, and Smith versus Marx in the second.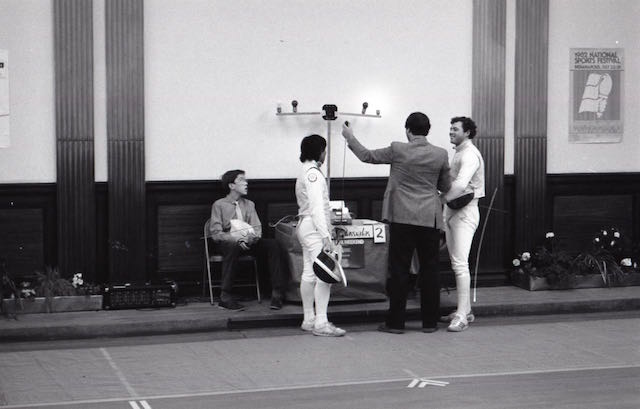 Nonomura and Massialas joke with director Jeff Bukantz in preparation for their semi-final matchup.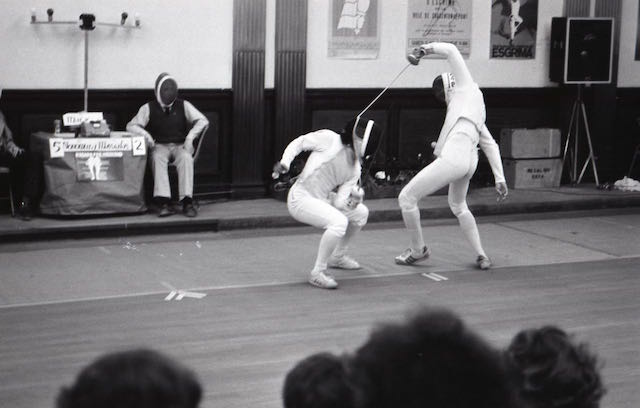 George goes low against Greg, but it looks like Greg picked up the blade with that sweeping prime parry and took the point to the back.  Also in this photo you can see the score – and this is back in the day, so touches were scored against.  George is down 5-2 at this point.  Note the scorekeeper in the mask .  Better safe…
Greg wins the battle with George and moves on to face Mark Smith.  Sadly, no photos from the Marx/Smith match.
Greg & Mark, ready to go.  (Hey, scorekeeper!  Get that mask on!)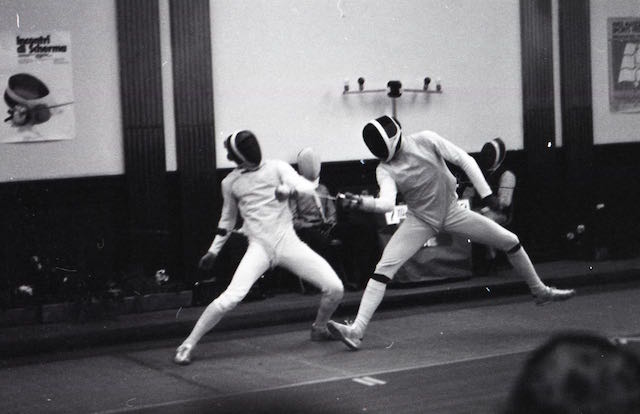 Mark Smith was a master of counter-time and you can see he's stepped into the teeth of Greg's attack here.  Blowing the image up big, I can't see an impact divot on Greg's lamé, so maybe Greg picked up the stop with the septime parry he's making in this shot.  Or maybe he's parrying with his forearm.  Can't really tell.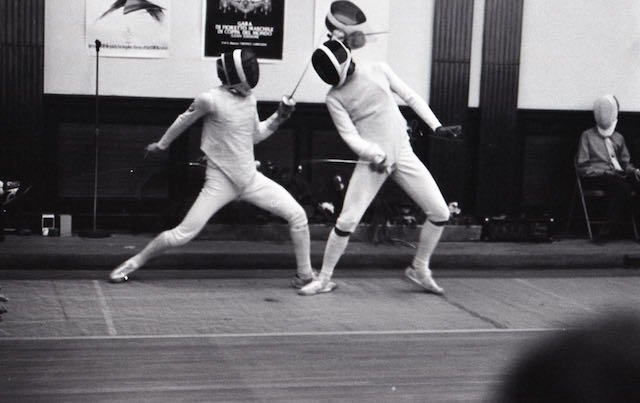 Smith stepping in again, and it looks like this time it paid off.  Without the lights, I can't tell.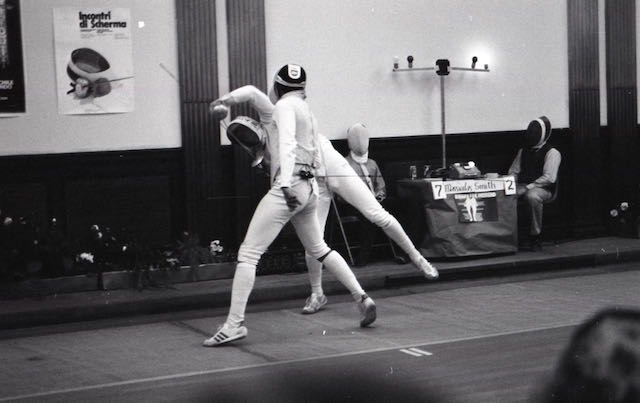 Positions reversed, but action continuing.
I wasn't going to put that last picture in, but then I realized it had both the score and the event poster over on the scorer's table.  The poster, which I've seen before (and have a copy of) can be seen in the photo below, taken at Charlie Selberg's old salle in Oregon.
The D'Asaro Foil Weekend, June 21 & 22, in San Jose.
You see, I was going to title this article something generic and ask for help with trying to find a date, and there it was in the images staring out at me.  Took me long enough to spot it, but there you are.  At any rate, I've put all the puzzle pieces together now.
What I don't know, and there isn't a shot of the score sheet to tell me, is who won the final bout?  Greg probably remembers.  And if they fenced off for 3rd place, with Nonomura versus Marx, did George pull out a 3rd place over Michael?
Perhaps the interwebs and social media connectivity will help us put those questions to rest.  It's certainly a safer subject than the presidential race.
Here's to fencing, everybody.