"Do you not know that a man is not dead if his name is still spoken?" – Terry Pratchett
My first fencing coach, Len Carnighan, died a week ago today, September 11, 2016.
I was in his first class at Cabrillo College in the fall of 1977.  It was his first opportunity to teach at the college level, and only about a year after he had decided to making fencing his career and future.  He was also teaching at the Freedom Fencers Club in Freedom, California, founded by John McDougall, which gave him a way to offer interested students additional opportunity to fence.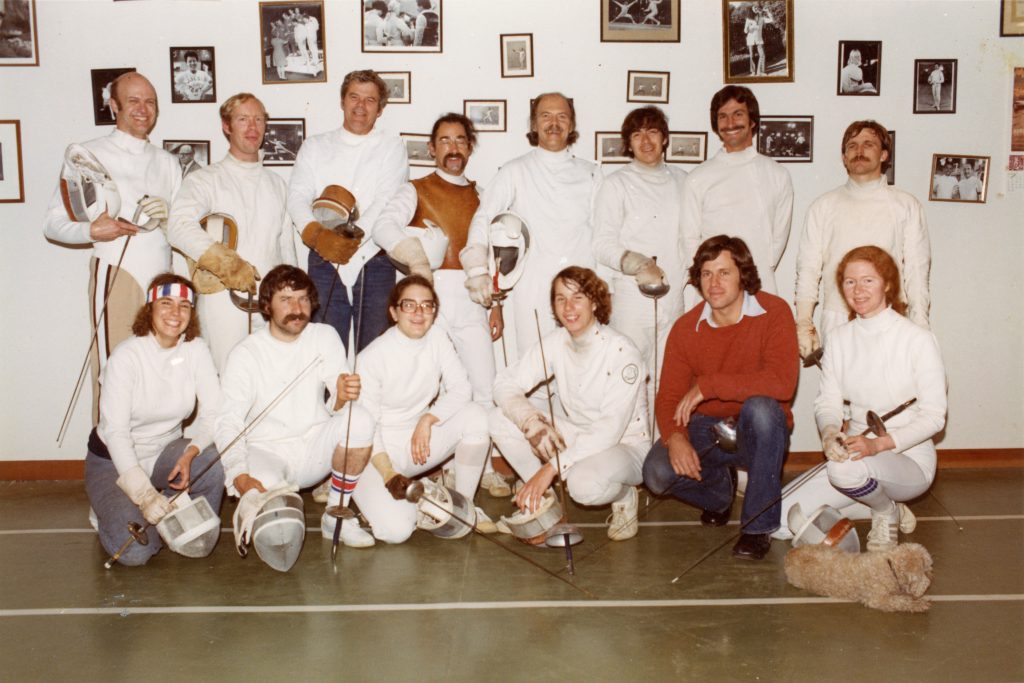 The usual suspects out at the former hay & feed barn that housed the Freedom Fencers.
As an 18 year old coming to fencing with a mind filled with sword slashing fantasies harvested from books and movies, I well remember the first speech Len gave to start us off.  It was like a splash of cold water combined with a statement so intriguing that it demanded to be investigated.
He said, "Now, if you've come to this class with the idea of being Errol Flynn or Conan the Barbarian," (for me, check and check…) "…I must tell you that that is not what fencing is about.  However, what you are going to learn in this class – is even better."  My reaction was, "wh…what?  Even better?! This I gotta see!"  I was hooked from that moment.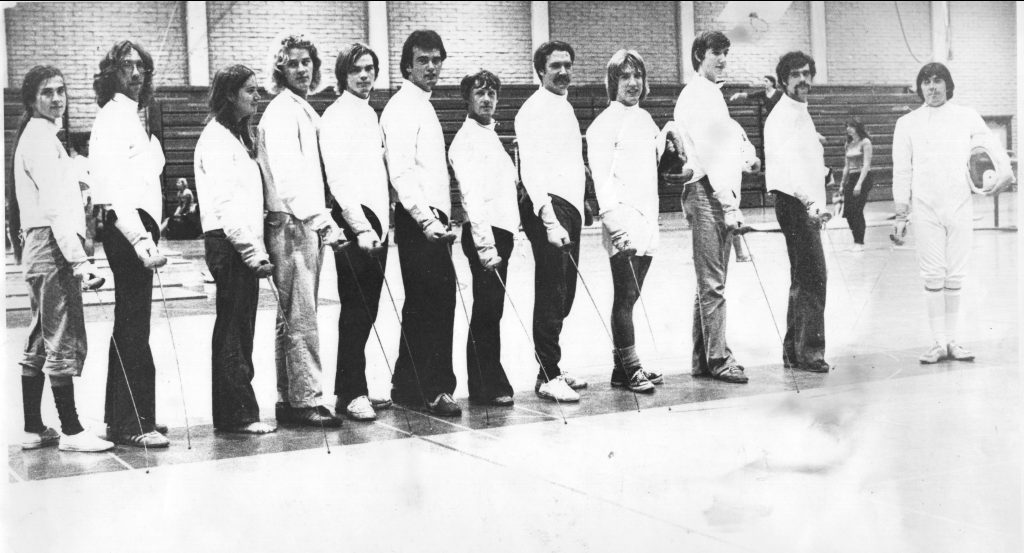 That's me, 5th in from the left, with the proud instructor far right.  
Len spent 5 years teaching at Cabrillo and developed some terrific fencers and competitors, amassing a successful record in the now-defunct Junior College Championships in Nor Cal.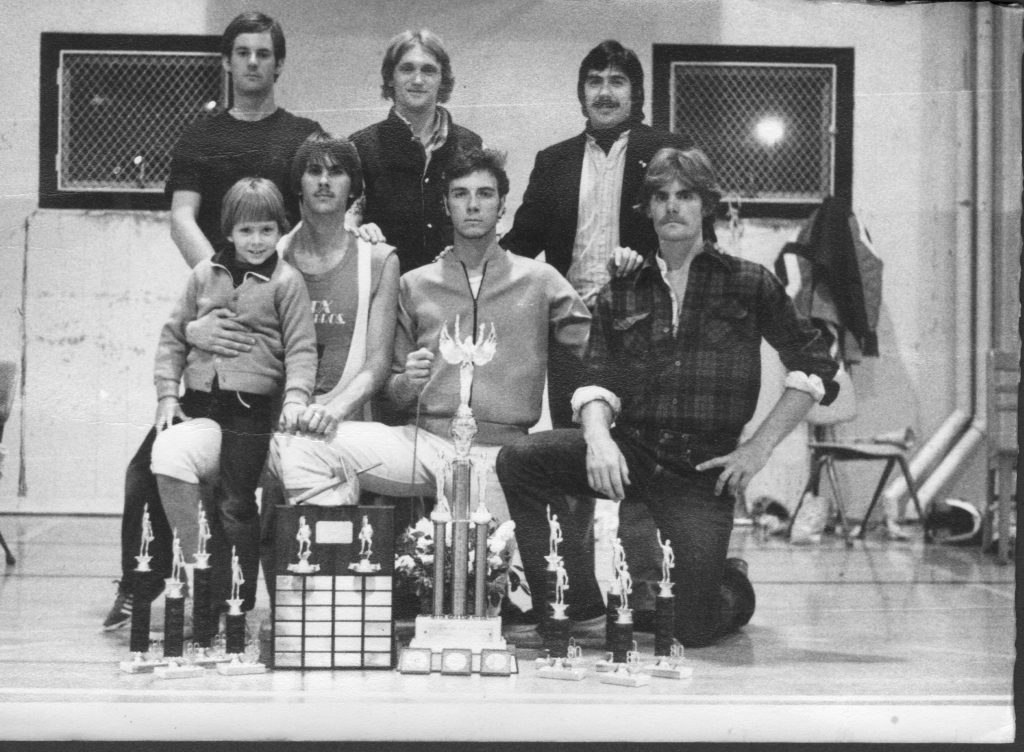 Cabrillo College's 1980 team with a collection of trophies and medals, a broken sabre, and Len's boy Lencin Carnighan.
Len enlisted in the Marines at age 17, served in Vietnam during the Tet Offensive and came home with a Purple Heart and PTSD.  He went to college on the GI Bill, starting at LA Valley College where he started fencing under Joe Abel.  The story he told me was that he took up fencing because he was sure that when Atlantis rose again, guns would no longer be available and knowing sword fighting might prove useful.  Now, I don't know how late he was up or what he'd been doing prior to coming up with that particular theory of the future of Earth, but his ability to tell that story with a straight face in a passionate tone made the listener, at the very least, think, "well, I guess that could happen…"  He transferred to UC Santa Cruz on the advice of Joe Able, so that he might study with Charles Selberg.  It was under Charlie's tutelage that Len settled on the idea of becoming a fencing teacher himself.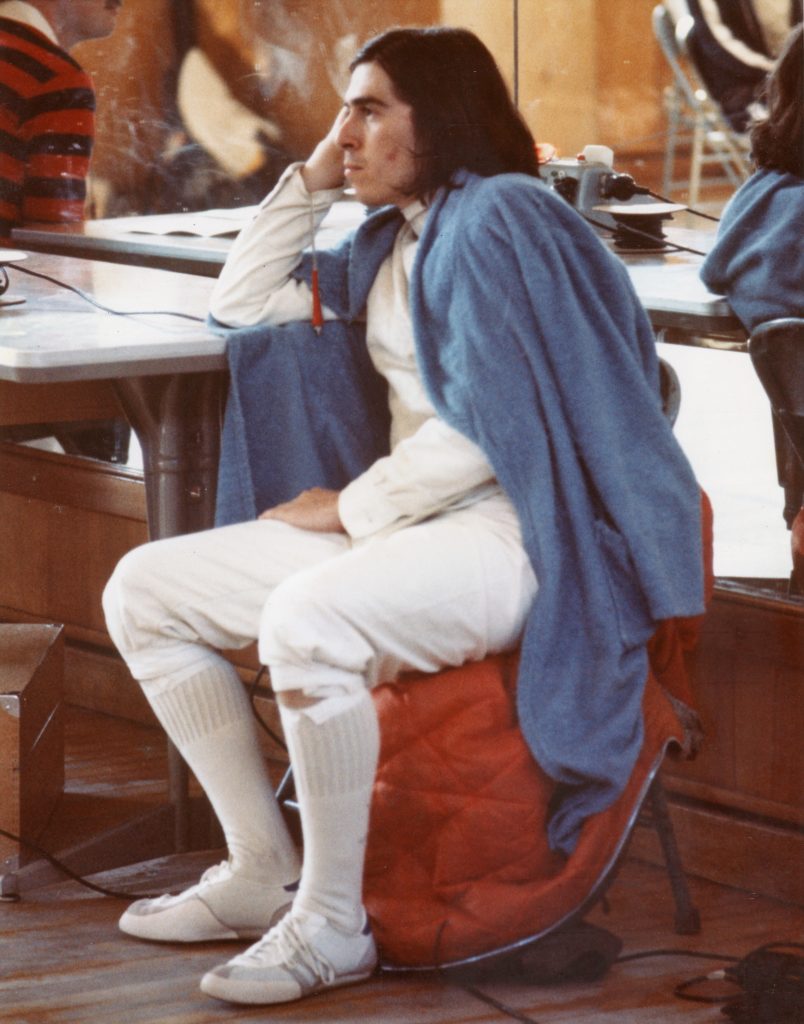 Len as a UCSC Banana Slug fencer, although the fencing team chose Robert Crumb's Mr. Natural as their own mascot.
Around 1980, Len closed down the Freedom club and opened up the Santa Cruz Fencers Club at the Palomar Hotel on Pacific Avenue in downtown Santa Cruz. The club met in the ballroom of the old Spanish style hotel, built in 1928.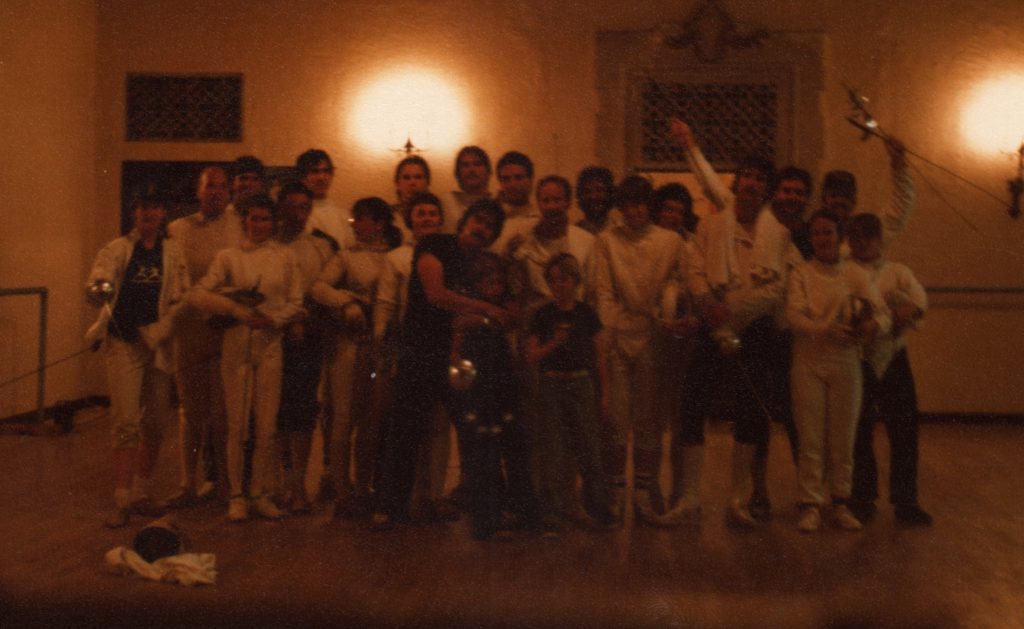 Santa Cruz fencers at the Palomar Hotel.
Len credited his teaching methodology to several fencing masters besides Charlie Selberg.  He also learned a great deal from John McDougall, Jack Nottingham and Michael D'Asaro Sr.
Michael, Angela Dracott and Len.
Len was never shy about getting knowledge about fencing from whatever source might present itself.  He often told a story about eavesdropping on an historic moment at the 1984 Olympics involving Peter Westbrook and his fencing master, Csaba Elthes.
Elthes & Carnighan
Len scored a credential for the LA Olympics in 1984 and spent his time finding ways to get into places and situations where he could see and learn from these, the best and brightest of the fencing world.  His instinct for being in the right place found him backstage at the moment Elthes approached Westbrook before his bronze medal match.  Other fencers, seeing that Csaba wished to say something to Peter, backed away to give them space for a private moment.  Not Len.  As he put it later, "I wasn't going to miss this!"  He stuck in his ear to learn what the last wisdom before such a momentous bout might be.  As he told it, Csaba simply said, "Fight, Peter!  Fiiiight!!"
After Santa Cruz, Len taught in Ashland, Oregon.  It became a bit of a hotspot for fencing masters.  Len, Michael D'Asaro, Charlie Selberg and John McDougall all moved from Central Cal to Ashland at about the same time.  That's a lot of fencing masters for one dinky Southern Oregon town.
Moving again, Len settled in Portland, Oregon, opening the Studio of American Fencing in Northeast Portland.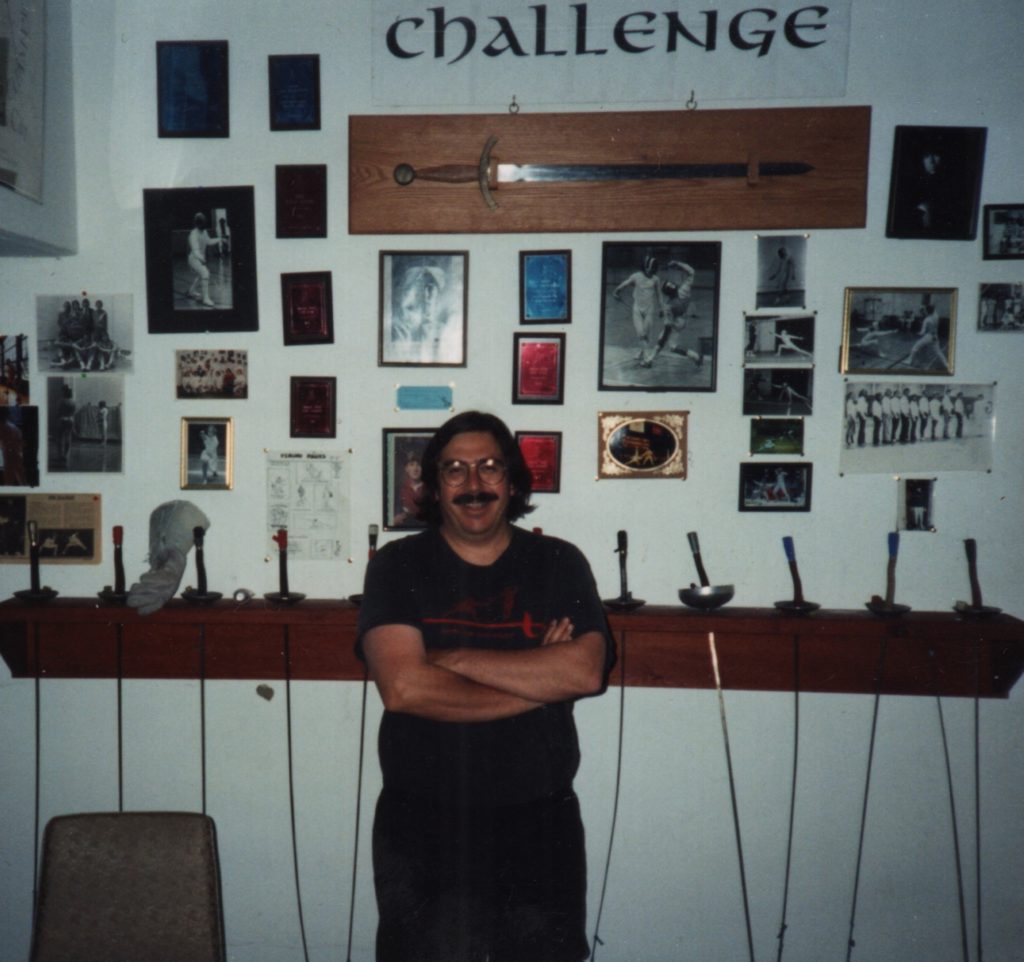 Len at SAF.
He taught a lot of fencers at this salle and it was fortunately situated right next door to a local bar with a pool table.  Of course, being next to a bar, you could expect some interesting situations.  One story went like this.
"One night, it's late and I'm wrapping up teaching.  Some drunk biker dude stumbles from the bar into the club and starts yelling that fencing is for wimps and he's there to kick all our butts.  I tried to talk him down, but he just yells at me.  "Are you the teacher here?  Gimme a sword, I'll kick your ass!"  Well, I didn't really want to hurt the guy, but I put a sabre in his hand and say, "Ok, On Guard."  He makes one step forward – he's wearing a leather jacket, remember – and I step forward and crack him across the chest with the best chest cut of my life.  Well, he stands straight up, hands the sabre to me guard first, turns around and walks out without saying another word."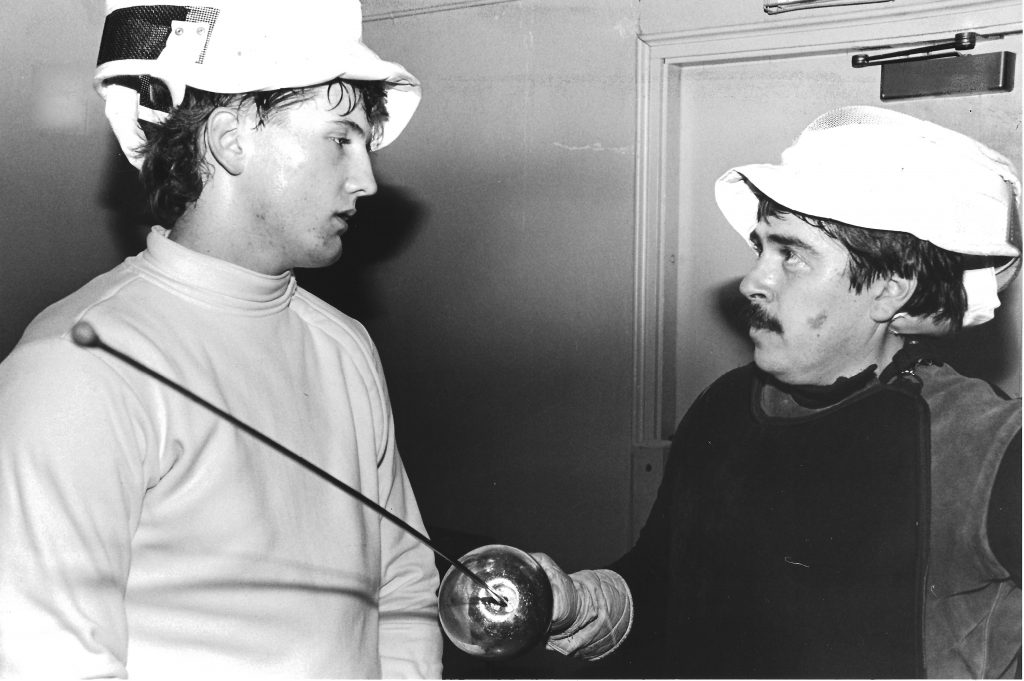 Eric Patton and Len
One of Len's young fencers in Portland was one of those rare prodigies.  Eric Patton was a young fencer that had a tremendous talent for competing.  As a young fencer, he attended his first international competition in Tel Aviv for the Cadet World Championships in 1987, where he placed 9th in the world.  Sadly, he didn't stick with fencing and Len was left wondering how far this young man may have gone.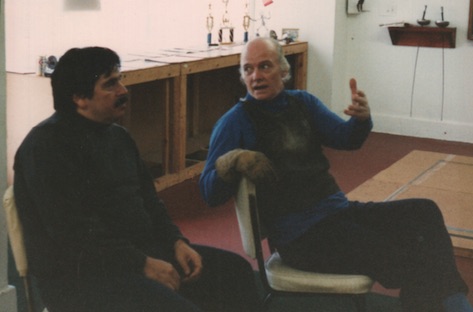 Len and his fencing master, Charlie Selberg at the Studio in Portland.
Len was a fencing master, but don't look for his name in the records of the US Fencing Coaches Association.  Charlie Selberg, living out in the woods of Southern Oregon, decided to confer his own degrees to deserving fencing teachers.  That was the closest Len would get to anything remotely 'official'.  His stint in Vietnam left him with both PTSD and another P –  paranoia, especially toward anything to do with the government who he credited with nothing less than trying to kill him in Southeast Asia.  That paranoia was also reflected in his attitude towards any number of organizing bodies and certainly colored his opinion of joining something like the USFCA.  That he was capable of doing anything that may have been required of him to pass a credentialed exam by USFCA members, there isn't any doubt.  That he never considered it was simply an example of who he was and what he stood for – or against.  He drew clear lines, sometimes in places where his friends and colleagues would be left scratching their heads, but you always knew where Len stood.  His talent and passion for teaching fencing was never in question.  He could teach individuals and classes with a panache that brought out the best in his students, and he could create in those students an enduring love for the game.
Len's last class, Portland State University, 2016.
Len was married three times and had two sons, Lencin and Ray.  During his life, Len collected a great number of dedicated friends as well as professional colleagues.  Sadly, his life also featured a number of tragedies.  But what led to the end game?  We'll never know, it would seem.  You see, it appears that Len killed himself.  I can't figure it.  After all he'd been through, why now?   At other points in his life, maybe.  Now?  This is a lesson I can't process.
A last tragedy from Len's life, left behind for all of us to wonder about.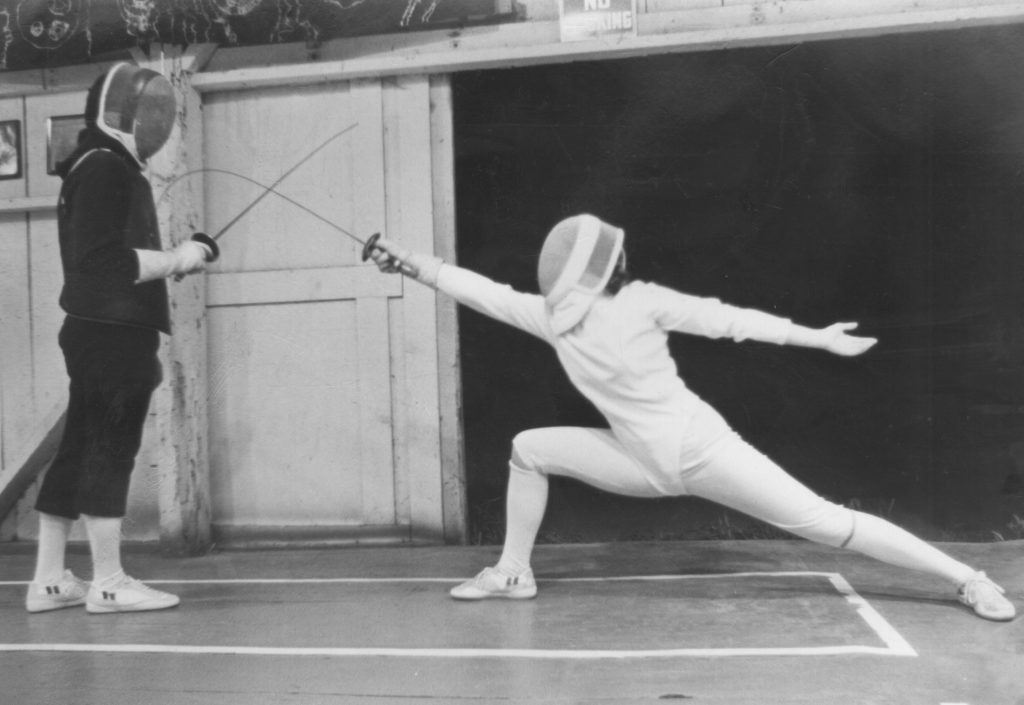 Len and Claire Braunhut at Freedom Fencing Club.  Claire was one of Len's Cabrillo students.
I suppose that's the natural stopping point for this.  I won't though.  There's other, better, lessons and memories to recall.
The Cabrillo team in 1979.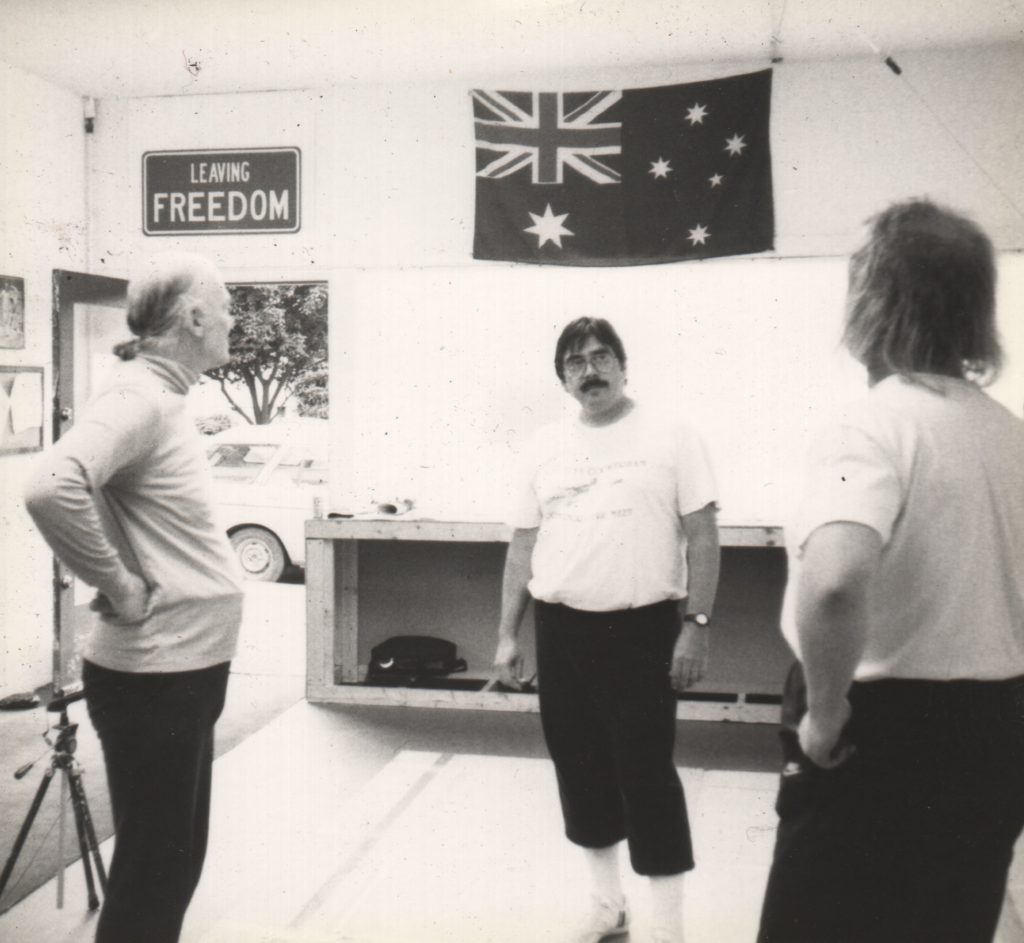 Charlie, Len and Zack, who now runs the Studio of American Fencing.
Left to right, Michael D'Asaro Jr, Len, Charlie Selberg, Michael D'Asaro Sr, and Gay at a San Jose State summer camp.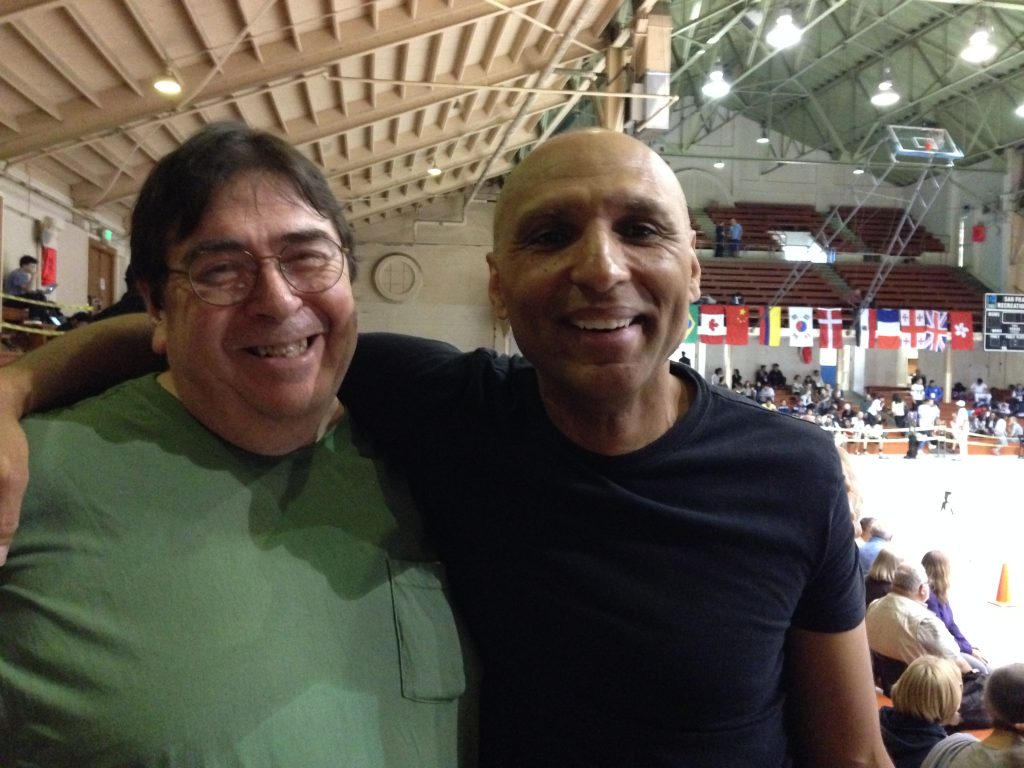 Len and Dean Hinton.
Greg Massialas and Len at the San Francisco Men's Foil World Cup.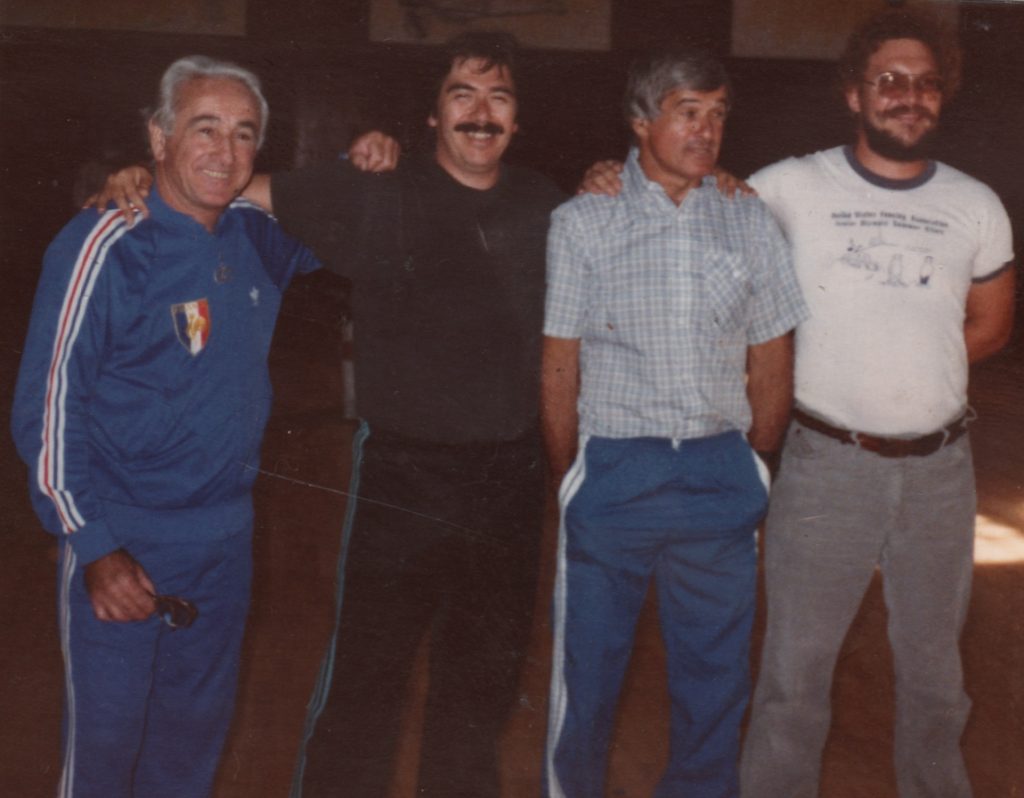 Len flanked by Leon and Yves Auriol.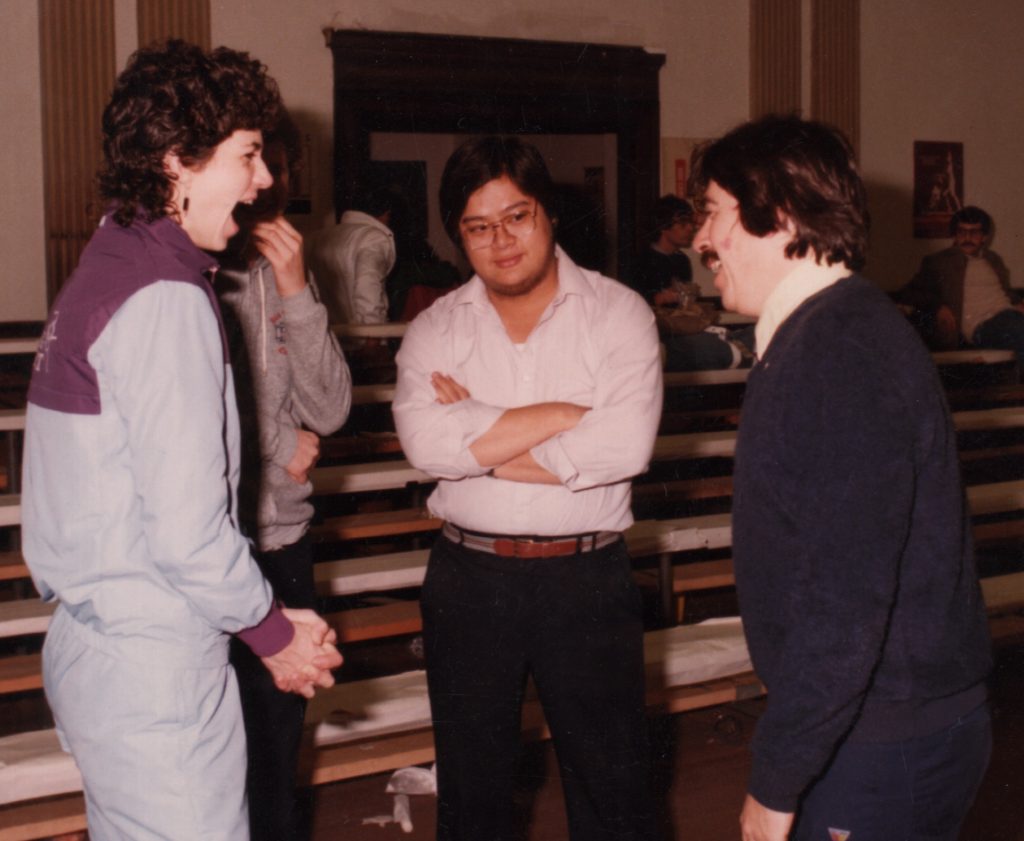 Vinnie Bradford sharing a laugh with Len.
I'll end here, with a glass of wine and a smile.  Hasta la vista, Len.