I know I've written about John McDougall in the past, but can you say too much about John?  I'm thinking that you really can't.  Let's run through the highlights.  Started fencing at Stanford in the mid-1950's.  Trained with Aldo Nadi and George Piller.  Hired Julius Palffy-Alpar away from Canada to work in San Francisco, which led to Alpar's appointment at UC Berkeley.  Founded American Fencers Supply.  Started four fencing clubs.  At least.
And, of particular significance to yours truly, founded the "Selberg/McDougall Archive" of fencing history and memorabilia.  It was this last endeavor that indirectly created the West Coast Fencing Archive.  John and Charlie Selberg's interest in preserving the history of the sport they had both participated in for so long saw them amassing quite an astounding and varied collection of ephemera, mementos and documentation related to the sport.  Shortly after Charlie's material landed in our hands and formed the foundational base for starting this Archive, John likewise put his collection in our hands.  The two collections could not have been more different.
Charlie's collection was almost entirely related to his own experience in the sport.  He kept multiple scrapbooks, filled with memorabilia.  Posters, magazines, photo collages, old swords, masks, pictures of fellow fencers and masters were all part of Charlie's material, and almost all had some significance or referential relationship to his career.
John, on the other hand, is a collector.  While having a great deal of material related to his own career, he also expanded his reach to encompass a much more international selection of material.  Stamps, postcards, cigarette cards, trading cards, magazines, books, news clippings and more are represented in John's collection, ranging from historical figures dating to the 1800's up to first-day postmark covers from more recent events.  Lots of international material too, with French and Italian magazines and sports pages, and postcards from Germany, Hungary and the USSR.
It would take an extremely long post to cover even all the specific categories in John's collection, but I want to include here some interesting examples, just to give you the flavor of things.  There are close to 500 entries in the 44-page catalog of his collection, including dates and descriptions.  His meticulous nature is evident in the care he took to document everything.  I love that sort of thing.  It appeals to my own instincts for keeping track of stuff – the one skill that has made me employable, thank goodness.
Hey, let's look at pictures!  I'll also include some info to accompany the images, some of mine, some from John's spreadsheet.
1895 Postcard, titled "Assaut au fleuret".  Unfortunately it doesn't name the participants, but at least everyone dressed up for the occasion.
This is a trading card from 1900 with the caption, "L'Honneur est satisfait!"  The 'duel' ends with a bloody nose for the fencer on the left, but what's with the backward mounted guard on the winner's weapon?  A part of the joke, perhaps?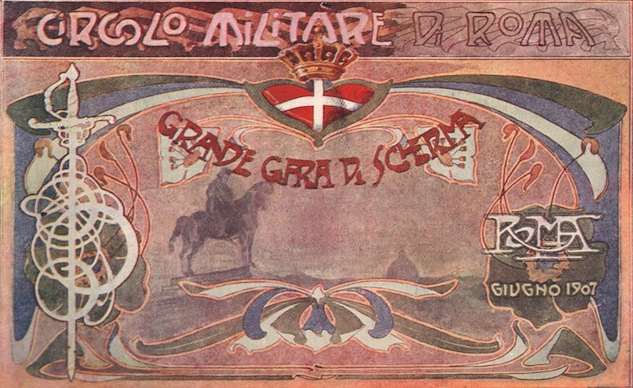 A 1907 official postcard for members of the Italian Fencing Federation.  Very Art Nouveau decoration.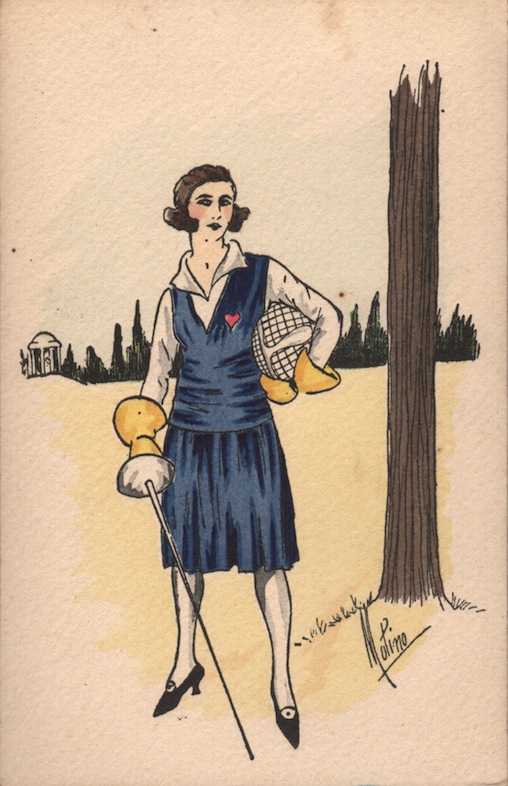 Another postcard, this one from 1920 with a fencing flapper.  John's caption reads, "This '20s gal is out in the woods somewhere, but is armed and ready to fence."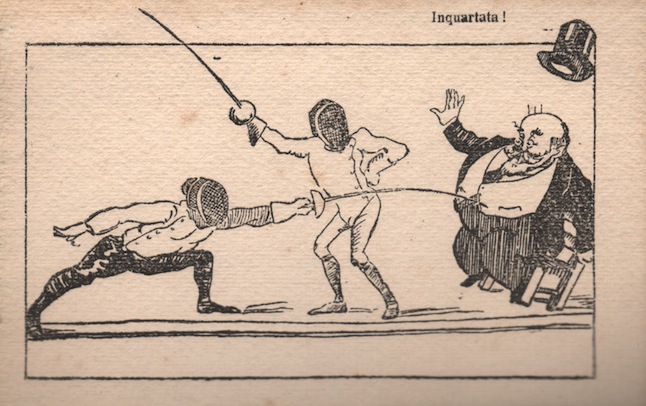 John lists this one as a 'promo card' from 1930.  Several cartoons are in this series.  The above is titled "Inquartata!"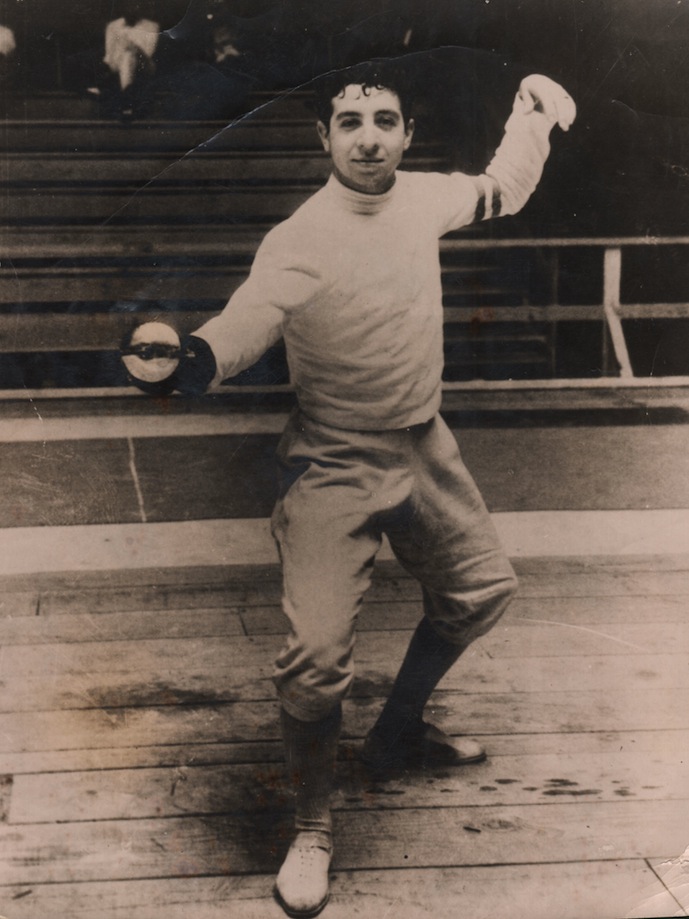 A press photograph of the Italian great Gustavo Marzi at the 1932 Los Angeles Olympics, where he won gold in men's foil.  Marzi was coached by Beppe Nadi, father of Nedo and Aldo.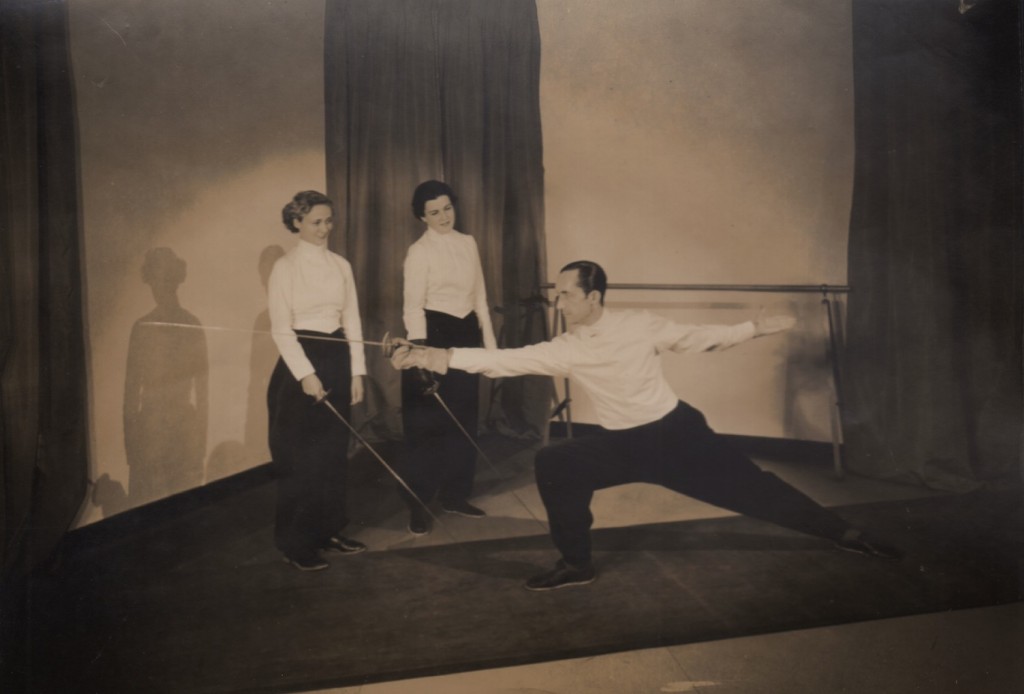 Speaking of, here is Aldo Nadi from an original photo from 1939.  The title, written in pencil on the back, reads "Fencing Class at Elizabeth Ardens".  Upon arrival in Los Angeles somewhere around the date of this photo, Nadi taught for a period of time at the Elizabeth Arden School of Beauty, one of a number of schools opened by the namesake cosmetics entrepreneur. 
A French print from 1894, titled "Assaut L'Epee a Pointe d'Arret".  Looks like serious business.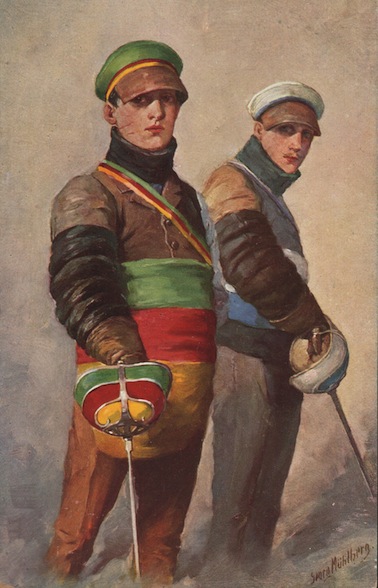 Undated postcard of a painting showing German students from Heidelberg.  The title on the back is "Die Secundanten".  Hey, what's a little facial scarring between friends?
A 1905 lithograph print from a painting by Baron Josef Arpad Koppay, titled "Besiegt", which translates to "Defeated".  I'm out of practice as a director of international fencing matches, but this seems a pretty easy call.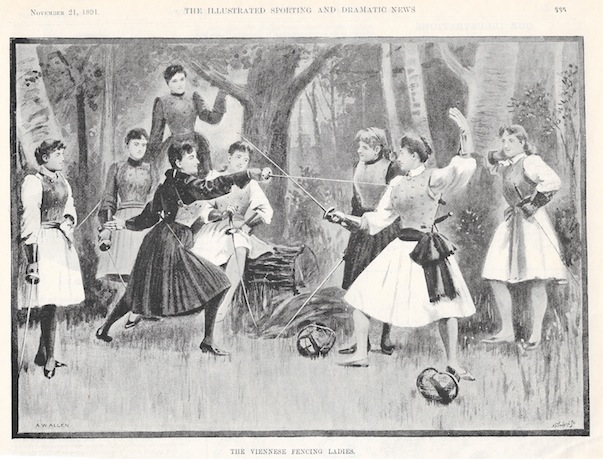 An 1891 image from the Illustrated Sporting and Dramatic News.  I wonder if you can still subscribe?  The title is "The Viennese Fencing Ladies".  If the scene instead depicted men in kilts, it could be titled "The Scottish Fencing Ladies From Hell", but alas, it is not to be.  I'll take this one, anyway.
And I'll end on this one.  A postcard from 1903 depicting the great Italian Maestro (and the instructor of Beppe Nadi) Eugenio Pini.  Ebay recently had this listed and I almost bought it until I remembered that I should first look through our collection of McDougall material.  Sure enough, John had two of these.