Ok, last week's post of cartoons with a fencing theme was very popular and I'm not above giving the people what they want – at least, once in awhile.  I mean, it's not scoresheets from the 1953 Chula Vista Sabre Invitational, but not everyone has my tolerance for obscure portions of historical minutiae.  But I know we can all agree on cartoons!
As an aside, one of these days I want to put together a collection of all my favorite animated cartoons that have fencing themes.  It starts to thin out pretty quickly after Tom & Jerry's classic, "Touché, Pussycat!"  Feel free to chime in.  Maybe we can have a movie night in Berkeley.
For this week, I return again to the very useful and entertaining pages of the Halberstadt scrapbooks for a selection of cartoons, this batch dating from 1949 to 1951.
A couple of fun notes.  The fifth one, let's call it "The Proud Fisherman", is from the pages of the New Yorker and the original art of that comic is part of the West Coast Fencing Archive's permanent collection.  So there's that.  The last one in this series, Ferd'nand by Mik, holds a special place in my childhood memories.  My parents taught elementary school for a year or two in the desert of Southern California near the town of Indio.  (Think Palm Springs, but no shopping.) One of their students was a child of the comic artist, Mik, who drew Ferd'nand, and my parents had a small stack of books filled with Ferd'nand comics, given to them by the artist, that I would 'read' endlessly.  Ferd'nand never says anything in any of the comics – no word balloons anywhere, so they were highly enjoyable to my non-reading young self.  Anyway, that one's at the bottom of this small stack of cartoon enjoyment.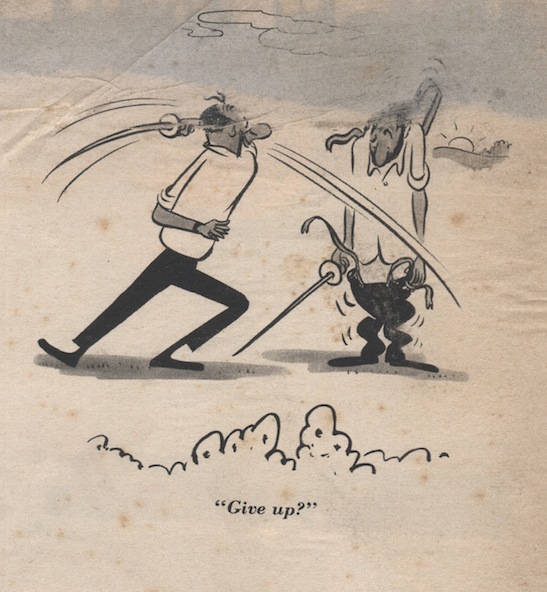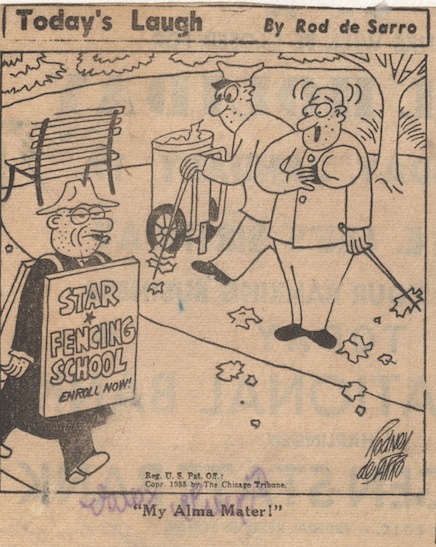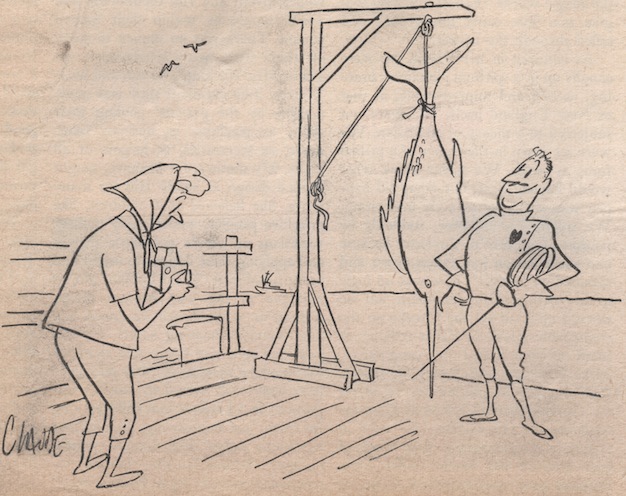 This is the one for which the original art is part of the WCFA collection, acquired from John McDougall.  Thanks John!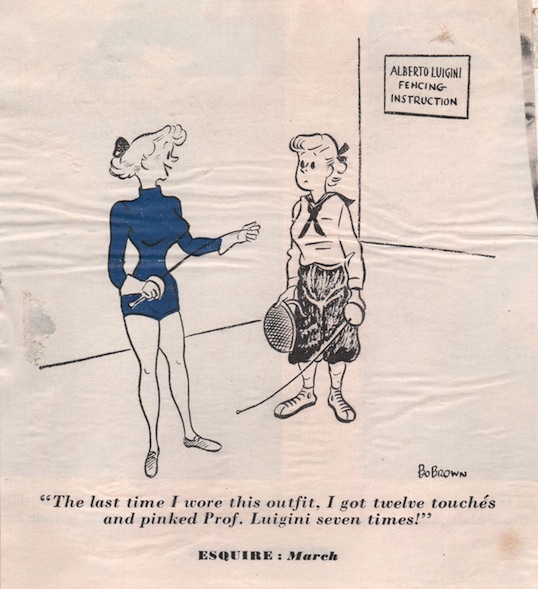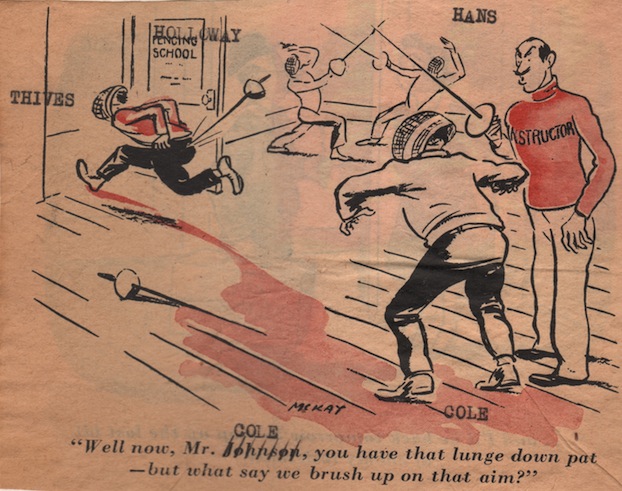 This one has been personalized to reflect some personalities of the times.  On the door, someone typed in "Holloway" above 'Fencing School'.  One of Hans Halberstadt's paying gig was teaching that the Elizabeth Holloway School of the Theater in San Francisco.

The Ferd'nand also has some writing on it that seems to put names to the characters, but unfortunately I can't really decipher it.