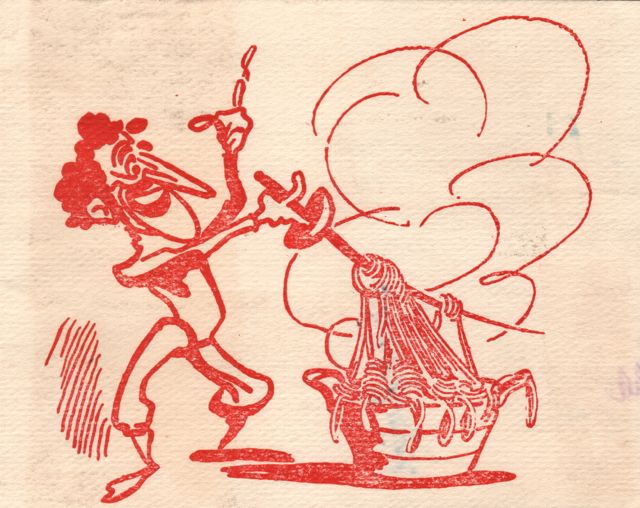 Giorgio Santelli's 1949 holiday card
The first year of the West Coast Fencing Archive's website is drawing to a close, so I thought I'd share some holiday cheer and a few thanks and thoughts.
First, many thanks to my partner-in-history, Mark Headley, who also heads up the West Berkeley Fencing Club (http://www.westberkeleyfencing.com/).  The decision that he made to preserve the collection of Charles Selberg was the foundation of this Archive and I'm busy every day because of that.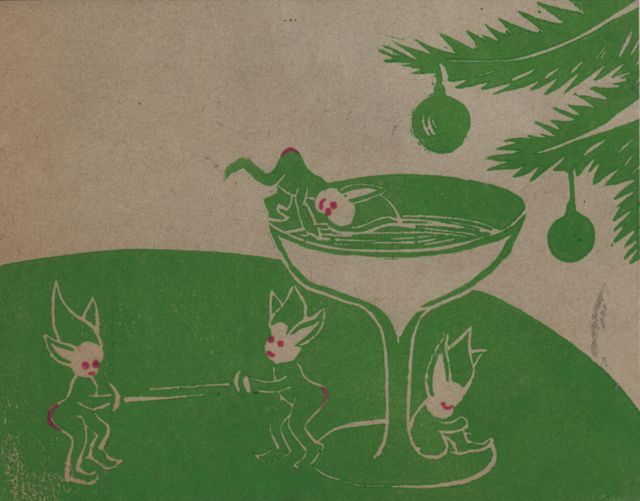 Erich Funke d'Egnuff's 1950 holiday card
Second, thanks to Greg Lynch, webmaster, videographer and editor, who runs the technology side of things and also makes himself available to drive all over the place to conduct interviews and collect items for the Archive. Our fateful breakfast right around last New Year, facilitated by Cole Harkness, started the conversation that led to the creation of this website.
Third, I'd like to thank all the people who have donated material or ideas that have propelled the collection we've amassed so far.  There are also a few that have jumped in with both hands to help put material into our collection something that might otherwise have been lost.  Now, I may miss some names here, but I'll do my best:
Debra Allen, Pat Bedrosian, James Beihold, Deborah Bjonerud, Carl Borack, Mike Botenhagen, Peter Burchard, Delmar Calvert, Len Carnighan, Bob Cotter, Bill Craycraft, Kevin Culhane, Mark Decena, Jamie Douraghy, Larry Dunn, Ebay, Phyllis Elliot, Nick Follansbee, Terrence Gargiulo, Harold Hayes, Geza Horvath, Ted Katzoff, Joy Koblosh, Kathy Kruzen, Gay MacLellan, Daniel Magay, Michael Marx, Greg Massialas, John McDougall, George Nonomura, Heizaburo Okawa, Peter Schifrin, Skip Shurtz, Laurel Skillman, Paul Soter, and Connie Yu.
Also, and it might go without saying but I'll say it anyway for emphasis, thanks to Andy Shaw and the Museum of American Fencing in Shreveport, Louisiana.  (http://museumofamericanfencing.com/wp/)  If you haven't been to his website, click away!  If you find yourself near Shreveport, go see his place.  It's amazing.  Also, if you haven't seen the documentary made about Andy, here's the official trailer: https://www.youtube.com/watch?v=2OJycVDIZSo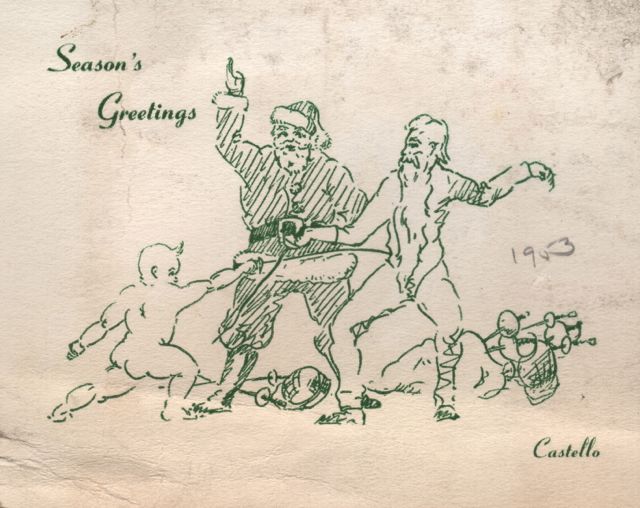 Castello Fencing Equipment's 1953 holiday card
The year was more productive than I could have imagined.  We've put up over 65 posts of written stories and interviews, adding to the available information about fencing history on the web.  Great comments have come in from a number of folks, mostly through Facebook.  New connections have been made.  Rare and one of a kind material has been saved.  Movies have been digitized.  Slides and photos have been scanned.  Money has been spent on Ebay.  Okay, that would have happened anyway, but I have found some very interesting things out there!  As have others – and some things purchased by others have been shared with me.  Thanks, y'all!
I guess that brings me to the point of all this.  Our purpose in founding the Archive and putting up the website has been to share what we've found.  In all things historical, the more copies that are distributed, the less likely that knowledge will be lost.  An interesting comparison (to me) is this: 75% of the films made during the silent movie era, essentially pre-1928, have been lost or destroyed.  Our fencing history is, like film, often kept alive through the collection of material that is ephemeral; books, photos, newspapers and, more recently, films and videotapes.  The goal of the West Coast Fencing Archive is to get the material that passes into our care digitized and online.  Goodness knows I can still find online archives of flame wars in which I became embroiled back in 1991.  I'm much happier imagining that the work we're doing here now is of significantly greater interest to future fencers.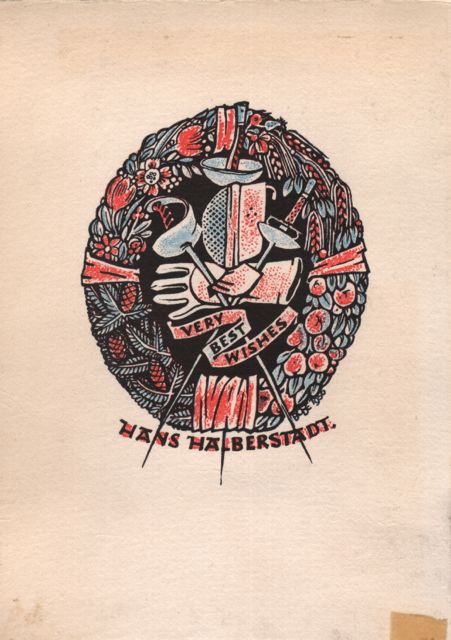 Hans Halberstadt's 1957 holiday card
Before I sign off for the year, I'll reiterate one of our standing offers.  If you have material that you believe would be of interest to us or know someone who does, please make contact.  We can help you get your material digitized and archived, we'll treat it with respect, and the originals can come back to you.  Drop us a line & we'll figure it out!
Happiest of Holly Daze.  We'll be back in January.
Cheerio!