It's always entertaining to find some new reason to write about Hans Halberstadt, the namesake of the still-in-existence San Francisco fencing club (http://halberstadtfc.com/content/).  In attempting to self-analyze why writing about Hans is so enjoyable for me, the only thing I come up with is that in almost every group photo of him I've seen, he appears to be having the best time.  He seems to be someone that would have been fun to know.  Based on how people I've spoken with remember him, that's Hans.  A character.  A memorable friend.  A wit, raconteur, bigger than life personality.  Thus, for today's entertainment, I turn to digging into the HH fun fact file with a perusal the 1928 Olympic Record.
Hans competed for Germany in the 1928 Olympics.  He was 43 years old and 10 years away from having to flee the country to escape the Nazis.  Hans was born and raised in Offenbach am Main, Germany, and represented the Offenbach Fechtclub.  He was twice German National Champion in epee, in 1922 and 1930.  The first of his championships is interesting, as he most likely defeated the great Erwin Casmir.  Casmir's record in the German championships is astounding: foil & epee champion in 1921, foil & sabre champion in 1922, then champion in all three weapons from 1923 through 1928 when he must have gotten bored and stopped attending.  Perhaps they awarded him the title of "Champion for Life" or something, since it was certainly not the end of his competitive career.  He was one of only two fencers representing Germany in 1932 at the Los Angeles Olympics (Helene Mayer being the other), plus he took two bronze medals in 1936/Berlin with the German foil and sabre teams.
At the Amsterdam games of 1928, Hans competed in the individual epee event, team epee and team sabre.  First up for Hans was the individual epee, or sword event, as it was called at the time.  Intriguing format.  Four rounds.  Single touch bouts in rounds 1 & 2. Two touch bouts in semi & final rounds.  First round: 6 pools of 10, 6 advance.  Second round: 3 pools of 12, 6 advance.  Semi-final: 2 pools of 9, 5 advance. Final pool of 10.
Here is Hans' first round pool: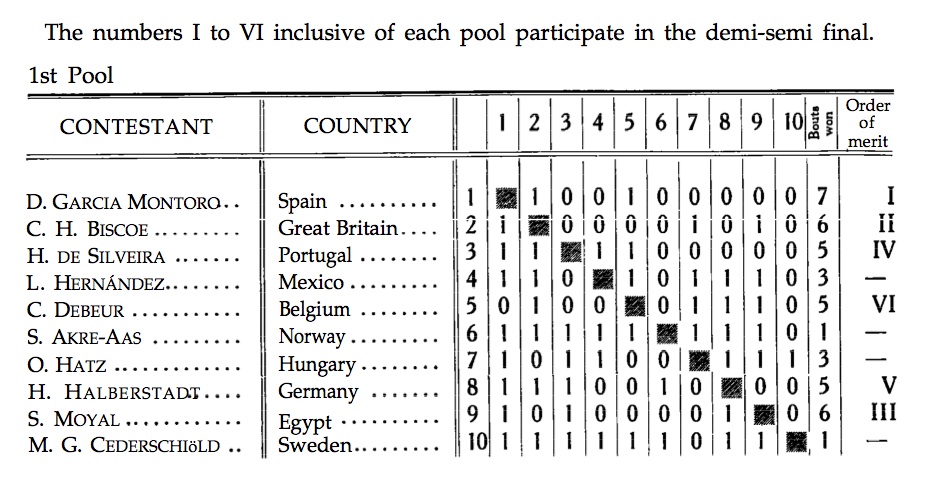 "Demi-semi final".  That's "Quarter-Final" to you and me.  Hans is up 5th with 5 victories.  Check out the bout between fencers 1 & 2; double defeat!  It seems to be the only one in the pool.
Hans' result in the second round is a mystery, as the only available online scan of the 1928 Olympic Record book that I could find is missing page 600.  Wouldn't I love to have the original!  However Round 2 went, Hans survived the Demi- to the Semi-Finals: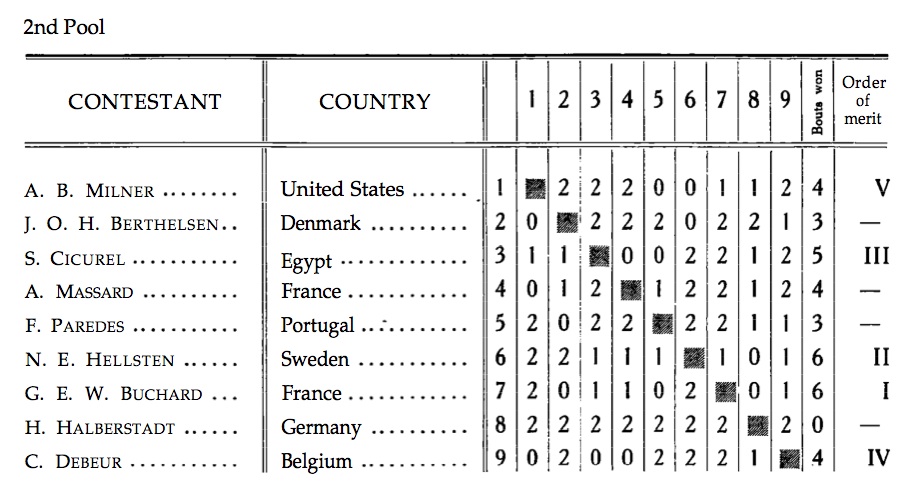 Alas, Hans goes down in flames in his Semi pool with one double defeat, 5 losses at 2-1 and getting blanked twice.
The eventual winner was Lucien Gaudin, who also won gold in the individual foil.  Buchard of France, who blanked Hans above, took the silver.
The individual epee was followed by the team epee.  The four-man German team consisted of Hans, Fritz Jack, Theodor Fischer and Fritz Gazzera, son of Hans' coach, Arturo Gazzera.  Interesting layout for this event, too.  Four rounds again.  First round: 7 pools of 3 teams each, 2 advance.  Second round: 4 pools, 2 of 3, 2 of 4, 2 advance. (Say what?  Seems a bit unfair to the 'pool of 4' groups, although I don't know how better to divide up 14 teams.) Semi-final, 2 pools of four, 2 advancing to Final of 4 teams.  Germany goes down in the second round, but must have been well rested as one of their opponents, Finland, withdraws in the first round.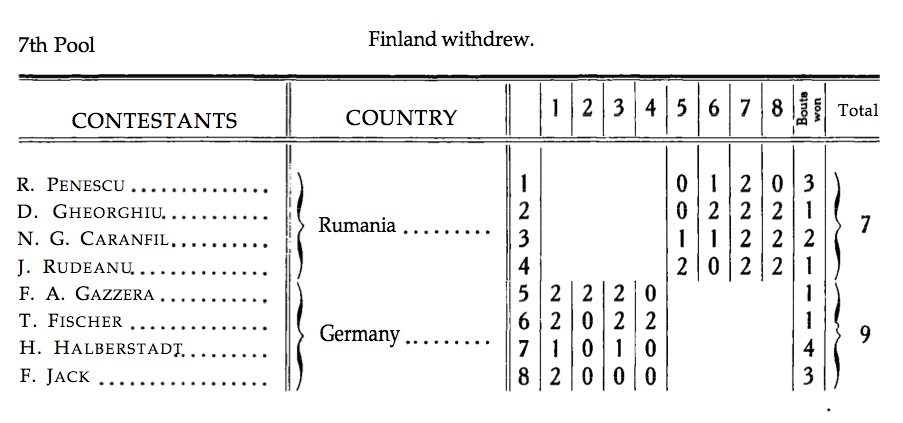 At any rate, they defeat 'Rumania' 9-7, again fencing two-touch bouts.  Hans goes undefeated, and is heralded as the Lion of Offenbach.  Ok, I made that up.  But hey, undefeated!
They draw one of the pools of 4 teams in Round 2.  First up, the eventual gold-medal team, Italy: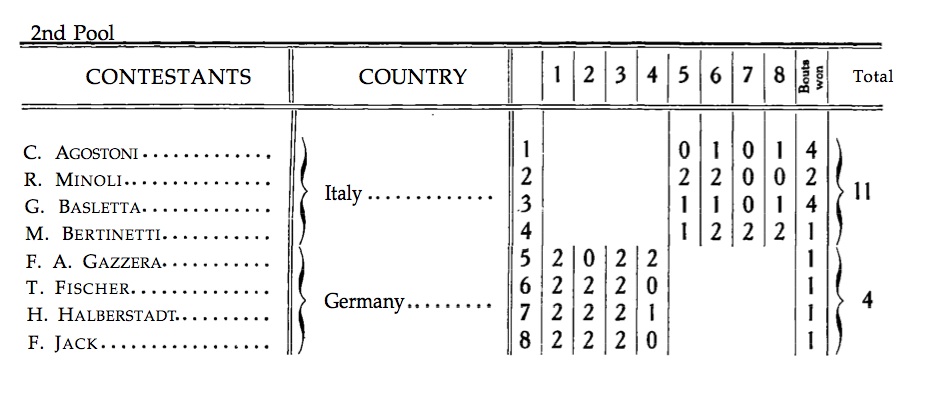 Here the Germans can only muster one victory each.  Next up, Egypt:

Hans wins 3, but the Egyptians come through with a strong performance and take the win.  With Spain up next and little chance of advancing, Spain (the other team in their quadrant) having already defeated the Egyptians, this will be the final match for the German epeeists:
They fight to a draw with Spain, 8 bouts apiece and the same number of hits received.  If Germany had defeated Egypt, I don't know how this resolves, but since they could not, the Spaniards advance 1-1-1, along with undefeated Italy.
Ok, everybody.  Who's still with me?  Let's look at a picture!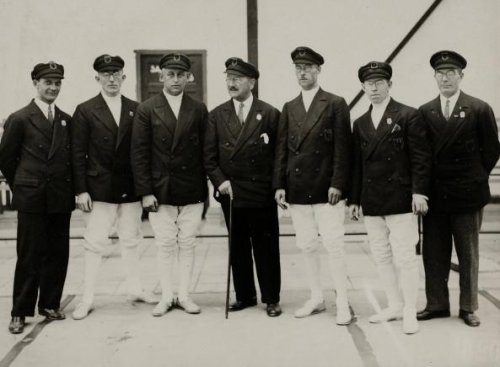 The German 1928 Olympic sabre team and some friends.  L-R: unknown, Heinrich Moos, Erwin Casmir, unknown, Hans Thomson, Hans Halberstadt, unknown.
Everyone refreshed?  Let's look at more pool sheets!  Time for the Team Sabre event!
Only three rounds for this event.  Round one: 4 pools of 3 & 4, 2 advance to Semi-Final, 2 pools of 4, 2 advance to a Final of 4.  In the first round, Germany draws a pool of 3.  Both Belgium and Germany defeat the team from Chile:
…and so it's on to the Semi-Finals for Germany!  Here they draw Hungary, France and Turkey.  In their first match, they draw the powerful Hungarian team:

Each of the Germans come through with one victory, but there's no stopping the individual gold & silver medalists, as Petschauer and Tersztyanszky go undefeated.  Incidentally, Petschauer was undefeated throughout this team event on the way to the team gold medal.  Lion of Hungary, perhaps?  Anyway, the Germans next face Turkey, and come away with a near sweep: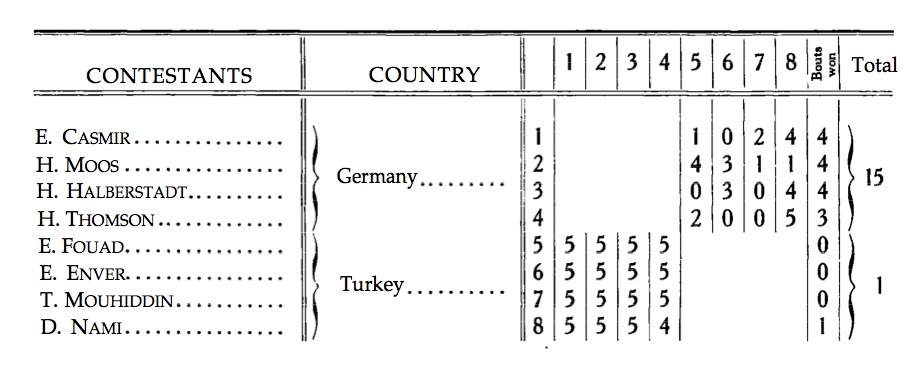 Thus, the telling match will be against France to make the Final four.  Without Casmir, the Germans would have been adrift, but he sweeps the French and everyone else contributes at least one victory:

Moos and Halberstadt come through with big bout victories, each defeating the very strong Roger Ducret by scores of 5-4.  The match goes to 8-8, and the Germans advance based on having fewer touches received, 61 to 64.  On to the Final Four!
Now, something I really fail to understand happens in the final.
The first bit, I understand just fine: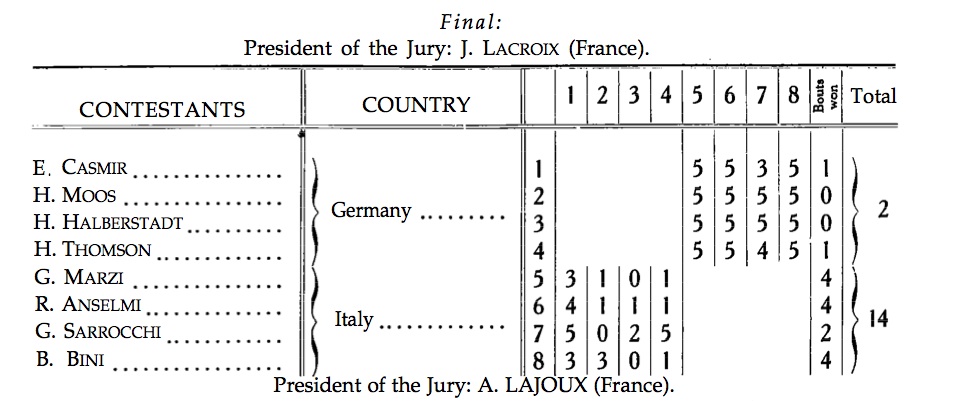 The excellent Italian team defeats Germany 14-2.  On the other side of the room, the Hungarians defeat the Polish team by the same margin.  Next, the Germans face the Poles, while the Italians and the Hungarians slug it out.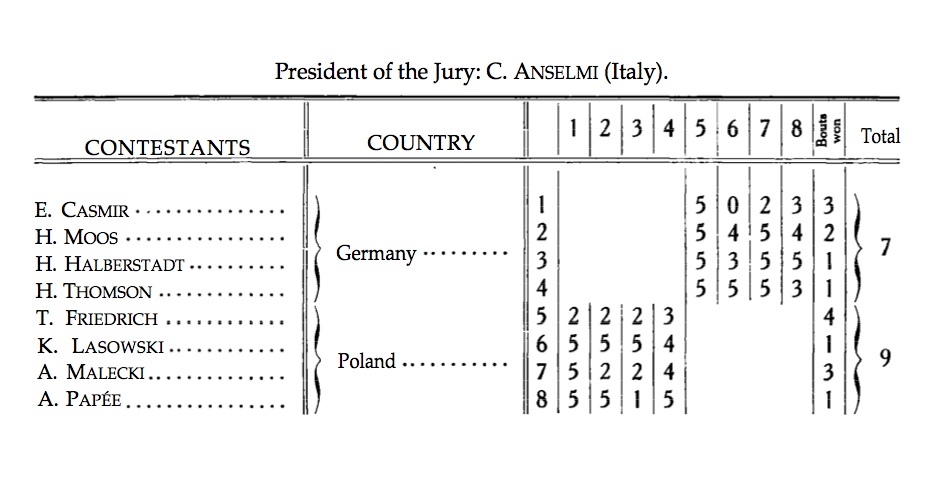 The Polish team takes Germany by the score of 9-7.  The final touch count is 59 received by Germany, 57 by Poland, so if the Germans had won one more bout at 5-3, they would have been victorious at 8-8, 57/59.  Alas, not to be.  Meanwhile, across the room:
Petschauer wins out, driving the Hungarian victory, but it's that last sentence under the pool results I don't understand.
"As the result of this pool was decided by these four events Hungary and Germany, Italy and Poland did not meet."
I get that the margin of victory in the first matchups were heavily skewed to the winners, but if Poland somehow defeats Italy, they're both 2-1 in match scores, which ought to supercede bout counts, shouldn't it?  And if Germany (with an intersession from Ares or Thor – maybe both) defeats Hungary, then Hungary is also 2-1.  If the Italians win and Hungary loses, then Hungary and Italy are both 2-1.  Either way, with a victory by Germany and/or Poland in the final matchup, you've got reason for either a 2 way fence off or a 3 way fence-off.  Or, if team fence-offs are not in the offing, you'd need to count bout scores or touches.  None of that would help Germany to a medal, but not fencing the final matches mystifies me.  As they say on ESPN, "That's why you play the game."
At any rate, the gold/silver/bronze/thanks-for-playing goes Hungary/Italy/Poland/Germany.  That's as close as Hans Halberstadt ever got to winning an Olympic medal.  And really, fourth place by one bout – just a couple extra touches – that's pretty darn close.
For all those who read through this to the end, I thank you.  It's entirely possible that the fencing-knowledgeable reading public has little patience for reviewing pool sheets dating back nearly a hundred years, but I eat this stuff up.
Call me crazy.  You wouldn't be the first.