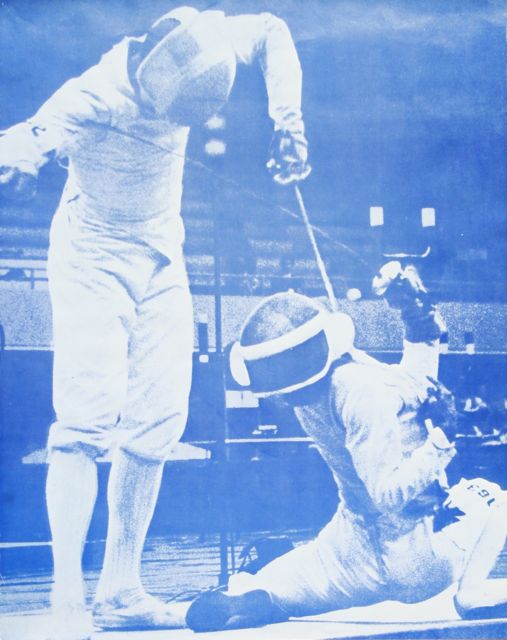 Heizaburo Okawa has been quite a few places and seen a lot.  And accomplished a fair bit in the process.  Let's run it down, shall we?   Three time Olympian for Japan: 1960, 1964 and 1968, competing in all three weapons in 1964.  Three time Japanese National Foil Champion in 1963, 1964 and 1967.  Twice US National Foil Champion in 1967 ad 1968.  Martini & Rossi finalist in Sabre.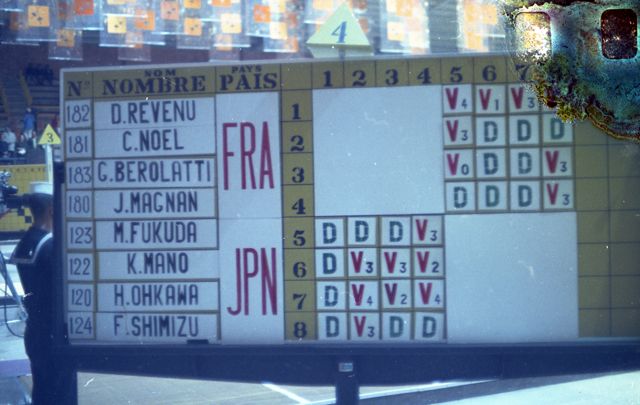 Fourth at the '64 Olympics in Team Foil. 8-8, Japan losing on touches.
The above blue poster is Okawa (low) vs Magnan (high), but I don't know if it was taken during this match with France at the 1964 Olympic team event.  Okawa trained in France (for his Maestro, at least) and traveled with his teammates to East Germany.  Not sure of the year on these various trips, but we've got interesting photos from them, nonetheless.
In East Germany.  Okawa is 2nd from right.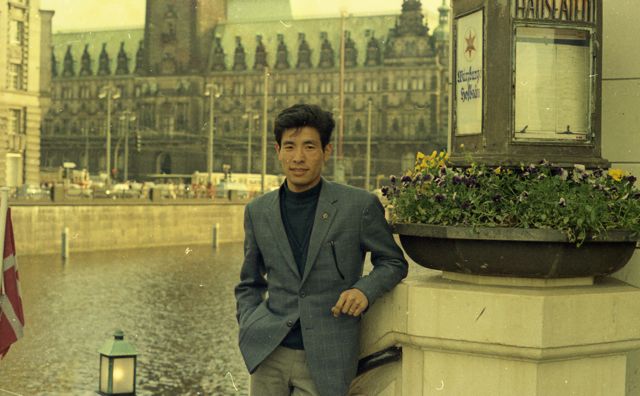 East Germany in the background.  Heizaburo in the foreground.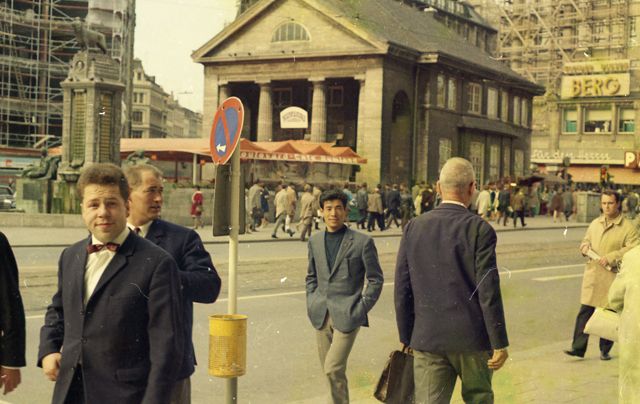 Out for a casual stroll.  Could you stroll casually in East Germany?  I guess you could.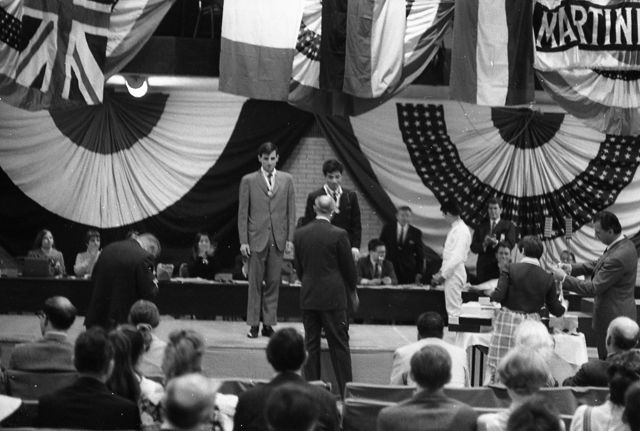 Top 8 finish at the Martini & Rossi New York International Sabre.  Okawa was eliminated by the Hungarian Peter Bakonyi.  I haven't yet figured out what year this was.  Okawa also had a 2nd place finish in a Martini & Rossi foil final, again year unknown.
Alright.  The above photo led me on a long quest for more information on Martini & Rossi competitions.  To say that they are not well documented is giving too much credit.  The years, the events held, the finalists, even the winners, are not well documented anywhere (on the internet) that I could find – and I'm a fair hunter via Google, if I say so myself.  There are news articles from the NY Times, but like all fencing newspaper articles, they are lacking in depth of information.  In writing that, it makes me wonder about other international competitions of long standing.  Do they self-document?  Take the Paris CIP, a long-standing men's foil event.  Do they post their historical results?  I haven't looked yet, but I think I'm about to.  The Martini & Rossi in New York was a tournament of great tradition and held for many years, but I know for certain that Andy Shaw rescued the silver-and-ivory men's sabre trophy from a box that was otherwise to be thrown away.  How did it come to that?
Aw, heck.  I'm just ranting now.  Anyway, if you have results or know someone who does, feel free to send them my way; I'll put them up!
Back to the topic at hand.
Heizaburo Okawa won the Japanese National Foil Championships three times.  I don't know which year the following is from; I don't think it's as late as '67, but it's hard to tell.  The footage is on the same reel as a women's foil event that appears to be a local LA competition, based on a recognizable few.  But, black & white film.  Whenever it's from, Heizaburo gets a nice trophy.  Look and see!