Well, I'm on a roll with this footage, so I'm just going to keep on going.  We're back at the 1958 Pacific Coast Championships.  This time out, we've got the Women's Foil Finals, pitting Olympic teammates Janice Lee York-Romary against Maxine Mitchell.
Jan Romary attacks Maxine Mitchell.  Max looks to land a riposte.
For those of you keeping score at home, Jan York-Romary was on six Olympic teams, finishing 4th in both 1952 and 1956 Olympics.  In four of her six Olympics, Jan had the highest finish of the American women foilists.  Maxine Mitchell was on four Olympic teams, and she finished just behind Romary in '52 in 5th place.
These two women were part of a period of domination by Southern California women's foil teams that won the National Team Championships 9 times from 1948 through 1962.  Indeed, Jan and Maxine were on several winning teams together, including their victory with just the two of them for a three person team.  Giving up 3 defeats per match, they still won Nationals, each dropping only one bout over the course of the competition.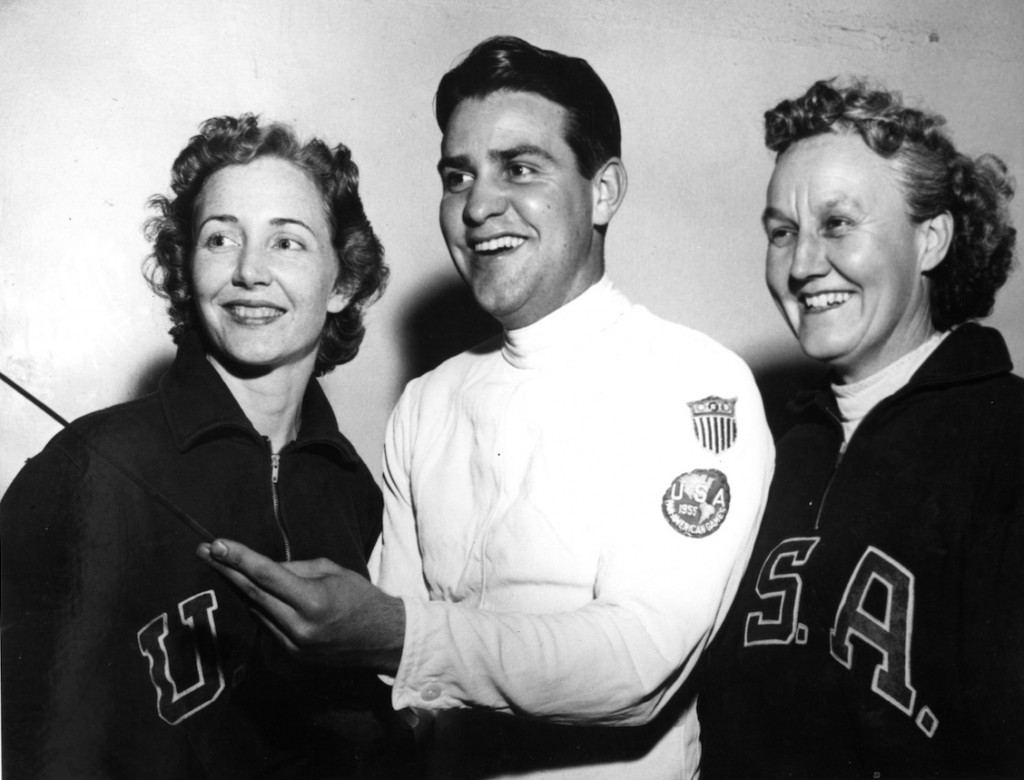 Jan and Max flank 1956 National Men's Foil champ Sewall "Skip" Shurtz.  This photo was taken at the 1956 Nationals, where Jan & Max won the 3 person team without a 3rd teammate. 
Keep in mind that the below footage is just one of innumerable battle waged between these two fantastically successful competitors.  Just look at this year-by-year summary of the Women's foil Nationals:
1950 – Janice York (Romary)
1951 – Janice York (Romary)
1952 – Maxine Mitchell
1953 – Paula Sweeney
1954 – Maxine Mitchell
1955 – Maxine Mitchell
1956 – Janice York Romary
1957 – Janice York Romary
1958 – Maxine Mitchell
This encapsulates all of Maxine's National Championships and begins with Jan's first win in 1950, but of course Jan won a further 6 times, her final Nationals victory coming in 1968.
For now, we take a look at a 1958 battle for the title of Pacific Coast Champion.  A non-electric match, with touches being scored against.  (Full disclosure: Jan wins…)