As we here at The Archive continue to mine the amazing things found in the trove acquired from Heizaburo Okawa, I find myself drawn to the filmed elements we had transferred to digital. Like a lot of home movies shot in the days of yore, often the camera was loaded up with film and taken along to some event or other, film is shot, but more is left on the reel. So, another event, more shooting, and so on until the film is used up. Then off to get developed it goes and it comes back with multiple events tied together on a single reel. Or in the current case, a lot of film is shot at a single event but only from the point of view of the person with the camera. Hence, there is no continuity of action, moving from one thing to another and back again.
To make a little more sense of the footage, we've been tying things together to match up events that should be strung together. The good thing is that it's easy to tell which comes first, as the film reels are shot straight through, so things early in the reel happen before things later in the reel. That part is easy. The tricky part is trying to identify who's who. In most cases, especially with things as old as today's installment which was shot in 1958, there aren't many folks still around that could tell us who every person is. The more well-known or famous fencers I've come to recognize fairly easily. In some cases, I might spot someone who's been of particular interest to me. But the mystery folks who've stumped me? No idea.
The footage today of the 1958 PCC's Sabre final is an interesting case in point. There are a number of identifiable folks, some who I'm not certain of, and some others that I can't begin to guess. Fortunately, at the very end of the clip is a shot of the finalized scoreboard, which is a godsend for at least knowing who the competitors are.
Since there isn't enough footage to really build up drama for 'who will win?', I think I can just spell out the placement and you can take it from there while watching.
First Place (Undefeated): Attila Keresztes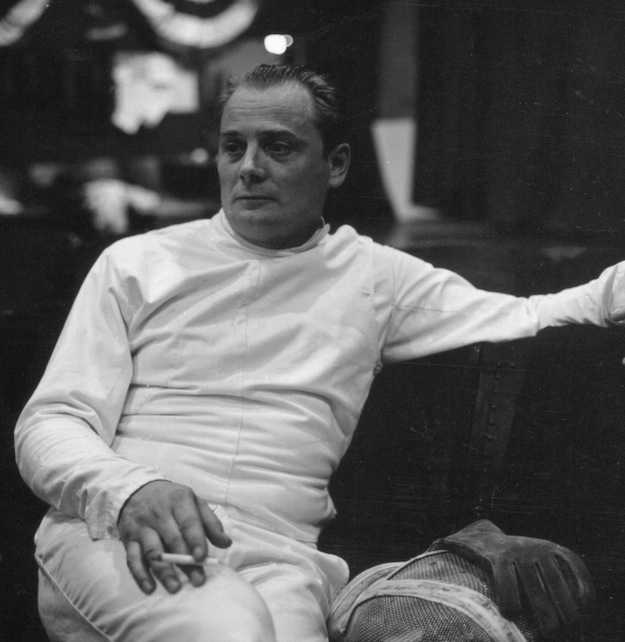 Attila Keresztes in 1962
Keresztes was easy to spot. As one of three team members of the Olympic Gold Medal winning Hungarian Sabre team from 1956 who defected and came to the US, he is head and shoulders better than everyone else. He's light on his feet, makes some beautiful stop hits and looks every bit the world-class fencer he was.
Second Place (Three Victories): Josef Lampl
Joe Lampl, of whom I have no photo, was a mainstay of Los Angeles fencing for probably 20 years, competing for the LAAC. In going back through old issues of American Fencing Magazine, his name is mentioned with regularity as the winner or finalist of this tournament or that.
Third Place (Two Victories, +4): Werner Kirchner
Werner Kirchner from a 1958 news article about rocket scientists.
Kirchner fenced for Cavaliers and was eventually a member of the 1969 World Championship team. I don't know much more about him, except that he was a rocket scientist.
Fourth Place (Two Victories, -2): Jack Baker
Jack Baker fenced in Nor Cal and represented many clubs over the years, including Halberstadt and Pannonia. He, along with Alex Orban, Daniel Magay and Gerard Biagini, won Sabre Team Nationals in 1961 for Pannonia. Jack Baker was a long-time administrator for the NorCal division. So much effort and, upon his death, money, did he donate to the fencing community that the USFA now has an annual service award named after him.
Jack Baker (L) and Alex Orban from a 1961 photo take at the US Nationals.
Fifth Place (Two Victories, -5) Alex Orban
Alex Orban, the future 5-time US National Sabre champion, escaped from Hungary at the age of 16 and arrived in California in early 1957. I'm fairly certain he was just 17 at the time of this tournament and still a fairly raw talent. Settling New York after military service in 1965, he blossomed under the tutelage of famed Hungarian coach Csaba Elthes, winning Nationals in '65 and four times in a row from '69-'72.
Sixth Place (One Victory) Daniel De La O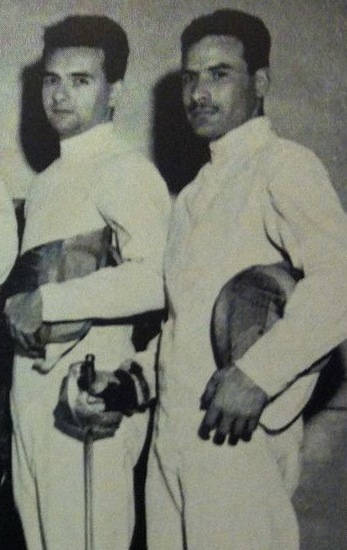 Daniel De La (R) with Cal Berkeley teammate and Olympic Gold Medalist Daniel Magay.
Daniel was another NorCal fencer. In 1958 he was a student at UC Berkeley and a member of the Cal fencing team that was coached by Olympic Gold Medalist and Olympic coach, Gyorgy "Uncle George" Piller. De La O competed, mostly in the Bay Area, for years after college and was often a finalist of local and regional competitions.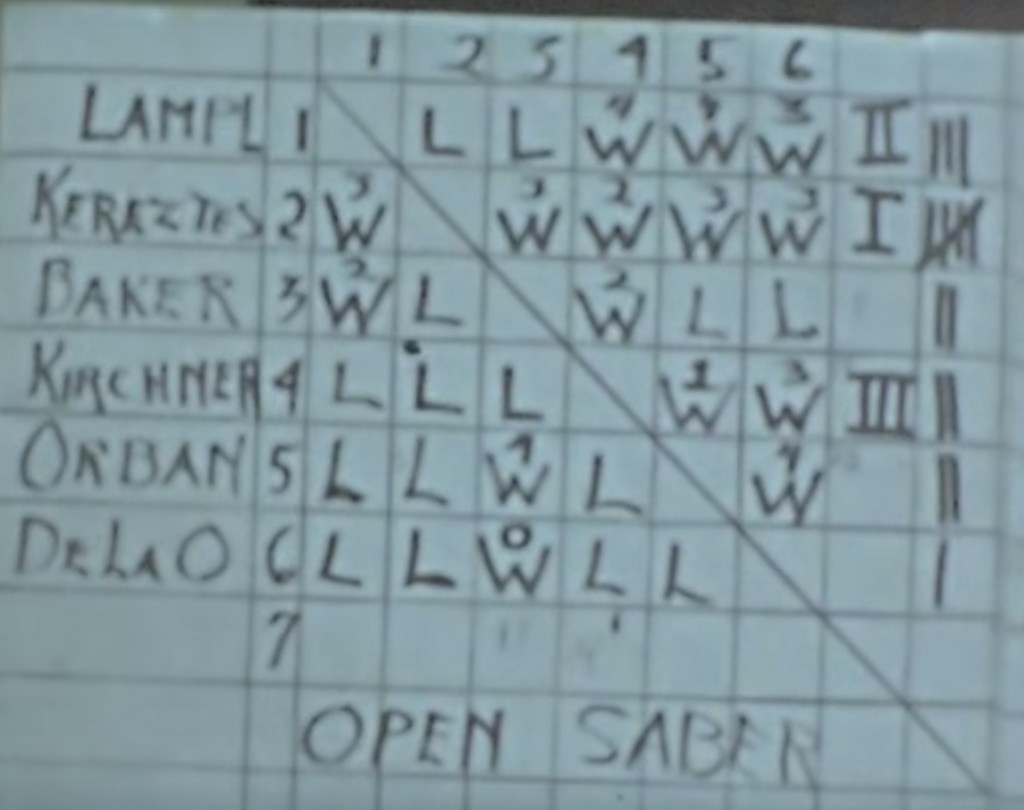 Here's what the Big Board looked like at the end of the event.
With that introduction, here is the footage from the 1958 Pacific Coast Championships Men's Sabre Final, held at the Statler Hilton Hotel in Los Angeles, California. Keep in mind, this is back when touches were scored against you. So after an action, if the director is pointing in your direction, that's bad….