After a too-long hiatus from posting to the site, I figured I'd start simple.  But, like everything, there's a bit more to the story.
Over the summer, Friend of The Archive Jamie Douraghy had the excellent idea of calling me to let me know that retired fencing master Heizaburo Okawa was downsizing this house clutter and was looking to potentially toss some old and somewhat water damaged fencing memorabilia.  Furthermore, when Jamie asked me if I might want any of the material and I answered, truthfully, "No, I want ALL the material", he made arrangements, along with Archive videographer Greg Lynch to intercept the material that was otherwise headed to, and in some cases already in, a dumpster.  See for yourself.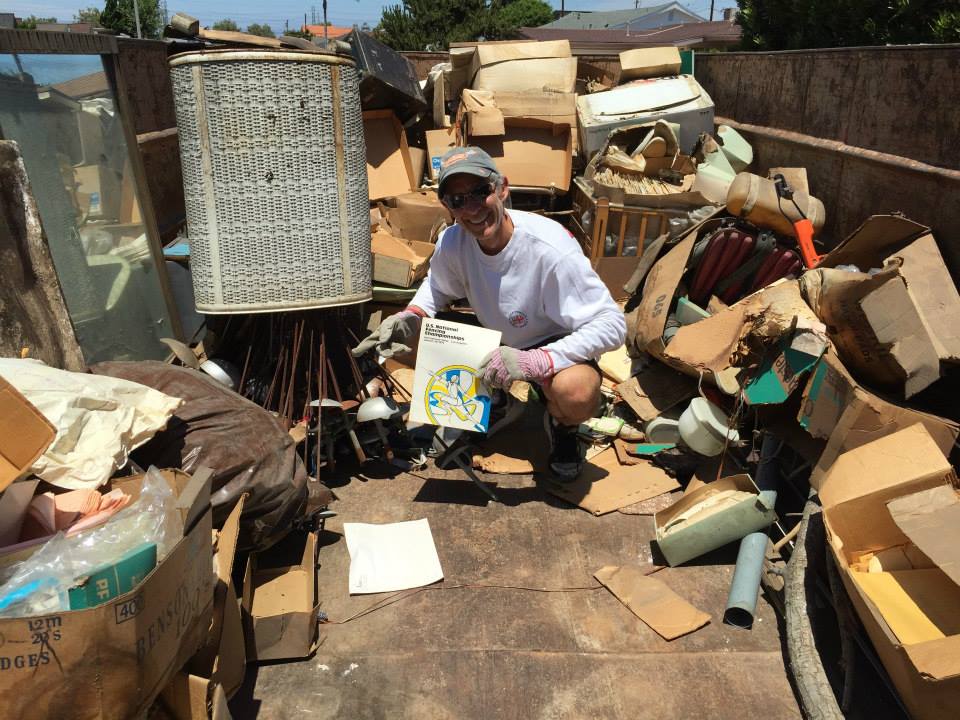 Jamie Douraghy to the rescue!
Heizaburo hadn't gone through this material for a long, long time.  But when he did, he was able to discover a few things that he likely had forgotten all about.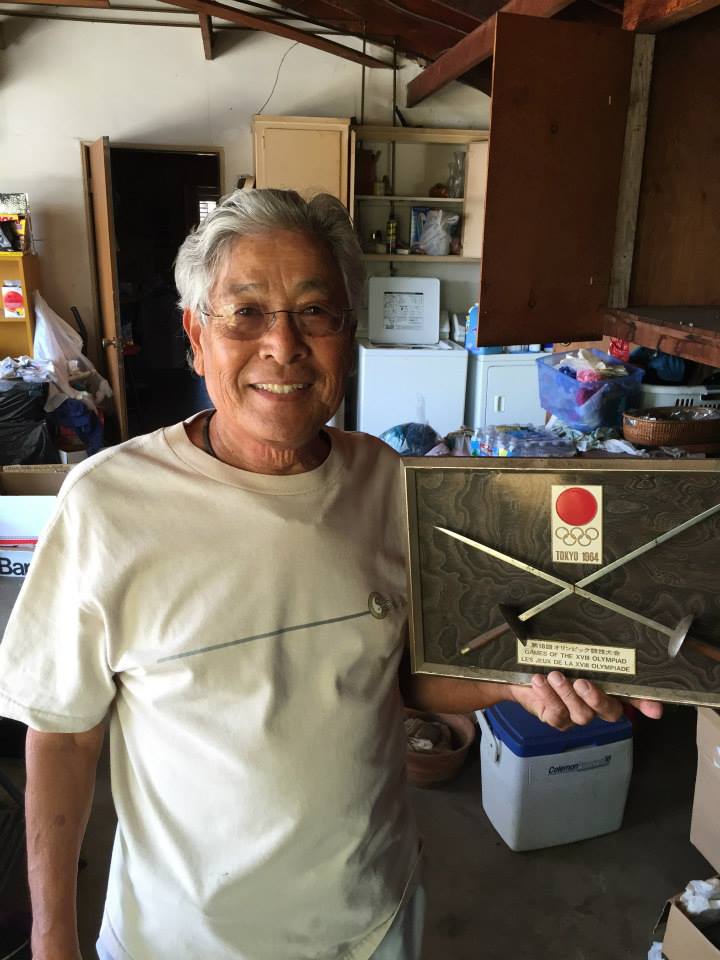 Heizaburo Okawa holds up his participation award for the 1964 Tokyo Olympics, where he placed 9th in Men's Foil.
Jamie and Greg rescued some amazing memorabilia for The Archive and I'm in their debt, no question.  And for me, one of the most exciting things to discover are old home movies.
Film treasures?  Oh, believe it!
Greg and I arranged for the film to get transferred to digital files so we could both preserve them and (more fun) look and see what we've got.
Now, I won't lie.  There's some amazing things forthcoming from this batch.  Most of the footage was shot by Torao Mori, Heizaburo's father-in-law, who was not only a fencing master but also an 8th Dan Kendo master.  There is material from the 1958 World Championships, which were held in Philadelphia, local LA tournaments with Jan Romary and Maxine Mitchell – one with Maxine fencing left-handed, which dates it to 1957, the year she fenced left-handed while recovering from an injury sustained at the '56 Olympic games, an outdoor tournament at Griffith Park with Skip Shurtz fencing epee.  Plus, a fair bit of footage with Heizaburo Okawa fencing in, and winning, the Japanese National Foil Championships, which he won in '63, '64 and '67.  Not to mention the ceremony in Japan of Mori receiving his 8th Dan award.
But like I mentioned above, I'm easing back in to the posting of stories to the site, so let's start with something fun!  One of the film reels was shot at the 1958 Pacific Coast Championships.  Some great footage of Attila Kerezstes winning the sabre, Alex Orban as a 17-year-old sabre finalist, along with quick shots of various fencing folks like Jack Baker, Joseph Vince, Ralph Faulkner and many others.  Among them was this little bit.  Hans Halberstadt dines with friends at the fencing venue, the old Statler Hilton Hotel, a now demolished mid-century modern Los Angeles landmark.
Without further ado, I give you Hans Halberstadt, enjoying life, a meal and a drink!