Captain John Duff.  In some circles, his name still resonates.  He won the second ever 24 hours of Le Mans auto race and was known as one of "The Bentley Boys", the early drivers who, with their numerous victories all over Europe, put the Bentley automobile on the map.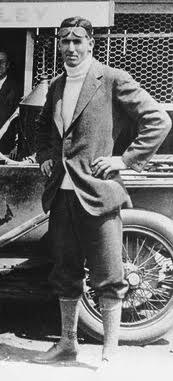 Captain John Duff – a Bentley Boy.
He also coached a young UCLA student to a berth on the 1932 US Olympic Team. That's later.  One thing at a time.
Born in China in 1895 to Canadian parents, he grew up around his parents' trading business in Kuling. They are listed in "The Directory and Chronicle for China, Japan, Corea, Indo-China, Straits Settlements, Malay States, Sian, Netherlands India, Borneo, the Philippines, Etc." (…and that's a long book title…) with an entry that reads:
Duff, J.L. – Provision Merchant "Kuling Dairy"
Upon reaching school age, he was sent to Canada for his education, leaving school at age 16 and arriving back in Kuling after turning 17.  He spent another two years in China, until the advent of the First World War.  According to his student, Harold Corbin, he traveled across the Trans-Siberian railroad to Moscow, across Russia to St. Petersburg and eventually by ship to London, where he enlisted in the British Army.  He earned his title of Captain as a commando in the British forces, sneaking across enemy lines at night to wreak havoc in the foe's trenches.  Wounded in the Battle of Passchendaele (or the Third Battle of Ypres, if you prefer), one of the bloodiest encounters of the war, he recuperated in England and there married his nurse.  Returning to France after the war, he took up fencing to help encourage a return to full strength and was said to have won some tournaments.  He also took up driving at this time and in 1920 opened an auto dealership and began racing.  At this time, race drivers were car-owning speed enthusiasts, driving cars they owned and worked on themselves.
He had great success with his first couple of cars – Fiats – until coming into his own with his first Bentley.  It was Duff's enthusiasm for the 24 hour Le Mans race (he was the first entrant in the premiere running, 1923) that lead to W.O. Bentley becoming enamored of that race, putting resources at the disposal of Bentley drivers to assist their efforts. Bentley cars won five of the first eight races at Le Mans. Duff and his driving partner, Frank Clement, won the second Le Mans together in 1924, driving Duff's Bentley 3 litre Sport, which looked something like this: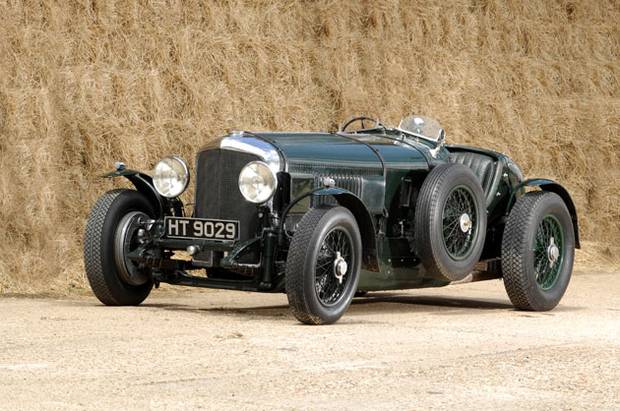 A 1924 Bentley, similar to the 1924 Le Mans winner driven by John Duff.
In 1926, after setting numerous speed and time records at races all over Europe, Duff came to the US and was a replacement driver for the Elcar motor company in the Indy 500, when their original driver was injured trying to qualify.  He ran ninth at Indy, continued with a few more races and was then injured in a wreck at the Rockingham race track in New Hampshire.  It was the second serious wreck for Duff and he had promised his wife after the first that another would be the end of his racing career.  True to his word, he gave up auto racing and moved his family west to Santa Monica.  There he opened a fencing studio.  Harold Corbin gives the address as 1759 North Highland Avenue, which, if you don't know Hollywood, is right around the corner from the Dolby Theater where they now hold the Oscars ceremony.  Duff did some stunt work in Hollywood, supposedly doubling for Gary Cooper in a horse riding scene.  ?By 1927 he was teaching both at his own fencing studio and also at UCLA, which was at that time located not in Westwood, but in East Hollywood on Vermont Ave between Melrose and Santa Monica.


Duff in 1928 as the Instructor at UCLA.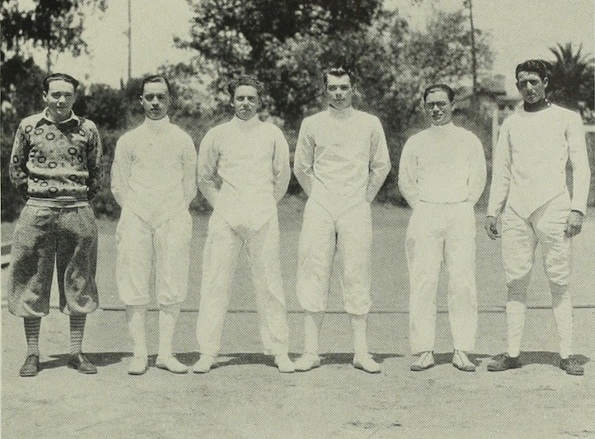 Duff at far right, with his 1928 UCLA team.  And their manager.  On the left.  The one not dressed for fencing.  
Duff also did some competing.  The below photo (courtesy of Andy Shaw, Official Historian of the USFA: http://www.museumofamericanfencing.com/site/) is from the 1928 Pacific Coast Championships.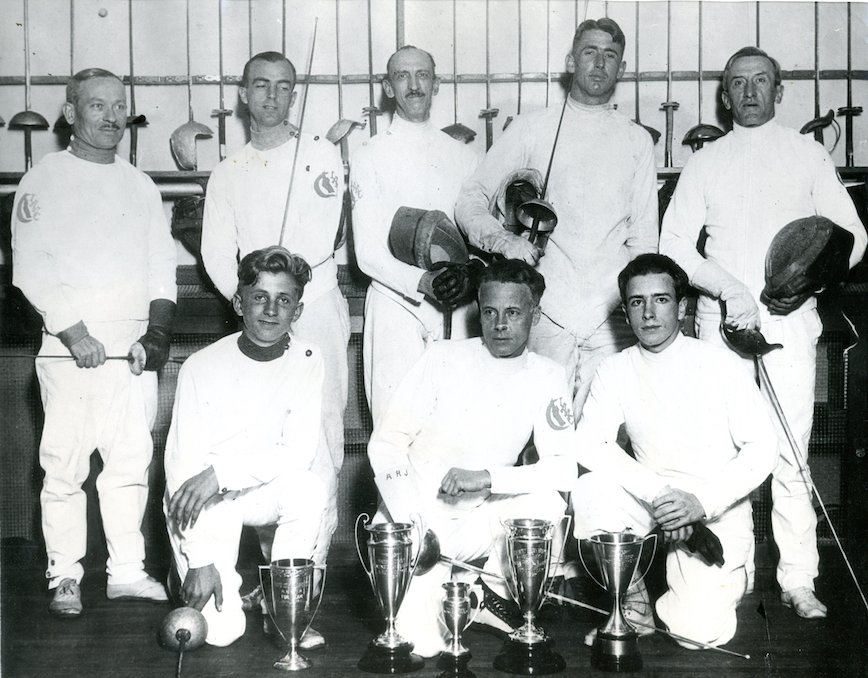 Back, L-R: Professor Uyttenhove, J.L.Thompson, C.D.Cathcart, Captain John Duff, H.C.Berls. Front, L-R: Leonard Beckham, A.R.Jaquith, James Reed, Junior.
Harold "Hal" Corbin, 1932 Olympic fencer, recalled (in a great interview: http://library.la84.org/6oic/OralHistory/OHCorbin.pdf) that Ralph Faulkner, upon returning to LA after the 1928 Olympic Games (where Faulkner was selected for inclusion on the team, but did not compete) fenced at Duff's salle as the competition was stronger than elsewhere.  Faulkner also there met his wife, Edith Jane, a dance instructor who fenced at Duff's.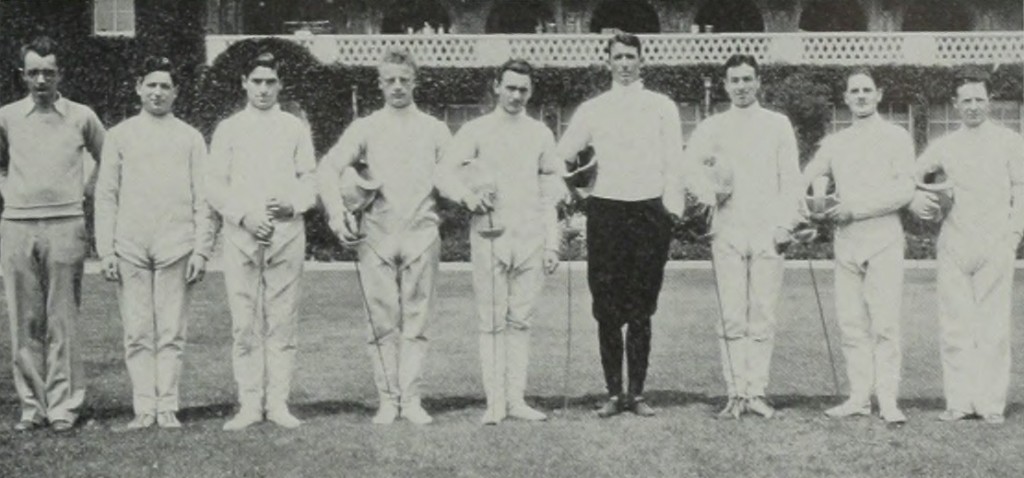 The 1929 ULCA team, with Harold Corbin just to the left of Duff, who wears the dark pants.
Corbin was so impressed by the treatment afforded to Faulkner for having been on the Olympic Team, that he decided he, too, would be on the Olympic Team, although he had never heard of the Olympics prior to meeting Faulkner and really didn't know what the Olympics were.  Regardless, he settled down to learning from Duff, who never charged him for lessons.  (Duff later told him he thought Corbin so muscle-bound and clumsy he despaired of his becoming any good.)  In 1931, in preparation for the 1932 Olympics, a New York squad traveled to the West Coast to match skills with the westerners.  (The Southern California and Northern California divisions were the largest outside of New York at this time.)  According to Corbin, only one of the Easterners, Nick Muray, went back home with a medal, and Muray could do no better than bronze against the Western fencers. Thus, it was announced that the winners of each weapon in the Pacific Coast Championships would be named to the Olympic Team for 1932.  Faulkner won the sabre, Ted Lorber from San Francisco the foil and Corbin the epee.
Duff and his family left Los Angeles in early 1932, returning to China.  Duff's parting words to Corbin were to not let anyone change his style.  Corbin had a unique approach to the epee that made him a difficult opponent for anyone.  Alas, a few lessons from Giorgio Santelli during Olympic preparation left Corbin in confusion as to how to proceed and he did not fare well in the individual event, although he laid no blame on Santelli who was merely trying to help.
The Duffs spent two years in China, then moved to England.  Duff continued to fence for some time, and also took up riding in steeplechase events.  He died in a riding accident in the Epping Forest, outside of London, in 1958.
Corbin, in describing Duff, mentions how other athletic coaches at UCLA thought little of fencing as a sport, and so were disparaging of Duff's efforts.  Corbin himself thought very highly of him as both coach and as a person, having benefitted from Duff's efforts and generosity.  He says of Duff in his interview, "He was a man who was totally without fear.  Which is a rare thing."
Indeed.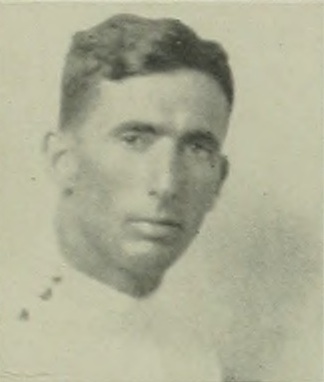 Captain John Duff, 1930.
Duff lived in California for maybe six years and left an imprint, but one that had faded out long before I came to the sport.  Happy to have been able to make a reintroduction of this fascinating man, for all our sakes.