One of the terribly fun parts of running the WCFA is the constant hunting for stuff.  I'm bringing things in on a fairly regular basis, but like to imagine myself a fairly careful and cautious buyer.  On the whole, the goal is to purchase things that I have either never seen before – or simply can't resist.  While remembering to focus on the "West" of the West Coast Fencing Archive, sometimes items come available that have too strong a pull.  Hence, the recentmost items to find their way to my mail slot.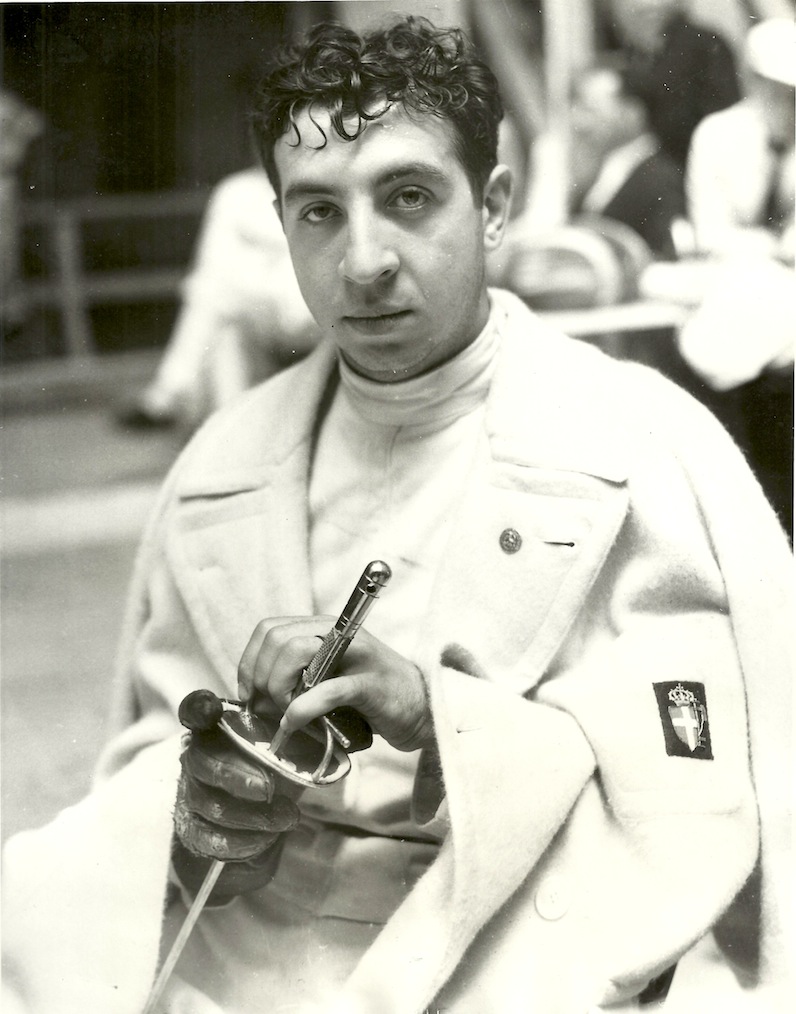 Gustavo Marzi, taken at the 1932 Los Angeles Olympics where he won the Individual Gold in Foil.
A great photo of the amazing Gustavo Marzi, who was trained by the father of Aldo and Nedo Nadi, Beppe Nadi at their school in Livorno.  Aldo Nadi called Marzi a great fencer, adding "…and the reader may rest assured that I do not use the word 'great' loosely."  He was a force for the Italian team from 1928 through 1938, winning the Individual Gold for foil in '32, Individual Silver in sabre in '36, and gold and silver team medals seventeen times in international competitions.
And, since I mentioned Aldo Nadi above…
Aldo Nadi on the left, facing Phillipe Cattiau.
I've posted this picture before, but from other sources.  (http://westcoastfencingarchive.com/2015/03/23/aldo-nadis-record-part-two/)
This is an original print from the period, captioned on the back in French.  Google Translate says:
"A Large Fencing Gala.  A set last night in the presence of the Circus Paris, Masters Aldo Nadi and Phillipe Cattiau.  Italian Aldo Nadi beat Cattiau."
"Circus Paris," you ask?  "No idea," is the answer.
Cattiau had numerous international victories prior to his match against Nadi in 1925, including the individual foil silver medal at the 1924 Olympics.  He took the individual foil silver medal at the World Championships in '27 and '29, and the individual epee gold in '29 and '30.  So he was no slouch opponent for Nadi, but a champion at the height of his power.
Now, here's the question.  In Nadi's description of his own record – the above link – he lists their match as having taken place in Cannes.  But this photo is captioned as having been taken in Paris.  Alas, no date on the photo.  So: did they meet again in Paris?  A mystery I can't solve.
Finally, and cut from the same cloth:
The great example of French fencing, Lucien Gaudin, 1928.
This fantastic photo of Gaudin was one I simply could not pass up.  I bought it in conjunction with the Nadi photo above.  I haven't seen this image before and although it needs some spotting work to clean it up, it's a great portrait.
Gaudin was a master of both foil and epee, winning individual gold in both at the 1928 Olympics.  Aldo Nadi, in the above mentioned description of his own career, had some unflattering words to say of Gaudin.  However, at the time of Gaudin's death, he wrote the following:
"Luciano Gaudin was a sportsman so immense that it is useless to detect his masterful career . It was the standard-bearer of the French fencing during twenty years and his name will remain united to that of the most reputed representatives of the French fencing Kirchoffen and Merignac . His devotion to the propaganda of the fencing was remarkable and Luciano contributed to the development of the noble sport . From the point of view of its international fame it was as great as at home . He was an artist in the whole sense of the word , a creator like all great champions , gave his personal style . It was a formidable worker in terms of training , having an athletic first order . It was a great opponent , full of loyalty . The French fencing suffered a great loss and I do not see who will take the place he had so wonderfully preserved for so long ."
Google Translate, again.  Flawed, but rather than try to fix it, I'll let you, dear reader, make of it what you will.  The above quote is from the Italian Wikipedia entry for Gaudin.  This same quote does not show up in the French Wikipedia entry for Gaudin.  One wonders….
Gaudin committed suicide in 1934 after a number of failed investments.  A sad end for so great a fencer.  There are some YouTube clips of him out there and they're worth looking at.
So, that's what I've been getting up to around here.  Just keeping things flowing in.  Lots more to find.  I'll try to keep you folks up to date!