I spent a priceless afternoon in the company of Delmar Calvert in February of 2014 at his apartment in the lakeside town of Oswego, Oregon, but I was fortunate to get there and back.  As a native of California's balmy regions, the skills of driving in snow and sleet were never a part of my early indoctrination into car culture.  Thus, I was unprepared for conducting an interview during what has become known in the Portland area as "Snowpocalypse 2014".  Blithely ignorant of the coming storm, I traveled to Portland and rented a car.  Strange (to me, at the time), but not many other people were renting cars that day.  Well, no wonder.  I discovered why as I maneuvered my way out of the parking garage.  Treacherous conditions, without question.  But I had an appointment, and I would not miss it.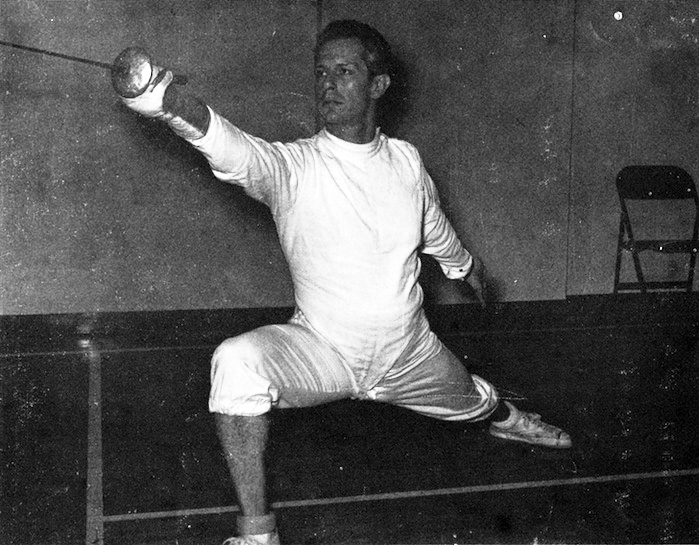 Delmar Calvert in 1960.
Delmar Calvert has taught fencing since his demobilization from the US Army in 1946.  That's the middle part of the story.  The later part – the many champions he trained, the schools and clubs he taught at, the International squads he coached for – much of that is well documented, although I'll add my bit as well.  But the early part of his story is, if anything, much more fascinating.
I got the story from him over the course of four hours on a snowy day, warmly ensconced in his living room with an excellent cup of coffee near to hand.  He generously shared his remembrances with me and I have seldom spent a more fortunate afternoon.
Born the youngest of three children in Southern California to an American father and French mother, Delmar's parents were dissolving their unhappy marriage by the time he was three.  His mother, uncertain of her claim to her children as a French woman living in the US, packed the children and herself and whisked all to France.  They lived there for a period, then moved to North Africa and settled in Algeria.  Calvert's older brother joined the French Foreign Legion around 1938 and Delmar enlisted the aid of his mother to put in his own application (they had to lie about his age; she knew the commander) and was accepted at the age of 14.  He served in the last remaining cavalry regiment in the Foreign Legion, the 1st Regiment Etranger de Cavalerie.  When France entered WW2 against Germany, sixteen year old Delmar Calvert was decorated for bravery with the French Croix de Guerre for blowing up German tanks.  After the French surrendered, he was posted to the French Army Military Academy to study as a fencing Master.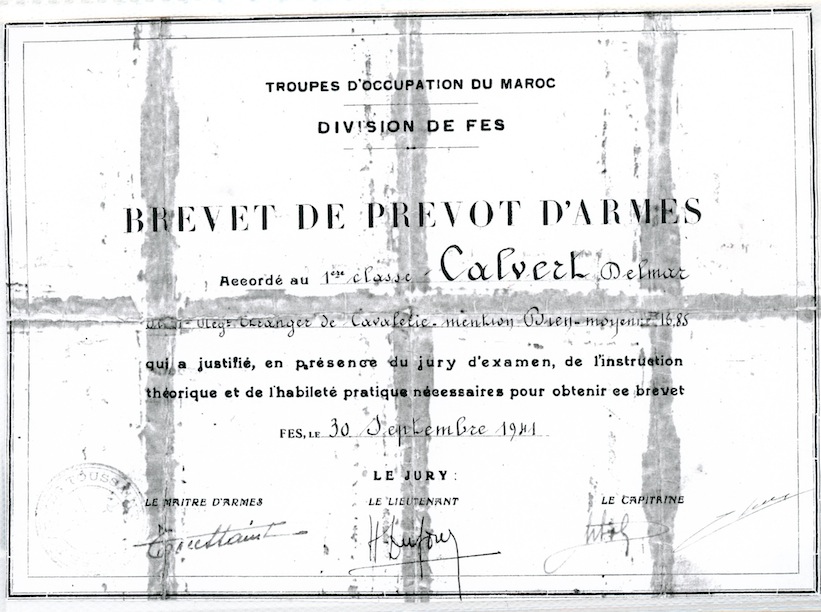 Certificate as Prevost d'Armes, 1941.
When Vichy France entered the war for Germany, the Foreign Legion was also posted to fight against the Allies.  Calvert's commanding officer was pro-Nazi, but Delmar had not forgotten the country of his birth and had no wish to fight against the US.
The young Legionnaire, far left in the back row, with this fencing program classmates.
He was approached by several Spanish Legionnaires from his outfit.  As former resistance fighters in Spain, they, like Delmar, had no desire to fight for the fascists.  They queried him to find out if he really had been born in the US, and whether he spoke English.  He assured them that both things were true – although his English was rusty.  They deserted as a group, white flag aloft, to the nearest American unit they could find.  Calvert quickly enlisted in the US Army.  From there, he was recruited by the OSS because of his knowledge of French.  He trained as a paratrooper and by 1944 was working with French resistance fighters behind enemy lines.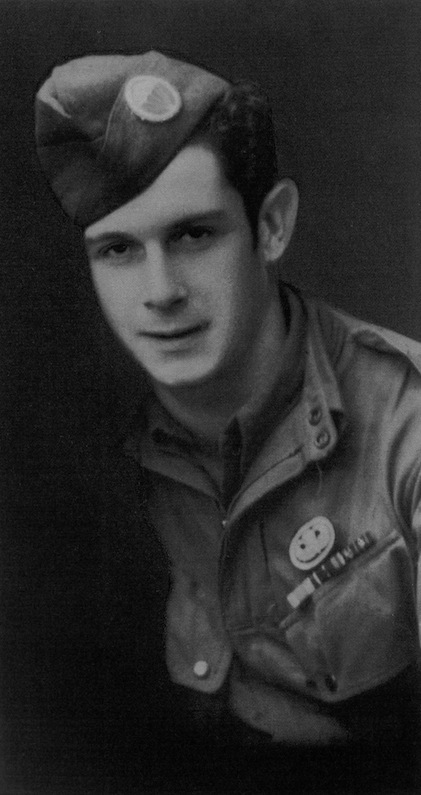 Delmar Calvert, US Army Office of Strategic Services.
After the surrender of Germany and with his services no longer required, Calvert was given a choice of locations for his demobilization.  He could go to Algiers, from whence he had started his military career, to France, or – because of his California birth – the US.  He chose the US and received his walking papers in California.  On the streets of Hollywood as a former soldier, he found himself passing by a building bearing the sign "Falcon Studios – Fencing Instruction".   Realizing he could trade on the training he had received from the French Army, he walked in, met Ralph Faulkner, and began his career as a fencing instructor as an assistant to Faulkner.
He taught for Faulkner for a period of time – I'm uncertain exactly how long – and at some point moved to Chicago.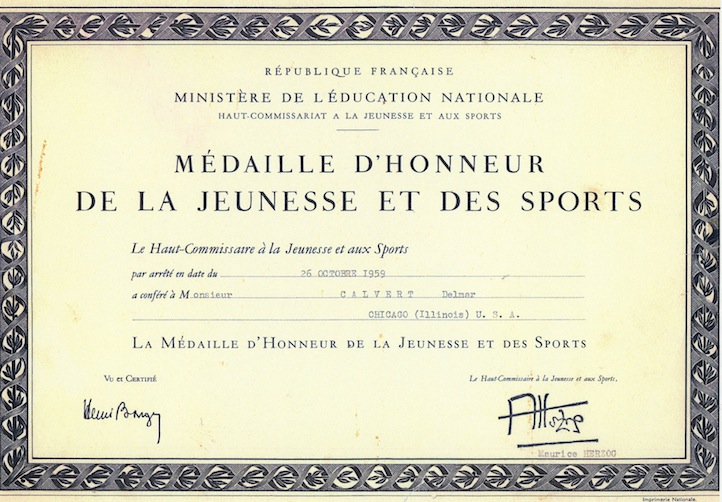 Certificate for an "honorary medal of youth and sport" from the Republic of France, 1959.
Forming Salle Calvert, he coached in the Chicago area for a number of years, creating winners in local and regional competition.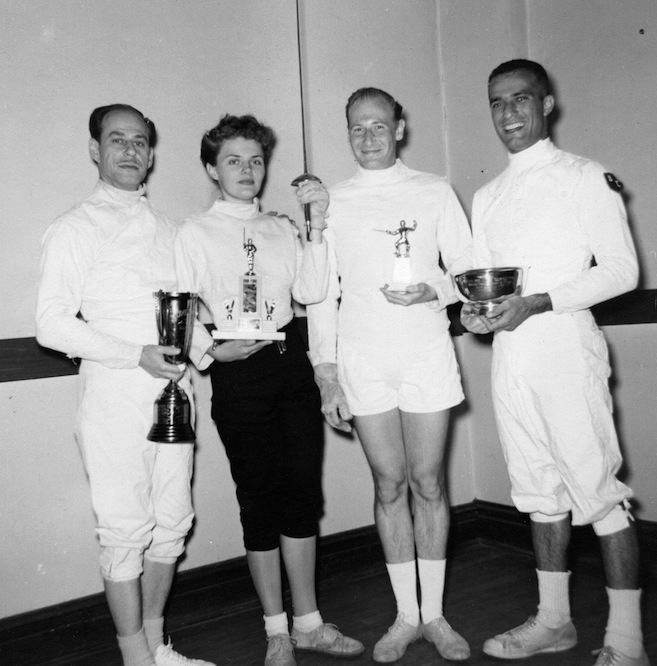 The 1960 Mid-West Championship team from Salle Calvert.
In 1962 he returned to California as the fencing instructor for the Los Angeles Athletic Club.
The notice from the January 1963 edition of the LAAC newsletter announcing Calvert's position at the club.
Calvert's write-up from the same magazine and the rave reviews from long-time fencers at the LAAC.
Calvert had great success as a coach, and by the mid-1960's was being named to delegations for international competition.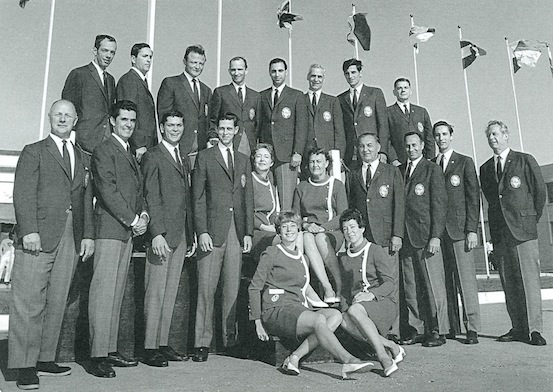 Calvert at far right with the 1967 Pan American team.
With the Gold Medal winning epee team from that same 1967 Pan American Games.  In the front row: Delmar Calvert, Dan DeChaine, Stan Seija.  Back row: Paul Pesthy, Ralph Spinella, Carl Borack, Frank Anger.
There is a great deal more to tell about Delmar Calvert.  He coached many champions, including Bradley Thomas, Natalia Clovis, Joy Ellingson, Susan Foote and Andrea Metkus, to name a few.  There are more pictures to come, but I need to talk to some of these above mentioned to get more stories before I continue on.  Just one last thing, a memento from my afternoon.  It's not a great photo as a composition and the reflections are distracting.  But.  Still.
At the top, the arm patch for the 1st Regiment Etranger de Cavalerie, French Foreign Legion.  The blue medal at the right, sadly, I don't know, but it's in this case, so it's undoubtedly important and impressive.  The middle is the Croix de Guerre. For Bravery.  On the left, the medal recognizing Monsieur Delmar Calvert as a "Chevalier de La Legion d'Honneur".  And you've got to believe they don't hand those out to just anyone.
Not many in this life can lay claim to quite so much as this soft-spoken gentleman.  It truly was an honor to have spent the time with him.  Doug 1, Snowpocalypse Nil.