Continuing on with the same topic as our last post, we return again to the Women's Gymnasium at San Jose State University.  There have been a number of comments from the previous set with some corrections that I'll tweak when I get a second – thanks for the notes, George Nonomura!  Here below, I've culled the best of the black & white negatives that were shot by Charles Selberg.  And, fortune of fortunes, the negative pack was taped into a scrapbook that had many of these prints mounted inside.  Scanning from negatives is great of course, especially when they've been stored reasonably well.  And these were, thankfully.
So, still waiting to see if anyone remembers what the year may have been for this competition.  If anyone has a guess, I'm open to suggestions.  Somewhere between 1979 to 1981 is my best guess.  Let's look!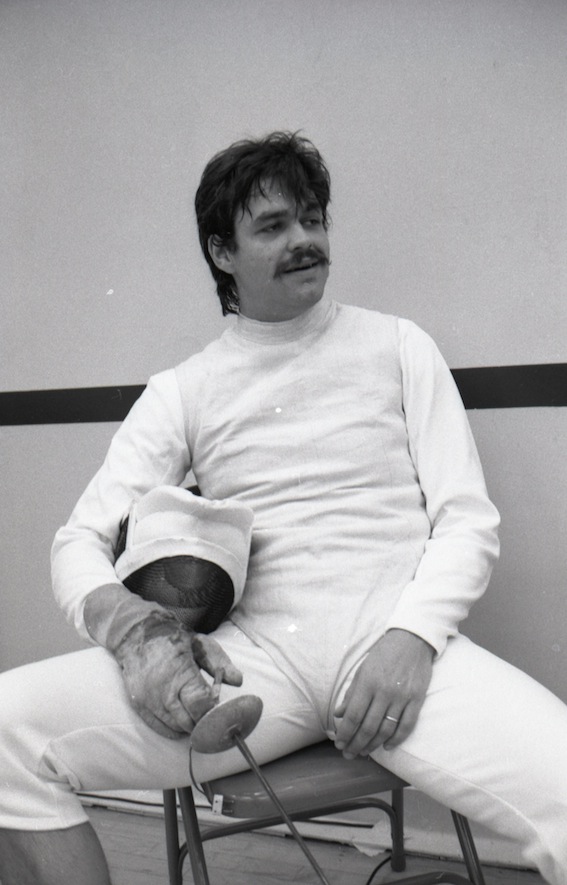 Peter Burchard, ready for his next match.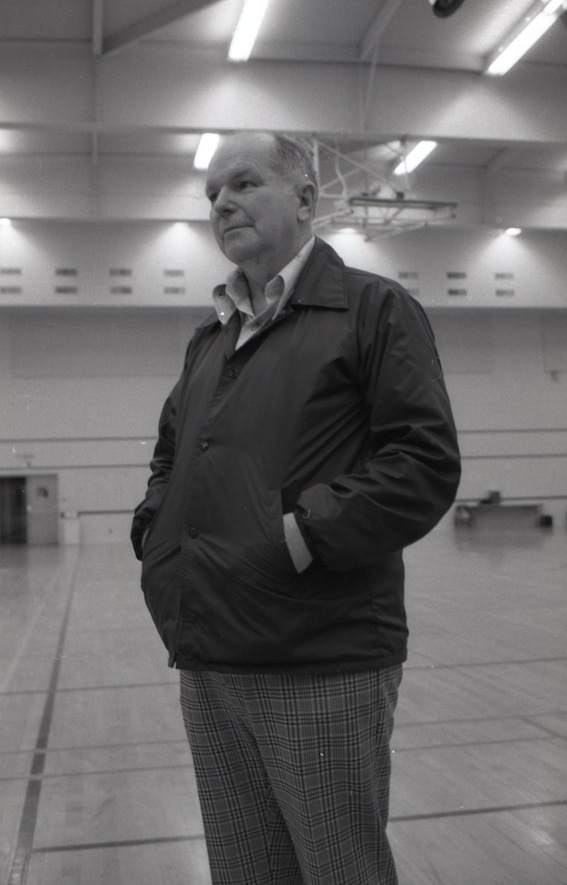 Dr. William O'Brien, who ran the Letterman Fencing Club for many years.  Located in the San Francisco Presidio near the Letterman Military Hospital, the gym is still there but no longer houses a fencing club.  I think the hospital itself is gone as well, replaced by the Letterman Digital Arts Center, home of visual effects giant Industrial Light & Magic.  From the ILM dining room you can look out to the Golden Gate Bridge or, a little closer in, the gym where the Letterman fencers used to roam.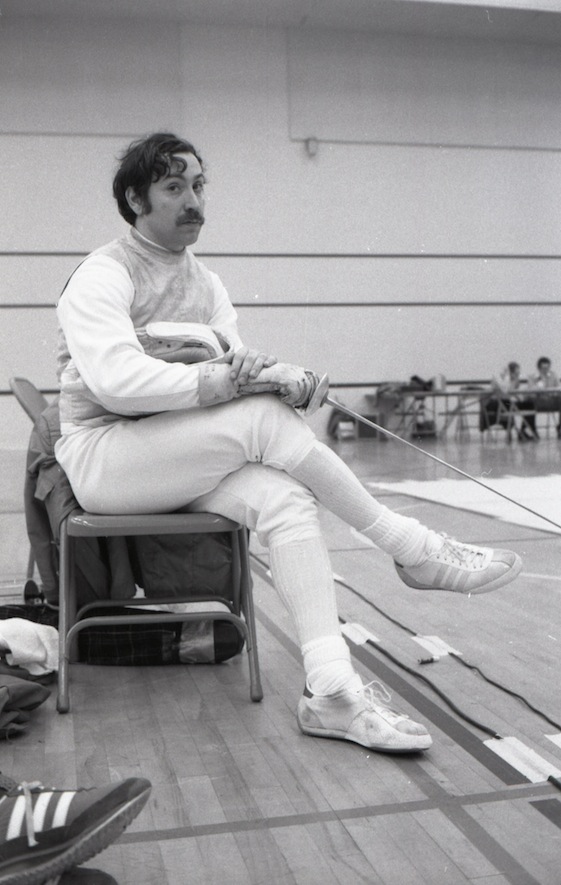 John Nonna, member of the 1972 Olympic team.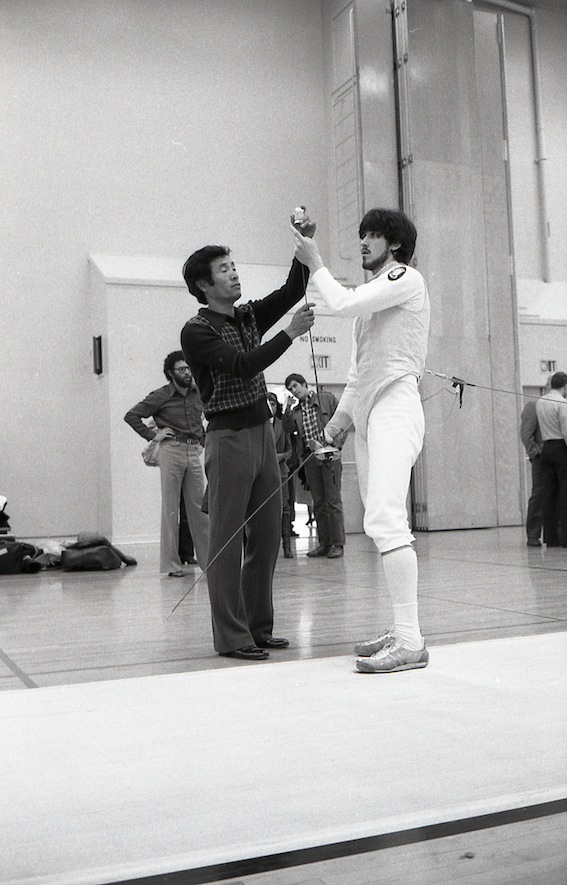 Heizaburo Okawa checks Michael Marx's foil.
Mark Smith is behind the mask.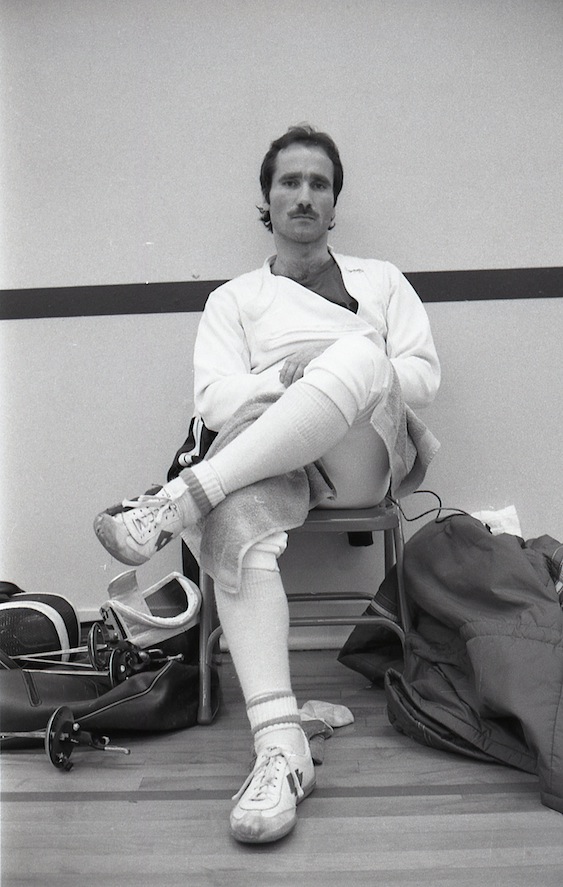 Heik Hambarzumian, looking very serious.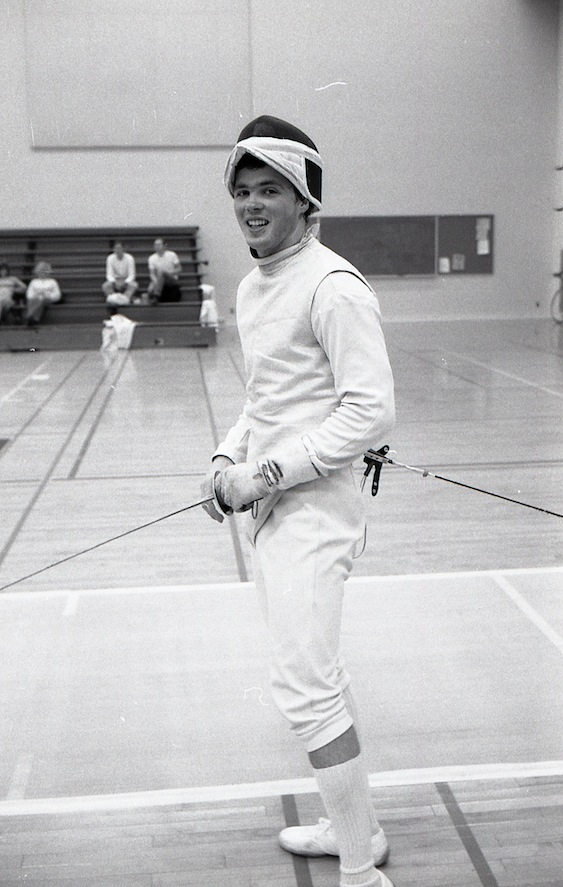 Greg Massialas enjoys the moment.
Marty Lang also enjoying the moment.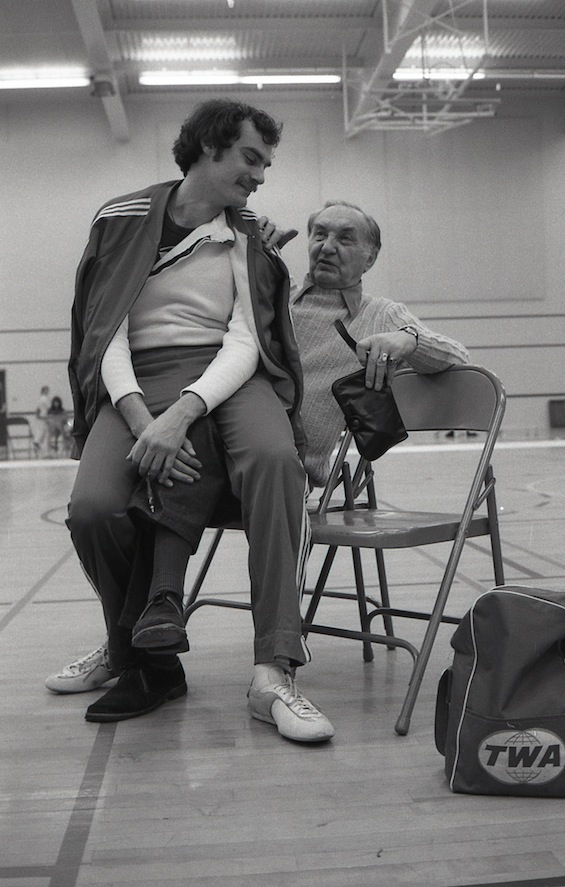 Marty Lang and Csaba Elthes clowning around.
Greg Massialas vs John Nonna
Julie Selberg chats with Marcia and Peter Burchard.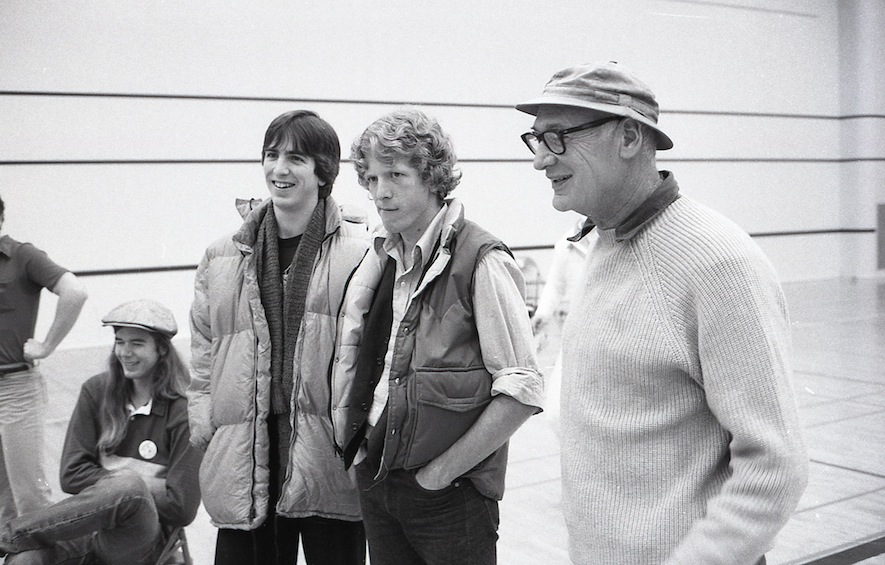 Go Slugs!  A contingent from UC Santa Cruz.  Tris Thompson (seated), Ted Clark, Ted Pryor and Bert Kaplan.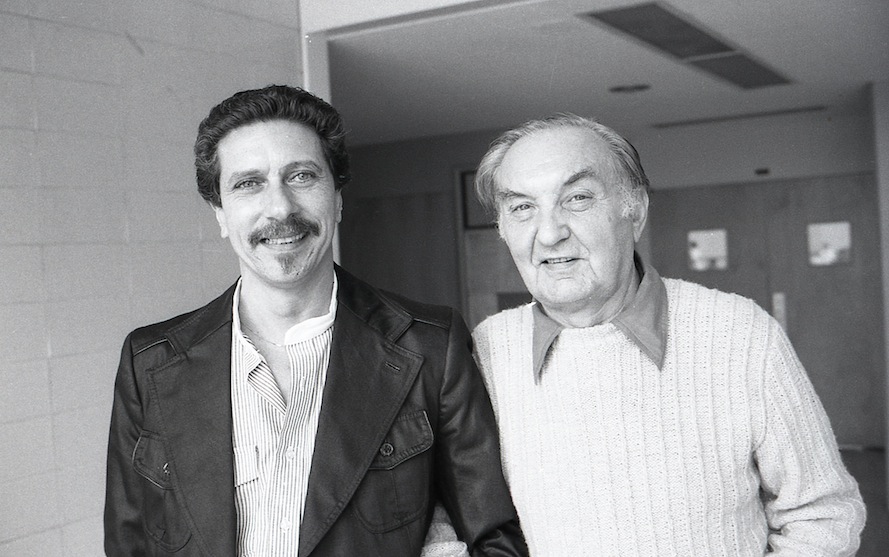 Student and Master: Michael D'Asaro and Csaba Elthes.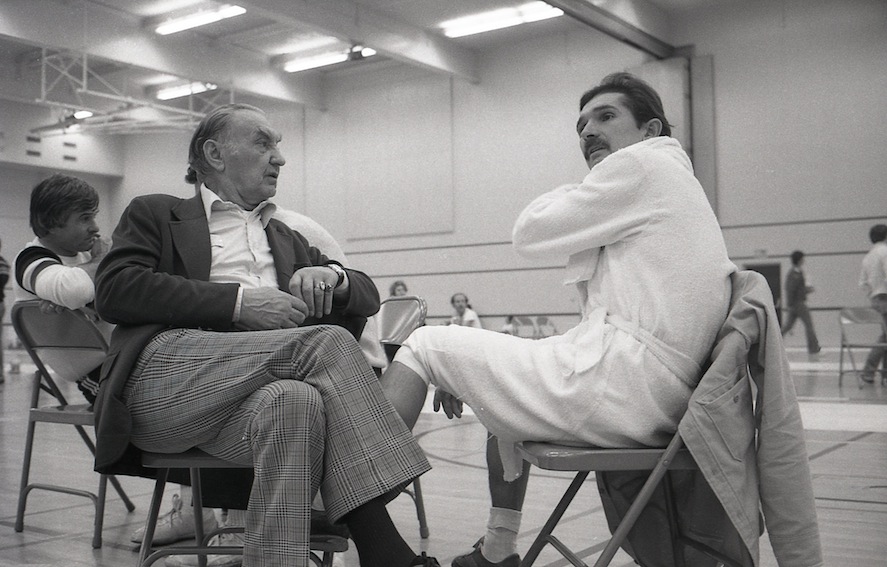 Yves Auriol, Csaba Elthes and Paul Pesthy.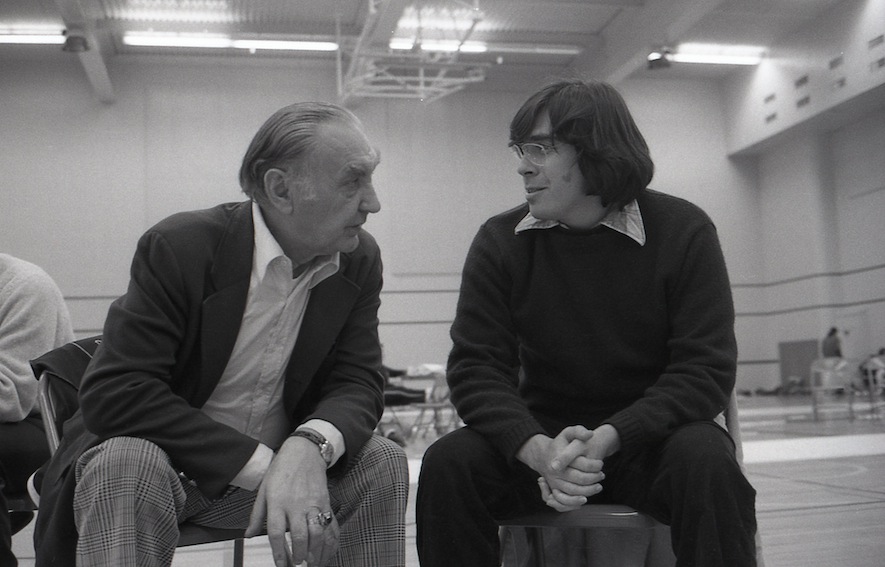 Csaba Elthes and Len Carnighan.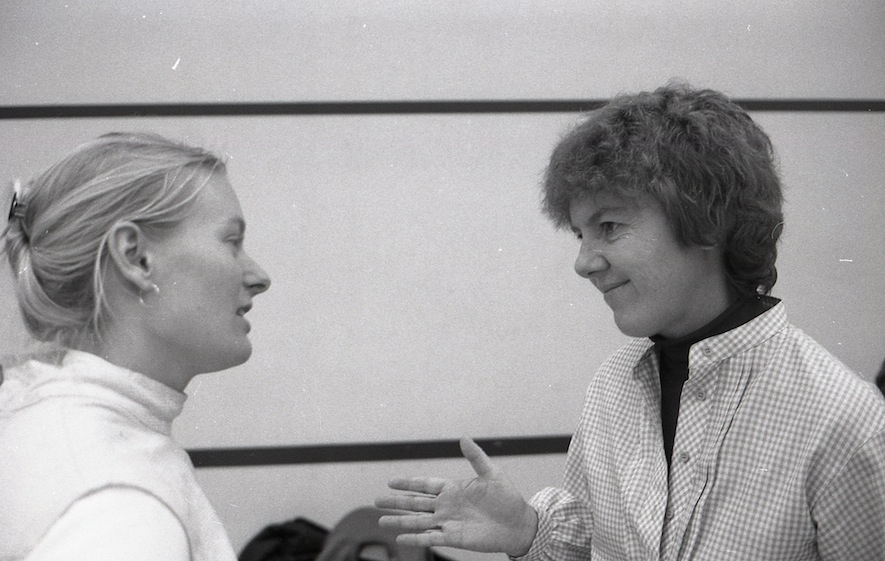 Gay and Denise O'Connor
Kathy Krusen and Kate Torres.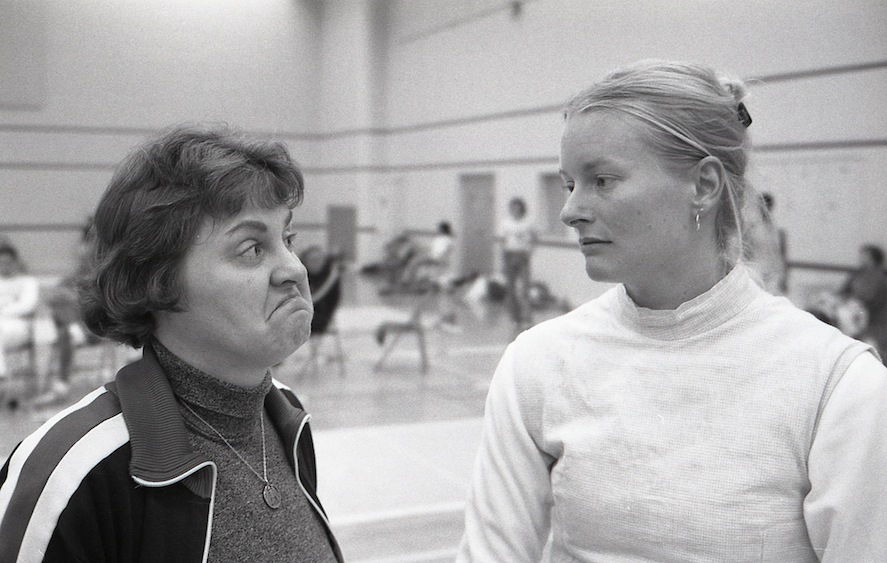 Julie & Gay.  Julie's not sure about something….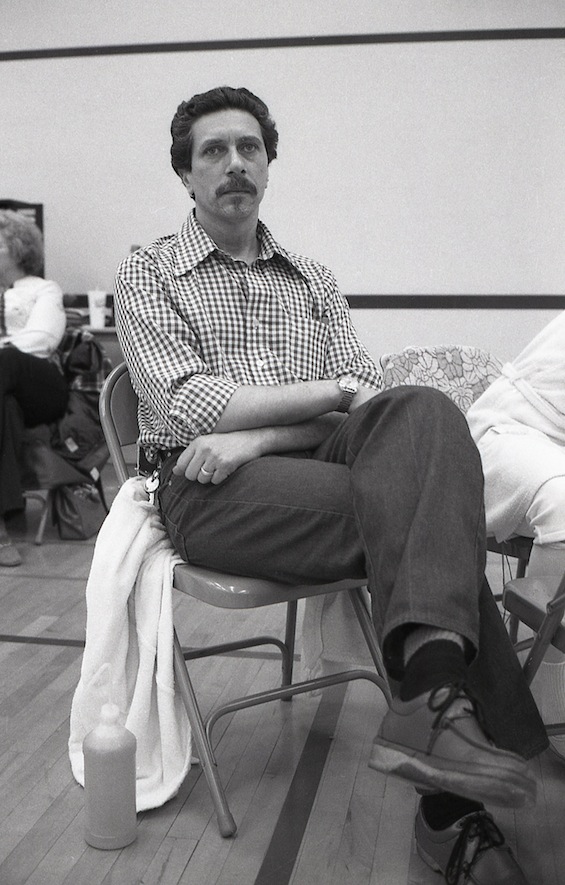 The tournament host, San Jose State head fencing coach Michael D'Asaro.
That's the best of them!  Not a lot in the way of action shots, but I personally find it more fun to see the people and personalities.  Any time I have pictures of fencers that I personally knew well, no matter how long ago the photo was taken, I can almost invariably pick out, from very subtle cues, who's who.  For pictures of fencers where I don't know the people in action behind masks, it's difficult or impossible to know who's who – particularly back in the days before there were names on the backs of lames or down the side of a leg.  I think this is a pretty universal trait, though.  I've shown pictures to others and had them immediately be able to name one or both fencers, simply due to familiarity with, again, some very subtle cue; the mask, angle of head, how the back arm is held, position of the feet, the uniform – any and all of these things can help to identify a fencer to one who knew them in just that particular way you can know someone from having fenced with – or against – them enough.