I've got two sets of pictures from the same event, courtesy of the Charles and Julie Selberg collection of fencing memorabilia.  One set is black & white film, the other color slides.  Today, in photo essay form, I present the best of the color slides.  I can readily identify quite a number of folks in this event, and at least 3 events were held; Mens' & Women's Foil, and Men's Epee.  The only evidence that there may also have been a Sabre event is that Csaba Elthes was in attendance.  However, nothing in either set shows anything Sabre-ish, so I'm not certain about that.
Now, somebody out there is going to see these and remember a date or an event name, or both.  It's somewhere between 1978 and 1981.  That's all I know for sure, other than names.  And I'm missing a few of those, as well.  Feel free to help out!
Ok then, who feels like a slide show?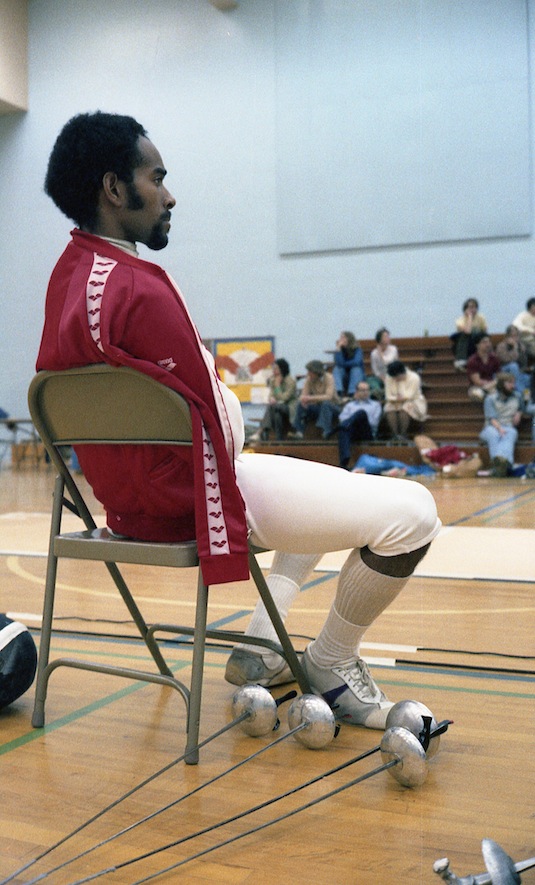 Two-time National Foil Champion, Mark Smith.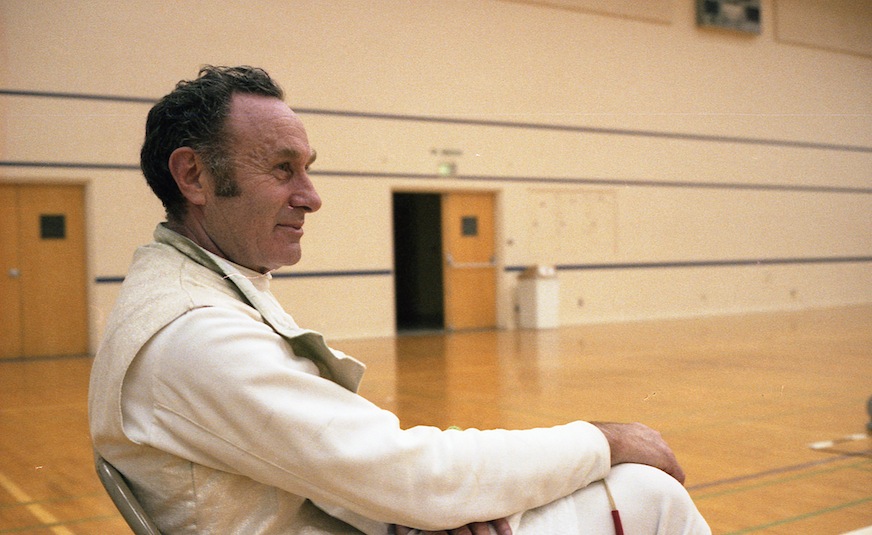 Four-time National Champion and Olympic Bronze Medalist (1960), Albert Axelrod.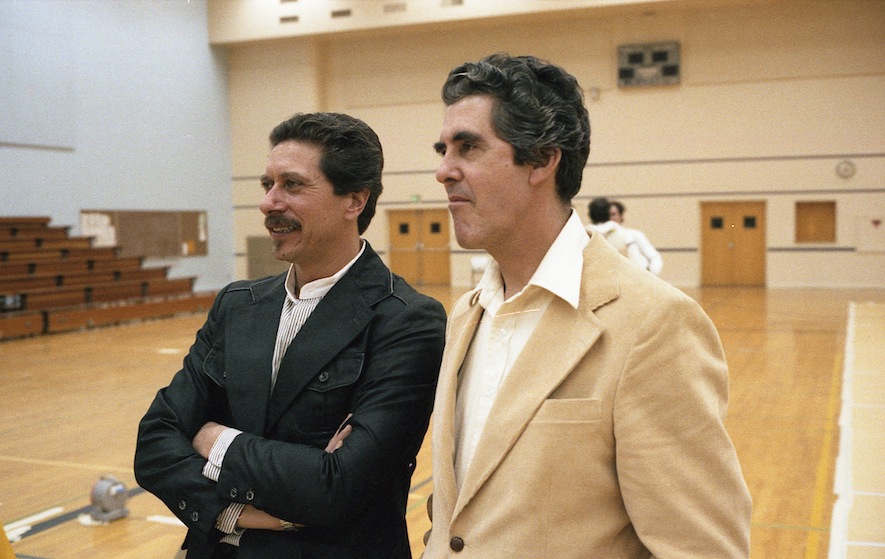 Michael D'Asaro and Jack Keane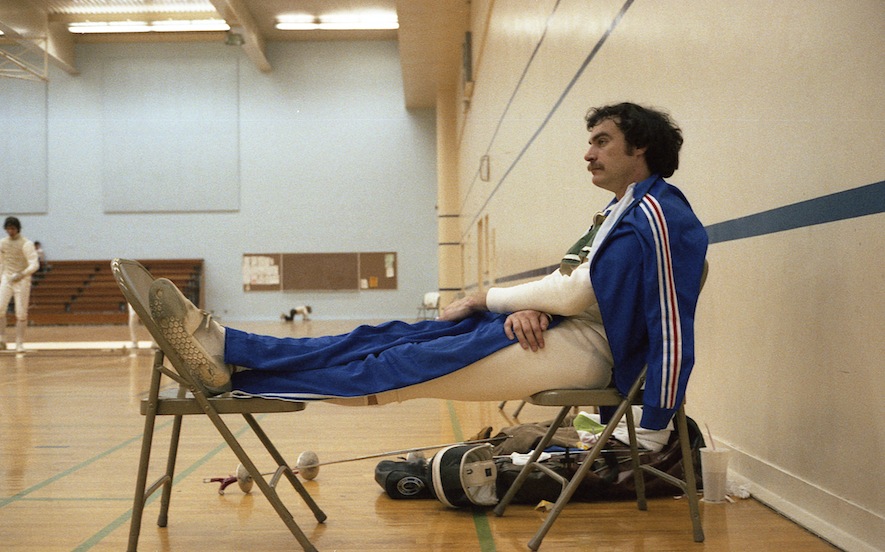 Olympian and National Champion, Marty Lang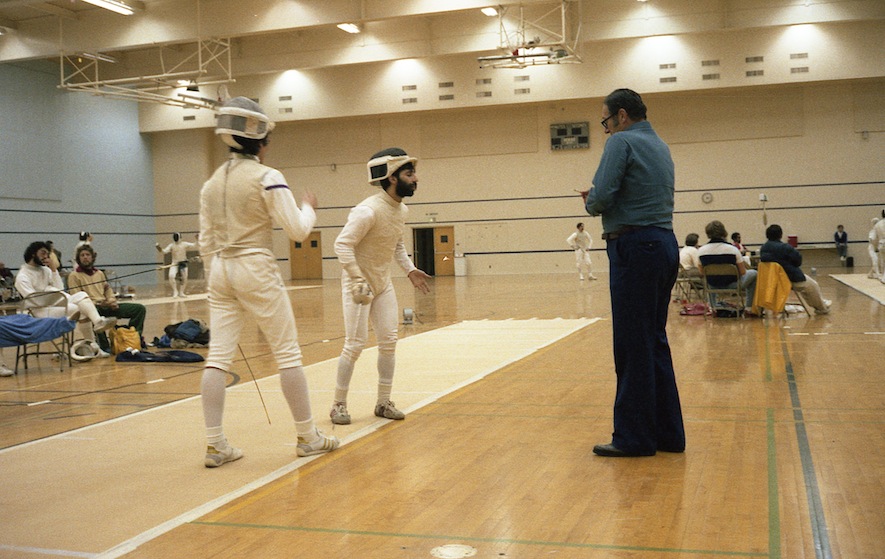 Unsure of who the lefty with his back to the camera is, but Joe Shamash is unhappy with the call.  That I'm pretty certain about.  The director?  Is it Al Davis?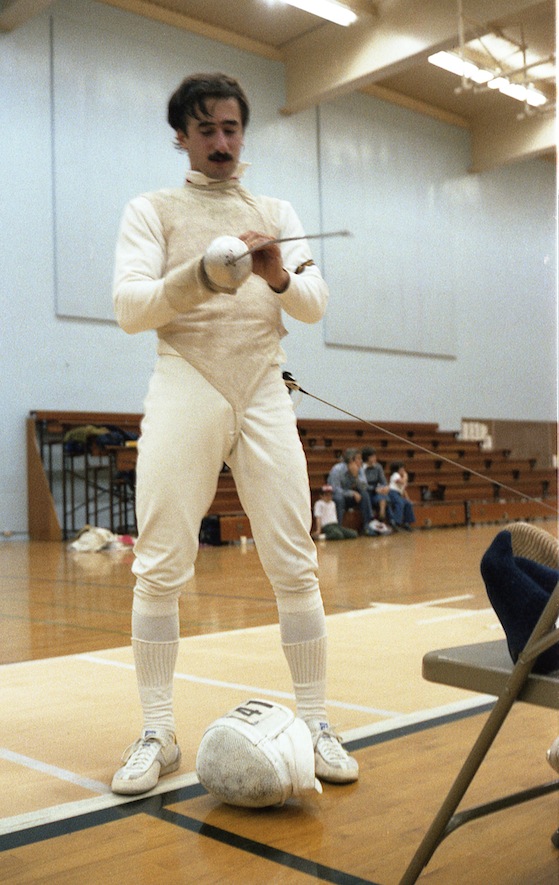 Salle Auriol's Pat Gerard.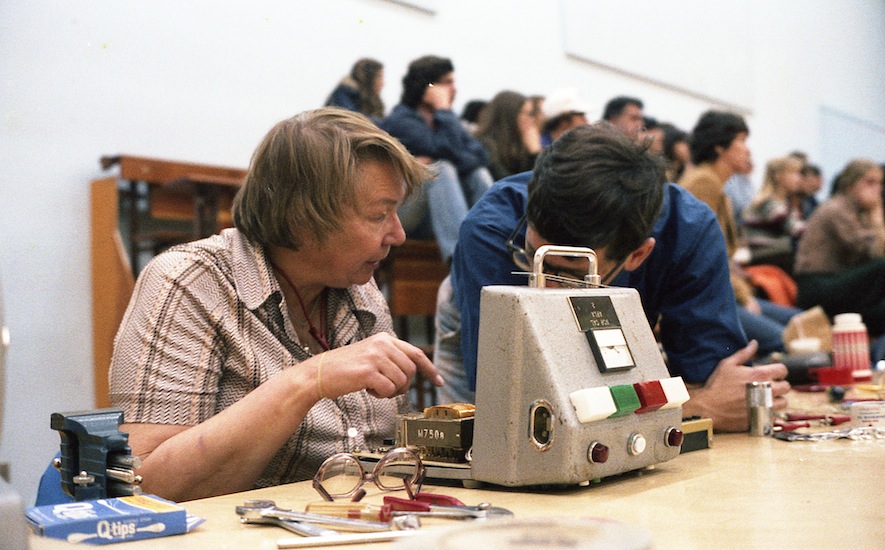 Eleanor Turney instructs John Rea on the inner workings of the classic Uhlmann machine.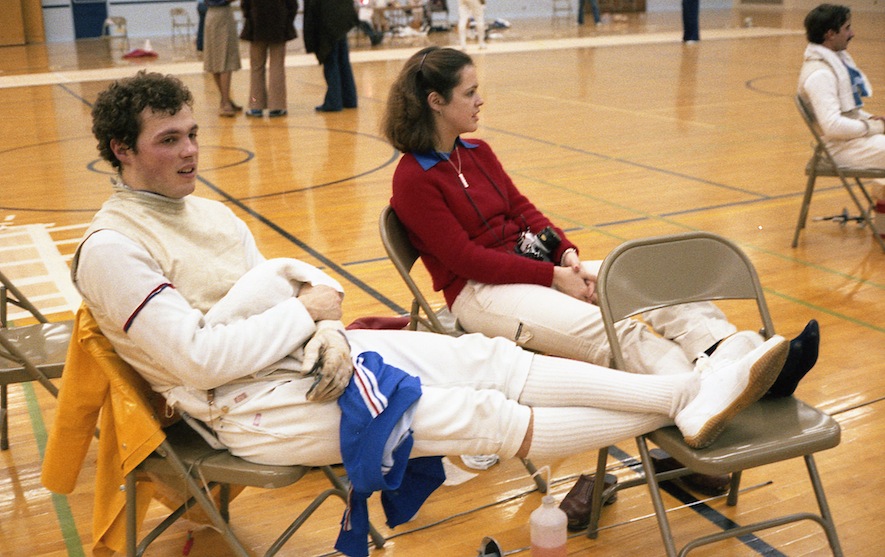 Greg Massialas and his sister, Christina Massiala.  (I think I got that right.  Christina once tried to teach me about masculine and feminine forms in the Greek language, but it was a long, long time ago….)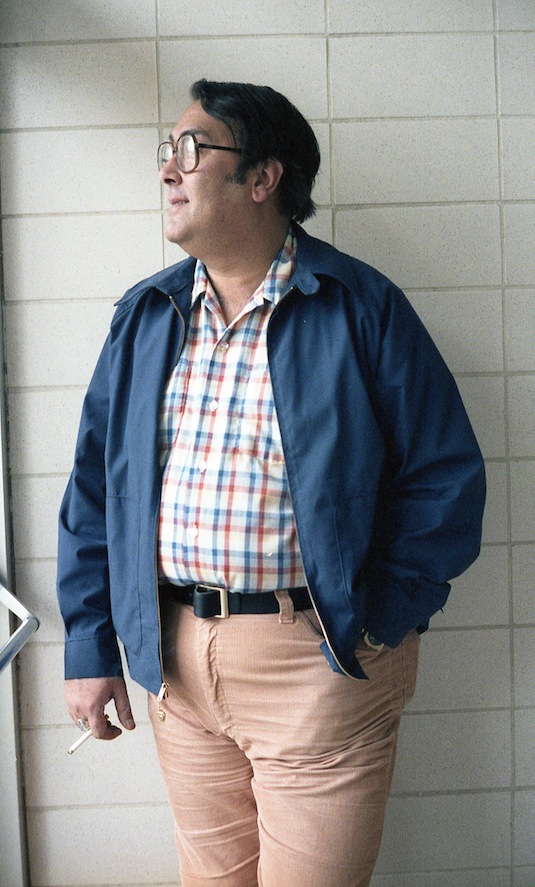 Former Pacific Coast Sabre Champion Carlos Fuertes.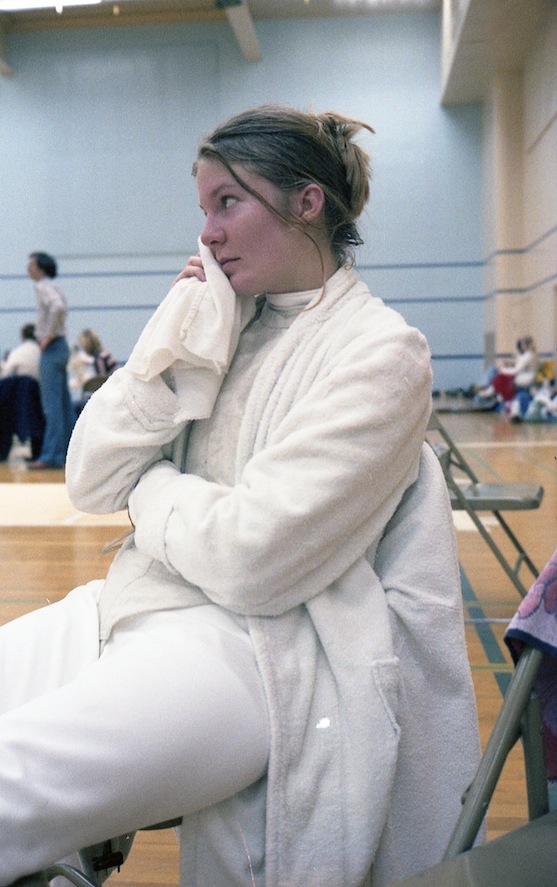 Stacey Johnson, 1980 Olympic Team member and USFA President from 2000-2004.
Nikki Franke, Heizaburo Okawa and Elaine Cheris troubleshoot a problem.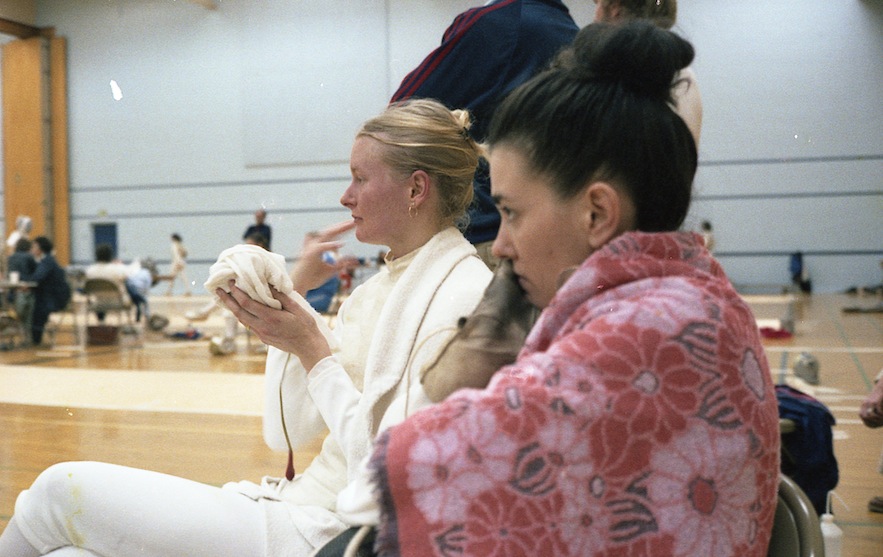 Gay and Vinnie.
Heizaburo Okawa, three-time Olympian for Japan and two-time US National Champion, looking relaxed, as usual.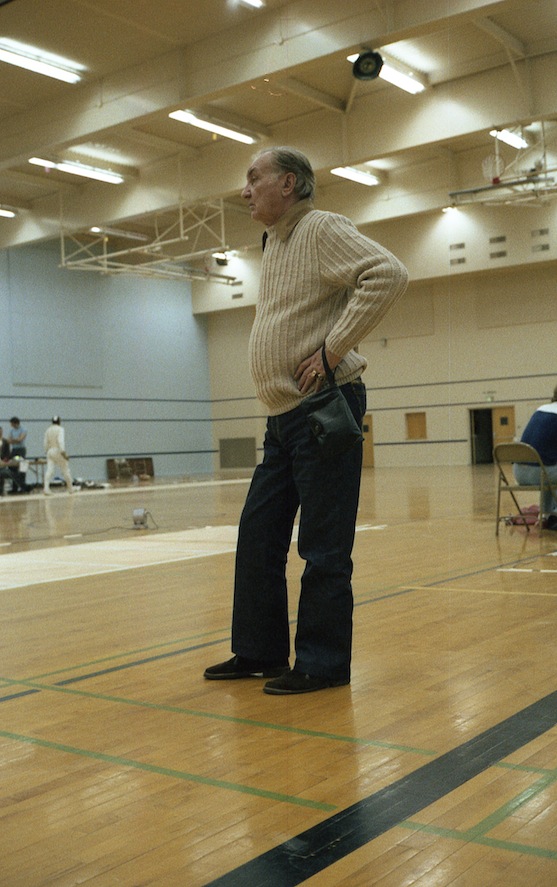 Csaba Elthes.  Unparalleled success as a sabre coach.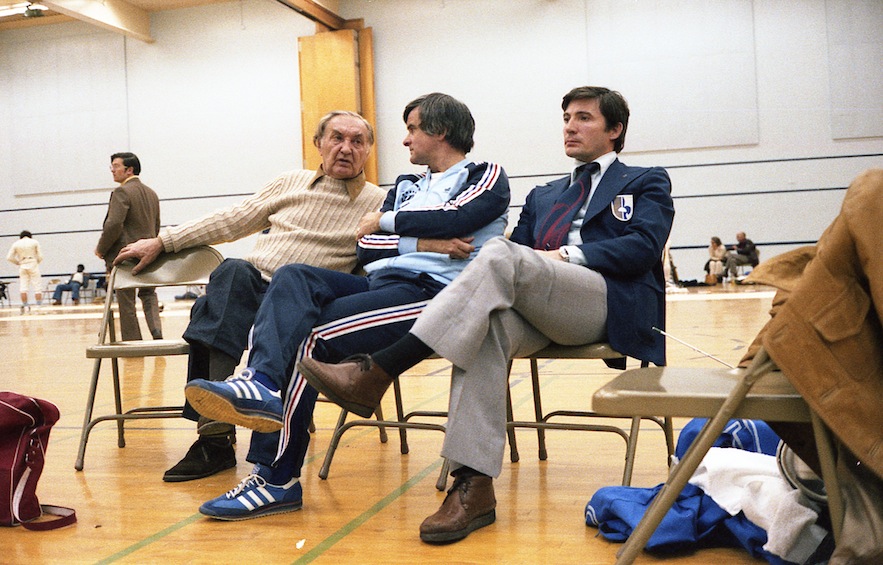 Csaba again, with Yves Auriol and a third, who looks familiar, but I can't name.  A little help?
Harriet King, four-time Olympian and four-time National Champion, with a former coach, Michael D'Asaro.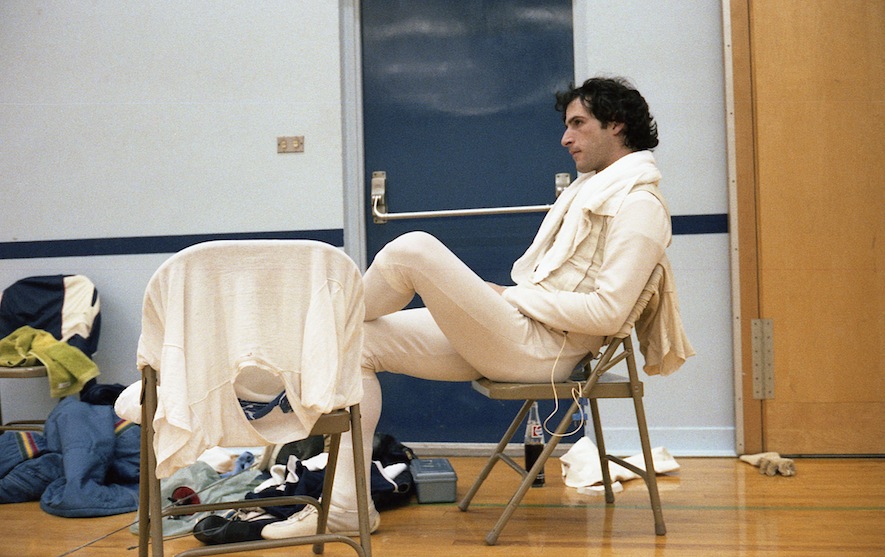 Just a few epeeist show up in the photos, and I think this is Lew Siegal.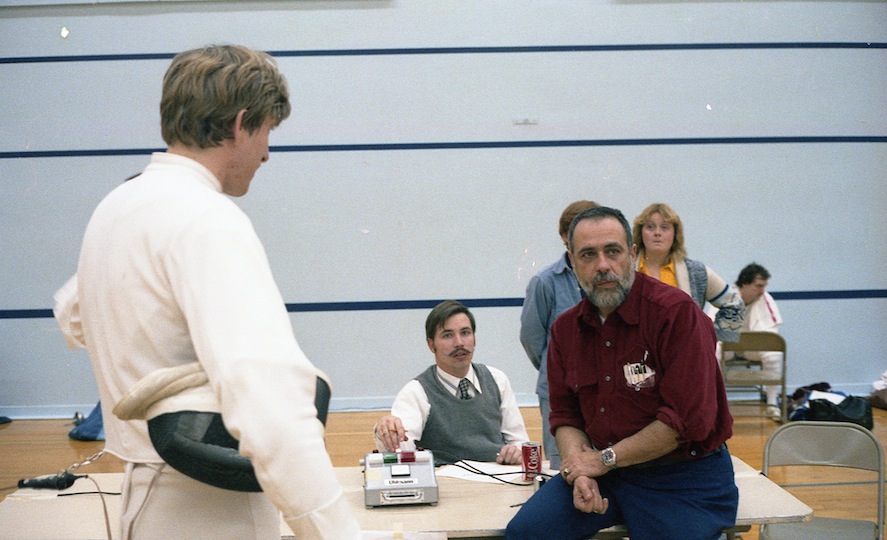 Pretty sure that's Mark Walch fencing epee on the left and Marius Valsamis getting set to direct.  Bill Nyden from the Central Cal division is behind the scoring machine.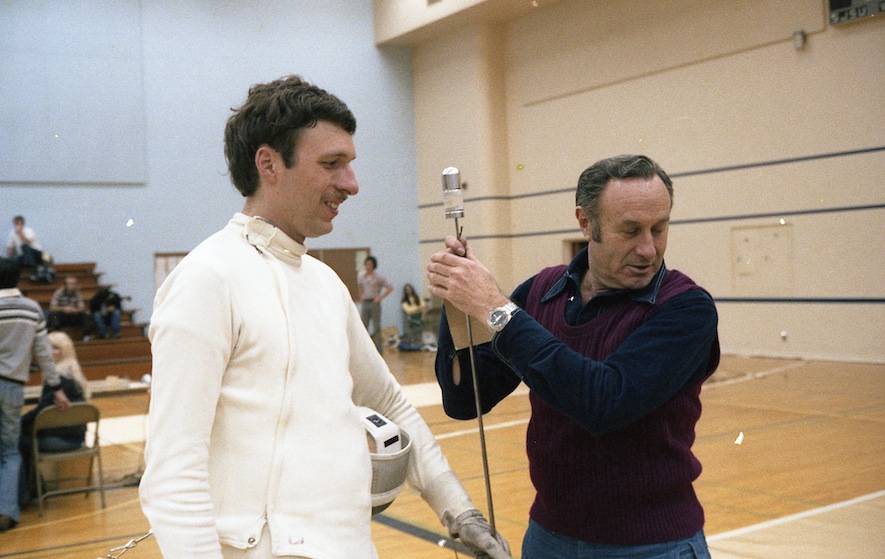 I don't recognize the left handed epeeist on the right, but Albie Axelrod is about to direct…
That's the best of the color slides.  Maybe I'll follow up with the black & white photos from the same event, just to keep things in order.  Next time!  If you can help with naming the few I couldn't, please drop a note on the site or on Facebook.