Ok, kind of a short post today, because there's a mystery that needs to be solved and I haven't had any luck on my own.  The subject of Aldo Nadi has come up on the WCFA several times already in our short life so far.  Check out what we've said so far here:  http://westcoastfencingarchive.com/project/aldo-nadi/
For those of you just jumping in, Aldo Nadi was an Olympic medalist and World Professional Champion fencer, considered by many to be one of the best fencers ever.  That's, "ever".  True?  Who knows?  He also taught fencing in his later years, mostly in Los Angeles.  He initially came to LA/Hollywood to break into the movie business.  He had already been one of the lead actors in a 1929 French film directed by Jean Renoir, and picked up a bit part as a thug in Humphrey Bogart's "To Have and Have Not", but his Hollywood work ended up being more in the fencing choreographer role.  But when in Hollywood, you make movies!  Hence, we have this ad, from 1950: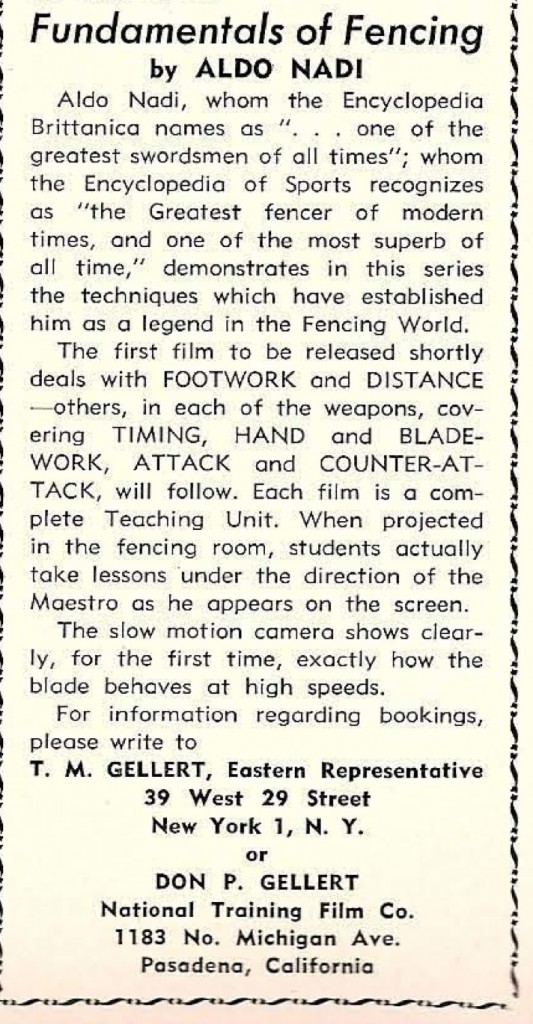 So.  Here is the Question of the Day: Does this film still exist?  I can't find any online reference to the Gellerts or the National Training Film Company in Pasadena or New York.  The Pasadena address is a home, not a business location – in the Bungalow Heaven neighborhood in Pasadena, no less.  http://www.bungalowheaven.org/.  I used to live about 3 blocks from this No. Michigan Ave address.  The New York address is an office building, looks like. And can I just say how much I hate what has happened to Google Maps?  Sheesh.  Talk about ruining a good thing.
Ok, back to topic.  Let's run this down!  It just has to exist somewhere, doesn't it?  Anybody have any ideas?