The Airolimax californicus, more commonly known as the Banana Slug, is the official mascot of the sporting students of the University of California, Santa Cruz.  You may hear the name shouted to cheer on UCSC students, as in "Go Slugs!"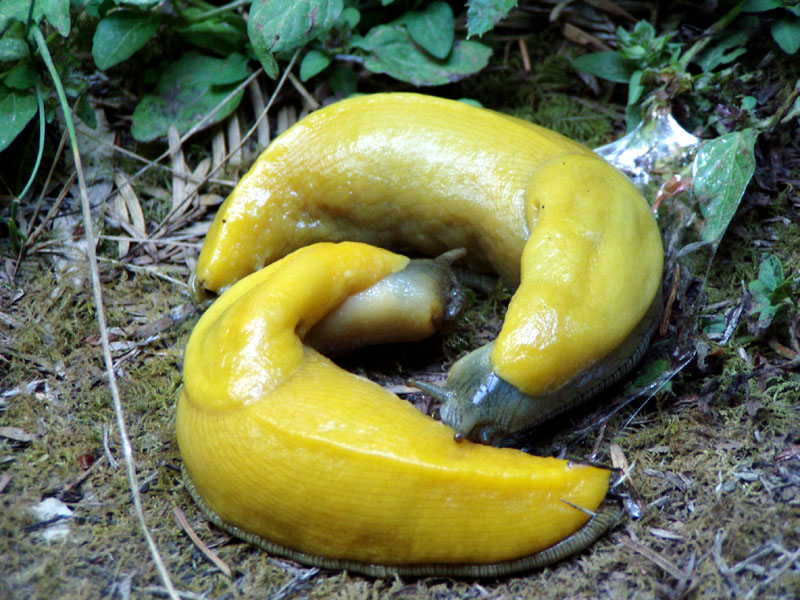 If you can say anything about the fencers at UCSC during the reign of Charlie Selberg, (and you could say a great deal) they knew how to have a good time.  Case in point; the Intramural Boffing Championships, held at the West Field House on the UC Santa Cruz campus sometime in 1971.
Now, The Boffer was the invention of Jack Nottingham, a student of Aldo Nadi's, who had run fencing clubs in both Portland and San Francisco.  As Selberg explained in a 1971 article describing the upcoming Intramural competition, Jack "promoted it through encounter groups. They whacked away at each other for psychotherapy."  Nottingham manufactured them himself, and the kit included the somewhat stiff foam sabre with a goggle/ear cover headset.  He put an ad in the Whole Earth Catalog and sold them for $11.00, which included two boffers and two headsets.  The above article references a story I had decided must have been apocryphal, and here is the fact of it.  I had always heard that Michael D'Asaro, at the height of his hippie-ness, had performed on stage at Winterland between sets for a rock concert.  What concert I still do not know.  But here we have this article describing this exact thing, although what I had always imagined as being a sabre demonstration of some sort turns out to have been a match with boffers.  I'm going to have to rely on the memories of others to fill in the gaps of that part of the story, since in 1970 I was 11 and not attending shows at Winterland.
When Jack moved to San Francisco, he gave up the boffer construction and distribution rights to some friends in Portland who continued to market them until at least 1974, but I can't find reference to them after that.  In addition to the boffing tournament at UCSC, a series of photos were taken at the beach in Santa Cruz, with the intention of using the images in promotional material.  So, off to the beach for Michael, Charlie and John McDougall.
Michael D'Asaro and Charlie Selberg, getting prepared to take a whack at one another.
Michael and Charlie using fencing technique, while adoring fans look on.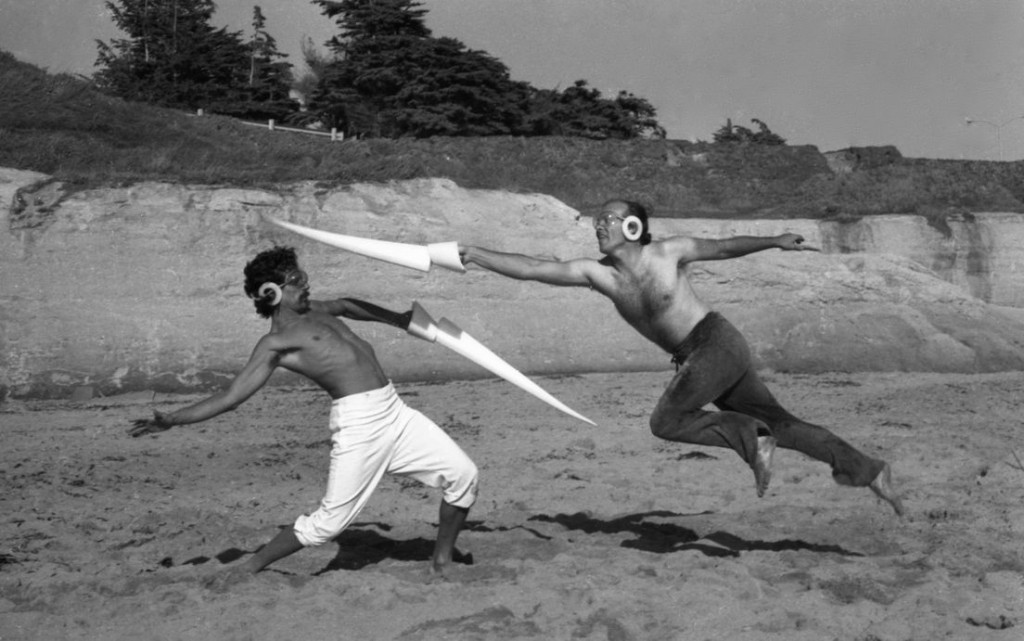 Charlie's feint flank, cut head with fleche.
Michael returns with same.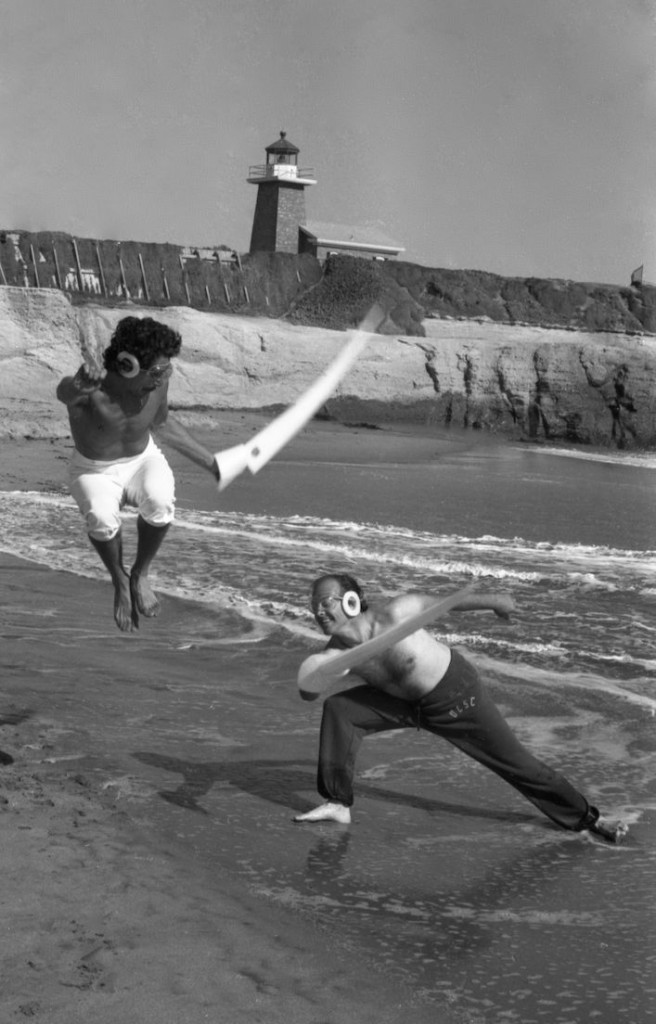 Non-standard fencing moves can also be applied to boffing, apparently.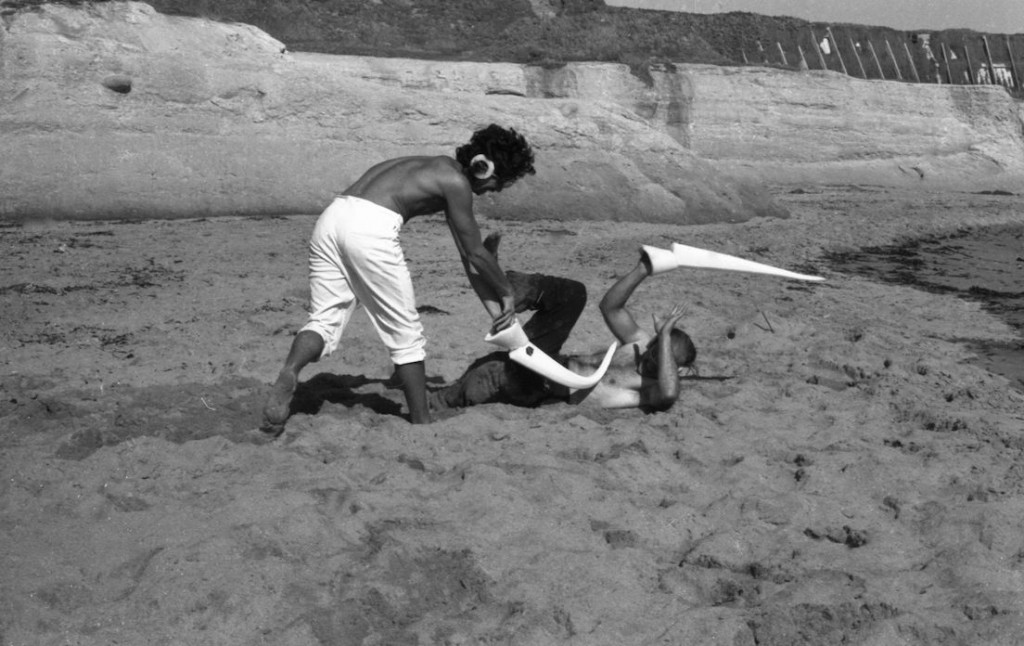 Here's one that's not quite cricket, however effective.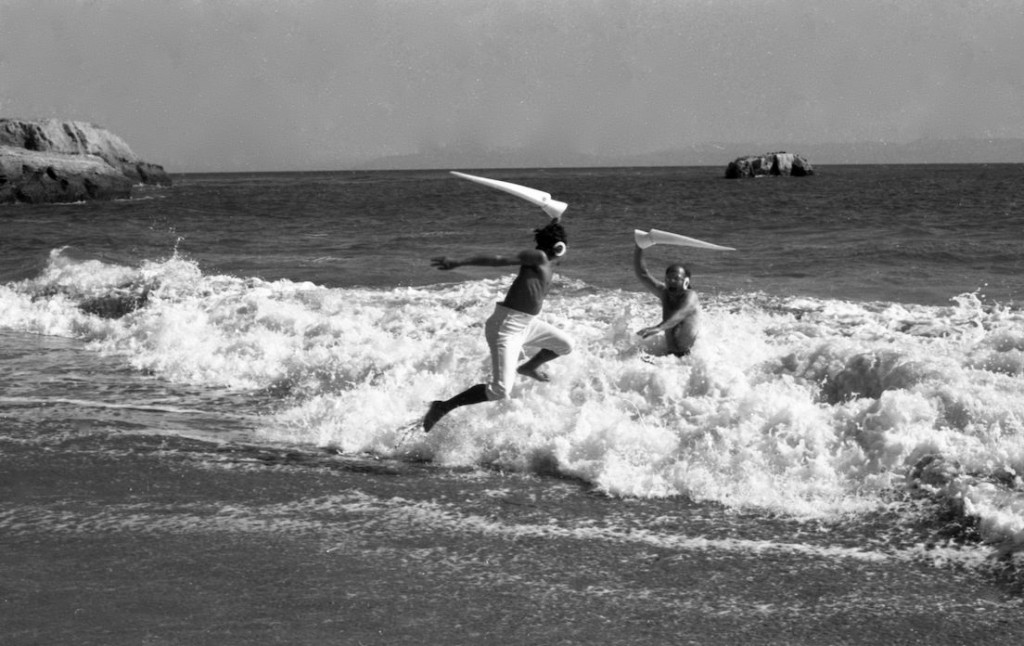 Of course at the beach, anything can happen.
Selberg put the photos to use fairly quickly to drum up interest in the sport and the intramural.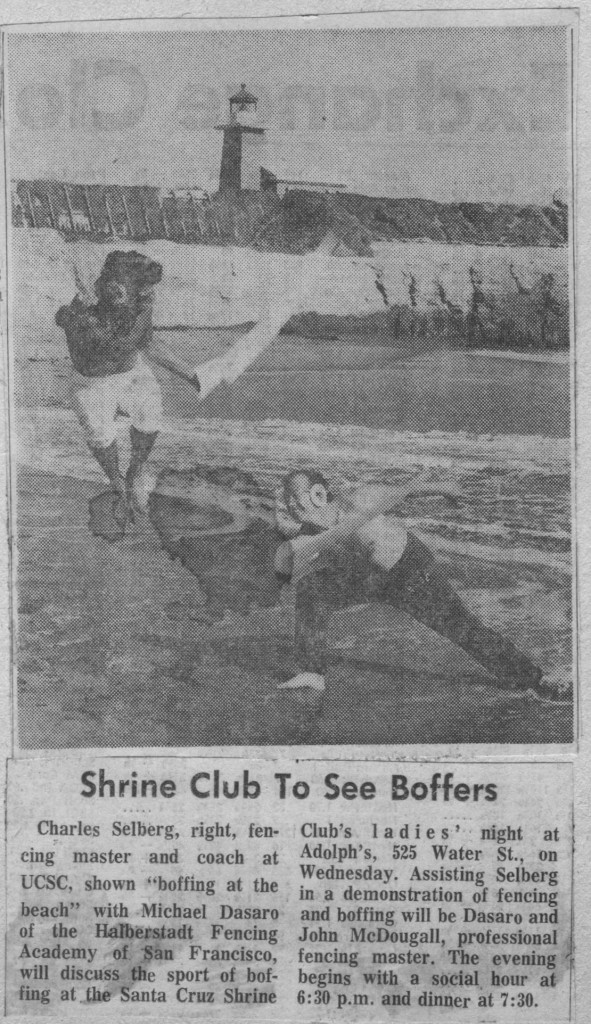 And of course, there was the event itself:
The tone of the event cannot be described as having been of a particularly serious nature, based on the costumes worn by the contestants.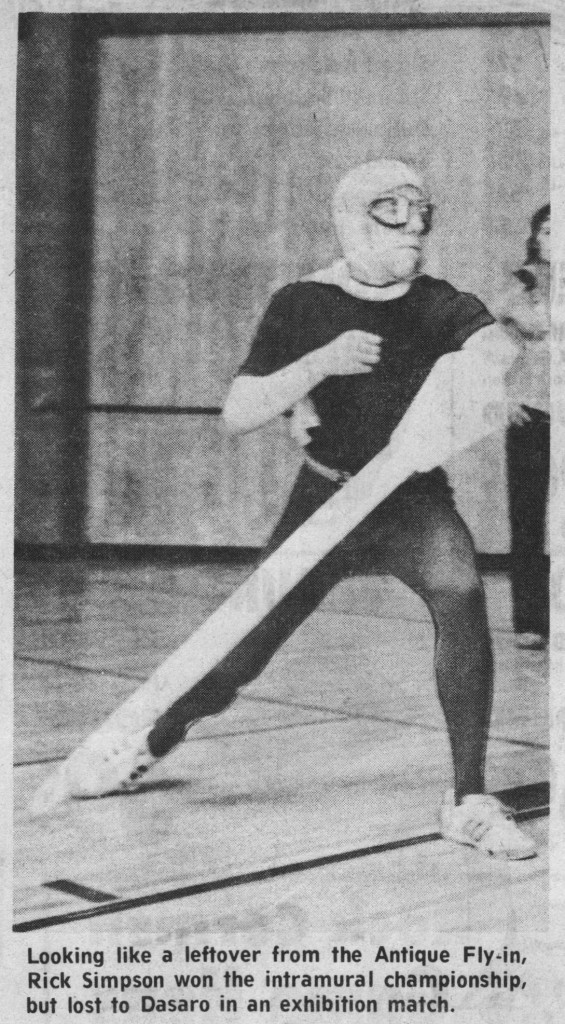 Clearly, fun was the rule of the day.  It's too bad we don't have video of the event, but… oh, wait!  Did I mention video just now?  How about film transferred to video?  Does that count?  Sorry there isn't any sound for this.  Feel free to make your own sound effects while watching:
And finally, a wrap up article that describes the details of the results, along with a brief run down of the history of the boffer and boffing.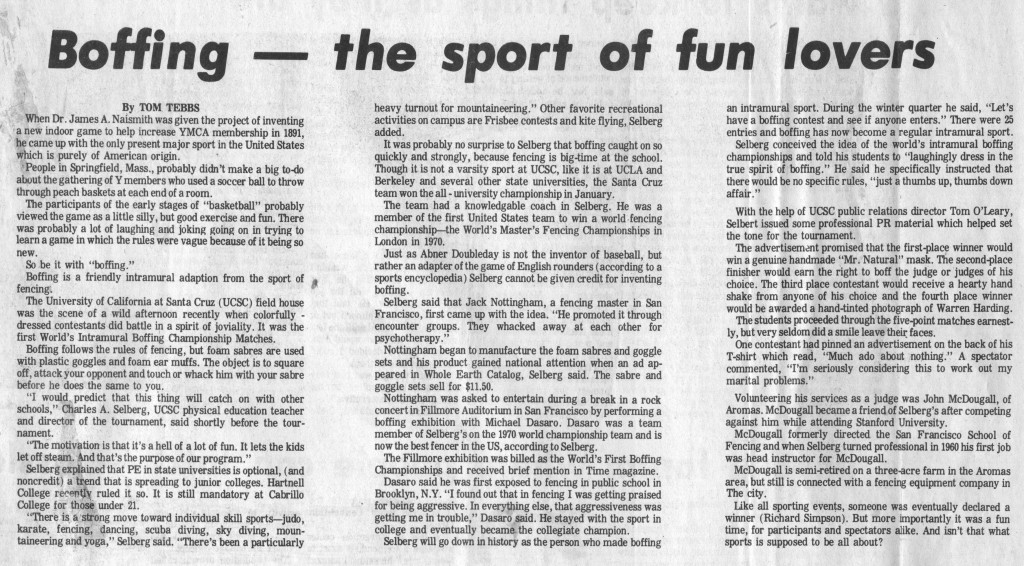 The text from Tom Tebbs Article:
When Dr. James A. Naismith was given the project of invention a new indoor game to help increase YMCA membership in 1891, he came up with the only present major sport in the United States which is purely of American origin.

People in Springfield, Mass., probably didn't make a big to-do about the gathering of Y members who used a soccer ball to throw through peach baskets at each end of a room.

The participants of the early stages of "basketball" probably viewed the game as a little silly, but good exercise and fun. There was probably a lot of laughing and joking going on in trying to learn a game in which the rules were vague because of it being so new.

So be it with 'boffing."

Boffing is a friendly intramural adaption from the sport of fencing. 

The University of California at Santa Cruz (UCSC) field house was the scene of a wild afternoon recently when colorfully dressed contestants did battle in a a spirit of joviality. It was the first World's Intramural Boffing Championship Matches.

Boffing follows the rules of fencing, but foam sabres are used with plastic goggles and foam ear muffs. The object is to square off, attack your opponent and touch or whack him with your sabre before he does the same to you.

"I would predict that this thing will catch on with other schools,  Charles A. Selberg, UCSC physical education teacher and director of the tournament, said shortly before the tournament.

"The motivation is that it's a hell of a lot of fun. It lets the kids let off steam. And that's the purpose of our program.

Selberg explained the PE in state universities is optional, (and noncredit) a trend that is spreading to junior colleges. Hartnell College recently ruled it so. It is still mandatory at Cabrillo College for those under 21.

"There is a strong move toward individual skill sports — judo, karate, fencing, dancing, scuba diving, sky diving, mountaineering and yoga," Selberg said. "There's been a particularly heavy turnout of mountaineering." Other favorite recreational activities on campus are Frisbee contests and kite flying, Selberg added.

It was probably no surprise to Selberg that boffing caught on so quickly and strongly, because fencing is big-time at the school. Though it is not a varsity sport at UCSC, like it is at UCLA and Berkeley and several other state universities, the Santa Cruz team won the all – university championship in January.

The team had a knowledgeable coach in Selberg. He was a member of the first United States team to win a world fencing championships — the World's Masters's Fencing Championships in London in 1970.

Just as Abner Doubleday is not the inventor of baseball, but rather an adapter of the game of English rounders (according to a sports encyclopedia) Selberg cannot be given credit for inventing boffing.

Selberg said that Jack Nottingham,  a fencing master in San Francisco, first came up with the idea. "He promoted it through encounter groups. They whacked away at each other for psychotherapy."

Nottingham began to manufacture the foam sabres and goggle sets and his product gained national attention when an ad appeared in Whole Earth Catalog, Selberg said. The sabre and goggle sets sell for $11.50

Nottingham was asked to entertain during a break in a rock concert in Fillmore Auditorium in San Francisco by performing a boffing exhibition with Michael D'Asaro. D'Asaro was a team member of Selberg's on the 1970 world championship team and is now the best fencer in the US, according to Selberg.

The Fillmore exhibition was billed as the World's First Boffing Championships and received brief mention in Time magazine. 

D'Asaro said he was first exposed to fencing in public school in Brooklyn, N.Y. "I found out that in fencing I was getting praised for being aggressive. In everything else, that aggressiveness was getting me in trouble, " D'Asaro said. He stayed with the sport in college and eventually became the collegiate champion.

Selberg will go down in history as the person who made boffing an intramural sport. During the winter quarter he said, "Let's have a boffing contest and see if anyone enters." There were 25 entries and boffing has now become a regular intramural sport. 

Selberg conceived the idea of the world's intramural boffing championships and told his students to "laughingly dress in the true spirit of boffing.: He said he specifically instructed that there would be no specific rules, "Just a thumbs up thumbs down affair."

With the help of UCSC public relations director Tom O'Leary, Selberg issued some professional PR material which helped set the tone for the tournament.

The advertisement promised that the first-place winner would win a genuine handmade "Mr. Natural" mask. the second -place finisher would earn the right to boff the judge or judges of his choice. The third-place contestant would receive  a hearty hand shake from anyone of his choice and the fourth place winner would be awarded a hand-tinted photograph of Warren Harding. 

The students proceeded through the five-point matches earnestly, but very seldom did  a smile leave their faces.

One contestant had pinned an advertisement on the back of his T-shirt which read, "Much ado about nothing." A spectator commented, "I'm seriously considering this to work out my marital problems."

Volunteering his services as a judge was John McDougall, of Aromas. McDougall became a friend of Selberg's after competing against him while attending Stanford University.

McDougall formerly directed the San Francisco School of Fencing and when Selberg turned professional in 1960 his first job was head instructor for McDougall.

McDougall is semi-retired on a three-acre farm in the Aromas area, but still is connected with a fencing equipment company in The city.

Like all sporting events, someone was eventually declared a winner (Richard Simpson). But more importantly it was fun time, for participants and spectators alike. And ins't that what sports is supposed to be all about?