Aldo Nadi was a great fencer.  He… well, let's let the back of his business card explain:
High praise, and not misplaced.  Nadi was an Olympian for Italy in the 1920 games, winning gold in all three fencing team events and an individual sabre silver medal, taking second in favor of his older brother, Nedo.  At that point in his career, Aldo hadn't yet reached his peak as a competitor, but rather than remain an amateur, he instead turned professional – which was something a great fencer could do in the pre-world war 2 era – to earn a little cash for the effort.  Think of it as something akin to a pro boxing circuit without the belts.
Here's his Wikipedia image: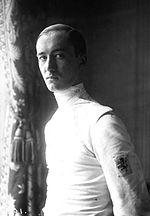 He moved to the US in 1935 and began his career as a fencing master, first in New York, then Los Angeles from 1943 until his death in 1965.  The year before his death, he mailed out to a number of people a typed manuscript describing his record as a professional competitive fencer.  I do not know how many people received this astounding document, but I know Andy Shaw at the Museum of American Fencing has it.  One of the recipients was Hans Halberstadt, who I've mentioned previously on this site.
The envelop, as it survives today: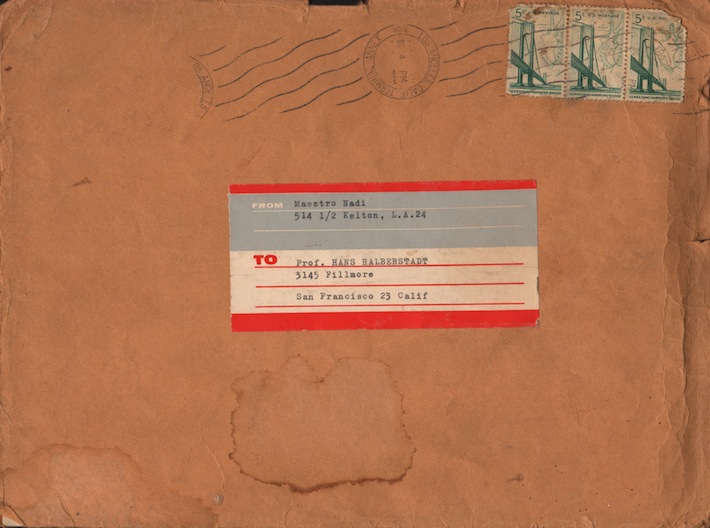 Nadi's letter is a window into both his personality (which comes through loud and clear), and a world that is now gone, swept away by time and world events.  Professional fencing as a highly paid endeavor, as Nadi lived it, has faded beyond obscurity to oblivion.  There are no records online to review.   No knowing who fought who, or when, or for how much.  To collect that information would be the work of a lifetime, perusing old newspapers to cull the notices and reviews of this bout or that.  Someone with better linguistic skills than myself may step up someday.  I can hope.  But in the meantime, in his own words, I present Aldo Nadi's recollections.  We'll go in stages; it's a lot to take in.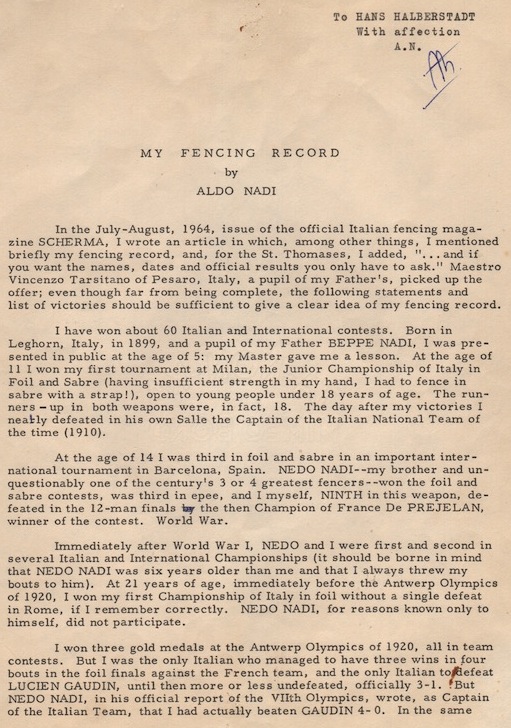 Aldo Nadi Transcript
In the July-August, 1964, issue of the official Italian fencing magazine SCHERMA, I wrote an article in which, among other things, I mentioned briefly my fencing record, and, for the St. Thomases, I added, "… and if you want the names, dates and official results you only have to ask." Maestro Vincenzo Tarsitano of Pesaro, Italy, a pupil of my Father's, picked up the offer; even though far from being complete, the following statements and list of victories should be sufficient to give clear idea of my fencing record.
I have won about 60 Italian and International contests. Born in Leghorn, Italy, in 1899, and a pupil of my Father BEPPE NADI, I was presented in public at the age of 5: my Master gave me a lesson. At the age of 11 I won my first tournament at Milan, the Junior Championship of Italy in Foil and Sabre (having insufficient strength in my hand, I had to fence in sabre with a strap!), open to young people under 18 years of age. The runners-up in both weapons were, in fact, 18. The day after my victories I nearly defeated in his own Salle the Captain of the Italian National Team of the time (191)
At the age of 14 I was third in foil and sabre in an important international tournament in Barcelona, Spain, NEDO NADI — my brother and unquestionably one of the century's 3 or 4 greatest fencers — won the foil and sabre contest, was third in epee, and I myself, NINTH in this weapon, defeated in the 12-man finals the then Champion of France De PREJELAN, winner of the contest. World War.
Immediately after World War I, NEDO and I were first and second in several Italian and International Championships (its should be borne in mind that NEDO NADI was six years older than me and that I always threw my bouts to him). At 21 years of age, immediately before the Antwerp Olympics of 1920, I won my fist Championship of Italy in foil without a single defeat in Rome, if I remember correctly, NEDO NDAI, for reasons known only to himself, did not participate.
I won three gold medals at the Antwerp Olympics of 1920, all in team contests. But I was the only Italian who managed to have three wins in fours bouts in the foil finals against the French team, and the only Italian to defeat LUCIEN GAUDIN, until then more less undefeated, officially 3 – 1. But NEDO, in his official report of the VIIth Olympics, wrote, as Captain of the Italian Team, that I had actually beaten GAUDIN 4 – 0. In the same Olympics I also won the silver medal in the Sabre Individual Contest, behind a NEDO NADI at his apogee who, at that time, was still a little stronger than me. I threw my bout to him as I had done thus far on every occasion, but the chances are the even if I had fought him seriously he would have beaten me. I reached maximum power only four years late in 1924.
Shortly after Antwerp, I became professional — the highest paid ever throughout my career — et pour cause. GAUDIN, against 20,000 lire, a goodly sum in those days, defeated me in Paris in 1922(foil); but in 1924, in an exhibition-match at Florence, he was again beaten by me, himself calling aloud the last three touches of the bout. (THREE TOUCHES, NOT TWO, as that liar ALFREDO PEZZANA, dared to correct in an article by LEO NUNES — some 15 times Champion of America and present at the exhibition — celebrating my Golden Jubilee. This article, originally published in the December 1953 issue of AMERICAN FENCING, was translated and published in its entirety by many important Italian newspapers. including the BOLLETTINO, the official magazine of Italian fencing of that time. I very much doubt the PEZZANA, the Director of that magazine, will ever forget the letter I wrote him, copies of which I sent to various personalities of Italian fencing including Mr. BERTOLAIA, then President of the Italian Federation of Fencing. Woe to anyone who dares tamper with my record!) GAUDIN, in spite of the demands and complaints of the French press (which was quite bored in seeing me crush so many professional and amateur Champions of France, the title-holders for two generations) absolutely refused to meet me — and I lost 50,00 francs. I curse him with glee.
CANDIDO SASSOEN, Professional Champion of Italy, then beat me in Rome six weeks after my defeat from GAUDIN in Paris. As I said before, not only was I far from my greatest strength, but above all I was still under the severe nervous and moral shock of my Parisian defeat in which, incidentally, I had been simply murdered by the Jury. (Even thought I purposely held my arm completely extended—as can be seen in the innumerable stills of the match — at least eight or nine touches at the height of the elbow were counted against me. I still remember, after 42 years, the sharp voice of the Jury President, GEORGES TROMBERT, call: "Monsieur NADI touche a la saignee!" (Mr. NADI touched in the crook of the elbow!" where GAUDIN deliberately sent his point… in FOIL!!!) Not SASSONE, but ANYONE could have beaten me that night of March 19, 1922, at the AUGSTEA. I met SASSONE again three weeks later in an exhibition-match at Abazzia, Italy. During the first part of the bout, before changing places, there was a very slight superiority on my part, one touch or two at the most; but in the second part it was a complete disaster for SASSONE — he never touched me. Taking off his mask and white as a sheet he said to me immediately after shaking my hand: "I cannot understand how you managed to fence so badly against me at Roma." I could never meet SASSONE  again officially because he soon went to Buenos Aires for the rest of his life. After these two defeats the series of continuous victories began—except for a third, and LAST, defeat sustained against RENE HAUSSY, many times Professional Champion of France, in Paris 1923; I was defeated 16-14, after having led my opponent 8-5 in the first part, directed by COLOMBETTI; when GAUDIN  came to direct the second part I completely lost my head and deserved to be beaten. However, HAUSSY,  a perfect gentleman and a champion with immense courage, did not refuse, like GUADIN, to meet me again. And in Florence 1925 I defeated him 14-9. for this match which I myself organized at the magnificent TETRO DELLA PERGOLA  (making a lot of money!). I decided to have NOT ONE (for the first part of the match as usual), but TWO French Presidents of the Jury: the first part was directed by GAUDIN,  the second by TROMBERT.  I called the match Professional World Championship, since I was Champion of Italy and HAUSSY  Champion France. NEDO NDAI  somewhat complained to me, and lost his breath. I told him: "As long as I am Champion of Italy and HAUSSY is Champion of France, our match can only be called the Professional World Championship. And NEDO NADI  was silenced.
More in Part Two!