There are a number of versions of the story behind Michael D'Asaro the Elder's decision to follow the advice put forth at 1967's Human Be-In by Timothy Leary.  (http://en.wikipedia.org/wiki/Turn_on,_tune_in,_drop_out) The short version, the one I like best, is that he was qualified to be a member of the 1968 Olympic sabre team, with one condition.  The condition, as allegedly put forward by the AFLA's selection committee, was that he cut his hair.
Michael and his long hair with Jack Keane at the 1967 National Championships.
Michael's result at Nationals had already qualified him for the Pan Am Games for 1967, scheduled to start in July.  However, prior to that start, word came down that the hair had to go.  As far as order of importance, being told what to do by authority figures had ranked near the bottom of Michael's priorities since before joining the military.  However, his timing for telling them to – oh, let's say 'go fly a kite' – was, in its own peculiar way, excellent.  As the story told to me goes, he scrounged a one-way ticket to Los Angeles, bought an old Cadillac, drove it north to San Francisco and arrived just in time for the Summer of Love.  (http://en.wikipedia.org/wiki/Summer_of_Love) That's pretty excellent timing.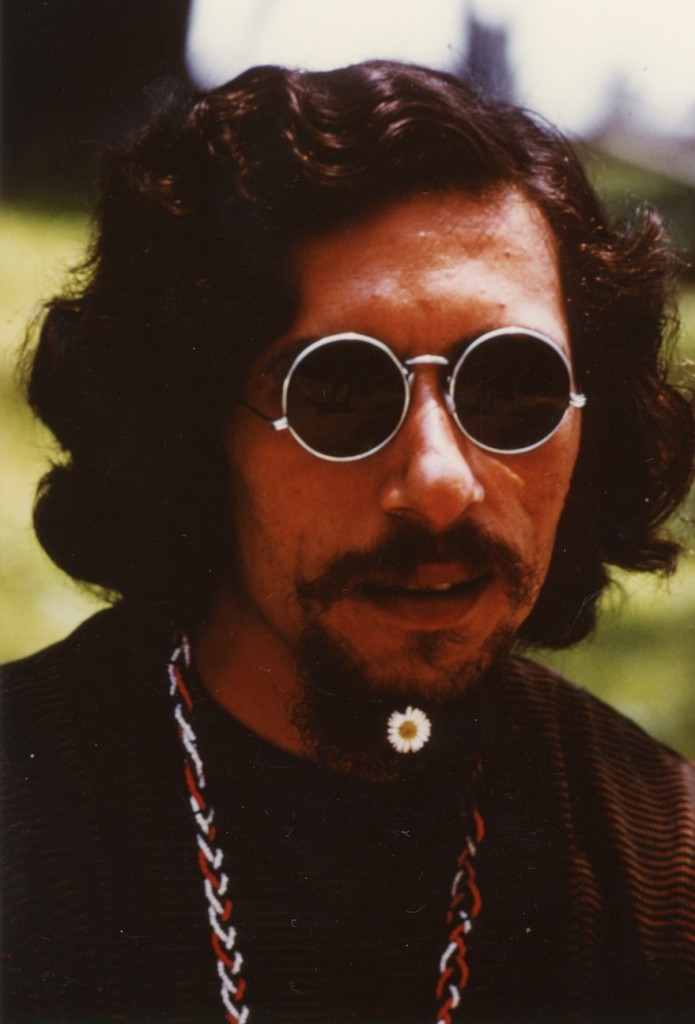 Summer of Love, baby.
I got another part of the story from John McDougall.  I've mentioned John before in my posts, as he has been an excellent source of information about this place and time.  In 1967, John was handling some of the teaching at Halberstadt Fencers Club.  He and Charlie Selberg had rescued the collected memorabilia of Hans' life from being taken to Goodwill, and John took over the building lease to keep the club in the same location that Hans had been in since the early 1940's.  At the same time, John had made use of the knowledge passed on to him by Hans for running a fencing equipment business and founded American Fencers Supply, which is still in business today.  As John tells the next part of the story, Jack Baker, long-time fencer and Nor Cal division officer, came into American Fencers with the news that he had seen Michael D'Asaro down on Market Street selling one of the hippie newspapers for a quarter in an effort to make some cash.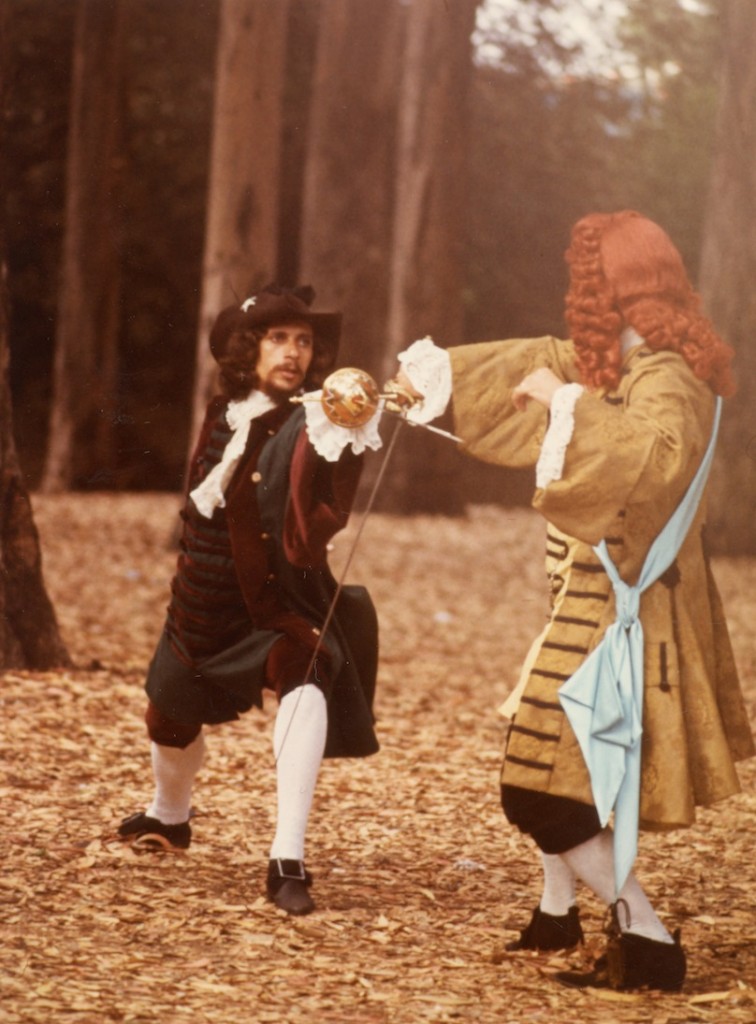 Ren Faire swordsman, 1967.  Forsooth, yon bewigged redhead had best look after his skin!
John asked Jack to try to find Michael again, and to invite him to visit the shop.  Sure enough, just a few days later, Michael D'Asaro walks in to American Fencers Supply, which was just across the street from Halberstadt on Fillmore Ave.
At this time, Charlie Selberg was doing the bulk of the fencing instruction at Halberstadt.  However, as of September of 1966 he was also teaching at UC Santa Cruz.  He had moved to Santa Cruz, commuting back and forth to San Francisco to help John at Halberstadt.  Having consulted with Charlie, John asked Michael if he had any interest in teaching fencing and offered to walk him across the street to see the club.  Upon entering Halberstadt's, Michael exclaimed, "This place has good vibes!"  John asked, "Vibes?  What's that?" "You know, vibrations!  This place has good vibrations."  Since a few more dollars could be made teaching fencing than selling papers on Market Street and the vibrations were free, Michael became the coach at Halberstadt Fencers Club at the end of the Summer of Love, 1967.
The new coach!
Michael's transition from Olympic fencer to Hippie Coach even gained some traction with the local media.  Here is a headline from an article that quotes Michael about his transformation.

From September of 1967
This title is a bit misleading, as the article makes it clear that Michael has become the coach at Halberstadt, which hardly seems an accurate description for giving up the sword.  They even go so far as to include the address and phone number of the club.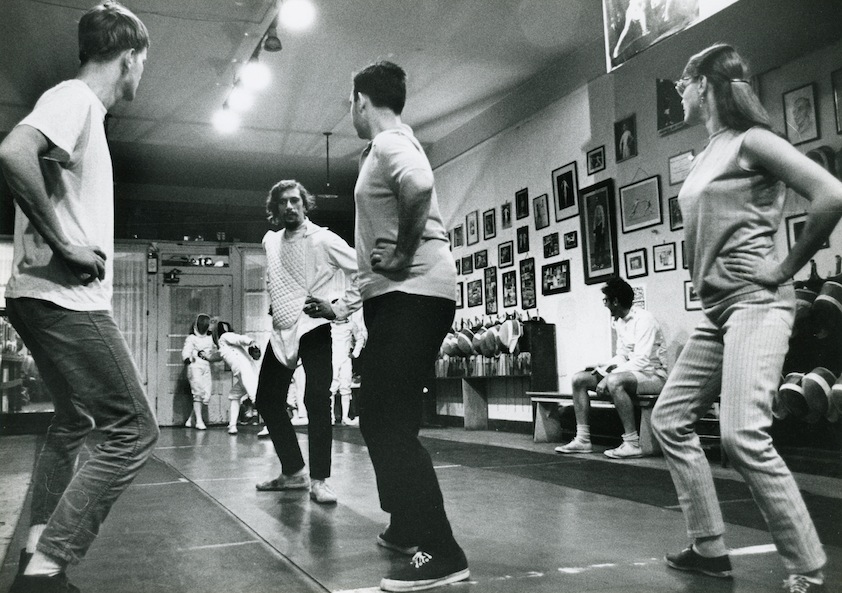 Footwork drills
It's great to see these photos and realize what a great job John and Charlie did to keep the club looking nearly identical to how it had been when Hans worked – and lived – in this space.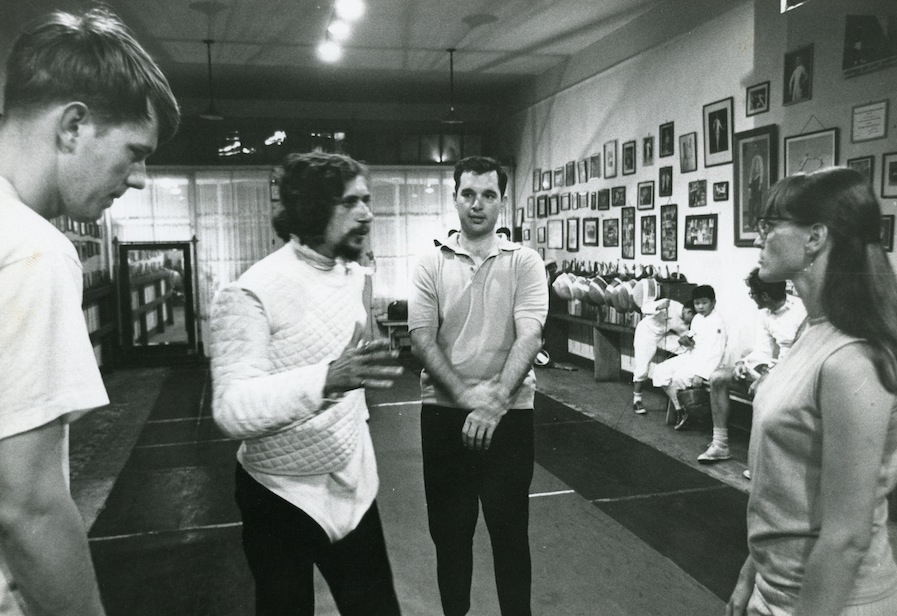 A few post-workout notes.
One thing, among many, that I find interesting about the above photo is the presence of the two boys in the background.  It's entirely possible that one of them may be future Olympian George Nonomura, who started taking lessons with Hans and continued at Halberstadt when Michael taught there.  One of them could be George!  Of course, they could also be two of his many siblings.  I've never heard the total number of Nonomuras that fenced at Halberstadt.  Perhaps saying 'a whole bunch' will suffice.  George would have been about 10 at the time this photo was taken.  Looks about right.  I wonder…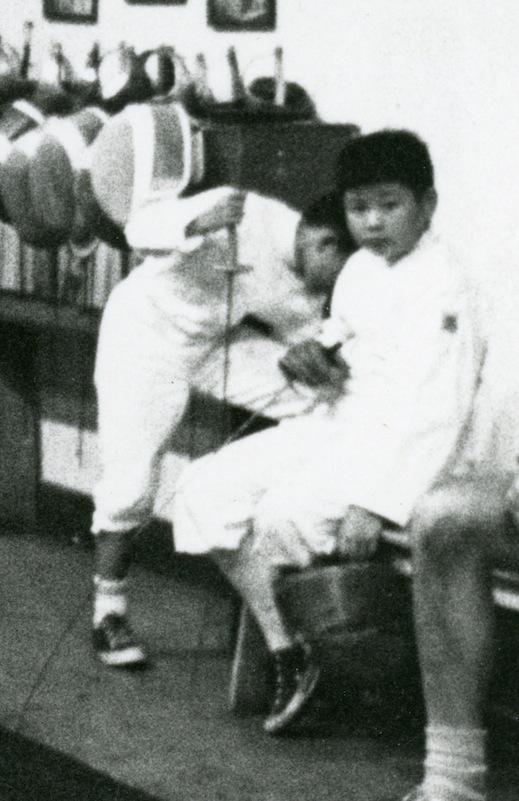 Is one of these youngsters a future Olympian?
Michael told me a story once about teaching George's sister, who was more interested in gymnastics than fencing.  To keep her motivated, he would add cartwheels and forward rolls to the lunges, advances and retreats.  A great story of course, but it made me wonder: how come my lessons weren't that fun?