The Fairmont Hotel in San Francisco is perched at the top of swanky Nob Hill.  One of the premiere hotels in the city, it opened in 1907 after an extensive refurbishing of the damage done by the 1906 earthquake to the about-to-open Beaux-Arts building.  Famed architect Julia Morgan was responsible for the post-quake remodel and the hotel remains a San Francisco institution, not least due to the Tonga Room tiki bar where you can get a fairly stellar mai-tai.
In September of 1958, in the Gold Room at the Fairmont, a fencing exhibition sponsored by the Italian Federation of California was held at 8pm.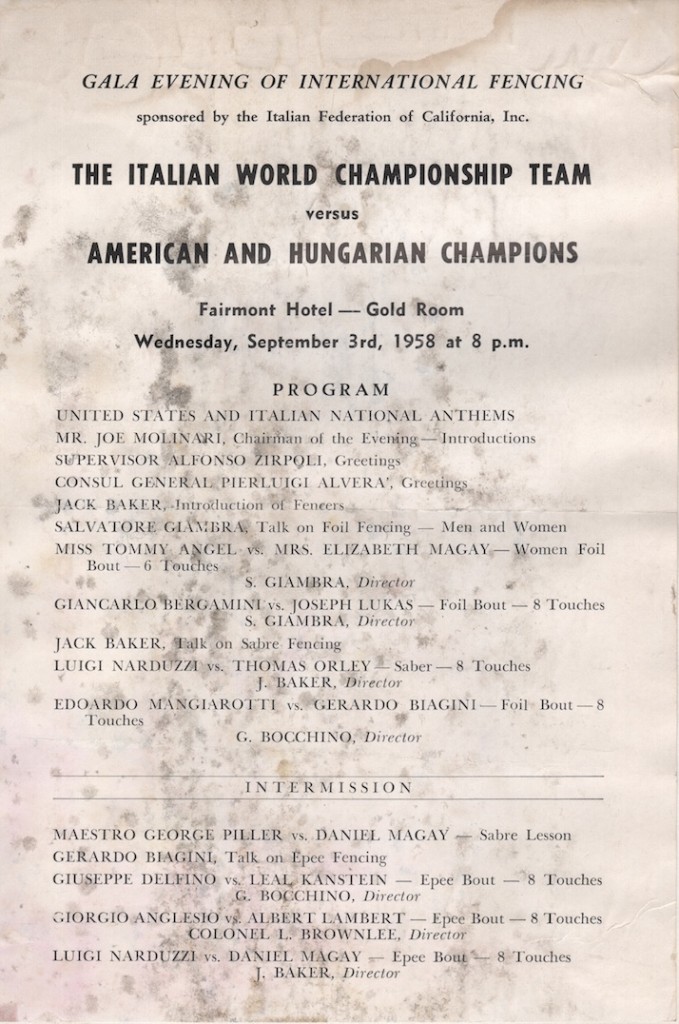 The evening's program
By 1958, the Hungarians who had defected or emigrated to the US and the Bay Area after the failure of the Hungarian Revolution of 1956 had settled down to lives, schools, jobs, and were having a significant impact on the fencing up and down the west coast.  George Piller was teaching at the Pannonia Athletic Club on Polk Street in San Francisco.  Daniel Magay was attending Cal, where Piller also taught.  Tomas Orley and George Domolky were at Stanford.  These three fencers won the US National Sabre Team championship in 1957 and Magay was individual sabre champion in both 1957 and 1958.
A match with this group of Italian fencers would have been a memorable treat.  Luigi Narduzzi was on the Italian Olympic team of 1956 – and was overwhelmingly the "weak" link.  The other four, Giorgio Anglesio, Giuseppe Delfino, Giancarlo Bergamini and Edoardo Mangiarotti were all Olympic gold medalists of one sort or another.  Indeed, Mangiarotti was one of the most decorated competitive fencers of his – or any other – time.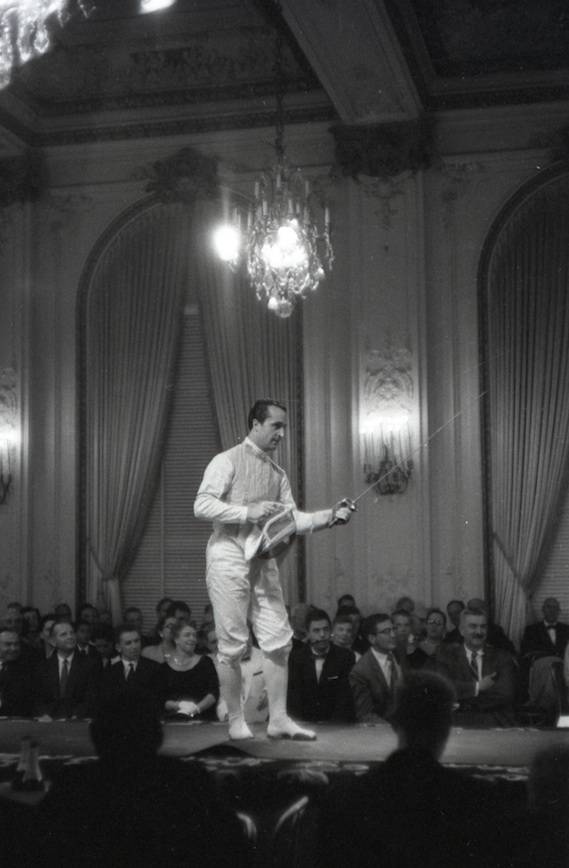 Eduardo Mangiarotti, ready for his foil match against….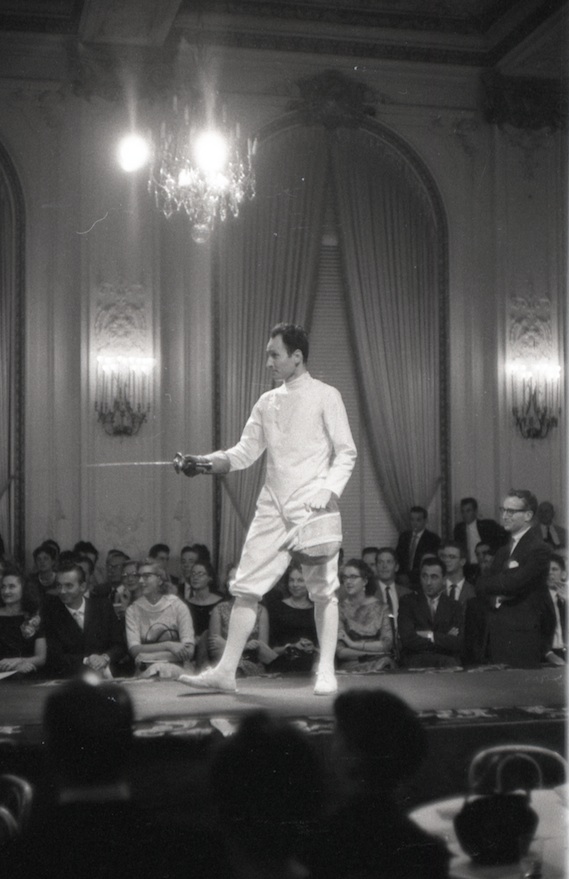 …Gerard Biagini of San Francisco.
John McDougall, founder of American Fencers Supply and numerous fencing clubs, photographed the event and – thank heavens! – kept (most of) the negatives!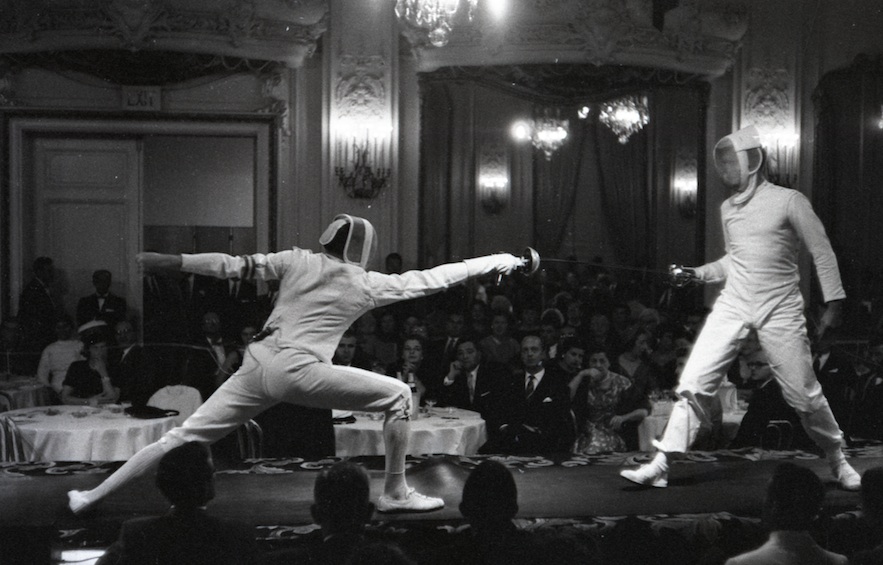 Giuseppe Delfino vs Leal Kanstein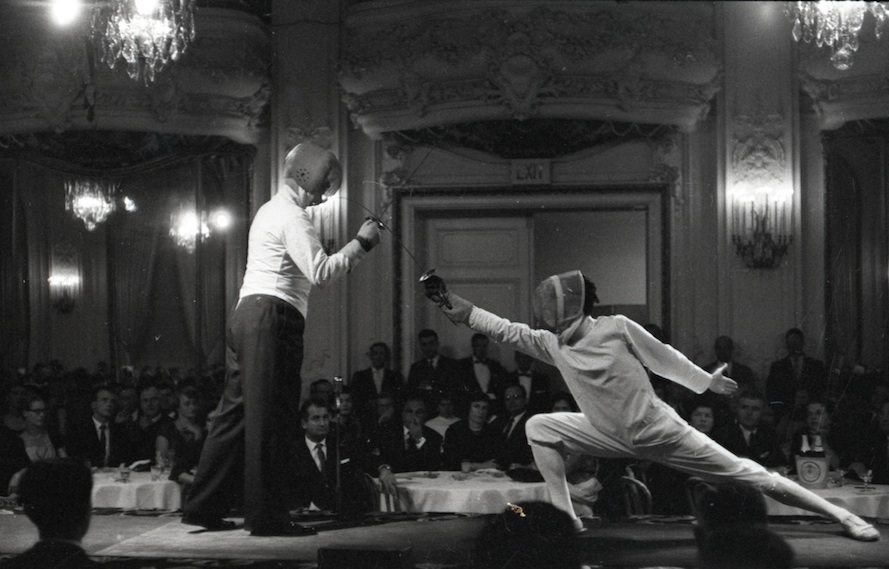 Gyorgy "Uncle George" Piller gives a demonstration of a foil lesson to Gerard Biagini
Listed on the program were both Orley and Magay, but in my conversations with Magay, he had no recollection of this particular event.  That, coupled with the photographic evidence, I'm not certain who all may have participated in the sabre bouts.  What we do have is this: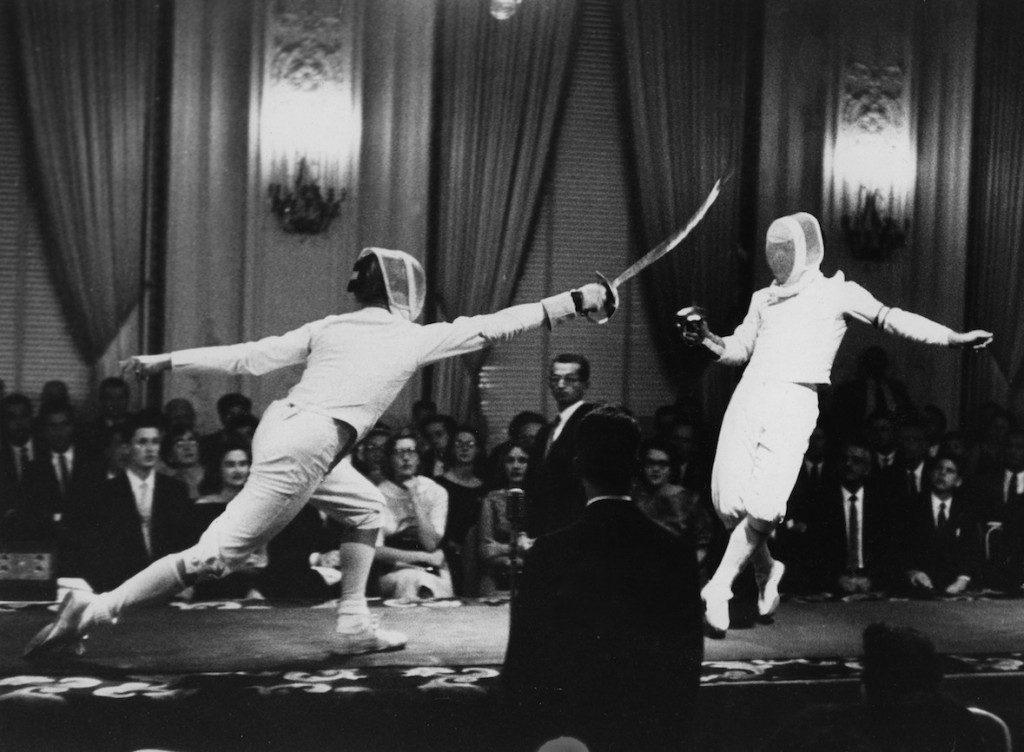 George Domolky attacks Luigi Narduzzi
The above is a scan from a print, not from the negative (which appears to be lost,) and the caption on the back is "Domolky versus Narduzzi" in John McDougall's hand.  Plus, I have this image:
George Domolky and Luigi Narduzzi
It's always handy to have pictures of fencers with their masks off, to be able to attempt a guess at who's who.  Nowadays people have their name on the back of their jacket or lamé.  Much easier.
Finally, a great shot of one of the foil matches.
Eduardo Mangiarotti versus Gerard Biagini
The Gold Room at the Fairmont.  What a great venue!