John McDougall
John McDougall took up fencing while attending Stanford University in the mid-1950s. He decided early on that he would dedicate his life to the sport and focused on becoming a fencing master. He opened his first fencing club, the San Francisco School of Fencing, and hired Jack Nottingham and Charles Selberg as instructors for fencing.
He also hired a judo instructor, a trampoline instructor and others to make his place a variety pack of activity. When Selberg moved home to Fargo and after a falling out with Nottingham, John hired Julius Palffy-Alpar to relocate from Canada to San Francisco.
READ MORE...
Within a year, Alpar took the head coach position at UC Berkeley, and John closed the business and assisted Hans Halberstadt for the last few years of Hans' life. Hans had for years ran a fencing equipment supply company and he taught John that business.
John opened American Fencers Supply, a long-running fencing equipment manufacturer and supplier. Upon the death of Halberstadt, John hired first Selberg, and then Michael D'Asaro to take over teaching duties at the Halberstadt club. His second club was the Freedom Fencers Club in Freedom, CA, which he set up in an old hay and feed barn on the main road between Watsonville and Santa Cruz. He ran it for only a short time, eventually turning over the keys to Len Carnighan.
Moving to Ashland, OR, John opened up yet another club and taught for many years prior to finally retiring to his beloved hobby of raising pigeons. His teaching was influenced by some of the great coaches to work in California. Besides Hans, he also trained with the great Italian maestro Aldo Nadi, and the Hungarian champion George Piller.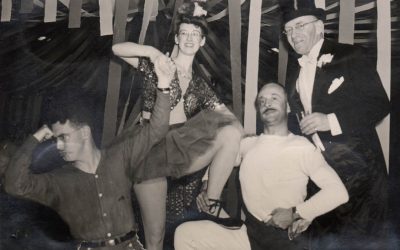 A number of people over the years have done impersonations of the inimitable Hans Halberstadt and they range wide in both style and substance.  Charlie Selberg knew Hans well and would often quote him during fencing lectures or footwork drills. 
read more
SHARE YOUR
STORY
Have something to share or add? Our goal is to capture the stories we know are out there. Plus photos, videos, home movies, posters—you name it. All this material helps preserve the stories of West Coast fencing.
Want to know when we publish a story? Or release a new documentary? Sign up for our email list and we'll keep you posted.
[/db_pb_signup]