Edward Visconti
Eduardo "Edward" Visconti, an Italian native, began teaching fencing in San Francisco around 1920 at the Unione Sportiva Italiana, a North Beach athletic facility and centerpiece for San Francisco's Italian community. He started a large contingent of local fencers of note, including Gerard Biagini and Salvatore Giambra. As World War 2 neared, the Unione Sportiva was closed for a period of time and Visconti retired from teaching. In 1941, he gifted his now-unused fencing equipment to Hans Halberstadt to assist Hans in starting his own namesake club. Visconti opened a shop near Halberstadt's club and made custom gloves, including fencing gloves. All the best fencers and masters in the West wore Visconti gloves.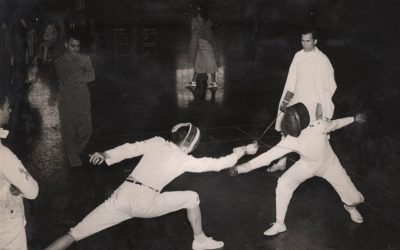 The Latin meaning of that, according to Google Translate, is "Wine of the Spirit".  As a philistine in the ways of Latin, I'll have to accept it.  No clue.  Truly. 
read more
SHARE YOUR
STORY
Have something to share or add? Our goal is to capture the stories we know are out there. Plus photos, videos, home movies, posters—you name it. All this material helps preserve the stories of West Coast fencing.
Want to know when we publish a story? Or release a new documentary? Sign up for our email list and we'll keep you posted.