Vincent "Vinnie" Bradford
Native Texan Vincent "Vinnie" Bradford began fencing as a teen at a time when there were few her age competing and even fewer young girls. One exception was Stacey Johnson who, as they prepared for college, convinced Vinnie to go with her to San Jose State to train with Michael D'Asaro and his premier student, Gay.
The three women became an unrivaled power in both collegiate and open National competition. Vinnie was a four-year First Team All American and won the collegiate Nationals twice. As a team, the three women won the US National team title four times and all three were Olympians, Vinnie in 1984 at Los Angeles. 
READ MORE...
Vinnie won the Individual Foil title once and the Individual Epee title four times, winning both titles in 1984, the only woman to ever win both National Championship titles in the same year. As her competitive career came to a close she became a sought-after coach teaching in her native Texas and was Assistant Director of the National Coaches College.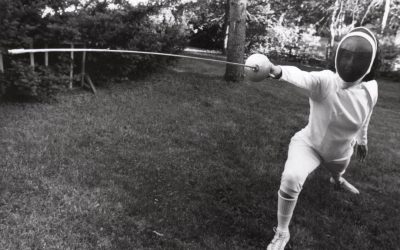 A number of things have come my way recently through various paths.  Taken individually, they add to the collection in nice ways, but don't necessarily give me the grist to crank out a full story around them.
read more
SHARE YOUR
STORY
Have something to share or add? Our goal is to capture the stories we know are out there. Plus photos, videos, home movies, posters—you name it. All this material helps preserve the stories of West Coast fencing.
Want to know when we publish a story? Or release a new documentary? Sign up for our email list and we'll keep you posted.
[/db_pb_signup]