Heziburo Okawa
Japan-born Heizaburo Okawa is a three-time Olympian for Japan, three-time Japanese National Foil champion and twice US National Foil champion. At the height of his competitive career, he was ranked 10th in the world in foil. Marrying the daughter of his coach, Torao Mori, Okawa took over coaching duties at Salle Mori after the unexpected death of Mori. Okawa taught at Salle Mori and coached at several Southern California Universities.
He eventually retired from Cal State Fullerton after more than twenty years as a University coach. His image was famously captured during a bout with Jean-Claude Magnan, with Okawa low and backwards reaching up to hit Magnan who is rising up to thrust down at Okawa. The image was taken by Gene Glazer of New York, who only recently learned how famous his image had become.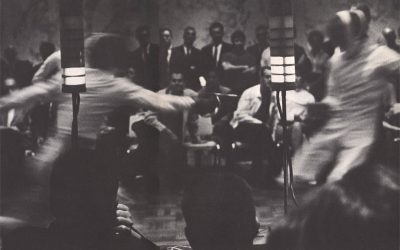 Ebay can be tricky to navigate.  Not in a general sense.  However, sometimes real gems can be found that are hidden between the lines when sellers don't have a clue about what they're selling.
read more
SHARE YOUR
STORY
Have something to share or add? Our goal is to capture the stories we know are out there. Plus photos, videos, home movies, posters—you name it. All this material helps preserve the stories of West Coast fencing.
Want to know when we publish a story? Or release a new documentary? Sign up for our email list and we'll keep you posted.
[/db_pb_signup]