Jack Baker
Jack Baker was a San Francisco fencer and administrator.  He was instrumental in the growth of Nor Cal into the largest division outside Metro New York. Jack fenced at just about every club in the area at some point and was both well-loved and highly respected. Southern California's Cavaliers Fencers Club once bestowed upon him the "Most Honored Opponent" award as voted by their members. He was a member of the US National Sabre team championship squad with Pannonia Athletic Club in 1962 alongside teammates Gerard Biagini, Dan Magay and Alex Orban and also held positions in the then-AFLA national governing board. Upon his death, Jack left almost half a million dollars to the AFLA. One of the USFA's Hall of Fame service awards is named in his honor.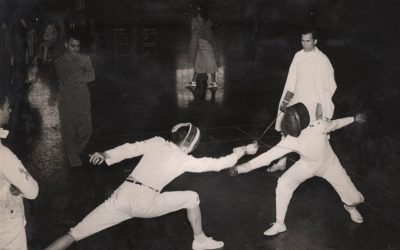 The Latin meaning of that, according to Google Translate, is "Wine of the Spirit".  As a philistine in the ways of Latin, I'll have to accept it.  No clue.  Truly. 
read more
SHARE YOUR
STORY
Have something to share or add? Our goal is to capture the stories we know are out there. Plus photos, videos, home movies, posters—you name it. All this material helps preserve the stories of West Coast fencing.
Want to know when we publish a story? Or release a new documentary? Sign up for our email list and we'll keep you posted.
[/db_pb_signup]