Gay D'Asaro
Born and raised in California's central valley, Gay Jacobsen began fencing in the garage of a High School teacher who knew enough about fencing to teach the basics. An all-around athlete, Gay was interested enough in fencing for her parents to drive her to San Francisco on the weekends – an hour and a half each way – for lessons with Michael D'Asaro at Halberstadt Fencers Club.
While not a huge fan of the pressure of competition, Gay's talent and skill led her to her first National title in 1974 at age 18. A year later, she married her coach and became Gay D'Asaro. She garnered collegiate titles, fenced on both Junior and Senior
READ MORE...
International squads, was twice named a First Team All-American, and won a second National Foil title in 1978. With her teammates Vinnie Bradford and Stacey Johnson, she also won the US National Team title four times.
She was on both the 1976 and 1980 Olympic teams, but after the disappointment of not being allowed to participate in Moscow, she retired from competition after 1980 and began teaching and officiating. She was one of the first women, if not the very first, top ranked international foil official from the United States and ran the Fencing Officials Commission for USA Fencing for many years. In the late 1980s, she and Michael divorced. She has since retired from the fencing world but remains good friends with her longtime teammates, Vinnie and Stacey.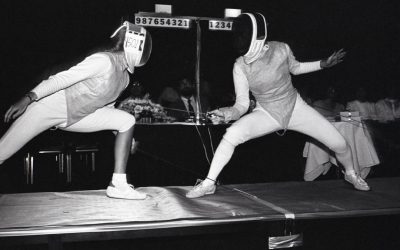 Ever wondered who has the "fencing.com" URL?  Yup, it's the Silicon Valley original, The Fencing Center.  Proximity and foresight; a powerful combination. The past two weeks of "Shelterinplace Con – 2020" have been all about San Jose's The Fencing Center. 
read more
SHARE YOUR
STORY
Have something to share or add? Our goal is to capture the stories we know are out there. Plus photos, videos, home movies, posters—you name it. All this material helps preserve the stories of West Coast fencing.
Want to know when we publish a story? Or release a new documentary? Sign up for our email list and we'll keep you posted.
[/db_pb_signup]