Ralph Faulkner
The Boss, as he was affectionately known, had a storied history even before making his way to Hollywood during the silent film era. An accident during filming motivated him to find a way to rehabilitate and he found fencing, training under Henri Uyttenhove at the Los Angeles Athletic Club.
Being chosen as an Olympic team member in 1932 was a rare feat for a western fencer, as the Eastern hegemony had a lock on the selection process in that time. After his Olympic experience, he opened his own club, the Falcon Studios. There he and his wife, the dancer Edith Jane, split duties, she teaching dance, Ralph teaching fencing.
READ MORE...
He molded numerous young fencers into champions, including Janice Lee York, Polly Craus and Sewall Shurtz. Ralph continued to teach at his Falcon Studios until his death in 1987 at the age of 95.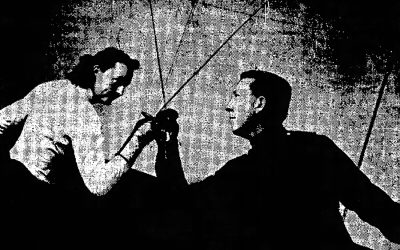 The mystery to me today is fencing master John Mckee from Southern California who trained hundreds and hundreds of fencers over decades.  For all the people he taught and all the times he was in the paper, it's his nature and character that I can't get a handle on.
read more
SHARE YOUR
STORY
Have something to share or add? Our goal is to capture the stories we know are out there. Plus photos, videos, home movies, posters—you name it. All this material helps preserve the stories of West Coast fencing.
Want to know when we publish a story? Or release a new documentary? Sign up for our email list and we'll keep you posted.
[/db_pb_signup]