Between my own collection and some donations to The Archive over the last couple of years, I think I have every edition of the Fencing Times that were published beginning, I believe, in 1980.  It was nominally the So Cal Division newsletter, but for those of us that knew of its existence, it was a lifeline to all the stories that were afoot in the sport worldwide.  There were no comparable sources of information that were as detailed or informative.  The internet was still about 10 years away.  The modern tech we take for granted today was just a wee little baby.
The issue I'm sharing today is a Special Edition that reports on the World Championships, the World University Games, the US National Championships and other topics of interest.  There's so much information and so many photos packed into the 24 pages we could hardly believe it when this came out.  It was similar to when the skateboard punks I went to high school with in Santa Cruz first saw a copy of Thrasher.  While they were reading about Christian Hosoi, I was reading about Vladimir Smirnov.  So, you know, even.
The cover of Fencing Times, 1981 Special Edition.
Throughout this edition there are great articles and photos.  Page two starts the ball rolling with a report on the events at the World Championships in Clermont-Ferrand, France.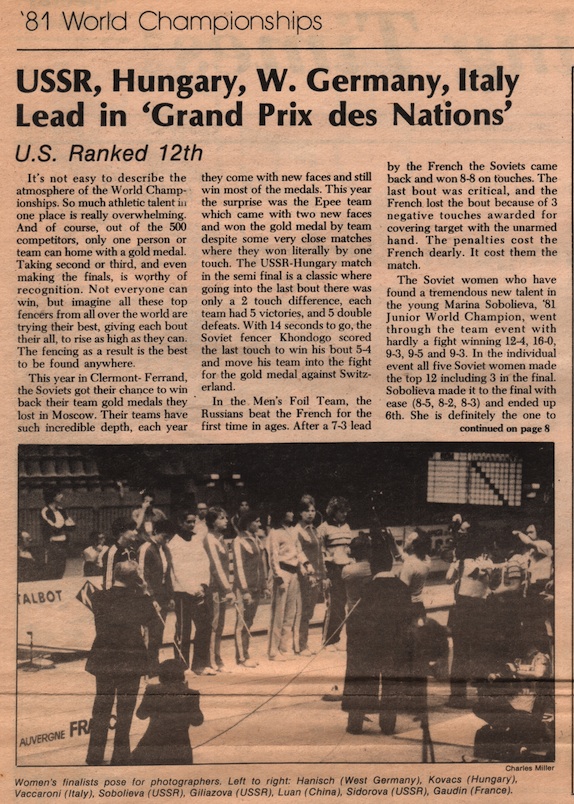 I'm cherry-picking my favorite stories here.  The above from page 2 is just one of three stories on the page.  Turning to page 3, and you see the following two stories on men's & women's foil: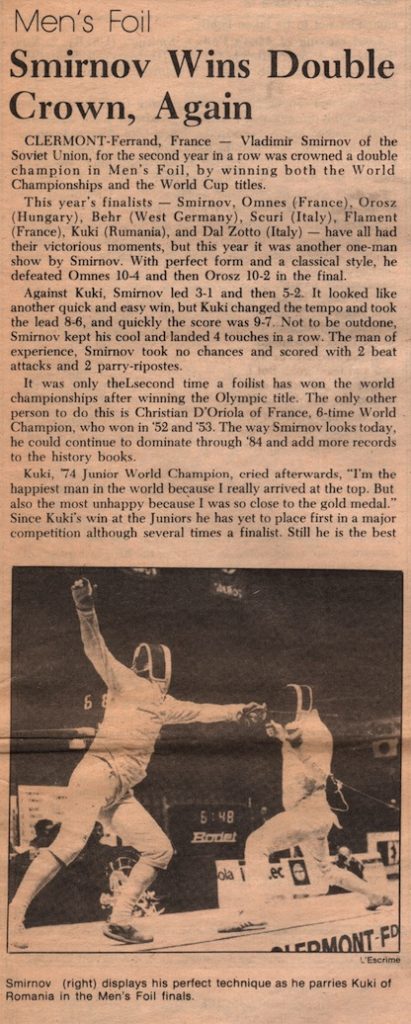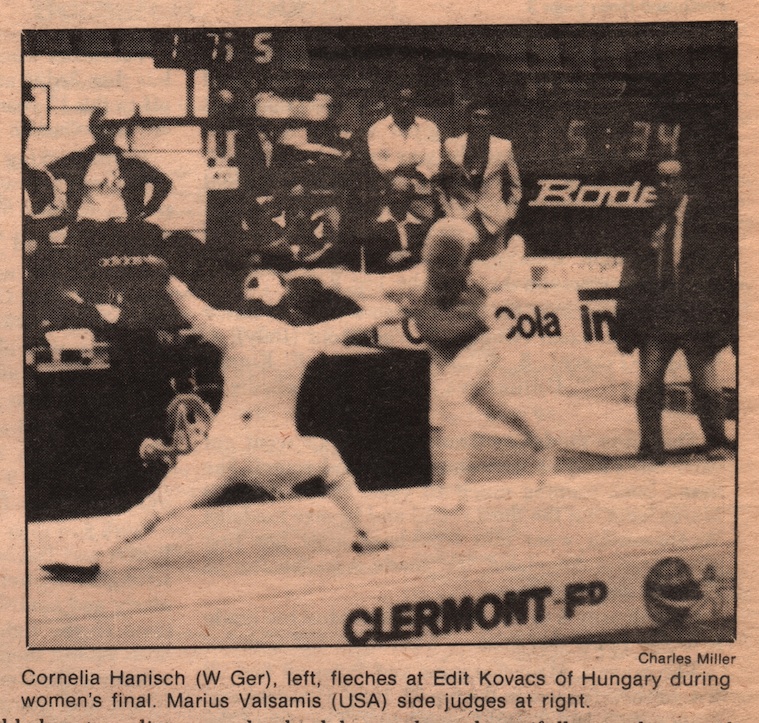 The one of Hanisch, above, has identified the fencers incorrectly.  In photos from this era, with no names on the back of the lamé, it's hard to know which fencer is which.  I'm going to guess it's Hanisch on the right with the fleche.  (I'll accept they correctly identified Dr. Marius Valsamis in the background.) The fencer on the right just seems more like Cornelia's build.  I met Hanisch when she came to the Helene Mayer International in 1982, the year after this photo was taken.  I had the opportunity to direct her second round pool at that tournament and thus got to see up close what a world champion looks like.  She "warmed up" by sitting in the stands watching the other fencers spar.  The most memorable moment was after the pool was over and I was about to take the score sheet to the bout committee table, she approached me, shook my hand and said, "You directed very well."  That made the panic I felt through the entire pool worthwhile, for sure.  (Besides her, I had a past US National champ, a perennial US finalist and two Canadian National champs.  And the 6th fencer was tough, also.  It was a killer pool.  Hanisch nearly broke a sweat.)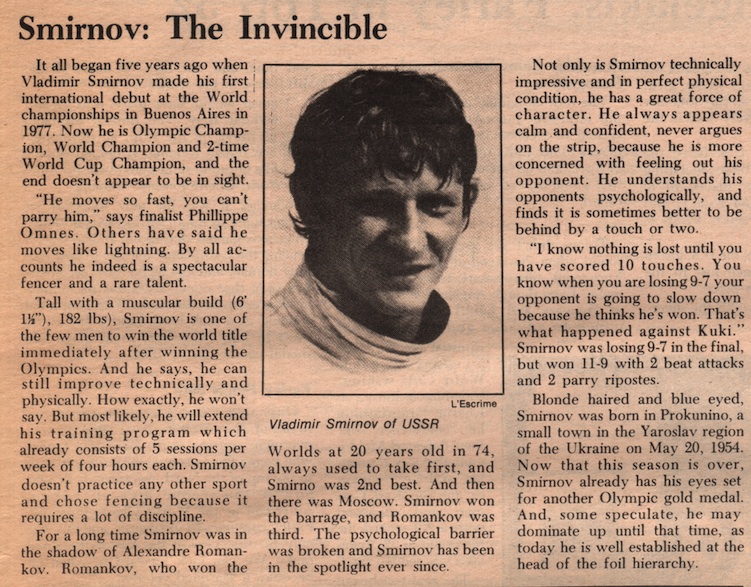 This was the year prior to Smirnov's tragic death in Rome at the 1982 World Championships.  If you'd like to see Smirnov in action, you can go back to a previous entry on this website and see two of his bouts in the final of the 1981 World University Games, which is also reported on in this issue of FT.  Here's a link:
http://westcoastfencingarchive.com/2015/03/12/july-1981-world-university-games-part-2/
That's all good for the international set, but let's take a look at one of the Americans in action.  Here's one of my favorite pics, possibly ever: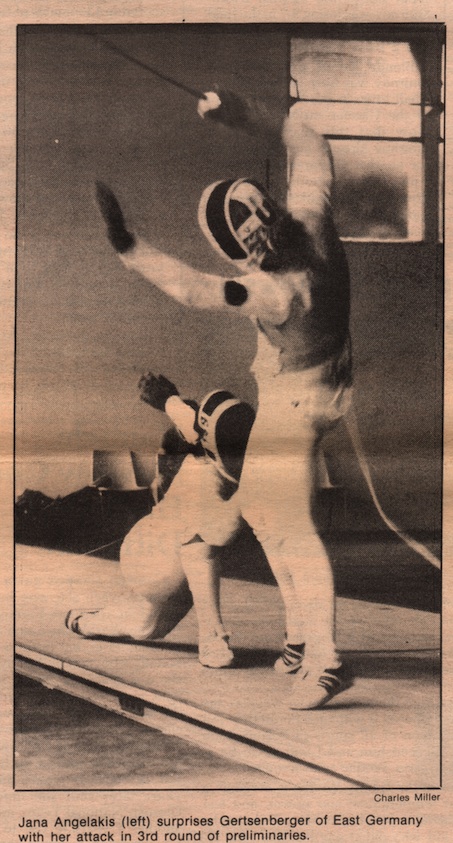 I didn't start fencing until I was 18 in 1977, so I was only able to participate in one Junior Olympics.  Before I flew to Boston, my coach, Len Carnighan, told me to watch all the finals and to be sure to watch Jana Angelakis, who was a young fencer tearing up the national scene.  I remember getting to the venue when the preliminary rounds of the women's foil was underway.  Walking around with my friend Clay Fingerman from New Orleans, we were stopped in our tracks when we saw a woman attack with the same lunge you see in the photo above.  I turned to Clay, who'd fenced longer than I, had attended several junior championships and knew everyone, and asked, "Who is that?!"  "Oh," he answered.  "That's Jana Angelakis."  Needless to say, I didn't move from that spot for the balance of her pool and followed her progress from round to round.  She won that year, beating my future teammate, Joy Ellingson. Sorry, Joy.  I'm afraid I was watching Jana.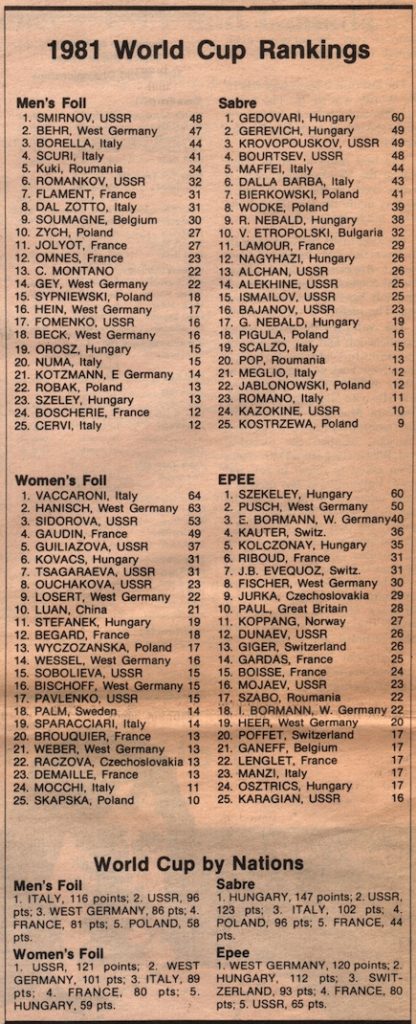 I think the above chart, from page 8, was when I first learned that there was something called the World Cup in fencing.  Nowadays I can look up the standings for the World Cup on the FIE website and the points are up to date as of the most recent World Cup tournament.  But you know what the biggest difference is from this ranking to what you'd see today?  Today there'd be Americans on the list.
Speaking of Americans, the coverage of the US National Championships starts on page 11.  This was my first Nationals, so I've been having a nostalgic flashback going through all the results and seeing so many names I remember from this tournament, which was such a powerfully formative event for me.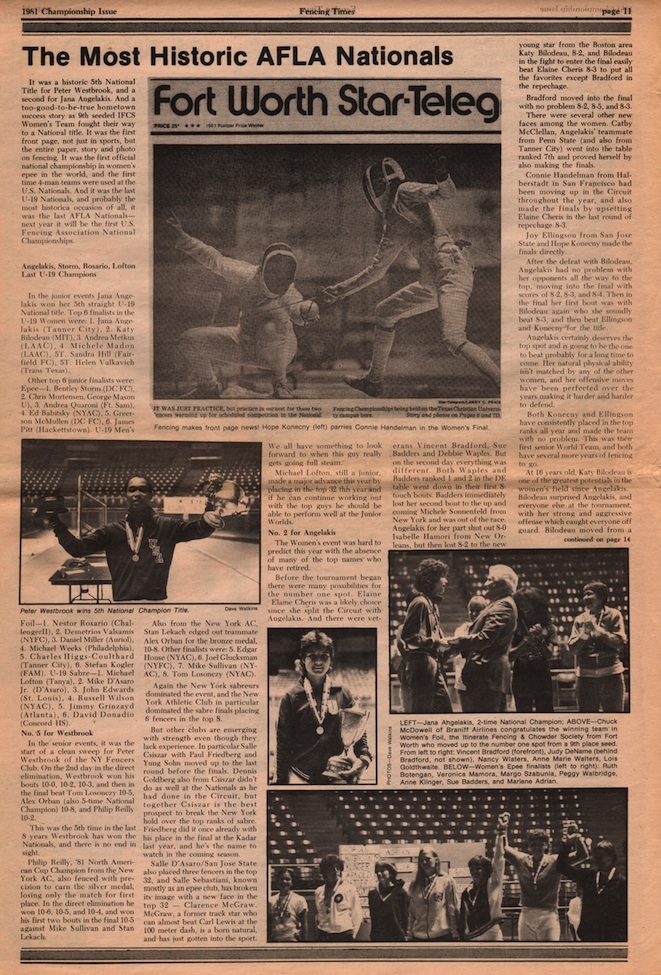 The center of the magazine has these two facing pages above that was a who's who of the fencing scene in the US in 1981.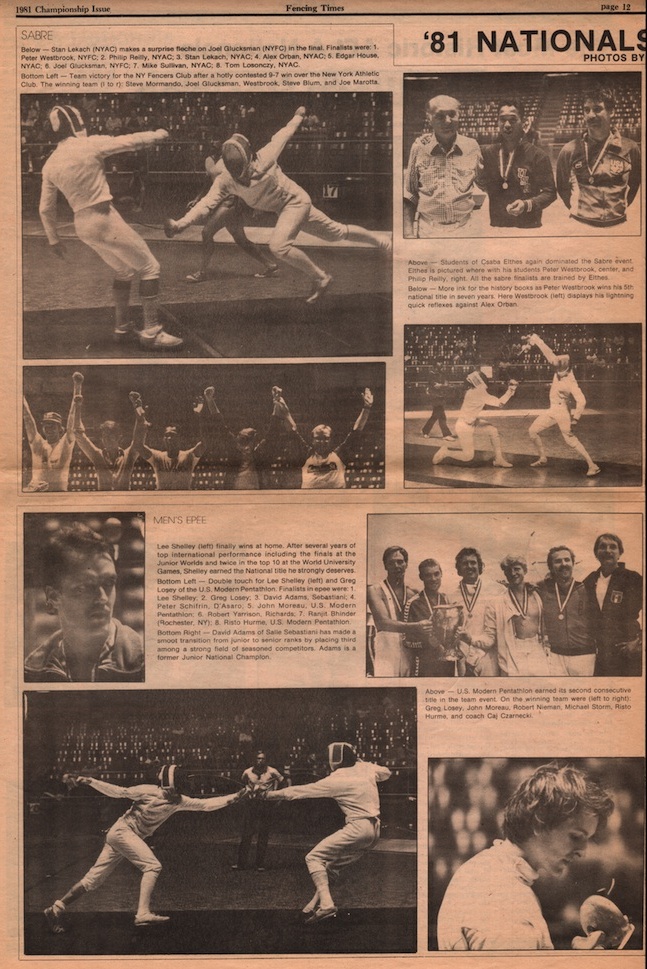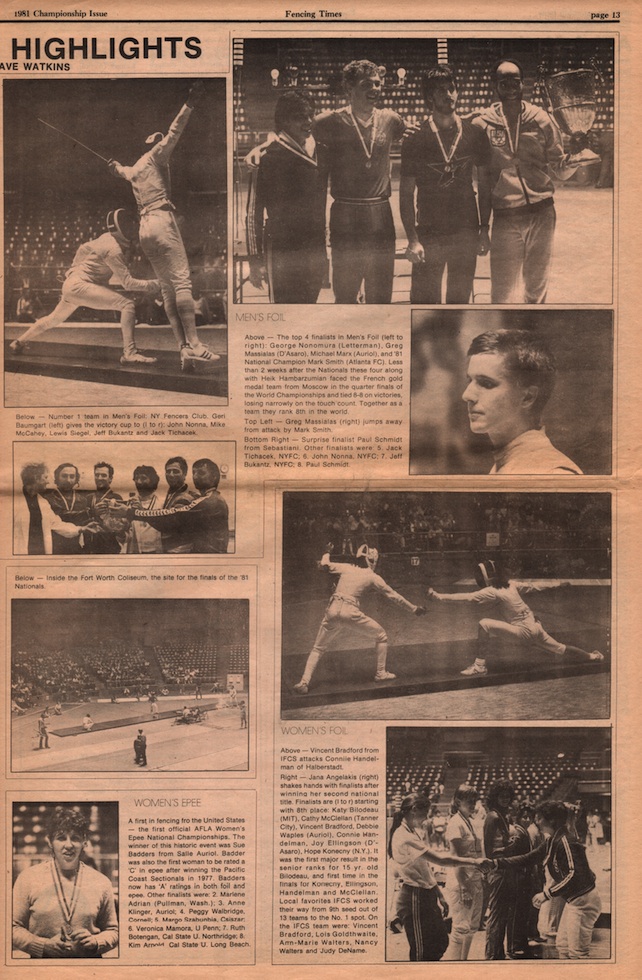 I had a great time at this Nationals.  As a first timer, it was hugely informative.  One of the clearest memories I have is walking into the venue for the first time when the sabre prelims were underway.  I fenced foil & epee, so I was there to get my weapons checked.  The pool nearest the entrance had a bout in progress, so I stopped to see some sabre action.  But what really got my attention was that the fencer with his back to me was wearing a chainmail shirt under his sabre jacket.  You could just see a couple rows of rings peeking out the bottom of his jacket.  Now, I'd fenced a little bit of sabre, but it was, you know, in Santa Cruz, where everything is mellow and sun drenched and people are more likely to have on sunscreen under their jacket – not freakin' chainmail.  "What the hell?" I said aloud.  My teammates, John Ryan and Noel Hankla, asked me what was up and I pointed out the chainmail under armor.  They kind of paled, having the same thought I had, which was, "Holy moley, how hard do people hit at Nationals?"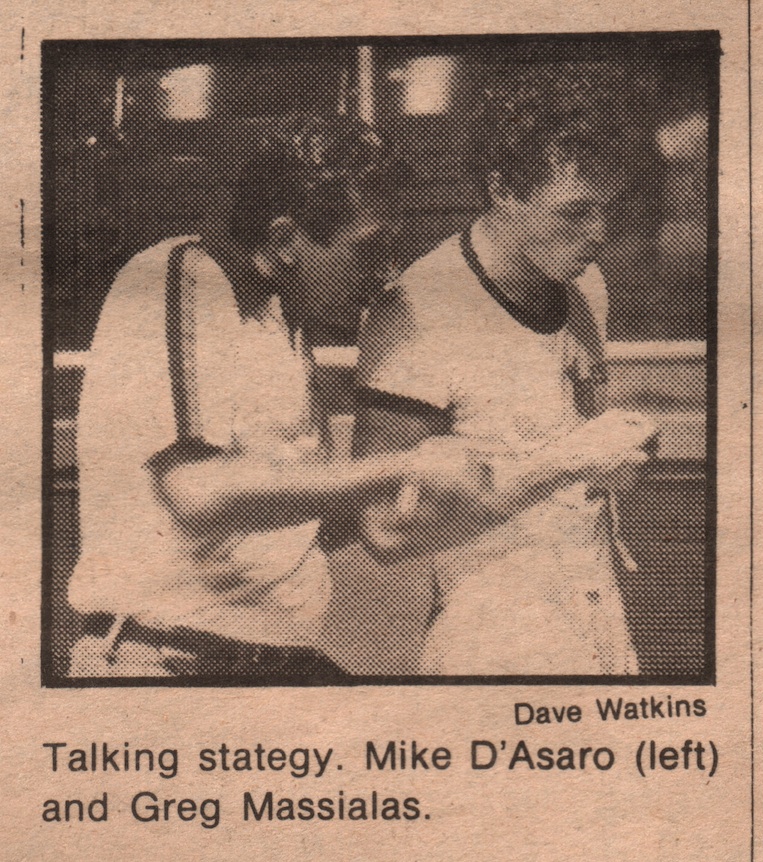 In 1981, I had just finished my first year at San Jose State, so Mike D'Asaro, above, was my coach, and I got thrashed by Greg Massialas, also above, whenever I picked up a foil.  Mike had me fencing epee that first year though, so I spent most of my time getting thrashed instead by Peter Schifrin – who made it all worthwhile by giving me daily epee lessons.  It wasn't until the following year that I got regularly thrashed by Greg.  (Greg's idea of training with me was to try to win every bout without me scoring.  I knew I was getting better when I actually started making some touches, but in the 3 or 4 years that I spent training with Greg, I know that I beat him in practice exactly twice. And both victories were on the same day.)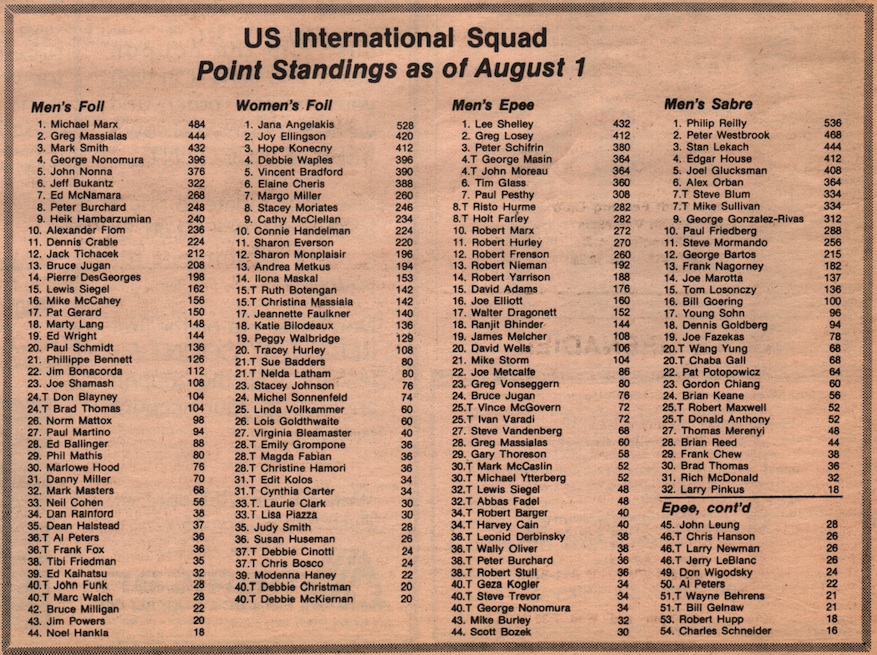 Since I put up the World Cup standings, it only makes sense I put up the US standings, which show up on page 16.  So many familiar names on here.  Others will no doubt recognize many more than I do.  And it's kinda regional, right?  I remember the names of the West Coast people a lot better than the East Coast folks, as I saw my locals so much more often.  I represented the Santa Cruz Fencers Club at this Nationals – we took 8th in team foil (crushed by NYAC 9-1 in the 8) – and one of my teammates, Noel Hankla, finished 30th in individual foil, so that put him on the points list.  Last on the points list, but still on it.  He'd been fencing about 2 years.  A natural competitor, he's been the badass of his high school football team.  He told me the only opponent who ever beat him in a game – on almost every play – was Ronnie Lott.
Buried on page 17 was an announcement that was much more prominently covered in American Fencing magazine: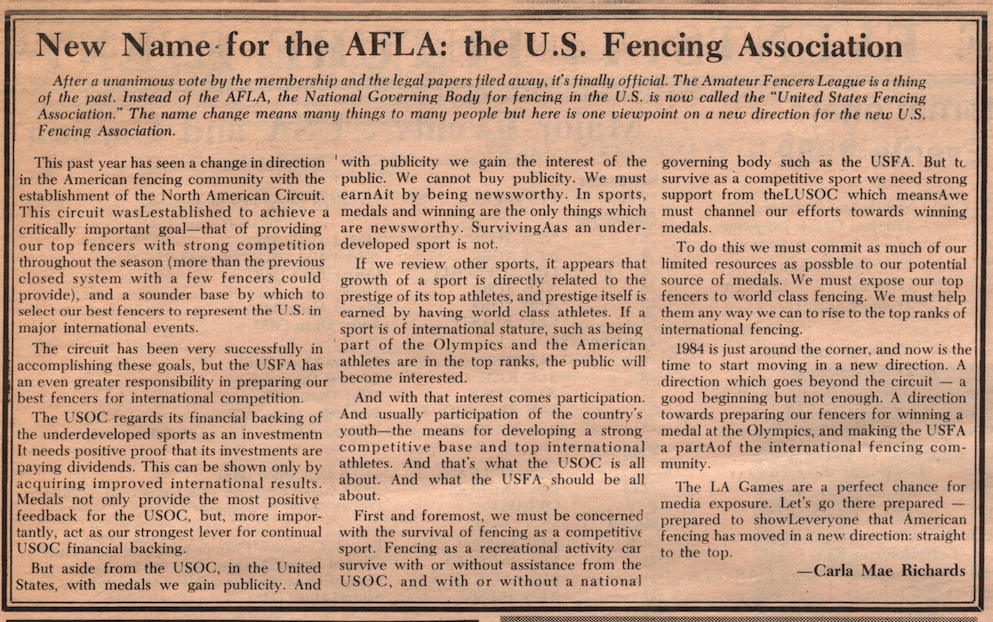 No more amateur fencers here!  I remember there being a lot of discussion about this re-branding.  It seems to have worked out ok.
Pages 19 & 20 have the results for the World Championships, pools through the direct elimination rounds.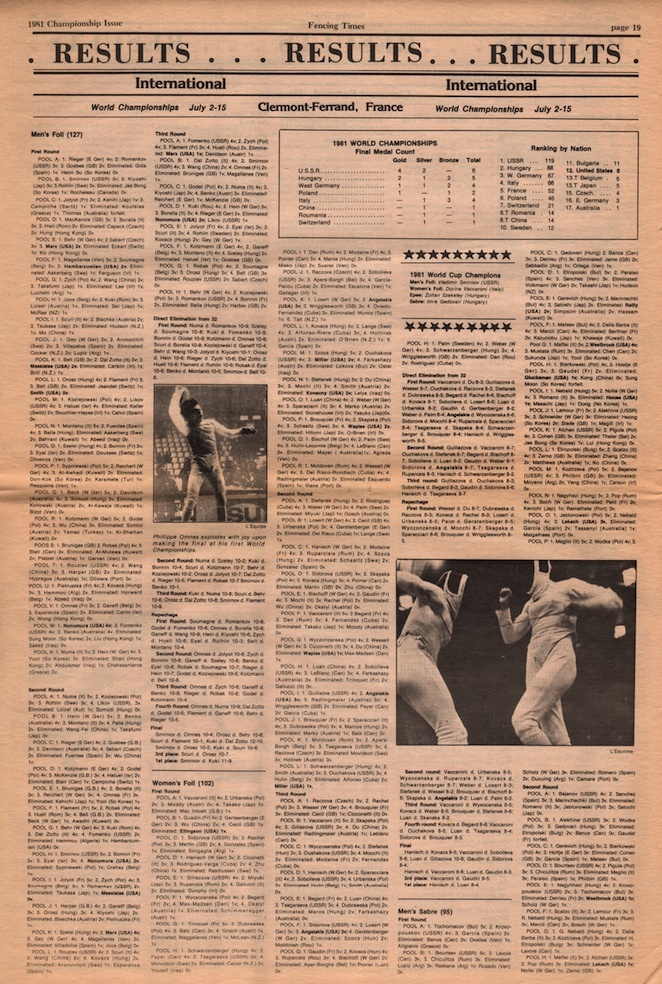 Following the international results, the two last pages of the magazine are the pools through finals results for the US Nationals.  ("Hey, Mom & Dad!  I got my name in the paper!  See?  I got eliminated right here!")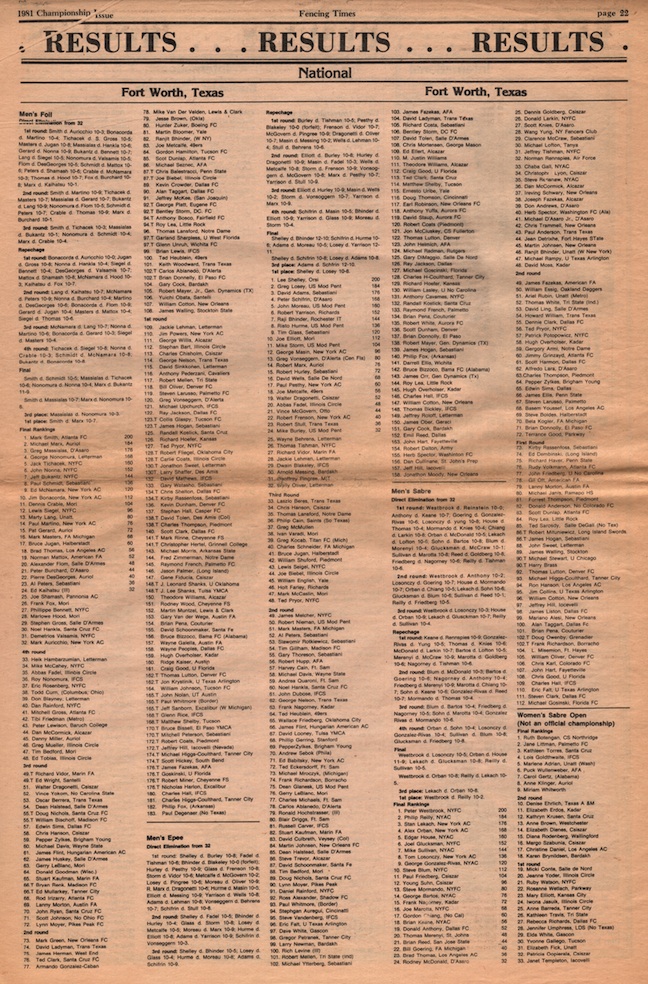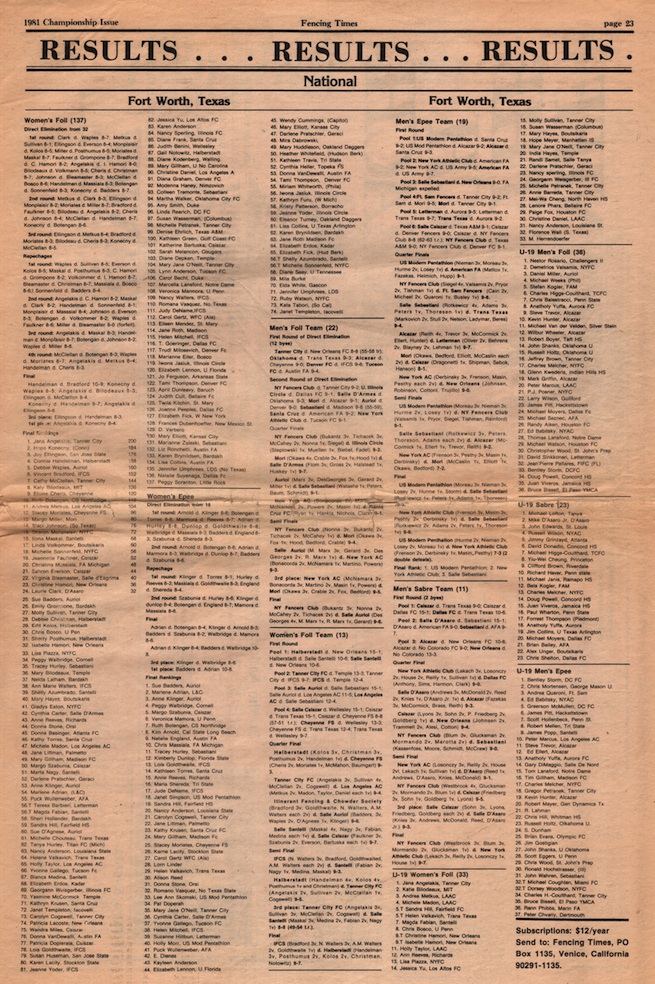 That's what you had before the internet, folks.  Fencing Times didn't last too long.  I haven't counted to see how many issues they published.  And I don't know all the ins & outs of its demise.  However, I do know that the So Cal division put on a big, fun, entertaining and way too expensive Junior Olympics in, I think, 1982, and lost a bunch of money.  I'm guessing that's what cost us a longer run of Fencing Times.  It was nice while it lasted.